De capital of Denmark been on mine for a while city ​​trip list. The beautiful Copenhagen has more than half a million inhabitants, making it the largest city in Denmark. The city offers an interesting combination of historical and modern attractions; historic palaces, colorful houses, squares with fountains, interesting museums, green parks, trendy coffee shops, food markets and a historic theme park in the center of the city.
Copenhagen therefore has all the ingredients for a great city trip. In addition, the city is easily accessible from The Netherlands. You can of course find cheap airline tickets via Skyscanner, but if you are looking for a more sustainable alternative, it is best to contact moonback for sustainable hotels and Choo Choo for train tickets. This way you can enjoy your city trip to the fullest, without a major impact on the environment. You can read more about this at the bottom of the article.
Of course you want to enjoy the city during a city trip. Occasionally going out for dinner, doing activities and drinking coffee here and there. At the same time, you may not want to spend too much money… That is quite a challenge, because Copenhagen is not necessarily a cheap city. In this article I therefore share many tips, including 10 tips for things to do, see and taste for travelers with a smaller budget. Are you traveling with me?
Plan your holiday to Scandinavia here
Top 5 tips for Copenhagen
1. The Royal Library + Gardens
The ancient library is still in use and can be visited for free. You see many students here who make full use of the facilities. There is an old part of the library with a new part built against it. It is a strange contrast when you walk from the modern to the old part within one building. Some parts are closed to visitors and are only accessible to students.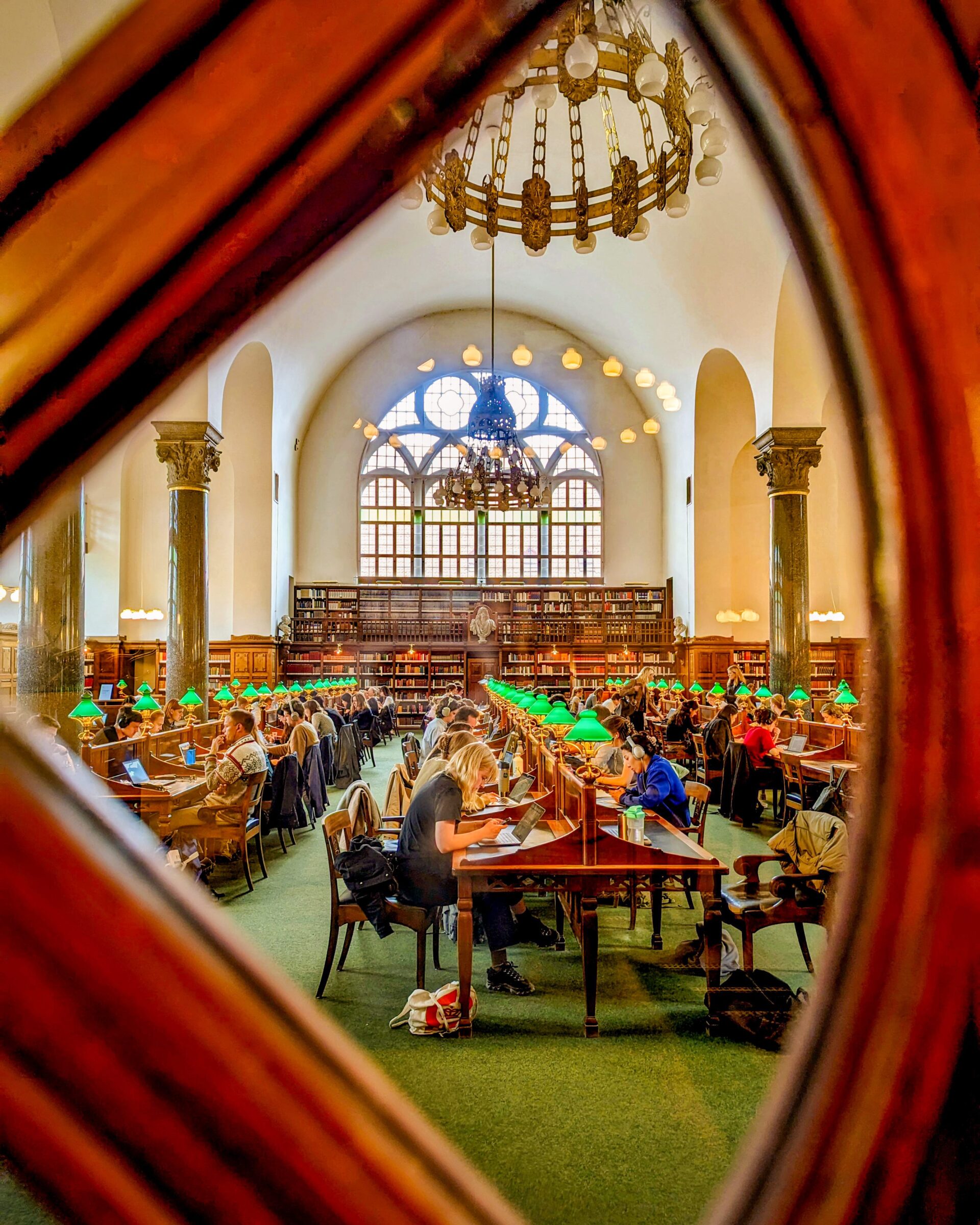 However, what many people don't know is that there is a beautiful garden behind it The Royal Library is. Here you mainly see students reading a book or drawing. A quiet atmosphere and hardly any tourists. Although I didn't really have high expectations beforehand, in hindsight this turned out to be one of the most beautiful places in Copenhagen.
2. Saint Alban's Church + Gefion fountain
De Saint Alban's Church (Location here ) is right next to one of Copenhagen's most visited sights, the Gefion Fountain (Location here ) with the bulls.
However, don't be tempted to tap off this attraction and continue walking or cycling. Behind this church is a beautiful park with lots of water and bridges. Below you can see two photos of the church, one taken from the fountain and one taken from the park.
Tip:: Curious about what I shoot with? Then view the display below.
The ultimate world travel camera
Fujifilm X-T4 Silver + 16-80mm
The Fujifilm X-T4 with 16-80 is the ultimate all-round world travel camera† This camera has been declared several times by both the consumer association and Tweakers.net the best system camera you can buy.
Even on the automatic mode you suddenly feel like a professional photographer! You can effortlessly shoot the most beautiful photos, and thanks to the versatile zoom range of the 16-80 lens, you can easily get closer to the action anywhere in the world.
Pros:
The best tested camera

Fantastic photos

4k video at 60 fps

IBIS image stabilization

5 year warranty
Cons:
Get used to it, many options!

Pricing
Buy now
Our review
Want to support us? We earn a small commission if you make a purchase through our link(s), at no additional cost to you.
3. Bar 1656 (the hidden bar)
From the outside you can't tell it's a bar. Bar 1656 (Location here ) is well hidden in that respect. Behind the doors and walls sprayed with graffiti, lies one of the local gems. It even feels a bit strange to open this door, but as soon as you do, you suddenly end up in one of the nicest bars in the city of Copenhagen. Mingle with the locals in this cosy, dark bar with red sofas.
Remark: when you are sitting on the toilet and suddenly think; what am I hearing? They are sex sounds indeed! These are played softly through the speakers in the ceiling. I don't know what exactly they mean by it or what the purpose behind it is, but it is a bit strange.
4. Super Kilen Park
Superkilen Park (Location here ) is a public park in the district Norrebro in Copenhagen. Until recently, this neighborhood was seen as a deprived area. Fortunately, that now seems to be changing, as we are working hard to give the neighborhood a new impulse. There is a lot of construction and renovation going on and the neighborhood has been transformed into one of the nicest neighborhoods in Copenhagen to visit in a short time. Today, Nørrebro is a hip, multicultural neighborhood popular with students and creatives.
Superkilen Park is the park that winds through the Nørrebro district. A cycle path has been constructed so that you can easily explore the park by bicycle. The weather was a bit drizzly this day, but according to our acquaintance (a local) it is very busy here on nice days and people play games on the tables.
5. Good food
There are a lot of nice and good restaurants in Copenhagen, but which are the best? Below I have collected a few restaurants for you that were recommended by a local. The food was fantastic at all!
For a delicious breakfast or lunch, you can go to Les Trois Cochons (Location here ). I opted for the salmon toast with avocado and a poached egg. For real Italian delicacies you can go to Corsa Pizza (Location here ). Don't expect your standard pizza place here. This is a true restaurant, they make everything themselves and you can taste it with every bite! The homemade bread and pizza were very tasty.
In our Restaurant Camino (Location here ) you can go for tasty tapas. This restaurant is located in an area where there used to be a lot of industry. The area is also known as the 'Meatpacking district'. Nowadays you see little industry, but many nice bars and restaurants with large terraces outside. We let ourselves be spoiled with all kinds of delicacies, both meat and fish and vegetarian. Everything was very well prepared and tasted delicious.
10x tips for a low-budget city trip
1. Rent a bicycle or e-bike
The bicycle is the ideal way to discover Copenhagen in a fast, fun and relatively cheap way. The city center is easy to view on foot, but the must-see districts outside the center are a bit further apart, making the bicycle a good solution.
If you choose to rent a bike, you are certainly not alone. The bicycle is the means of transport among the locals. Copenhagen has more than 350 kilometers of wide cycle paths (see example in the photo below) and there are many places where you can rent bicycles.
Organized bike tour
Rent a bicycle from one of the many bicycle rental companies in the city. Bee Copenhagen Bikes are bicycles for rent (145 DKK per 24 hours ~ that's about 20 euros). You can also book a fully arranged bicycle tour, including a Dutch-speaking guide! With an organized bike tour of three hours you will not only pass the most beautiful places, you will also be provided with a lot of interesting information in the meantime.
The organized bike tour costs a little more, approx 50 euros per person. The bike tour is here to book. As far as I'm concerned, the experience is absolutely worth the money. After this tour you know exactly where to go and you have a good idea of ​​the city. For example, after the tour you can visit the various places again on foot or by public transport.
Also read: Round trip Scandinavia | An unforgettable journey from fjord to smørrebrød
Tier Bikes
You will find the colored Tier bicycles and scooters throughout the city. You can take them anywhere and put them back again. To use a Tier Bike, you download the app on your phone, connect a credit card and then scan the QR code on the bike to rent and 'turn on' the bike. Place your phone in the holder on the handlebar (which doubles as a wireless charger), turn on Google Maps and go on an adventure through the city. Tier prices vary, but to give you an idea: the starting rate for a ride costs about 10 DKK (1,30 euros) with an additional rate of 1,5 DKK (0,20 euros) per minute.
Tip:: Tier Bikes are fairly cheap for short rides, but if you plan to cycle a bit more in different parts of the city, it will be cheaper to rent a bike for a half or full day at Copenhagen Bikes.
2. Visit the gardens of Rosenborg Castle
Copenhagen has several castles and palaces and Rosenburg Castle (Location here ), is one of the most famous castles in the city. The castle dates back to the early 17th century and was built as a summer residence for the family of Christian the Fourth. It tells about the history of the Danish royal family and is beautiful to see both inside and out.
Tip:: The castle is free to visit for young people under 17 years. Adults pay the equivalent of 15 euros and students receive a discount of 5 euros per ticket.
---
You can also choose to only admire the castle from the outside and then wander around in it the Kings Garden (Location here ). This is the city park located at the castle, which you can visit for free. In the spring and summer months, the park is a popular place among the locals, but many tourists now also know where to find the park for a pleasant picnic and to recover from the impressions of the city.
3. Stroll through colorful Nyhavn
When you think of Copenhagen, you probably immediately think of the colorful houses on the water. Nyhavn (Location here ) is therefore one of the most famous sights of the city.
Nyhavn was created in 1673 after a flood of the Nyhavn channel. The channel of the new harbor (Nyhavn) was constructed to connect the sea directly to it Kongens Nytorv Square in the centre of the city. Today the oldest house, number 9 dating from 1678, can still be admired. Besides number 9, numbers 18 and 67 are special. These houses were in fact inhabited by writer Hans Christian Andersen. The house numbers are usually large on the buildings, so the above are easy to find.
Tip:: This area, especially the part along the canal, is a busy area with many restaurants, bars and shops. Keep in mind that you will be in many of these restaurants tourist prices paid. If you want to watch your budget, it is better to look for a nice coffee bar or restaurant in a less busy area.
4. Take a coffee break
Copenhagen is packed with fun and hip coffee bars. Drinking coffee is therefore part of the Danish culture. You will meet many locals here enjoying breakfast, lunch or just a cup of coffee.
The coffee bars are the ideal place to recover from the impressions of the city, get acquainted with Danish culture and at the same time not pay the top price for a weak cup of coffee, as in some tourist hotspots. Three wins, right?
Keep in mind that a good cappuccino still costs between 5 and 6 euros, but in my opinion this is worth it. Some nice coffee bars in the city are:
5. Look for second-hand bargains
Copenhagen is great for shopping. The known Strøget (Location here ) is one of the longest shopping streets in Europe where you can find almost all famous fashion brands. This is the place where the large department stores and small boutiques alternate.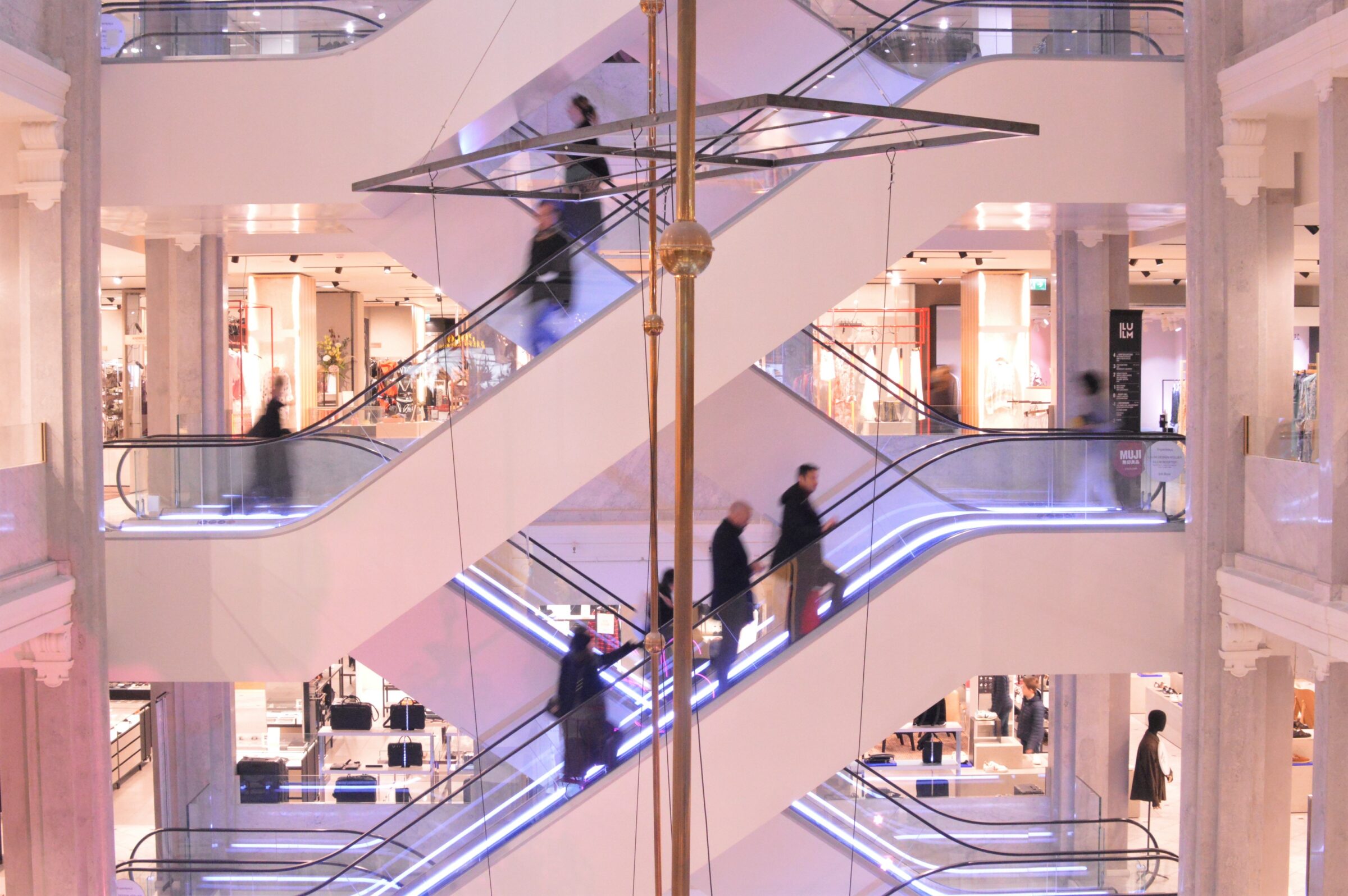 Copenhagen is also a paradise for lovers of vintage and second-hand clothing. Larsbjornsstraede (Location here ) in Latin Quarter used to be my favorite place for this. The street is lively, the buildings are painted in bright colors and the street is full of character. You will also find some of the best vintage shops in the city here, such as Episode (Location here ), Thrift Planet (Location here ) On Quirky Lane (Location here ). To get some energy while shopping, go to ROAST coffee (location here ).
Not finished shopping yet? Then take a look at the streets Hyskenstraede (Location here ) and the Study path (Location here ) or visit one of the flea markets.
Tip:: Save the locations mentioned in this article in your own Google Maps account. See the image below.
This is very simple. Login to Google Maps with your gmail account, find a place (or click on the links in this article) and then click 'Save'. You can also choose whether the spot should have a star, flag or heart on your map. You can even add a note, so you can always find out why you saved the place.
I usually use hearts for accommodations and stars for places of interest. This way I can always find everything quickly!
6. Visit the botanical garden
The botanical garden Botanical Garden (Location here ), is a paradise for plant lovers and, according to many, even the most beautiful botanical garden in the world Europe. From the outside alone, the garden is a picture to see. The greenhouses, dating from the 19th century, can be seen from afar and are located in a beautiful park where you can enjoy a walk or sit down for a picnic.
Once inside it Palm House, you imagine yourself in a tropical climate and get acquainted with a wide variety of special plants and colorful flowers. A number of plants are so large that you need the stairs to the first floor to admire them properly.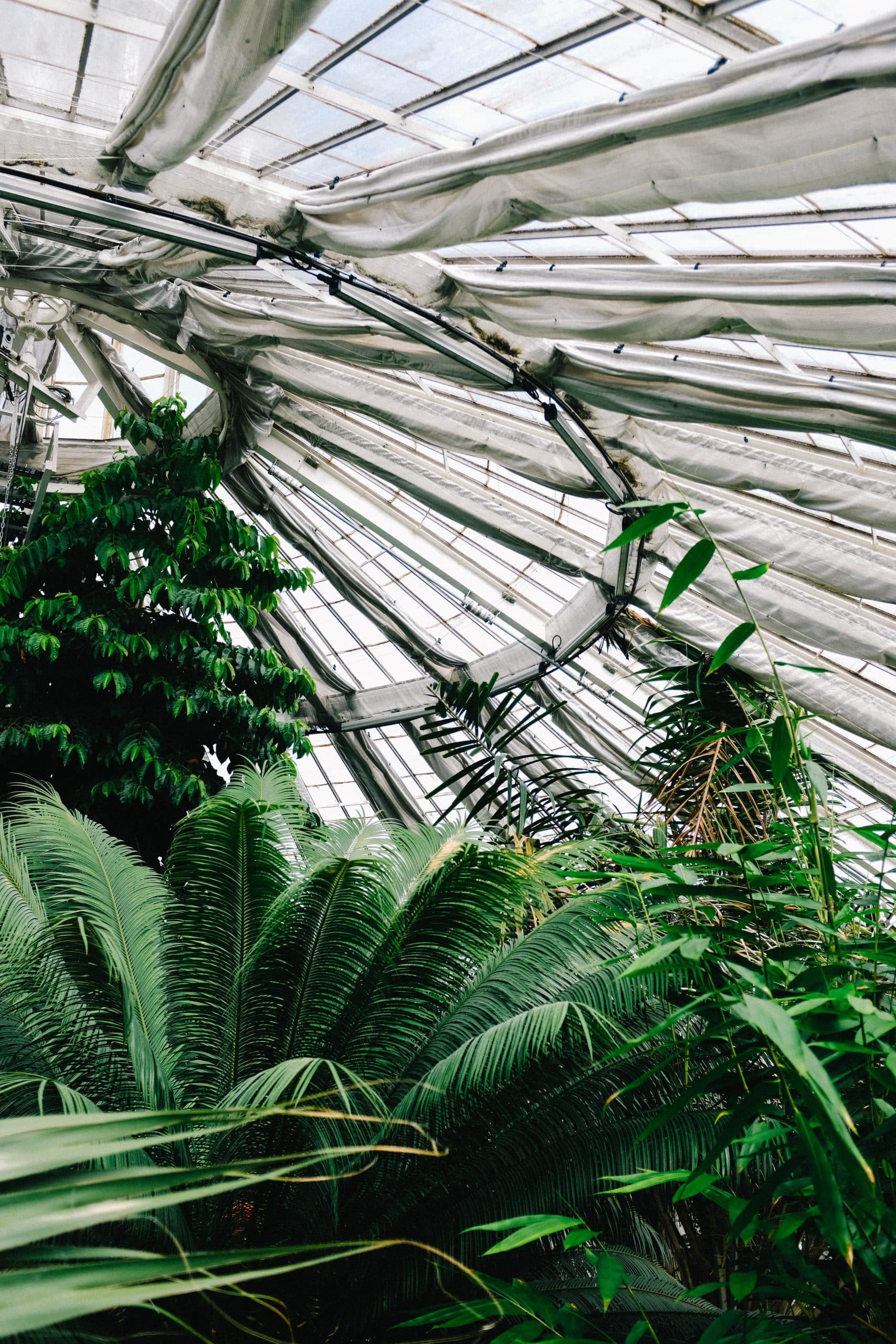 In addition to the greenhouses, also visit the butterfly garden, where you will be welcomed by a large group of colorful butterflies. The park is free to visit and belongs to it Natural History Museum. A ticket for the botanical garden costs 60 DDK per person, which is about 8 euros. This will give you access to the Palm House and Butterfly Garden.
7. Go for a taste at food market Reffen
food market The reef is a favorite place in Copenhagen. You will find Reffen in Refshale Island (Location here ), a hip and industrial area outside the city center. The food market is easy to reach by bike, but also by bus or taxi boat.
---
This non-stop food festival has no less than 41 different food trucks and containers where you can score all kinds of tasty street food and drinks for a good price.
Take a seat at one of the picnic tables or on a beach chair with a view of the water and with your feet in the sand for the ultimate holiday feeling. When the weather is not so nice, you can take a seat in the large hall and still enjoy the food festival feeling. Regular events are also organized here, so with a bit of luck you can take part in a quiz, bingo, workshop or attend a concert.
Tip:: Reffen can be visited for free and is usually open from April to December, so always check the opening hours before your visit. Keep the Facebook page keep an eye out for the calendar of events.
8. Visit the city of refuge Christiania
The unique district Christiania (Location here ) is an interesting place to visit. Christiana is the colorful free city of Copenhagen and was created around 1971, when the abandoned military area in the district Christianshavn was taken over by squatters. They claimed that the area should be a free city with its own laws and where no VAT had to be paid. New settlers then moved to this part of the city and the social experiment has become a permanent part of the city.
A visit to Christiania is a unique experience. The district consists of several houses, colorful street art and striking works of art, such as the big troll Green George, made from waste and recycled materials. You will also find several cafes and stalls here where you can buy jewelry, clothing and handmade accessories.
As a visitor you are welcome to walk around here, but you must adhere to the rules of the area. At the entrance there is a sign with do's and don'ts, which states, for example, that you are not allowed to hold a mobile phone and camera in certain places. The police do not have free access to this area, which can cause dangerous situations. So follow the rules and leave if it doesn't feel right.
9. Go on a discovery tour outside the center
There is a lot to experience in the inner city of Copenhagen, but some of my favorite neighborhoods were outside the city center. Like, for example, the hip neighborhood Norrebro (Location here ). This is the heart of Copenhagen when it comes to multicultural living and you will find countless restaurants with different cuisines here.
For second-hand bargains, head to the flea market on a Sunday morning Ravnsborggade (Location here ). Another district that you should not skip is Vesterbro (Location here ). This former red-light district of the city is today one of the hippest neighborhoods full of great restaurants and shops.
Okay one more then, the neighborhood Osterbro (Location here ). This quiet neighborhood with beautiful homes is located on the water. Many wealthy families live in the area. In addition to houses, you will find delicatessens, wide walking paths, well-kept gardens and parks and Copenhagen's most famous statue: De kleine zeemeermin.
10. Changing of the Guard
Not only in London, also in Copenhagen there is a traditional changing of the guard in front of the palace. This ceremony is free to visit. Every day at 11:30 a.m. the watch starts Rosenburg Castle through the streets of Copenhagen to Amalienborg (Location here ), the large square where the changing of the guard takes place at 12:00.
It is an imposing ceremony that attracts many visitors, so here's another real one insider tip ahead of you: arrive at 12 noon when the whole crowd is already there and the ceremony is in full swing. Turn around and look 180 degrees the other way where the square is completely empty. There you will also see 2 guards who will be changed. Stand near one of these guards, because these 2 guards will be the last to be changed.
The changing of the guard will then come straight at you, without hordes of people in front of it! When we were there at the perfect time, people soon arrived to do the same, but unfortunately, they were too late…
How do you get there?
Train
The most sustainable and most relaxed way to travel to Copenhagen is of course by train. If you book in time, a one-way ticket costs about 55 euros and a return ticket 110 euros. Prices and availability can be found at NS international en ChooChoo.eu.
The total train journey is approximately 10 hours. From Amsterdam to Copenhagen you have to change trains twice, once in Osnabrück and once in Hamburg. By the way, you don't necessarily have to board in Amsterdam. The ICE train from DB (Deutsche Bahn) to Osnabrück stops at several places in the Netherlands. These are all stations in the Netherlands where you can get on.
Amsterdam
Hilversum
Amersfoort Central
Apeldoorn
Deventer
Almelo
Hengelo
Cars
A one-way trip to Copenhagen by car takes about 9 hours from Amsterdam, according to Google Maps, when there is little traffic on the road. This excludes breaks! Realistically, you have to take into account a travel time of at least 10 to 11 hours. The total travel time is therefore comparable to the train. The big advantage of traveling by car is that when you travel with several people, you can share the fuel costs. Disadvantages of traveling by car is that there will probably be (considerable) parking costs in Copenhagen and that the driver may arrive very tired.
Plane
Traveling by plane is the fastest way to Copenhagen from Amsterdam. A single flight to Copenhagen takes about 1,5 hours and costs about 100 euros. For prices and availability, see here . However, you have to make some serious reservations in terms of time: for example, you have to be at Schiphol at least 2 to 3 hours in advance to check in and catch the plane. In addition, Copenhagen Airport is quite a distance from the city. All in all, the total travel time by plane will be approximately 6 hours.
My experience with the train
The train ride
The train journey takes about 10 hours from Amsterdam and you have to change trains twice. This seems like a long time – and in fact it is – but you experience a train journey like this very differently than, for example, a plane journey. It also does not resemble the regular train journeys in the Netherlands. These are trains that are designed for long distances. During this journey you board several high-speed trains that travel up to 300 kilometers per hour with spacious reclining seats and fast WiFi on board. This makes it ideally suited to work on the train. This way your travel time is spent usefully!
It's not bad at all that you have to transfer twice. I experienced these as good moments. During the transfer moments we had some time to get coffee or lunch. Hamburg's station concourse is also one of the largest I've ever seen. I didn't count the number of tracks, but there were certainly many.
In terms of food and drink, you can get just about anything you want at Hamburg Central Station. It is of course also nice that you are moving again. It is a long sitting and walking in between was nice in retrospect.
Working on the train
Admittedly, you are slowly seeing more and more that you can go online on the plane. However, this is never without extra costs and unless you fly business class, the space you have to work is pitifully small. You can't put your laptop properly in front of you on the plane, which quickly results in back and neck complaints.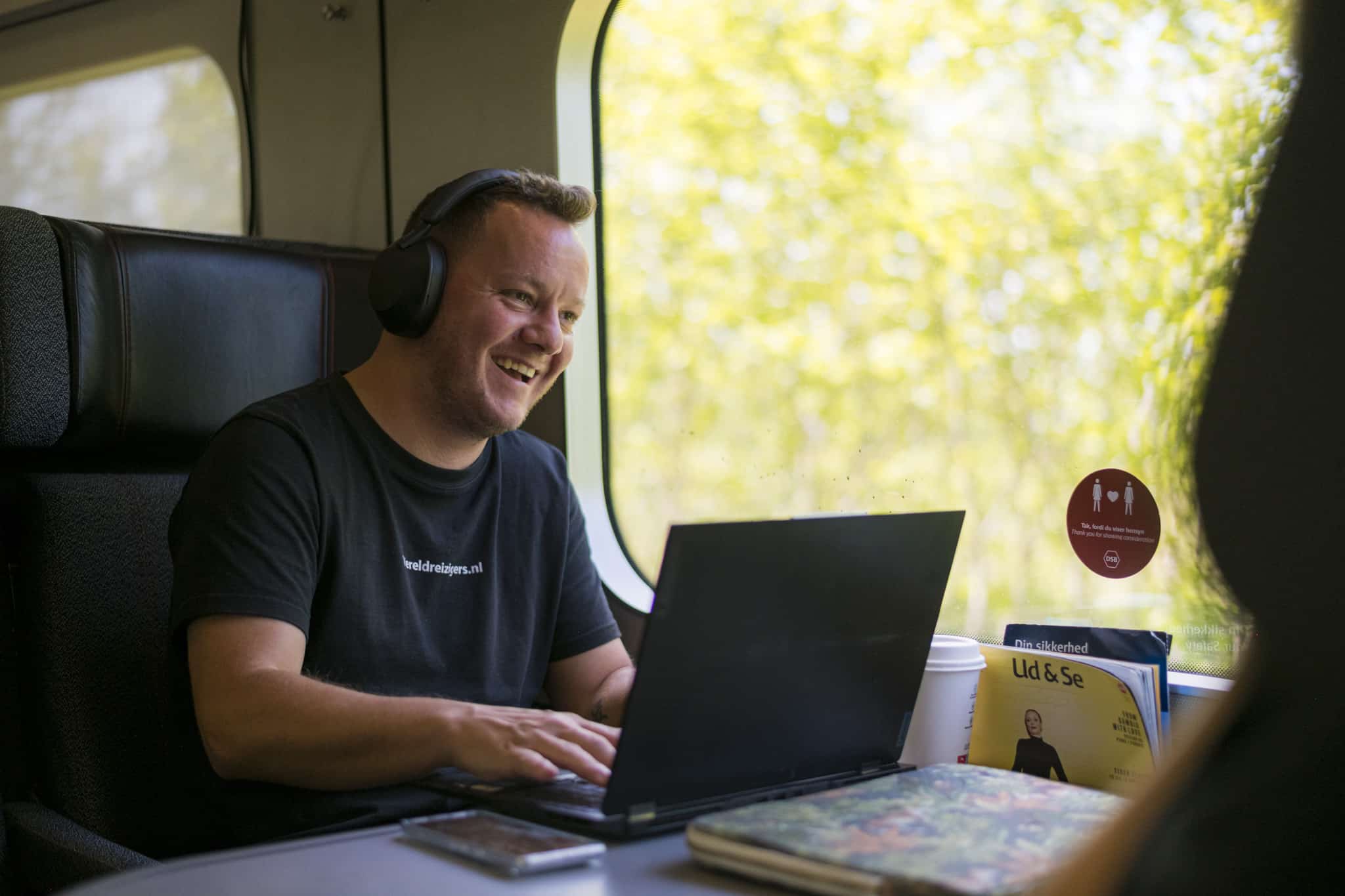 I experience it very differently on the train. The seats are spacious, the free WiFi on board is fast and I have a decent table in front of me where I can easily work. Using my noise canceling headphones from Sony, which can really filter out all ambient noise, I manage to shut down and work productively. Hours in a row…
Market leader in noise cancellation
Sony WH-1000xm5
The renewed Sony WH-1000XM5 are wireless headphones with noise cancelling. Thanks to Sony's enhanced smart features, your sound will sound better than ever before and your conversations will be smoother than ever, anywhere in the world.
Pros:
Incredibly powerful noise canceling

Only 249 grams

30 hours on 1 battery charge
Order Now
Want to support us? We earn a small commission if you make a purchase through our link(s), at no additional cost to you.
For example, while I watch the beautiful landscape pass me by at over 200 kilometers per hour, I write this article Wereldreizigers.nl. This would have been unthinkable in an airplane.
So I am bending the two 'travel days' of 10 hours into two working days. I make good use of the travel time – for example, I am writing this article on the train on my way back to the Netherlands. If you approach a trip in this way, the travel time is suddenly not too bad. You are not bored and you are productive. And if you don't feel like working, you can of course just choose to watch a movie or series and relax. What more could you wish for during a trip abroad?
Grand Joanne – the sustainable hotel in Copenhagen
Not only the train journey to Copenhagen was sustainable, the hotel was also chosen for it. The term sustainable is of course very broad and as a hotel you cannot do everything sustainably. But the moment I do Grand Joanne Hotel walked into Copenhagen (here bookable at Moonback), I immediately noticed that sustainability is of paramount importance to them. For example, I have never received a nice wooden hotel key card before. Amazing, right?
Centrally located in Copenhagen, this upmarket hotel is beautifully decorated with lots of wood accents and sustainable materials. The lobbies and restaurants as well as the rooms look very well maintained in this hotel.
We stayed in the comfort room, a small, cozy hotel room, where you are fully equipped. I think a nice extra is that you will find a travel guide for Copenhagen on your bedside table. You will not find any plastic bags for your dirty clothes in your room, the free toothbrush in the room is made of wood, the free instant coffee bags are made of paper and the restaurant bill is presented in a wooden booklet. Nothing is left to chance here.
The fact that the hotel has a beautiful roof terrace is a big bonus in my opinion. It was wonderful to look out over the city from the roof terrace. We also came here at the end of the afternoon to relax a bit, with a nice glass of wine in hand of course.
Cycling in Copenhagen
How can you during a sustainable city trip in Copenhagen is the best way to explore the city? By bike of course! Skip the old-fashioned Hop-On-Hop-Off buses and rent a bicycle from one of the many bicycle rental companies in the city. Bee Copenhagen Bikes you can book fully arranged bicycle tours including a Dutch-speaking guide. With an organized bike tour of three hours you will not only pass the most beautiful places, you will also be provided with a lot of interesting information in the meantime. As far as I'm concerned, it's really recommended.
---
About Moonback & Choo Choo
Sustainable travel with Moonback & Choo Choo 🚂
Trains are totally hip and hot. Not only because this way of traveling is a lot better for the environment, but also because it is just a very relaxed way of traveling. moonback en Choo Choo, two young progressive Dutch startups join forces and offer more and more sustainable travel together Europe On. Not only is the transport to your destination sustainable, the hotels are also often selected on sustainability and honest business is the norm with them, without sky-high commissions.
Moonback – The honest booking site
Do you remember that hotel booking site Booking.com during the corona crisis? state aid application did to the Dutch government and then also paid millions in bonuses to shareholders? And that while a few months before they announced in the news that they had made a record profit of tens of billions….
The measure was full, the Dutch no longer accepted this grabbing behavior. And after a viral LinkedIn post and crowdfunding campaign (where Wereldreizigers.nl contributed to), honest booking site Moonback soon saw the light of day. A fair alternative to Booking.com was born.
In short, Moonback is a sustainable hotel booking site where honest business practice is actually laid down in the statutes. No major shareholders. No more paying out excessive profits to shareholders. No hotels that have to pay ever-increasing commissions. No travel blogs that receive less and less commission. moonback is the sustainable alternative to Booking.com and 2,5 years after the first crowdfunding campaign there is a beautiful platform online with an ever-growing range. View the current offer here .
Choo Choo – Making rail travel in Europe accessible
Sustainable and comfortable train travel through Europe, without hassle. Choo Choo is a Dutch startup that goes further where NSinternational stops. When you cross several countries by train, you often need different tickets that you have to search for and book on all kinds of apps and websites. For many people this is simply too complicated. With all the focus on climate change, however, you would expect that nowadays you can easily travel sustainably without too much hassle. Why can you find a cheap plane ticket to Rome, Budapest or Barcelona in a few minutes, while you spend hours researching times and prices for a train journey to the same destination?
Choo Choo changes that. They arrange your train journey according to the most optimal route, tailored to your travel wishes. They not only book the tickets, but also explain how your journey is going and where you need to transfer. Do you have problems on the road? Then there is always a phone number you can call for help. Very handy!
Plan your holiday to Scandinavia here