I drove during my roadtrip in peace through Switzerland to Lauterbrunnen. Meandering down the narrow, winding roads, the snow-capped mountains loomed in front of me, the sun came out and I saw the beautiful, world-famous Staubbach waterfall. I was impressed, it just made me emotional. A beautiful landscape or a beautiful sunrise sometimes does that for me and there are only a handful of destinations in the world that could fuel this feeling. I was a bit shocked myself, I was traveling alone and would have loved to share this with my other half!
I was excited. This was my home for the next week and I couldn't wait to explore among all that beauty. In this article I will tell you about my experiences in the beautiful Swiss region of Lauterbrunnen. I hope to inspire you with this so you know what you can do in Lauterbrunnen and also which ones bucket list activities you can undertake. This is the perfect place to cross off a few!
About Lauterbrunnen
Lauterbrunnen, the valley of the 72 waterfalls, lies at the foot of the Eiger, Monch and Jungfrau mountains. Located 13 km from Interlaken in the Jungfrau region, Lauterbrunnen is the perfect base from which to explore this area. It is one of the most stunning places I have ever visited.
A deep valley carved into craggy mountains standing almost straight on either side, the scenery is dramatic. From the vertical cliffs, 72 waterfalls cascade down into alpine meadows dotted with chalets. Behind the steep cliffs you can see the peaks of the high mountains behind. It doesn't really matter from which angle you look at Lauterbrunnen, it is an unreal beautiful place on this earth. Bucket list worthy, that's how beautiful it is.
Things to Do in Lauterbrunnen
Schilthorn
Schilthorn is famous for the James Bond movie, On Her Majesty's Secret Service which was recorded there. Ride the cable cars to the top of Lauterbrunnen and Murren and visit Piz Gloria Revolving Restaurant at 2970 meters. You have a beautiful view of mountain peaks and glaciers. Here you will find more information.
Staubbach Falls
Located just outside the village, Staubbach Falls plunges 300 meters into the valley below. The Staubbach Falls are just across the road from Camping Jungfrau. The sound of the roaring water a little further on was wonderful to fall asleep to and to wake up to.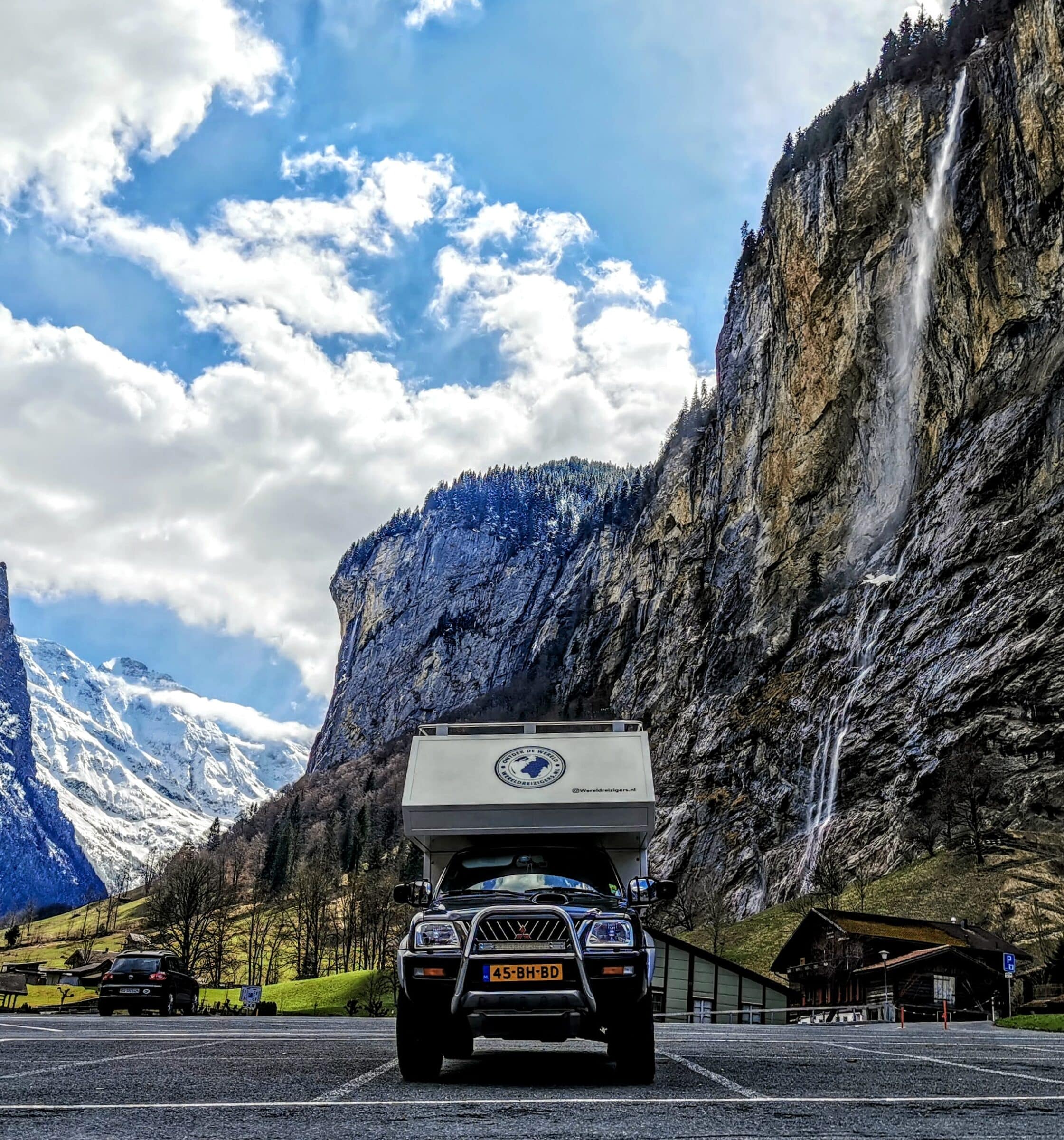 It also makes for great pictures, it doesn't really matter from which side you photograph this beautiful waterfall. It is beautiful from every angle, both near and far.
grumbling
Visit the quaint traditional village of Murren. Murren is only accessible by cable car from Lauterbrunnen and Stechelberg and is a stop on the way to Schilthorn. It is a car-free village and the highest village in the Bernese Oberland. To get there, take the cable car from Lauterbrunnen to Grutschalp and then the train to Murren. The whole journey takes less than 30 minutes. After exploring Murren, take another funicular to the village of Stechelberg. From Stechelberg you walk through the valley back to Lauterbrunnen in about an hour. If you don't feel like walking (although I highly recommend it) there is a bus every 30 minutes.
Day trip to the Top of Europe
I spent a day at the Summit of Europe at 3454 meters above sea level and visited the high-rise building in Jungfraujoch. It houses an ice palace, restaurant and viewing platforms. If you want to experience a winter wonderland, even in summer, this is the place to go. I bought a kind of ski day pass (100 euros in low season, 160 euros in high season), which allowed me to travel freely in the region for a day on all trains, ski lifts and gondolas. It is a hefty price, but in retrospect it was well worth the money. Below you will experience further why it is worth your money.
A trip to the Top of Europe and Grindelwald on the Jungfrau Railway departs from Lauterbrunnen on a cogwheel train to Kleine Scheidegg. Once there you can already see the Top of Europe in the distance.
To see a fully-fledged train station at this dizzying height is astonishing. I quickly snap some pictures while my hands are already freezing. There is a strong wind and it is -12.
jungfraujoch
So I'm not there yet. From here we have to make another climb through the mountain via the 7 km long Eiger tunnel to the top. It's an amazing journey and once there you look down over the Aletsch Glacier and to the German and Italian Alps. The view is truly spectacular. I decided to share some cookies with some tough birds braving the wind and cold here. It resulted in some unique photos and videos, I felt completely at one with these animals that trusted me and just came to eat from my hand. To give you an idea of ​​how grand this place really is I have included the video of the place and the feeding of the birds below.
You can barely see or hear it on the video, but it was really cold up there. On this day there was a strong wind of about 40 kilometers per hour and the temperature had already passed -16. You could stand on the side where the birds were fine out of the wind in the sun and still enjoy. The other side simply couldn't be sustained for more than a minute. In the video I briefly walk over to it, but really enjoying it was simply not possible on this side. I ate a sandwich in the restaurant with a view and took the train back down. Time to travel by gondola to Grindelwald.
With the Eiger Express gondola to Grindelwald
The quintessential mountain village of Grindelwald is spectacular and I highly recommend a visit if your itinerary allows. When you travel from Jungfraujoch to Grindelwald you can take this gigantic gondola, the Eiger Express, from the Eiger glacier. It is the largest and most modern gondola in the world and spans over 6 kilometers in just 15 minutes.
The photo above seems high, but at this point you have actually almost arrived at the bottom of Grindelwald. To give you an idea of ​​the bizarre scale and heights at which these modes of transport are, I recommend that you watch the Timewarp video below that I made with my GoPro. We start in on the Eiger Glacier in the clouds and race down (and back up). What I find so striking and beautiful is the change of colors in the landscape. The gray and gray heights give way to the green and colorful valley.
Paragliding in Lauterbrunnen or Interlaken
Lauterbrunnen and Interlaken are the places where many paragliders like to come. The bizarrely steep precipices make it the perfect place to take paraglides. You see them regularly coming down on both sides! Unfortunately I just couldn't see the jumps myself from the campsite where I stayed. I sat quietly watching this for a few hours. I was captivated by the absolute beauty, silence and the absolute adrenaline and freedom they have to experience during through type jumps. It is a bucket list activity which is definitely still on my own list. If you are wondering what paragliding in Switzerland usually costs: about 130 euros. Here you can find more information about paragliding in Lauterbrunnen and/or Interlaken and also book.
Also read: Bungee jumping | 10 spots to fall down at
Helicopter Flight and Landing on a Glacier
And about bucket list activities spoken… During my stay in Lauterbrunnen I noticed that one helicopter after another took off and landed in the valley. They often transported wood or other heavy equipment, but after a quick Google search I soon found out that many of these flights are also recreational.
I really wanted to make a helicopter flight one day, that has been a dream of mine for years, preferably in a unique place. So I wanted to experience the epic views, glaciers and mountain peaks of Switzerland from above and decided to contact the three different providers of helicopter flights in Lauterbrunnen. After calling and e-mailing back and forth (in which I explain, among other things, that I Wereldreizigers.nl am), I was called early on Saturday morning with the message that I had to be there within 30 minutes. There was a spot left in one of the helicopters and I was allowed to board for a small amount. Yes! I packed my things and headed straight for it.
This unique bucket list activity was so cool that I dedicated an entire blog to it, including beautiful 4K footage of the flight. Below you can find the link to the relevant article.
Also read: Helicopter flight + landing on glacier in Lauterbrunnen | Bucket list activity ✔️
Kayaking on Lake Brienz near Interlaken
A lot less extreme than the previous activities, but definitely no less fun! The Brienzersee near Interlaken is bizarrely beautiful. I spent two days there and ate my breakfast on a bench (peanut butter crackers, yes!), next to the beautiful flowers of this beautiful lake as the sun came up.
At the end of the morning, the ducks and swans soon made way for various water sports enthusiasts, including kayakers and suppers. I didn't have time to do this activity myself but it looked beautiful and wonderfully relaxing from the side. Kayaking with such a view of a mirror-smooth lake! You can kayak on Brienzersee for 3 hours for about 70 euros, here to book.
Free Natural Wonders
Many people come to this region for hiking. The trails are extensive and the views are unprecedented. It doesn't really matter which mountain you climb or which lake you look at. Each and every one of them is beautiful!
Keep in mind that you have to be prepared to walk in this region. Even if you are not really a walker and you do not look for it, you will also have to walk several meters between the many trains, cable cars and gondolas. Many meters. It's part of the deal, shall we say. Nevertheless, I hope that you do not miss a visit to Switzerland, and in particular this region. This place is worth visiting for its sheer natural beauty alone. It really won't disappoint you!
I mean, personally I could have just camped in front of my RV. Or on a heated terrace. Taste wine, drink beer, eat cheese and gaze at the awe-inspiring view – and still be completely satisfied. After all, I am easily satisfied. But oh how I am that I took the trouble to really explore the region. With sore feet and muscle aches that haunted me for days, I look back on a unique experience that I will never forget. Switzerland, I'll be back!
Practical Information
Where to stay
A variety of accommodation options are available in Lauterbrunnen. Whether you go for luxury or something very basic, there is something for everyone. Also #vanlife travelers and motor home owners can be found in this region. I've collected some great suggestions below to suit most tastes and budgets.
Hotels & B&Bs
There are a number of hotels to choose from in Lauterbrunnen, varying in budget and style. Below the best in terms of price / quality / rating according to Booking.com.
Hotel Silverhorn – conveniently located near the train station. A XNUMX-star hotel with an excellent choice of room types.
Hotel Oberland – A family-run hotel, conveniently located 5 minutes from the train station and near the Staubbach Falls.
Hotel Staubbach – A simple hotel / B&B located on the edge of the village near the Staubbach waterfalls.
Camp Jungfrau
I myself stayed with the 4×4 motorhome at Camping Jungfrau and loved it. From Camping Jungfrau you look straight at the Staubbach waterfalls. That is wonderful to wake up to!
The site has plenty of places for travelers with caravans, motorhomes and tents and also offers a range of bungalows, mobile homes and caravans on site. It is also located directly on the river and the rippling water is wonderfully soothing.
In addition, in the summer months there is a Hostel Holiday Lodge on the campsite for groups up to 60 people and a Chalet for groups up to 100 people. The site also has a shop/newsstand, a restaurant and other facilities such as a launderette. Everything you need for a multi-day stay.
Switzerland is not cheap
When planning your trip, keep in mind that Switzerland is not cheap. If you have the opportunity, take groceries with you because even the groceries are pricey for Dutch standards.
During my stay I had enough budget to do nice things, but it all ticked off. You pay almost 2 euros per liter of diesel here! In the mountains you consume with these prices just 100 euros fuel per day with a camper such as mine, which gets 1 in 8 on the highway but just consumes 1 in 6 in the mountains of Switzerland.
There is just 100 euros per person for a day of train and cable car, or 35 euros per day for a basic overnight stay at a campsite. Dining out? Then calculate about double what you are used to in the Netherlands.
No, Switzerland is not cheap. But still I thought the trip through Switzerland was worth every euro. It is a unique country with bizarre landscapes and authentic villages. It's as if mother nature has saved all the best for you and put it all together in this region. The region of Lauterbrunnen and Interlaken takes the cake and you definitely want to go here once in your life.