Normally we look for the nicest hostels in Asia, but now we were 'forced' to look for nice overnight stays in our own country. That's how we found Four Elements Hotel Amsterdam† It is the most sustainable hotel in The Netherlands, located on the IJmeer. This hotel runs entirely on gravity, wind and sunlight and is the first hotel in the world to use this technology. Of course we were immediately excited! Earlier we also wrote a blog about 9x sustainable must-have luggage items, we think sustainability is very important at Wereldreizigers.nl† We will take you to this beautiful accommodation and tell you about the (sustainable) highlights!
IJmeer provides natural air conditioning
Four Elements Hotel provides a clean and allergy-free environment without air conditioning† Air conditioning costs a lot of energy and that does not fit with the sustainable concept. To 'solve' this there is revolutionary technology is developing which immediately makes it clear why the hotel is located on the IJmeer. Four Elements Hotel uses the wind force of this environment. This fresh air is collected in their climate cascade. Here it is heated or cooled to an average temperature of around 20/21 degrees. This then becomes circulated through the building.
You can set the temperature in the rooms 3 degrees lower or 3 degrees higher. Do you open your windows at the same time? Then the system returns to the standard temperature of 20/21 degrees. The air in the entire hotel is completely refreshed every 24 hours† You can hardly get cleaner air! Very nice to know in these corona times.
Sustainable down to the last detail
All 195 rooms are therefore equipped with a clean and allergy-free climate† But of course there is more! Thanks to the amount of solar panels on the outside of the building, Four Elements Hotel can fully powered† The entire building absorbs solar energy to generate electricity. Sometimes there is even a surplus of electricity. This is stored securely underground. Nothing is lost.
Each room has a desk, tea and coffee making facilities, a Smart TV, a comfortable bed and a bathroom with shower. All materials in the hotel are recycled, recovered or sustainably sourced. This is how the walls and ceiling of recycled concrete and the floor is made of recycled wood† That immediately gives it a cool, urban look. The duvet is from recycled linen and completely allergy free.
You can switch on the light manually (as you are used to) but it will turn off when there is no 30 minutes of no movement is. This way there is no unnecessary power consumption. In addition, the spot lighting works on sensors at the entrance and in the bathroom. Even the rain shower has a timer! It should shut off after 10 minutes. Of course you can simply switch the shower back on afterwards. It is purely to make you aware of how long you are under it. That is the aim of Four Elements Hotel. They hope you take home at least one sustainable thought† Then your visit is also a success for them. A very nice thought if you ask us!
Fresh food and seasonal menu
De menu van Four Elements Hotel offers what is currently available in our small country. That doesn't just mean that the ingredients super fresh are, but that there are also no unnecessary emissions is needed. That ensures a nutritious and sustainable meal! By the way, that doesn't mean that there are only fancy, vegan options.
Fun fact: the strawberries are picked in the planters of the waterside terrace† They grow their own ingredients there. You can sit in between with a drink and with a view of the marina.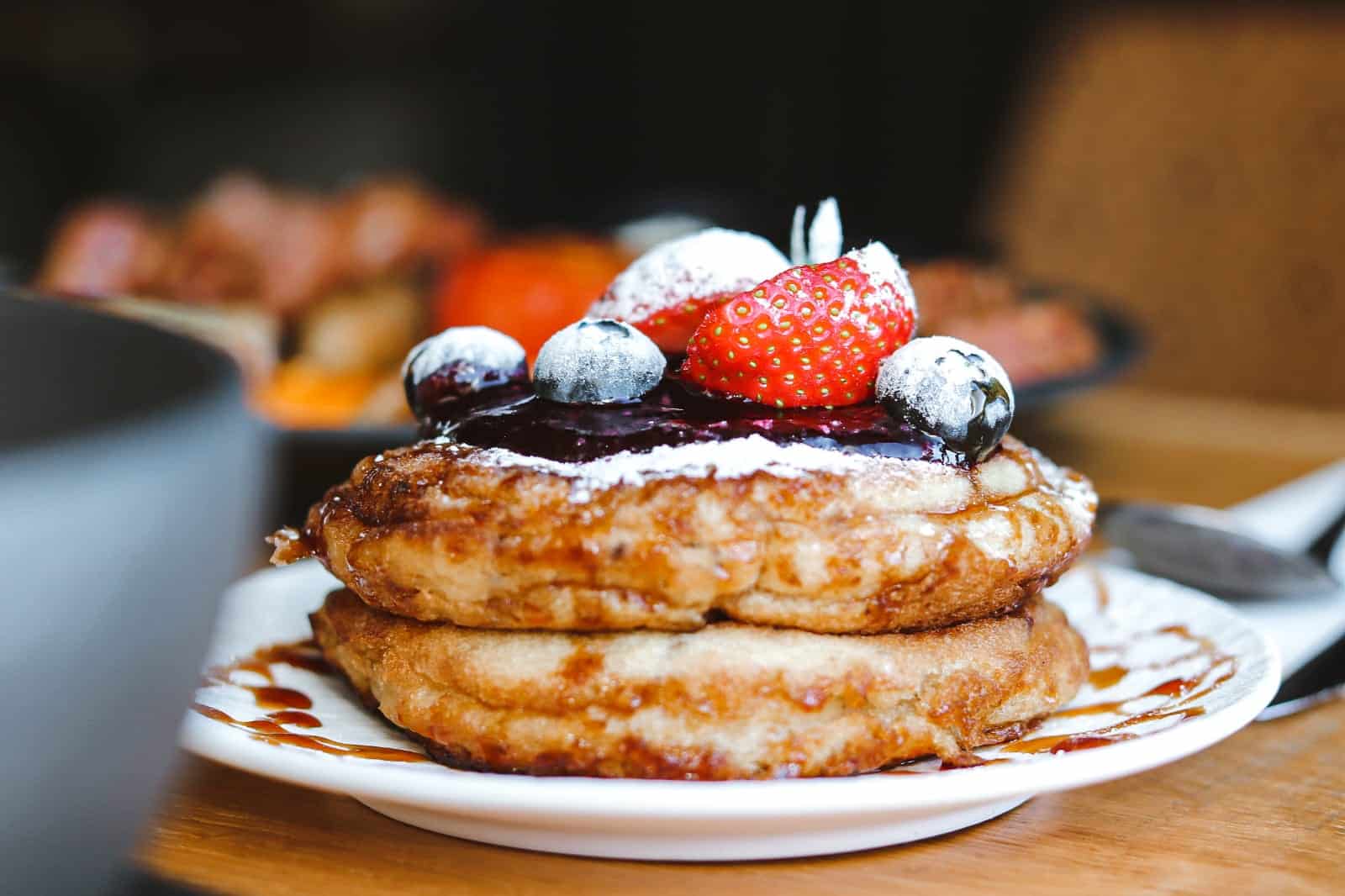 The menu offers something for everyone. Vegan and vegetarian dishes, but also fish and meat dishes. The extensive breakfast and the desserts: everyone likes that! Normally breakfast, lunch or dinner is prepared in the open kitchen (where they do not use gas, but electricity) of the atmospheric restaurant, but we had to eat in our room because of the RIVM guidelines.
Fun fact: at breakfast no orange juice is served (as you might expect) because there are no oranges available within a radius of 500 km. That is why Four Elements Hotel opts for apple juice with apples from our own soil.
Icing on the cake: Wind Sky Bar
On the 10th floor of the Four Elements Hotel you will find next to the gym, public showers, and the meeting room Wind Sky Bar† Here you can enjoy a drink while enjoying the beautiful view over the IJmeer† Both in and outside. The Wind Sky Bar is also in line with the philosophy of Four Elements Hotel Amsterdam: locally purchased, 'zero waste policy', circular and using natural products.
In addition to the Wind Sky Bar, there is also a meeting space† Not very special at first sight. Until you realize that the entire interior of this space is made of plastic from the Amsterdam canal† So impressive!
Another nice element are the ceramic mugs which you will see at Four Elements Hotel. These mugs are durable because they are made are handmade from clay† Do you like them too? Then you can buy them in the lobby.
Fun fact: the maker of the ceramic mugs collects (used) clay from primary schools in the area. This is formed and heated, resulting in a unique specimen. 
Four Elements Hotel recommended?
100% yes! We absolutely loved our stay. The location, the wonderful bed, the rain shower, good coffee, the food, the hospitality. And all that 100% sustainable. What does a man want more?!