How two degrees makes +/- two centimetres, I stopped my regular job and… became even freer!
"Jesus, it's cold," I mutter to myself. I'm standing in a camper place on the edge of a parking lot. Or actually I'm lying. I'm in the parking lot. Those camper pitches are well-intentioned, but bean roots grow underneath and they have subsided. If I park there with my camper, I will have to chain myself to my nest with a lashing strap, and I will still have a stiff neck.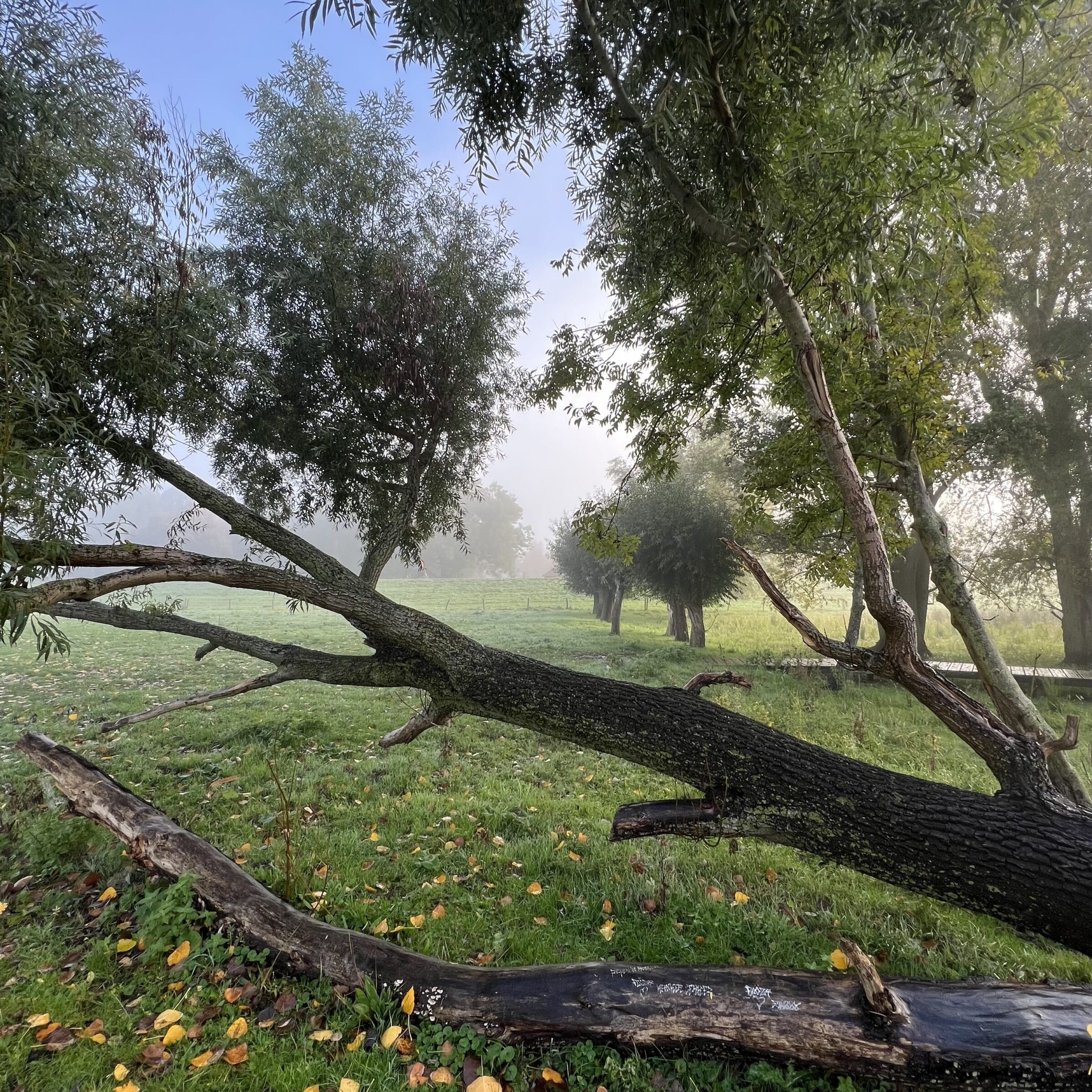 Also read: Living on a boat | This is Shem de Labric
Also read: Living on a boat | Would you do that?!
Also read: Living on a boat | Unwanted visit, bad nights and still that freedom
Also read: Living on a boat | Or in a camper?
Not measuring is not knowing
I see how a white haze comes out of my mouth. The weather app on my iPhone shows that it is two degrees. Outside then. I don't know inside. I don't want to know either, otherwise I'll just keep an eye out for it. Same idea as having a clock. Also such a nuisance. Unnoticed you pay attention to the time and suddenly you start eating at the stroke of half past five, the day takes a long time or you worry that you will be late.
What I also do not need to know is how much diesel my motorhome needs. You can also know too much, I think. Suppose I know that he runs one out of ten… So in the future I think for every ten kilometers that it has cost me two euros. In fact, every ride would hurt. Now it only does that (very much) at the gas station.
I think it's the same with temperature. And it's not about how hot it is in degrees, it's about how warm it feels. If it's two degrees in my bus, but I'm lying in my fleece blanket, then I'm not two degrees, am I? If my van is in the sun, but it's cold outside, will it naturally get warmer inside?
Did I underestimate the cold? No, I do not think so. I'm figuring it out. Two degrees is certainly cold. I haven't turned on the heater yet. Why not, you might ask. Well, maybe that's my shit-headstrong character, but what it is mostly is the thought: I still have a whole winter to go. It will really get colder than those two degrees. If I were to wrap up and heat up the stove nicely, it could become difficult if it becomes minus five for a few days.
You get dexterity
At night I haven't been cold yet. I sleep under a fleece blanket with a thick duvet on top. When I'm under the covers I'm not cold. Only thing when it's cold is when I have to go to the bathroom. Then it shrinks to about two centimetres, to describe it visually. And always... when I'm just lying down... I think: oh yeah shit, I have to go to the bathroom...
It is cold to get out of bed in the morning. In principle, the parking heater that I have is nice and warm in five minutes. But if I have to work in the morning, then I have an hour and I think it's a shame to turn on the heater. In the evening I prepare the one burner (on gas) with the filled percolator on it. The next morning I turn on the single burner and I immediately get the heat. Then I get out of bed, put on a bathrobe and drink coffee.
If I can't shower, because it takes too much time in the morning, for example, then I wash well and shower later that day. I do that at the marina where my boat is moored, at the gym or – if I'm with friends – with friends. When I've finished the coffee, I turn on the percolator again for another cup of coffee, and then wash myself, while that thing radiates the heat again. This way you get some skill in everything.
Resigned
"Then it never ends with you?!" shouts a friend of mine when I tell her that I have quit my permanent job. "You just work there!"
'Yes, that's right, but…' I start and I explain to her that this will increase my freedom. It took some convincing, but I think she's done.
'So if I understand correctly, you will soon no longer be working permanently in the place where you are now, but will you be able to work throughout the Netherlands?'
'That's right. When I got this new part-time job, I also registered as a self-employed person in healthcare. Normally someone has a certain region in which he works, because most of them naturally live in a fixed place, but because I stay in a camper, I can do that throughout the Netherlands.'
"Chill!" she responds. Something that in itself does cover the load.
More freedom
There has been so much change in my life lately that I can barely keep up. A relationship that ends has of course already had an effect, but so does alternative living. On the boat I had more freedom by buying a folding bike. I moored the boat, threw the bike on the side and raced to work.
Thanks to the camper I am now freer than with the boat. Where I can sail for two hours by boat to get to another place, I drive the camper to the other side of the Netherlands in two hours. Because I had to be in that city three days a week for my regular work, I noticed that I was very tied to that place. And I thought that was a shame.
The way I'm going to do it now is I'll accept services wherever they are and stay close by. Then from there I look at new services within a radius of, for example, 60 kilometers. If they aren't there, I'll go into town. If there are, then I work and look again the next day within a radius of 60 kilometers. Because I have few housing costs, I don't have to work full time. If there are fewer or no services for once, that's fine too. In that time I can visit friends and the cities I pass by.
That's how I worked in recently Eindhoven, I did laundry with a friend Breda and tore through on my folding bicycle Antwerp. How free! Just don't forget where you were again...
Also read: Living on a boat | This is Shem de Labric
Also read: Living on a boat | Would you do that?!
Also read: Living on a boat | Unwanted visit, bad nights and still that freedom
Also read: Living on a boat | Or in a camper?