Victoria Falls is a wonder of the world of unprecedented caliber and therefore definitely belongs on your bucket list! We visited the Victoria Falls on the border of Zambia en Zimbabwe with a day tour from kasane in Botswana. In this article we will tell you all about these immense waterfalls and the easiest way to visit them. In addition, we give you practical tips for a comfortable visit and we have some suggestions for things to see and do in and around the park.
Plan your holiday to Africa here
About Victoria Falls
Victoria Falls is on the border between Zambia en Zimbabwe in southern Africa. The falls are more than 1,7 km wide (!) and drop 108 meters deep into the gorge of the Zambezi River downstairs.
The falls are part of two national parks: Mosi oa Tunya National Park in Zambia and Victoria Falls National Park in Zimbabwe. The local name for Victoria Falls is "Mosi-oa-Tunya", which means "the smoke that thunders".
After a visit to the falls I immediately understand where that name comes from. Just look at the photo above. It is unbelievable how much 'smoke' (water vapour/mist) this waterfall produces. It is even so extreme that it feeds a mini-climate with clouds that form on the spot and also drop rain! The Victoria Falls mist can be seen from up to 50 km away.
Which country has the best view of Victoria Falls?
In principle, the 'most beautiful' side of the falls is the side where the water falls. The side where you can best see the water falling. This mainly happens on the side of Zimbabwe and a small part in Zambia. Logically, the best place to admire the falls is from the side of Zimbabwe.
How do you get there?
Victoria Falls is located on a 4-country point, so you can get there in many different ways. The countries that have a direct view of the falls are Zimbabwe en Zambia. From Botswana en Namibia you can visit the falls through a day trip.
Tip:: There are organized tours available for the Victoria Falls from all 4 countries. Click here for the full offer. However, keep in mind that the prices are usually mainly about the transfers and sometimes include lunch or a guide. The entrance to the national park (30 USD) + any necessary visa of 30 USD (as of April 1, 2023: 50 USD) is not included in the price of the tour.
How much does a visit to Victoria Falls cost?
To discover the world you will also have to do something for it. After all, you get to see one of the most beautiful natural wonders of the world here!
Malou and I visited Victoria Falls from Kasane in Botswana on a full day tour. We paid 30 euros for the day tour/transfer, 30 euros for the visa for Zimbabwe (as of April 1, 2023 50 USD), and 30 euros entrance to Victoria Falls National Park.
In total, a day at Victoria Falls costs 90 euros per person (as of 1 April 2023 this is 110 euros per person). This is not cheap for a day trip, but of course you don't come here every day.
What to see and do in Victoria Falls
It probably won't surprise you, but we found it national park a great place to visit! Victoria Falls National Park, as it is officially called, can easily be admired in one day. There are good hiking trails to walk with many viewpoints.
Those looking for a bit more of a challenge can also choose to walk down, so that you can admire the enormous natural force at the foot of the falls. I don't think it's necessary to add that you won't come out of that dry, right? The nebulae can be clearly seen in the photos below. If you want to take a picture at the bottom of the falls you really need a waterproof camera, like one GoPro.
Malou and I didn't walk down. We already filled the day well with visiting the various viewpoints along the edge. We visited each viewpoint twice, because the view here can really change in a matter of minutes. One moment you can't see anything because of the huge fog and a minute later it opens and you see the falls in all their glory. So it pays to walk back the same route.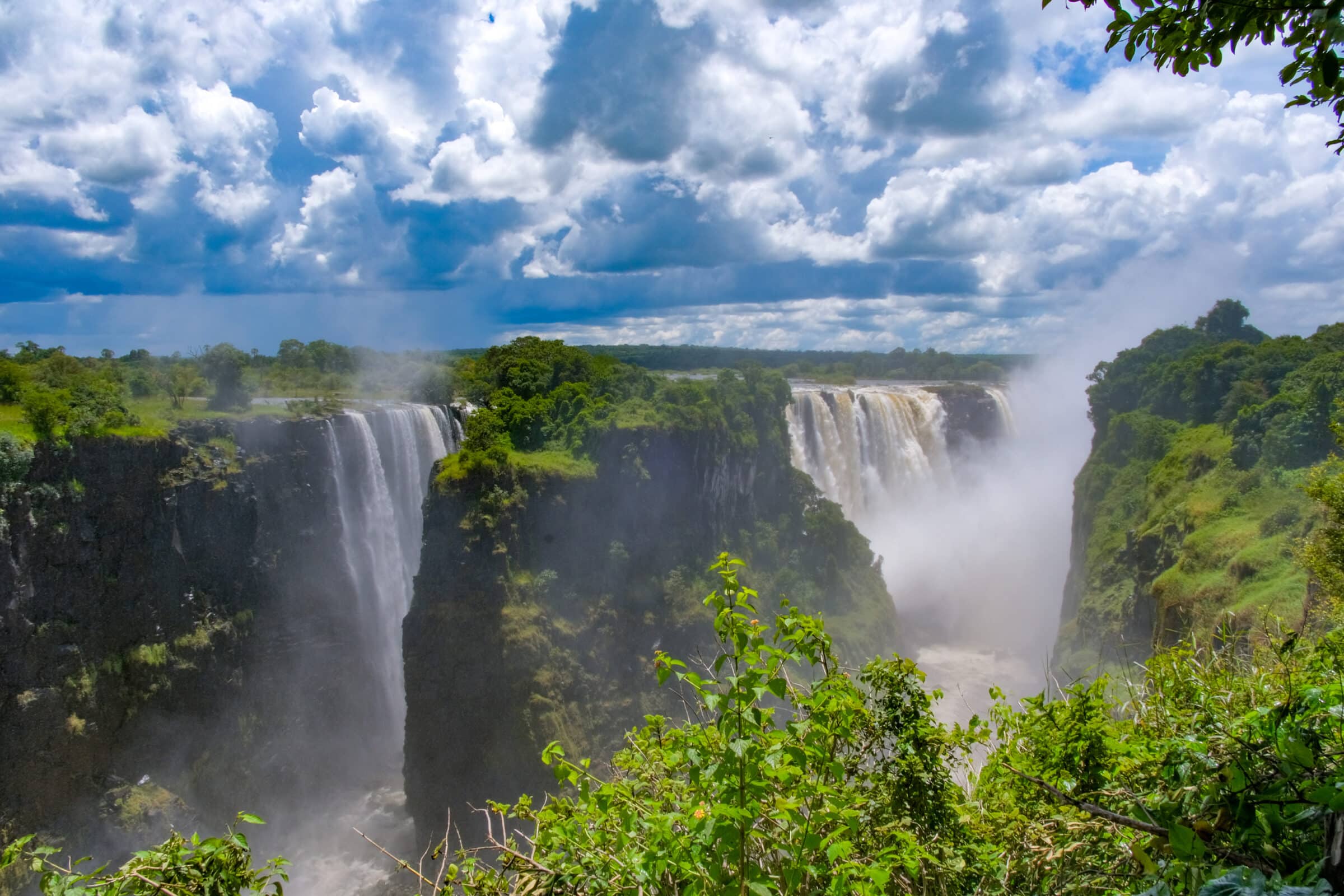 Don't give up immediately if you can't see the falls from a specific viewpoint. Visit another viewpoint and just come back later to try again.
Victoria Falls Bridge
To admire the Victoria Falls Bridge, you can walk to the last viewpoint in the park. From here you have the best view of the bridge. Bungee jumpers regularly jump from the bridge here, with a bit of luck you can see them jump!
Tip:: The middle of the bridge in the border between Zambia and Zimbabwe. If you walk out of the park and immediately turn left, you can get a piece of paper with a stamp and walk up the bridge. At the border crossing, indicate that you only go up the bridge and come back. You can then admire the falls from a different angle. You can also step across the border into Zambia, then you've been there for a while!
For the daredevils: on the bridge you can pay for bungee jumping on the spot. The bungee jump vendors are only too happy to have a chat with you to persuade you. They also sell all kinds of souvenirs. You soon get one offer after another.
I declined the offer. Which didn't stop the seller from making me another offer right away. 'Let's trade something', he said with a broad smile on his face. He really liked my cheap black sunglasses and he was willing to trade them for a handmade giraffe made of wood. I found his enthusiasm contagious and accepted his offer. Nice souvenir for home!
The Lookout Cafe
End your visit to Victoria Falls National Park with a delicious lunch with a view from The Lookout Cafe (Location here ). When you leave the park, turn immediately left. It is then about a 10 minute walk to the café. Treat yourself to a wine or beer and enjoy the beautiful view of the Victoria Falls Bridge.
Victoria Falls Hotel
Another point of interest just outside the park, it is Victoria Falls Hotel. This beautiful 5* hotel was built in 1904 with a unique view of the Victoria Falls Bridge. Staying here will cost you about 700 euros per night (prices and availability here ), but the hotel is free to visit during the day and you can also go there for a cup of coffee or lunch.
Many tours stop here so you can admire the hotel. The chance that you will run into celebrities here is certainly present. The hotel is known for hosting celebrities flying in with their helicopters or private planes from the nearby airport.
The Big Tree Baobab
Many tours end the day with a short stop at the huge Baobab tree just outside the park. The official name of this large Baobab tree is simply The BigTree and you can also visit the tree itself. You can get the exact location here find on Google Maps.
Practical tips for Victoria Falls
As you can see in the photos, it sometimes rains heavily at the falls due to the enormous mist. It's just how the wind blows. Sometimes you rain completely wet for two minutes and then you are back in the full sun. A bizarre but oh so nice experience! Still, it is something you should keep in mind. Therefore, bring the following:
Comfortable shoes: It can be slippery, because there is a lot of moisture here! Sturdy walking shoes are necessary on the landscaped hiking trails, but we regularly slipped on the slippers. We therefore put on our sneakers, which was really a lot more comfortable.
A quick-drying towel: Even if the sun is shining, if the wind shifts, you can be completely wet within one or two minutes due to the extreme mist of the falls. It's nice to be able to dry off afterwards.
Quick-drying clothes or extra clothes: Good preparation is half the job. Go in quick-drying sportswear so that you dry faster if you do get wet. If you don't like wet clothes on your body, you can also choose to put an extra set of clothes in your bag.
A poncho: Want to stay really dry? Then bring a poncho or buy/rent one on site. However, you have to take into account that you will get very hot. It is usually very warm here. As soon as the sun comes through you will want to take off your poncho within minutes. We saw many people constantly taking off their ponchos, which looked very clumsy and annoying. Our experience: You are really better off with quick-drying clothing and possibly a towel…
A waterproof bag: Do not underestimate the amount of mist and water at Victoria Falls. Your telephone, camera and other electronic devices will also have to be properly protected against moisture. Fortunately, Malou and I both have very good waterproof daypacks (Malou de GOT BAG, Chris de Peak Design) that can withstand it, but it is something you have to take into account if you don't have this. For example, I saw some people wrap a poncho around their backpack, which can also work well.
Super sturdy and waterproof
GOT BAG Rolltop - Durable backpack
A luxurious backpack from GOT BAG in collaboration with Coral Gardeners. This very sturdy backpack not only looks great, it is also waterproof and very comfortable to wear for a long time.
Coral Gardeners is an organization dedicated to protecting coral reefs by cultivating and planting new coral.
The backpack contains no less than 3,5 kg of ocean plastic and with purchase you automatically adopt a coral in French Polynesia. This is a backpack you can be proud of!
Pros:
Made from 3,5 kg of recycled ocean plastic

Very sturdy quality

Waterproof

Removable Laptop Sleeve

Beautiful design
Order Now
For the discerning traveller
Peak Design Everyday Backpack 20L v2 Black
I've worn quite a few backpacks and daypacks while traveling in recent years... So I know what works and what doesn't. The Peak Design Every Day 20L Backpack is the ideal dayback for me as far as I'm concerned digital nomads, travel bloggers en photographer. It is an iconic (and award-winning) backpack for daily use and for taking your photo equipment with you.
The bag is light, strong, made of recycled material and multifunctional. By the 'slingshot function' and handy large compartments and sides that can be opened completely, you no longer have to take off your bag to grab your camera.
Pros:
Sling shot function

Determine the format yourself

Magnetic Closures

15" laptop compartment

Secret pockets for passport and money
Order Now
Want to support us? We earn a small commission if you make a purchase through our link(s), at no additional cost to you.
Also read: 5x luxury backpacks and gadgets for demanding World Travelers
Conclusion
We have another beautiful place of ours bucketlist. can cross off. We love waterfalls but have to admit that we have also become a bit spoiled over the years. Fortunately, at Victoria Falls, our mouths fell open again in amazement. What a force of nature!
Admittedly, it does cost a bit to get here. At about 90 to 110 euros per person, it is definitely not a cheap waterfall to visit. Nevertheless, we can recommend it to everyone. You are looking at a natural wonder of the world of unprecedented caliber. An experience never to be forgotten.
Plan your holiday to Africa here