koundara
The border crossing from Guinea-Bissau went very smoothly. The most remarkable thing was the condition of the dirt road at the transition. We thought we had covered everything by now, but the holes and water channels could still be deeper.
Anyway, on the 40 kilometer long bumpy road to koundara, the first bigger place, the people were all very friendly. They sometimes waved as if life depended on it. In Koundara we exchanged money and bought a SIM card.
Changing money is easy here. It is offered to you everywhere on the street. The value of the Guinean Franc is so low that for € 200,00 we received a ream of paper of about 6 centimeters back and became millionaires in one fell swoop.
About 12 kilometers south of Koundara we found a unique place to stay. We turned off via a narrow path and ended up on an open area in the middle of nature. A little further on was a round mud house with a thatched roof. We asked if we could spend the night here. The young lady of the house does not know any other languages, but her friendly smile and gestures showed that we were more than welcome. We had barely reached a level spot when she came running with a bowl of peanuts. On her back, the youngest child was wrapped in a bath towel. She has another daughter and son who followed our every step closely and full of wonder.
The children kept frolicking around us and especially Grietje's blond hair had the full interest. At one point they dared to come in and we gave them a glass of orange juice with a biscuit and a lollipop. How proud they were…
The next day the man of the house gave us a tour of his yard. His long green dress and traditional hat clearly showed that he is a Muslim. He speaks good French and proudly told about his bananas, bisap, peanuts and cashew nuts. He cuts off a piece of the root of the cassava and lets us taste it while his wife mashes the rice so that the husks come off.
During a walk in the otherwise rough area, we came across a group of men who were making building blocks. Hard, diligent manual labor! Sand/clay was chopped loose with a pickaxe and then mixed with water. The sludge was then put into a mold by hand. The future bricks were left to dry in the sun and later collected to be baked in a kiln.
A little further on is a river where women were washing and we took the opportunity to cool off.
Guinea, a few things worth knowing
The area of ​​the country is similar to it United Kingdom. Nearly 14 million people live there. About 85% of the population is Muslim and this is clearly visible in the traditional way of dressing, both men and women, especially in the rural areas. We even see quite a few women with full face coverings here.
Internationally, the country is not well known to the general public, yet it has beautiful sights. To reach them you really need a robust means of transport. The through roads are sometimes so bad that on some trips you have to be happy with an average speed of 15-20 kilometers per hour. Add to that the unavoidable fine dust, then you know that your journey is an adventure. But if you like mountain areas, rainforests, untouched nature and an extremely friendly population, you're at your best here!
Gold diggers
On our way south our attention is drawn to an area where sand is hauled and shoveled and many trikes that bring the sand.
We look for a place for the camper and go to investigate. It turns out that they are looking for gold here. The sand/stone is supplied from another location and is unloaded with the shovel. Then it goes through one of the many noisy, and foul smoke emitting, machines that finely grind the sand/stone. Together with water, the gunk flows out again and is collected by others who search for that one grain of gold with scales. Sure enough, gold was found during our interest. Pieces barely perceptible to the eye remained in the pan.
The work is hard and dirty, but apparently the only way to survive in this region.
A little later we continue and see the place where the sand / stone comes from. Unfortunately, someone comes towards us who does not want pictures to be taken.
This is a huge quarry where the stone is cut loose by hand and pickaxe, dragged up and loaded on the trikes. In the quarries, the men work underground while it is clearly visible that many other places have collapsed. In addition to the heavy work, it is also very dangerous here.
Fouta Djalon
The only real mountain area in West Africa is located in Guinea called Fouta Djalon. And because we love mountains, we can't wait…
The mountain area is the source area of, among others, the Niger, the Gambia and the Senegal.
The road to it takes us past the larger town of Labe. A typical West African city with chaotic traffic and a large market. While we can park the camper in a guarded parking lot, we walk to the large market for vegetables and other foodstuffs.
On the market we meet a woman who bakes oliebollen. We tell her about the Dutch tradition and eat a few oliebollen on New Year's Eve.
Nice and sweet and fat, haha, certainly as tasty as in the Netherlands.
We fill up our tank at a reputable gas station so that we can continue for another thousand kilometers.
Waterfalls
The Fouta Djalon is known for its surprising waterfalls and walks.
First we visit the Saala waterfalls. The road to it is again challenging and unsuitable for traffic other than a strong four-wheel drive vehicle standing high on the wheels.
Very surprising are the approximately 10 abandoned holiday homes near the falls. It used to be more prosperous here, now apparently only adventurers come here. We have the whole place to ourselves and enjoy the beautiful waterfall to the fullest.
A day later we are looking for the Kambadaga waterfalls. According to our navigation, there are three possibilities to reach them. In the end it turns out that the route we chose ends at a river that cannot be crossed, about 4 kilometers before the end point. It's New Year's Eve, 5 o'clock and dark in an hour and a half. It's too far to go back. We decide to set up camp here and end 2022 in the "middle of nowhere", but unique, on the flowing river.
New Year's Day we start with a wonderful dip in the clean water.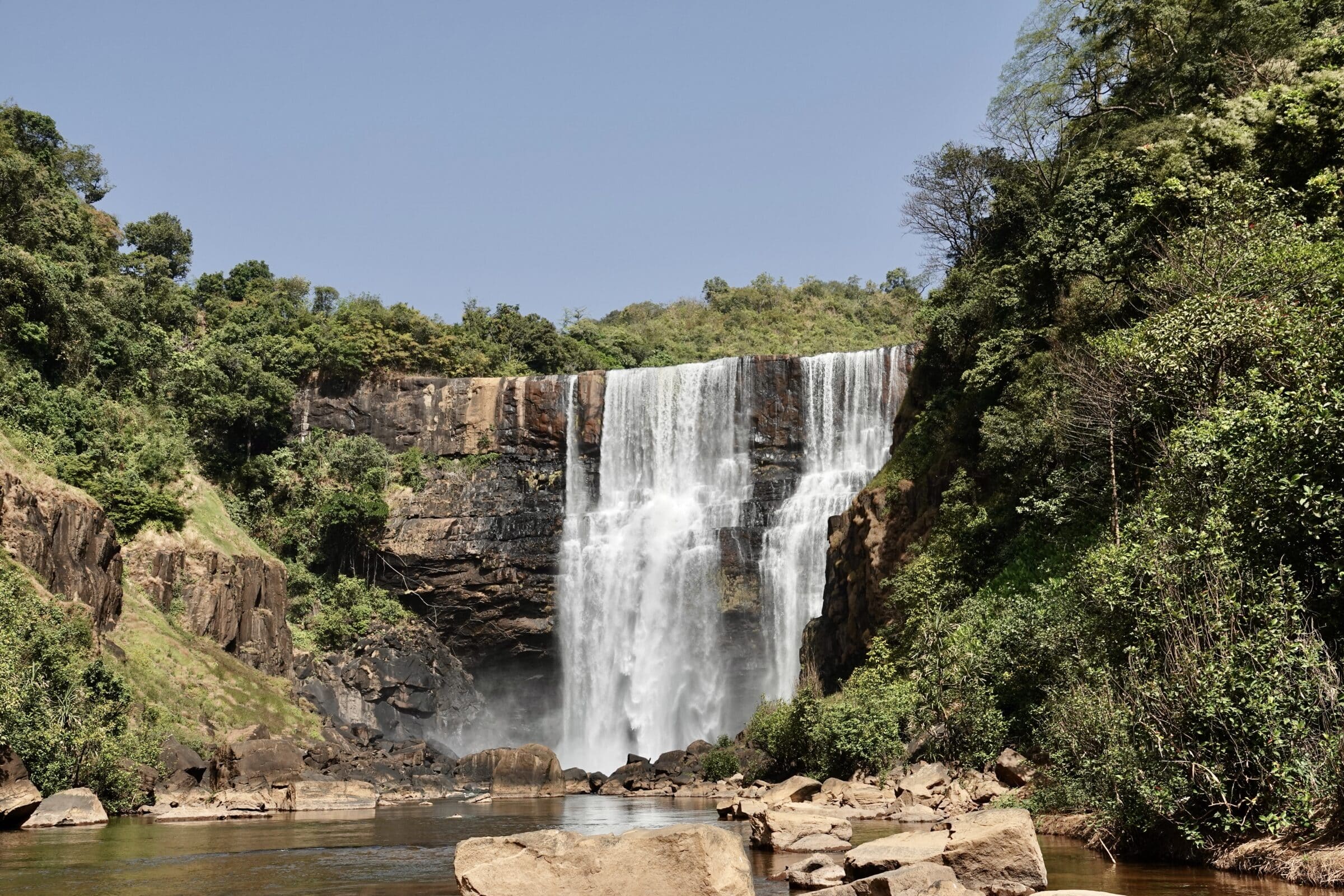 Healthcare in Guinea
The following days we enjoy relaxing around the river and enjoying the peace and nature.
Sometimes a moped comes along. We get to talk to one of them and he gets us fresh bread and water.
A few days later, Grietje slips badly near the Kambadaga waterfalls and breaks her wrist. We reported on this earlier. But for those who missed it, here is the previously published text:
On Sunday morning, January 9, we once again camped at a fantastic spot near the Kambadaga waterfalls in Guinea. In an unfortunate way, Grietje falls and -as it turned out- breaks her wrist.
At that moment there is nothing else to do but pack up and bump along a 25 kilometer off-road road in the hope that they have some medical help in the village of Pita.
An old rusty sign tells us the entrances and after payment of 7 euros we are allowed to enter the site. In a tiled room with two operating tables from 195..? the extremely friendly doctor examines Grietje from head to toe.
Meanwhile he looks around and finds an old box. With some tinkering he binds the box around Gretel's arm to stabilize it. He comes to the conclusion that a photo must be taken. But that is at a different location, about 8 kilometers away. A nurse is summoned to accompany us in the camper to the other location. But unfortunately she doesn't know the way herself either and we drive wrong up to three times. With holes up to almost a meter deep, you understand the pain.
Armed with the pictures we go back to the doctor.
No, no light box here, but just against the outside window, the doctor concludes a fracture. To the plaster room then .... but that word has not yet been invented. We get an address of a pharmacy where plaster would be available. But unfortunately sold out! Plaster is also not available at the second and third pharmacy. Frustration begins to set in. Then someone comes up with the idea of ​​having the plaster collected from Labe, about 50 kilometers away, by motorbike.
Of course that takes a few hours and in the meantime we hope that the nice doctor will still be there in the evening to convert it.
While the doctor is already wearing his private coat around 1900 hours, he still decides to place the cast. All's well that ends well. It can be removed in 45 days.
Postscript: despite the fact that we were quite worn out, we decided to go back to our quiet spot near the falls. A bit risky with the meters deep water channels along the road. In the pitch dark Cor made a steering error and we were stuck on the bottom plate in a gully. Fortunately we found a tree to which we could continue on our own four wheels via our winch.
Life expectancy Dutch women 83 years, Guinea 62!
Conakry
On our way to the capital Conakry we first take walks around the town of Doucki together with guide Hassan, described in part 1 about Guinea.
Via again very bad roads, but a great landscape we reach Conakry. On the way we buy some practical things in the slightly larger Kindia.
Conakry is the capital located on a peninsula.
The population is approaching 2 million, although according to Wikipedia it is difficult to determine due to poor administration and the many homeless people.
But upon entering it has everything of a real West African capital where traffic is the greatest chaos. Striking are the many tuktuks that serve as taxis. Furthermore, the city is a remarkable combination of more luxurious buildings and large cars next to open sewers and beggars.
At some intersections, the traffic is somewhat regulated by police officers who whistle heavily, but they do not have much authority.
At a roundabout we are stopped by a police officer. Because we are blocking the entire roundabout, he jumps on the passenger seat next to Grietje and asks us to continue. We have to stop a kilometer further on. He gets out and asks for papers that we don't have, a so-called "Laissez Passer". According to our information, we don't need it. It turns out that two more female agents followed us. And so we stand defending ourselves - in our bad French, while traffic flies on all sides against three incapable cops.
They ask for more and more papers but can't really pick us up on anything. Then we ask if they can handle it at the desk together with their boss. Apparently that was the right thing to do, because then they backed in and left.
Fortunately, this experience is an exception, because otherwise we only met very friendly people in Guinea.
Hotel les Palmiers
We spend the night in the parking lot of hotel les Palmiers, which is bordered on one side by the beach and on the other side by a busy city road. Young people come together on the beach to exercise and chill. We have never seen such a dirty beach. The garbage piles up high, while the boys play football right through it.
You should not be here for a beach holiday.
Nevertheless, we appreciate our stay in the hotel parking lot because the tuk-tuks pick us up at the door and we can discover the whole city. Moreover, we have a washing machine here! which we eagerly use. The owner of the hotel has contacts at the embassy of Ivory Coast. Through this contact we can obtain the difficult to obtain documents for Ivory Coast.
Circus Acrobatics
In Conakry there is a project where street youths are trained to become circus artists. The largely underprivileged young people are trained in all facets of circus life. The mutual atmosphere is great, the fun radiates from all sides. We took a tuktuk and visited the hall where it happened. They train 5 days a week from 10 a.m. to 2 p.m. When we entered as white people, the arena was immediately converted and we were shown a first-class private performance. They do it to practice, it costs nothing, although of course you leave a hefty tip after such an adventure.
Our short conclusion:
Guinea is a fantastic country with unprecedented opportunities where there are still many opportunities for the further development of tourism. But with the country's current infrastructure, you have to be adventurous. The capital Conakry is a vibrant whole where everything that has a little West African city comes together. It is a place where all your senses are sharpened to the maximum. We can then appreciate the tranquility of nature even more. Off to Sierra Leone.