We (Cor and Grietje van NoFear Travel), travel with our Toyota Hilux 4×4 camper by Africa. The African continent is the Mecca for 'overlanding' with many challenging routes and beautiful destinations. The first African country we visited during our trip to South Africa is Morocco, followed by Mauritania en Senegal. From Guinea, Sierra Leone en Liberia we travel to Ivory Coast. You can read all about it in this article.
Naturally, you can also start watching the video again.
About Ivory Coast
Ivory Coast is a former French colony and the official language is French. According to Wikipedia If the government would like to be addressed in French internationally, so we will do that from now on: Cote d'Ivoir.
The country is about 8 times the size of the Netherlands and has a population of about 28 million. About half are Christian and about 25% Muslim. The rest are religious or not.
A fair share of the export consists of cocoa beans and cocoa paste. But also gold, oil, palm oil, coconut products and rubber are among the export products.
First impression
From Liberia we pass the border without any problems and enter Ivory Coast. We had forgotten that people speak French here, which takes some getting used to.
Every time it is exciting again when we enter an unknown country. First of all, we notice the contrasts. We see traditional mud houses covered with palm leaves. But surprisingly also much more modern buildings, larger companies and quite a few cars on a well-paved road.
We drive to His money (Location here ), where we do our usual practical things like money and sim card to arrange. In the main street there is even a joint modern building with a supermarket and a lunchroom. Here we buy a croissant and a cup of coffee. That is a long time ago…
We take a look in the streets behind the main street and see the same scenes as we have seen so often now…market stalls with mostly the same products, sandy roads and shabby buildings.
From Danané we drive on to the larger Male (Location here ). Here we are on a Catholic mission site for three days. Several believers live here who partly work in the adjacent hospital.
It is a quiet central area where we are on grass. Just a few days to relax before we go further into the country.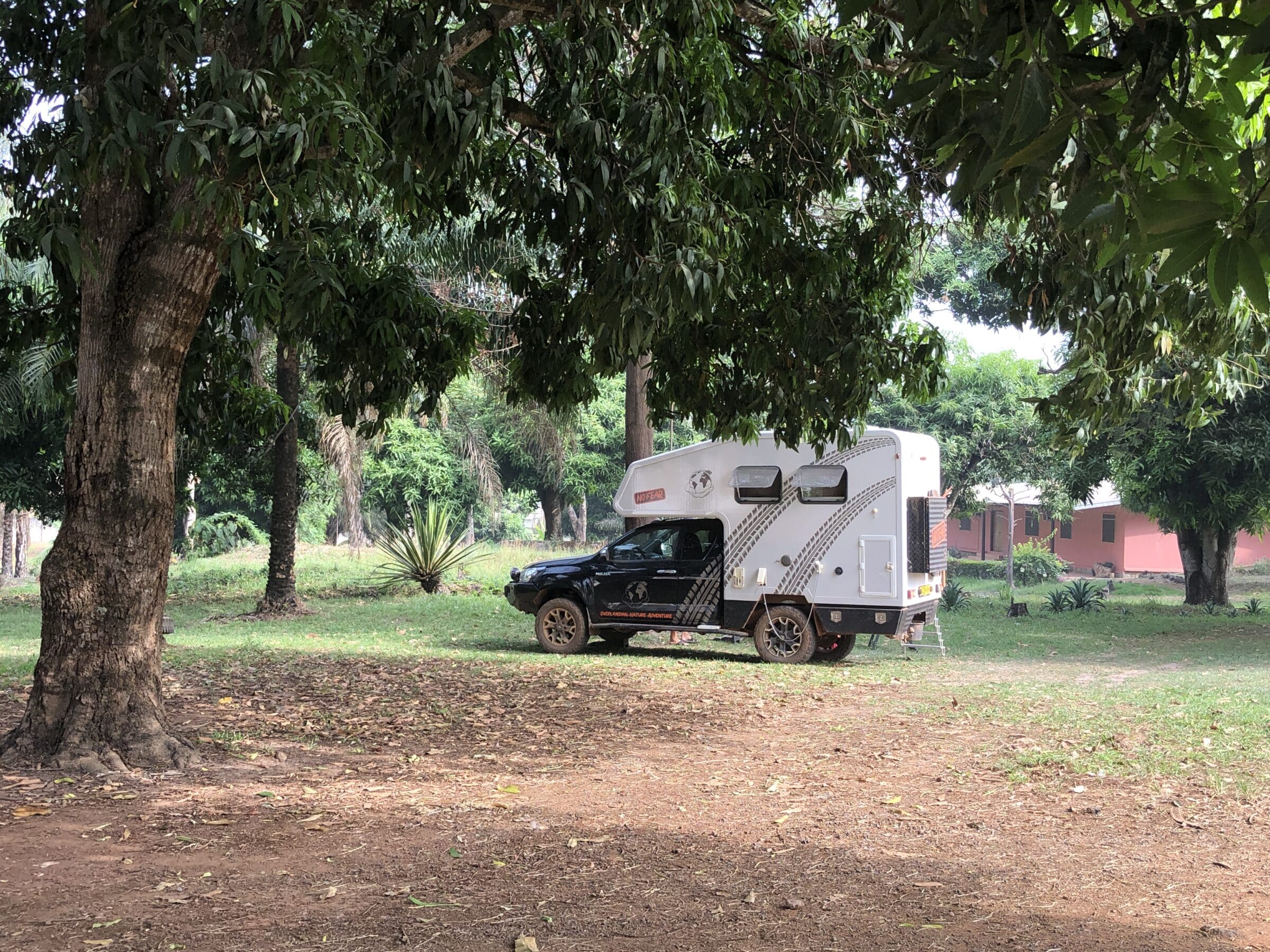 On the way to Tai National Park
From the village Tai (Location here ) we say goodbye to Jules and Elske, overlanders who are also on their way to the south and with which we drove a bit. We continue to the entrance of Tai National Park (location here ). On the way we see many rubber plantations. We have not seen this before and are curious about the working method. A kind of bucket hangs from the tree in which the rubber is collected drop by drop. Later, the hardened rubber is removed from the bucket and collected to be transported to the port in large trucks. "It is exported worldwide mainly to Asia", says a local.
In addition to rubber production, we see many cocoa trees. We have never seen this on this scale before. The cocoa beans are harvested from April.
But perhaps the largest source of income for this area is the production of palm oil, the harvest of which is in full swing. The fruits of these palm trees are collected on small trikes and then transported to a factory. On the way we saw two of these factories. Here the red berries are separated from the seeds and cooked so that the oil floats to the top.
Palm oil is widely used in foods worldwide. In addition, it is an ingredient for shampoo and other soaps. Not everyone is happy with the large-scale rubber, palm oil and cocoa plantations. Many hectares of jungle have been cleared in the past to plant trees in long straight rows. We see that a large part of the population works in and around the plantations.
We clearly feel the contradiction of nature conservation and economic development here. In the adjacent Taï National Park there is no room for these plantations and the ancient rainforest is protected.
Chimpanzees in Tai National Park
An absolute highlight of our trip Cote d'Ivoir is a visit Tai National Park (Location here ). The remote nature and the difficult accessibility make a visit unique. But be even more unique the chimpanzees who live there. They are known for the tools they use to crack nuts. We want to see that!
From the road along the national park we go about 12 kilometers into the jungle. Far removed from large-scale human influence. For the first 5 kilometers it is our 4×4 camper a godsend, we can only cover the last 7 kilometers on foot through the densely wooded jungle.
Our guide regularly points out the peculiarities of this flora and fauna. We make our way through the lianas and other exotic vegetation. While getting entangled at times, we pass huge trees up to 50 meters high in various shapes.
After all this beauty we arrive at our base camp where we are the only visitors besides a German photographer. We are pampered with a nice dinner and spend the night in a tent. In the dark jungle at night we hear the rustling of unknown animals and sometimes falling fruits.
Looking for the Chimpanzees
Half past five…the alarm goes off,
Five o'clock…breakfast in the jungle,
Half past five…looking for the chimpanzees.
In the pitch dark we make our way through the dense jungle. Fortunately, our headlamps offer a solution. When the sun rises, the chimpanzees also wake up and they first go in search of food. The ideal time to spot them.
Our experienced guide regularly stops to listen carefully. He can identify any sound…but no sound from the chimpanzees yet. We walk on, the first rays of light are already coming through the roof of leaves.
Then in the distance we clearly hear sounds of a group of chimpanzees. We now know the direction. The guide gives us masks. For prevention. The chimpanzees are sensitive to bacteria that are easily transmitted to humans. The last thing we want is to contaminate these unique animals.
Suddenly, at about 15 meters there is a chimpanzee enjoying fruit. The adrenaline level rises. What a fantastic experience. We are completely silent and a little further on we see more chimpanzees. We try to capture what we see.
Then we see the nutcracking. The chimpanzees use a stone for this. With this they hit the note after which they eat it nicely. The use of tools for making food edible is absolutely unique.
The scene repeats itself several times and later we see how easily the chimpanzees move through the trees and branches. We've never been this close to chimpanzees in their own habitat.
In a clearing, a chimpanzee approaches us and throws stones and branches. According to the guide harmless but wonderful to see part of their characters. The chimpanzee likes to show who's boss!
After this unique experience in which we have been able to observe the chimpanzees in their natural habitat for almost three hours, it is time to go back to the camp.
Cassava flour
Via a gravel road with a puddle of water here and there, we head south to the coast. On a piece of land managed by Germans, we take it easy for about three days under the trees on a deserted beach.
Then continue along the coast to San Pedro (Location here ), which has some surprisingly modern shops.
We continue our way north. The roads here are asphalted, but there are so many deep holes in the asphalt that we barely reach an average speed of 30 kilometers per hour while slaloming. Not bad in itself, because there is plenty to see along the way.
We stop at a village where they are busy producing cassava flour. They use the root of the cassava plant for this. The root is peeled and then finely ground in a machine. The whitish "powder" is then cooked. This is very important to render the toxic hydrocyanic acid harmless. After the drying process, the material is sieved again and packed in bags.
It serves as flour for baking various products and mostly sold in the cities. The whole family, from young to old, participates.
Weaving mills
Not much further on they have found another way to provide for their daily livelihood. Many here are engaged in weaving rugs. Often young boys are engaged in making elongated fabrics which are then sewn together into rugs.
It's all beautiful to see, but we quickly get back into our car, where we embrace the luxury of the air conditioning. The last few weeks we have sometimes suffered from the heat. It is about 33-36 degrees here every day. But the high humidity ensures that you still sweat profusely when doing nothing.
We are regularly surprised about the locals who wear long trousers as standard, sometimes with winter coats and knitted hats…
Yamoussoukro
Yamoussoukro (Location here ), is the capital of Cote d'Ivoir. Certainly not in terms of population, "only" a small 400.000 people live there. The city was declared the capital in 1983 by the then president and since then considerable investments have been made. Enormously wide avenues give an urban appearance. But also the large billboards, quite a few modern cars and buildings do not immediately give you the impression that you are in an average West African city.
Basilique Notre-Dame de la Paix
Located on the edge of town one of the largest basilicas in the world, Basilique Notre-Dame de la Paix (Location here ). It can accommodate 3000 worshipers and the construction cost 300 million US dollars. On the weekday we were there we only found a handful of tourists.
Abidjan
Between Yamoussoukro and Abidjan (location here ) runs a highway. On our journey south we have since Morocco no more highways seen. Takes some getting used to, but also wonderfully relaxed steering. Tolls are even levied with gates as we know from the French "peage".
meeting other overlanders
Halfway we agreed with Jules and Elske, Dutch overlanders which we have encountered before. We have a very pleasant day/evening in a beautiful spot at a swimming lake where we eat Elske's nachos and rummikubb in the evening.
Then on to Abidjan, the city with the most inhabitants (almost 5 million). In Abidjan the contrasts are great. Many suburbs are inhabited by people who can barely keep their heads above water. In the middle of the city you can't see it anymore. We visited an indoor shopping mall that fit into an average European city. Large retail chains have a branch there and we make a rough estimate that half of the visitors are white. You don't see the people from the suburbs here. We walk around, buy a t-shirt and swimming trunks and quickly go to quieter places.
New BF Goodrich tyres
In Abidjan we get the chance to get our BF Goodrich All terrain tyres exchange for new ones. Finding the desired tire was quite a quest, especially because we ride on 18 inches. The BF Goodrich tires have carried us 70.000 kilometers over various surfaces without a puncture. When changing, a nail is still visible that has just not drilled through the entire tire. Lucky, but want no more than BF Goodrich!
Best Band for World Travelers
BFGoodrich Ko2 All-Terrain
Wereldreizigers.nl asked in one of the largest Overlander groups in the world via a poll advice... What is the best world tour band? The results don't lie. Whopping 93% of the 700 votes chose this band!
World travelers, vanlifers, overlanders and even army units around the world agree: the BFGoodrich Ko2 All-Terrain, All-Season is the best band for your caravan, camper, 4x4 or camper bus.
The band is widely used by army units anywhere in the world. They are also known for being extremely strong, ready for any terrain in any season.
Pros:
#1 choice for overlanders worldwide

very strong

All Terrain + All Season

Great snow tire

incl. all winter quality marks (snowflake, etc.)
Order Now
Want to support us? We earn a small commission if you make a purchase through our link(s), at no additional cost to you.
Abidjan is no longer a place for us to stay.
Luxurious place to stay
Our places to stay in Ivory Coast are very diverse. From the middle of the forest to a safe place at a police station. One of the categories is a parking lot at a hotel or restaurant. They are not official campsites, but you can use the facilities.
We find one such spot on a resort just before we leave Cote d'Ivoir. When we told the owner that he was an overlander, his eyes started to twinkle. We got a fantastic spot under a palm tree in the shade in the spacious parking lot with security. Around the corner were the sanitary facilities including a wonderful shower and toilet with paper!
A large swimming pool with lounge sofas and a view of the Atlantic beach. In between there is a restaurant with a cozy bar.
Costs…..nothing, just come and eat in the restaurant. We have decided to build a mini-vacation here.
Conclusion
We have experienced the population as very friendly. Although we increasingly see a difference between the city and the countryside. But that's probably a global phenomenon. In Cote d'Ivoir we noticed that the country is more developed than many of the previous countries we visited. You see it in cars, buildings, roads, shops and clothing. There is even a form of domestic tourism. Yet the luxury is not for everyone, in the countryside and in the suburbs of the cities many are happy to scrape together their living every day.
You see a lot of mopeds in the countryside, but we hardly encountered them in Abidjan. Much larger cars drive there and there is even a morning and evening rush hour.
Beautiful country!