Who dares to drive more than 3.000 kilometers on a scooter through East Africa? Visiting mountain gorillas? Scooter safaris (does this word exist?) in five National parks† To admire lions, buffalo, hippos and elephants up close. My name is Eric and I like to travel around on a scooter. Read here part 19 and also the last part of the unique report of an amazing scooter adventure in Uganda, Rwanda en Kenya† In the last part of my Scooter adventure I have to catch my plane to Amsterdam. I drive past beautiful Tea Plantations in Kericho while my scooter starts to malfunction.
Also read:
East Africa on a scooter | Part 1 | From Kampala to Kigali (180 km)
East Africa on a scooter | Part 2 | Bugala Island – Lake Mburo (170 km)
East Africa on a scooter | Part 3 | Lake Mburo National Park – Kabale (230 km)
East Africa on a scooter | Part 4 | Kabale – Ruhija – Gorilla trekking (50 km)
East Africa on a scooter | Part 5 | Bwindi – Kabale – Kigali (160 km)
East Africa on a scooter | Part 6 | Kigali Genocide Memorial – Kabale
East Africa on a scooter | Part 7 | Kabale – Queen Elizabeth National Park (175 km)
East Africa on a scooter | Part 8 | Queen Elizabeth NP – Fort Portal (120km)
East Africa on a scooter | Part 9 | Fort Portal – Muhorro (100 km)
East Africa on a scooter | Part 10 | Muhorro – Hoima (100 km)
East Africa on a scooter | Part 11 | Hoima – Murchison Falls National Park (120km)
East Africa on a scooter | Part 12 | Murchison Falls National Park – Purongo (50km)
East Africa on a scooter | Part 13 | Purongo – Gulu – Kitgum (173 km)
East Africa on a scooter | Part 14 | Kitgum – Kidepo Valley National Park
East Africa on a scooter | Part 15 | Kidepo Valley National Park – Kotido (140km)
East Africa on a scooter | Part 16 | Kotido – Moroto (110 km)
East Africa on a scooter | Part 17 | Moroto – Pian Upe – Sipi Falls (180 km)
East Africa on a scooter | Part 18 | Sipi Falls – Kericho (370 km)
The tea capital of Kenya: Kericho
What few know is that Kenya na China en India is the largest tea producer in the world. Kenyan tea is known for its high quality. Tea in Kenya grows in a tropical climate with a lot of sun and rain and at an altitude between 1.500 and 2.400 meters.
The epic center of Kenyan tea is called Kericho. Kericho is located in the middle of a landscape of undulating hills at an altitude of 2.000 meters. Around the city, the tea plantations stretch for many kilometers. The largest tea plantation in the world is located near Kericho.
Kericho . tea plantations
There seems to be no end to the tea. On the last day of my scooter adventure in East Africa, everything initially went well. The weather is good and I enjoy the beautiful view of the green tea bushes reaching to the horizon and beyond.
Bad luck from Chebole to Bomet
After about 50 kilometers the tea plantations slowly but surely begin to make way for a savanna landscape. It's around half past one when I take a short break in Chabole† I stretch my legs and buy some fresh fruit from one of the stalls along the road.
In the undulating mountain landscape I was able to keep my scooter on steam for a long time by making a lot of speed downhill. Then from the valley to climb the next hill at a speed of over 70 km. I usually just make it to the top of the hill. Very occasionally the motor of the scooter stalls and I have to push for a few minutes.
After Chebole I can't make the 70 km anymore, because there are always two to three speed bumps in the valley. As a result, I have to slow down and I don't have enough speed up the hill.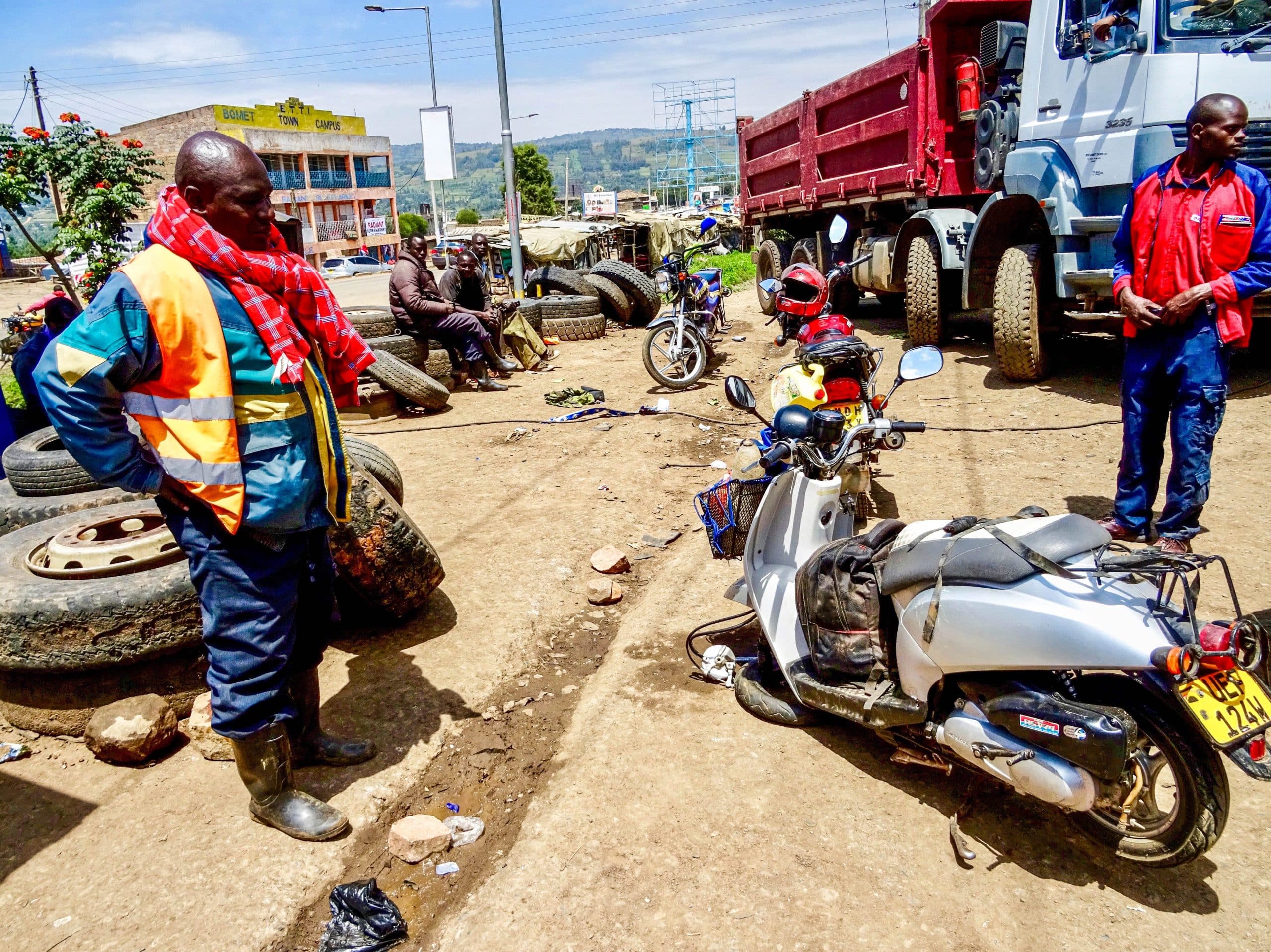 It is half past two and a glance at the map says it all. How did I ever get it in my head to think I could drive from Kericho to Nairobi airport in a day? The distance is over 300 km. I have now covered 70 km. Of which especially the last 20 with fits and starts.
A motorcyclist honks loudly at me as I enter Bomet. He points to my front tire. It's half empty, while I don't even notice it. A mechanic was quickly found and so was the leak. But that's not the biggest problem. The scooter can no longer be burned forward.
By half past five I give up. Before me is the exit to the world famous Masai Mara Game Reserve. The scooter refuses for the umpteenth time. I park it on the roadside and say goodbye emotionally to my loyal comrade.
A little lost, I walk up and down, while a couple of Masai greet me kindly. At a quarter to eleven my plane leaves from Nairobi. The distance from Narok to the airport is about 160 km. I'm definitely not going to walk that distance. I ask the Masai: 'Do buses go to Nairobi here?' "No, but you can try to get a lift. From time to time, minibuses and safari vehicles come from the Masai Mara. Maybe they have a spot left.'
A lift to Nairobi
How lucky can a person be? After barely fifteen minutes a pickup truck stops a few hundred meters away. The driver and his buddy are busy fixing a broken car better. I trot up to them and ask if they are heading for Nairobi.
Entirely right. Not only do they drive to Nairobi, but they are also willing to lift my scooter into the cargo bed. An army of children waves us goodbye as we set course for Nairobi.
Still, as time goes by I get more and more stuffy. The pickup shows the same problems as my scooter. He cannot be burned uphill. Time is ticking away. "Eric, it's going to be really tight. We stop in Kikuyu, a suburb of Nairobi. That's where we sleep. From there it is still almost 50 km to the airport. I can arrange a taxi for you, it will cost about $30.'
All's well that ends well at Jomo Kenyatta International Airport
I arrange everything in the truck. Jozef, the driver, will store my scooter at his home in the garage. He gives me his cell number. "Call me when you come to pick him up again!" At nine o'clock we arrive in Kikuyu. The taxi is waiting there. "I'm going to take an illegal route," the driver reports. "There's a huge traffic jam on the Southern Bypass. That's why I take a shortcut through the Nairobi National Park. Get yourself a night safari right away!'
Madness it is. Did I know that the airport is adjacent to the national park? Incidentally, the wildlife does not show itself. I do arrive just in time for the flight to Amsterdam. This brings an end to a crazy scooter adventure.
See you.
A taste… Scooter safari in Kenya
Yes, the adventure continues two months later. I then pick up the scooter from Jozef in Kikuyu and then cross Kenya for a month. Speaking of an amazing adventure…
Also read:
East Africa on a scooter | Part 1 | From Kampala to Kigali (180 km)
East Africa on a scooter | Part 2 | Bugala Island – Lake Mburo (170 km)
East Africa on a scooter | Part 3 | Lake Mburo National Park – Kabale (230 km)
East Africa on a scooter | Part 4 | Kabale – Ruhija – Gorilla trekking (50 km)
East Africa on a scooter | Part 5 | Bwindi – Kabale – Kigali (160 km)
East Africa on a scooter | Part 6 | Kigali Genocide Memorial – Kabale
East Africa on a scooter | Part 7 | Kabale – Queen Elizabeth National Park (175 km)
East Africa on a scooter | Part 8 | Queen Elizabeth NP – Fort Portal (120km)
East Africa on a scooter | Part 9 | Fort Portal – Muhorro (100 km)
East Africa on a scooter | Part 10 | Muhorro – Hoima (100 km)
East Africa on a scooter | Part 11 | Hoima – Murchison Falls National Park (120km)
East Africa on a scooter | Part 12 | Murchison Falls National Park – Purongo (50km)
East Africa on a scooter | Part 13 | Purongo – Gulu – Kitgum (173 km)
East Africa on a scooter | Part 14 | Kitgum – Kidepo Valley National Park
East Africa on a scooter | Part 15 | Kidepo Valley National Park – Kotido (140km)
East Africa on a scooter | Part 16 | Kotido – Moroto (110 km)
East Africa on a scooter | Part 17 | Moroto – Pian Upe – Sipi Falls (180 km)
East Africa on a scooter | Part 18 | Sipi Falls – Kericho (370 km)