In this blog continued in my scooter roadtrip by Africa and I spend a few wonderful days in the beautiful nature around Lake Bogoria in Kenya. This is the place where you can spot flamingos, termite skyscrapers, ostriches and much more.
Only in a 5* hotel
It certainly won't be the last time on this trip. I stay in a 5 * hotel with 90 rooms and over 100 staff. And be the only guest. That I negotiated the ridiculous pricing? I never pay more than 200 euros for any hotel (unless it has to be really special or cannot be otherwise, such as in Key West and Hawaii). And there is another reason: the tourist and local price. This phenomenon occurs almost throughout sub-Saharan Africa. A much cheaper rate applies to residents and residents. Why? The local tourists are without exception rich and in most cases richer than the average foreign tourist. For the entrance to national parks, I get it. But for five star hotels it feels like outright discrimination. Incidentally, this is no different in India.
And who knows what you paid for an overnight stay? In any case, the staff of Lake Bogoria Spa Hotel is happy to have a guest staying. In my case one weird guy on a scooter, yet. They have been homeless for almost a year with no income.
Ugly Marabou
I enjoy it to the fullest. Although not all facilities are in order. The pool bar is open at the pool, but there is no employee… And when, after an hour of sunbathing, I decide to take a dip in the bright green mineral water… Then a marabou prevents me from doing so. This hideous bird stands proudly at the edge of the swimming pool. And just as I'm about to take a dip, he turns. I hear: 'pffffff'. A huge lump of shit is now floating in the pool…
Big discount
Anyway, I can enjoy this hotel and especially the incredibly beautiful surroundings for four days at the local price (75 euros instead of 200 euros). To start with the hotel. Lake Bogoria is the only lake in Kenya that has a poisonous green color in many places. Flamingos love it. They accidentally peck themselves in the water to fish out everything edible. A pipeline from the lake runs to the hotel's swimming pool. The bright green water is about 35 degrees and does not really invite you to swim. When I do try, I decide at the last minute not to take a dive after all.
Ostriches, blue monkeys that steal my sugar sachets on my terrace, zebras that occasionally come to graze and those huge termite mounds or rather mountains. They are works of art.
Lake Bogoria Nature Reserve
What happened here? Really unbelievable. I remember from 2017 that there were tens of thousands of flamingos right at the start of the lake. In 2021 there is none left. Empty broken liquor bottles everywhere and the park's office has fallen into ruins. For the new entrance I have to be 500 meters away. It's all the result of flooding, which all lakes suffer from The Great Rift Valley be bothered about.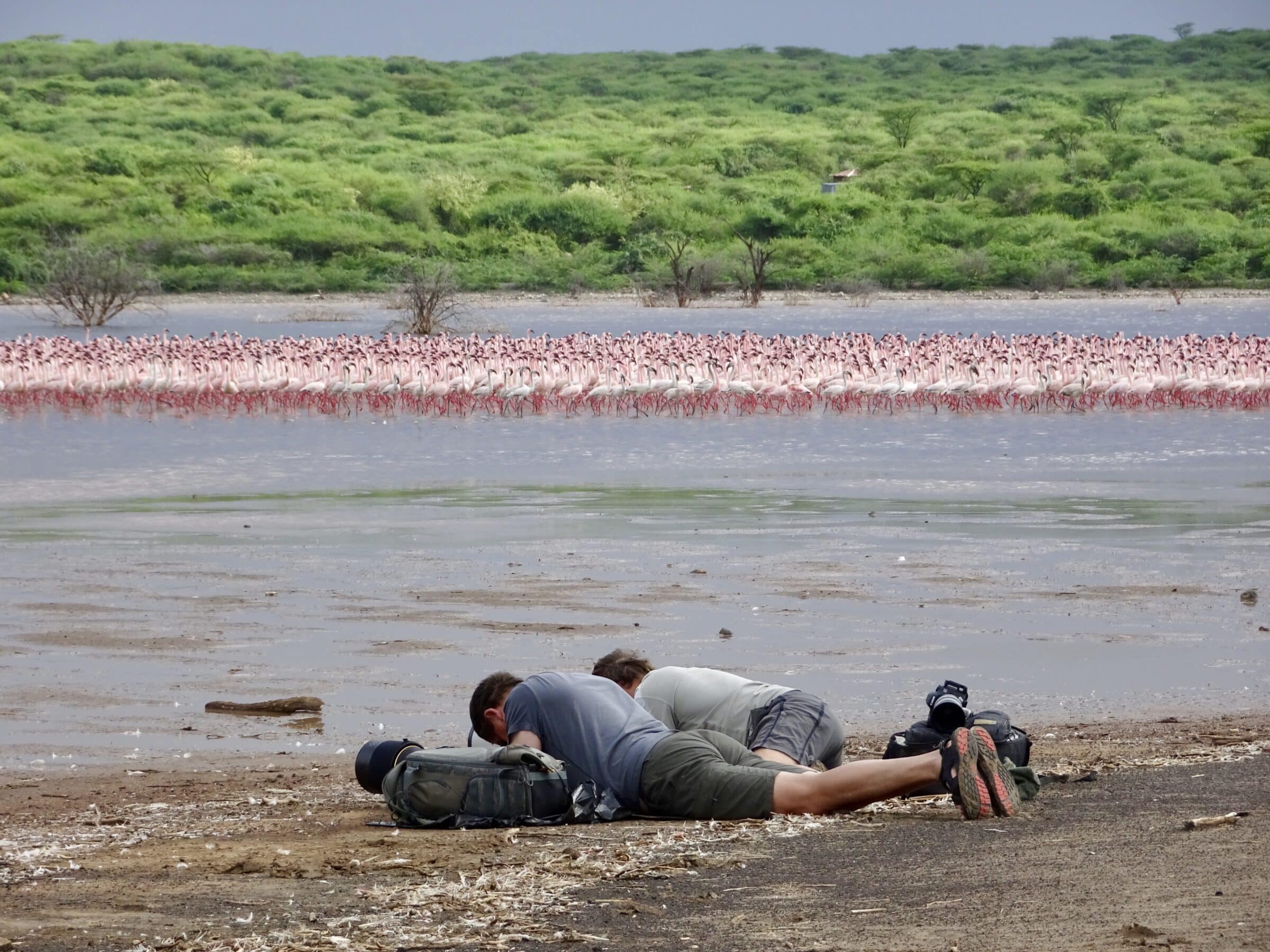 hefty entrance fee
At the new entrance I am surprised about the hefty entrance fee: 50 dollars per person and 50 dollars for the car. 'Really absurd,' I say to the ladies of the Lake Bogoria Nature Reserve (the lake is not part of it Kenya Wildlife Service, but managed by the local community). My scooter helps me this time. Kenya Wildlife Service prohibits the use of motorcycles and scooters in national parks. Well, what are the Kenyan ladies supposed to do with a mzungu on a Ugandan scooter, which today is the only visitor apart from a school bus? Just let in for a dollar 😀!
Looking for the geyser
On a bizarrely bad boulder road of 18 kilometers to the geyser of the volcanic lake I come across eight 'illegal' cows. There are no other animals to be seen. For the rest, it is a matter of maneuvering to avoid the many rocky points (I later learned that many tourists have to deal with flat tires). After more than an hour I finally reach the geyser. There is a handful of flamingos. To make matters worse, it also starts to rain heavily. The way back is hell. Through the pouring rain and an 18 km mud puddle I reach my hotel just before sunset. Where the dozens of employees have a lot of fun: because of that soaking wet mzungu on his pikipiki.
Kiborgoch Community Wildlife & Wetland Conservancy
Something curious is going on in the Lake Bogoria area. Where you would expect the wild animals in the nature reserve, that is not the case.
If you take the exit to Lake Bogoria from the main road, you will come to an asphalt road of about 15 km that ends at the entrance of the nature reserve. And what's going on here? Of course there is the usual cattle, cows, donkeys, goats and chickens. In this extremely green and fertile area, wildlife simply walks among the cattle. To see ostriches, tortoises, antelopes and zebras.
Birdwatchers and hikers can indulge themselves in the Kiborgoch Community Wildlife & Wetland Conservancy. For a few dollars, a local guide will take you through their wonderful natural world.
Access roads
From Nakuru (B4) it is about 2 hours by car to Marigat. If you turn left you drive along the Kerio Valley (the Kerio divers are located after about 5 km on the left of the road) to Iten (1,5 hours). Turning right in Marigat, a 15 km road leads to Lake Bogoria and Kiborgoch. Half an hour north of Marigat is a turnoff to Lake Baringo.
NB the C51 to Iten (and further as B77 to Kitale) was extended via Marigat to Nyahururu at the time of writing (recommended, because this new road goes between the two lakes).
The B4 joins the A200 towards Lodwar in Turkana after 1 km. Reportedly, the A1 is also completely paved (it was a drama in 2017).