Wow. Really. This is the blog about one of the most amazing trips I made on my scooter in Kenya. First 85 km 'old school' on a difficult dirt road from Oloitokitok to Taveta. Then on a brand new highway Tsavo Western National Park and Taita Hills. And it ends in perhaps the best lodge in Africa to see game up close: Sentrim Tsavo…
Sand wrestling from Oloitokitok to Taveta
Before I push my scooter, I first check the website of the Kenya National Highway Authority (Kenha). So today I first have to drive 85 km towards Taveta on an orange colored road (the quality varies from well-maintained gravel to rough sand). Taveta is the border town with Tanzania. From Taveta you can drive to Arusha and the Serengeti in a few hours. Recently, Kenya has completely paved the A6 for a distance of 90 km to Voi. In Voi, the A6 connects to Kenya's main artery: the Nairobi – Mombasa highway. See the map (NB the color coding is not always correct!).
For example, there is a good asphalt road that leads to Kilifi 60 km before Mombasa (I will explain all this in a special blog; before I drove on a good road that is not in Google Maps, but is indicated as B77 at Kenha, albeit in orange…).
Fortunately it is not the rainy season, because then this road is a complete mud puddle. Still, it still only takes me four hours. I barely see a car. Occasionally a herd of goats, cows and sheep. That's about it.
Also read: Plowing through the mud in Uganda with a scooter (video)
To stretch my legs, I pause halfway at a village. There I enjoy the fried bananas.
For a moment I consider making a detour. On a sign I read that I can turn right towards Lake Chala (the lake is partly in Kenya and partly in Tanzania). For that I have to dredge 20 km through the sand. Given the time and what is to come, I leave Lake Chala for what it is.
Two free safaris on the A6 from Taveta to Voi
I don't get to see Taveta, because the connection to the A6 is a few kilometers to the north. It is clear that I have now exchanged the plateau for savannah. Imposing baobabs and large warning signs after passing a cattle grid: You are now entering Tsavo West National Park. Beware Wildlife Crossing.
The A6 goes straight through Kenya's largest national park: Tsavo. There are no fences or other separations and I regularly stop to admire the wildlife. Elephants, giraffes, camels (especially in the beginning, they are owned by the Gabra tribe), crossing zebras and lots of impalas I meet on the more than 50 km that the A6 goes through Tsavo. Halfway there are two official entrances to Tsavo on either side of the highway. I can't go there with the scooter. If I wanted to…
I drive at ease and am amazed at the little traffic. It is not clear to me why Kenya has made a highway here in particular. In total I meet three trucks and a few normal cars. No cattle herds this time. They are not allowed to enter Tsavo. NB In Amboseli and Maasai Mara, the Maasai are allowed to walk around with their herds.
Ten kilometers later I pass by Taita Hills Game Reserve and I pass an imposing herd of buffalo. In a next blog I will write extensively about this relatively small, but special area!
After 70 km the wild fun is over. From Mwatate to Voi I can drive just fine. Then reach the T-junction, where the A6 connects to Nairobi – Mombasa highway.
Stay in Sentrim Tsavo East (absolutely recommended)
After a short stretch towards Mombasa I turn to Voi. I pass under the viaduct of the Madakara Express (the magnificent rail link from Nairobi to Mombasa; I will dedicate a special blog to it).
In Voi I park my scooter at a gas station in Voi and take a taxi from there. Sentrim Tsavo East Lodge is located about 18 km in the national park and I am not allowed to go there on my scooter.
During my stay in Sentrim Aboseli Lodge got the Covid special offer, which therefore applies to all Sentrim Lodges in Kenya. For 60 euros per night (plus 30 dollar park fee) I have a great tent and full board. NB in ​​2022/23 a night costs approximately 125 euros, the park fee has now been increased to 75 dollars per day! I'm staying in Sentrim for over a week. Except for two days, I am the only guest (together with the 40 employees). Incidentally, I will also stay there for a few more nights in December 2022 and March 2022.
What makes Sentrim Tsavo East so unique? Especially in the dry season (September – November) it is rush hour all day long at the waterhole just ten meters from the restaurant. In a week I really see thousands of elephants, herds of buffalo (about 500 pieces), hyenas, lions, giraffes, zebras, various antelope species, baboons and much more. There are no rhinoceroses in Tsavo.
And the special thing: I don't even have to go on safari. Just on a chair in the restaurant or on the platform. Many visitors miss all this, having booked a standard safari from Diani Beach in Mombasa. These trips depart Mombasa in the early morning and arrive in Sentrim by lunchtime. After a short lunch they go on safari in the park. To return in the dark. The next morning they leave early to drive back to Mombasa (Diani Beach) after a safari in Tsavo. Really mortal. On those safaris you hardly see anything (Tsavo is huge!). Really all the game comes to the watering hole by itself. But as I understand from the manager: 'The tourists have the idea that they see more on safari. After all, they paid for it. Who am I to contradict that?'
By the way, Tsavo has something very special to offer. The famous 'red' elephant can only be found here. See the next video and photo, which depicts two red boars and one black. The color has to do with the reddish sand.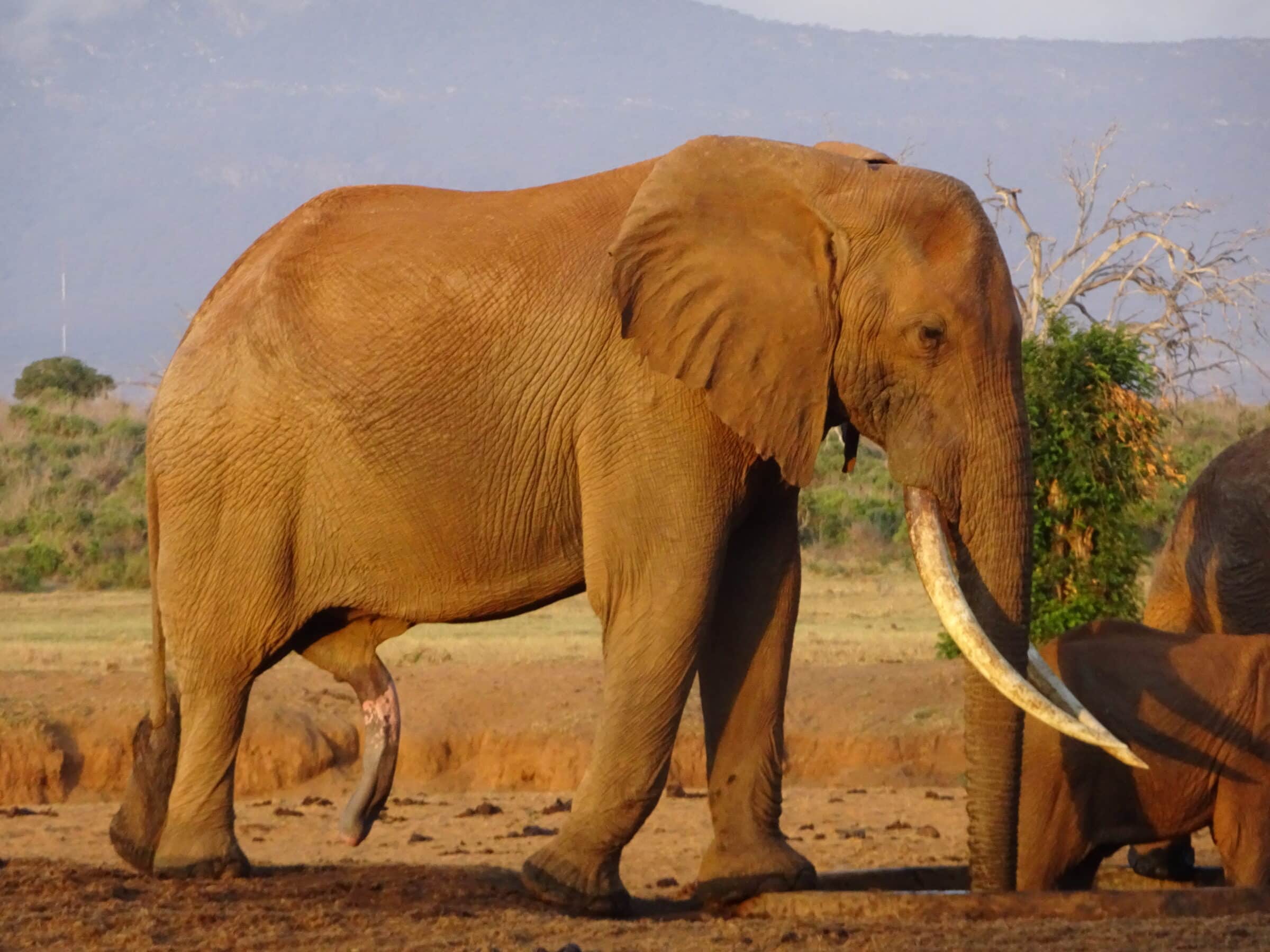 Sentrim Tsavo East's jungle gym
After a few days I know almost all the staff of the lodge. We even go to the unique jungle gym together at set times. The staff has set up a fitness corner on the spacious complex. Various fitness devices have been put together from all kinds of materials. With as you can hear in the video: a fitness trainer from the Netherlands?…
With the undersigned as personal trainer… the jungle gym of Sentrim Tsavo East