Who gets it in their head to buy a second-hand scooter in the capital of Madagascar to buy? To travel more than 4.000 km over this enormous island? No one before me had ever come up with this idea. I just did it and discovered the real Madagascar. Travel with me to the Red Island and get to know the baobabs, lemurs, chameleons, snow-white beaches and above all the hospitable Malagasy: TONGA SOA. In this part I travel to Miandrivazo for a three-day canoe trip on the Tsiribihina river.
Also read:
A few days in Madagascar's water city: Antsirabe
Antsirabe is the second largest city in Madagascar after Antananarivo and Tamatave. It seems that almost 300.000 people live there, but you don't notice it at all when you walk through the center. It feels much more like an oversized village. Especially when you see a former Ajax player dragging on a traffic sign.
In colonial times, the French nicknamed Antsirabe 'Ville de l'Eau' because of the presence of thermal baths in and around the city. I visit the Hôtel des Thermes near the center and have a wonderful massage for a bargain price (25.000 Ariary is six Euros).
Antsirabe is also known for the large numbers of pousse pousse taxis. Dozens of young men run or cycle their lungs out to pull a covered rickshaw. It is a colorful sight as most rickshaws are beautifully decorated.
I stay in Antsirabe for two whole days and really enjoy myself there. There is much to experience in Antsirabe and the surrounding area. I will be dedicating a separate blog to it soon.
An early departure to Miandrivazo
In my nostalgic hotel Le Trianon I get a tip from the bartender. "Eric, you really should drive your scooter to Miandrivazo. A friend of mine has a hotel there near the river. There you can take a three-day canoe trip on the river Tsiribinha that takes you to Belo.' I don't think the idea of ​​a canoe trip is all that crazy. "But what do I do with the scooter?" 'I'll call my buddy. I think that scooter fits in the canoe just fine.'
Before dawn I leave for Miandrivazo. The distance is about 220 kilometers and the road does not seem to be equally good everywhere. I also have to take into account all kinds of road users, such as the zebu cart. The cart pulled by one or two zebus is the preferred mode of transport in Madagascar. Even in the bigger cities you see them everywhere.
The rush hour in Antokofoana is around eight o'clock. Dozens of people are walking along the road and minibuses are waiting for passengers. From a distance the chaos seems great, but once there I simply drive past it.
Breakfast in Betafo and refuel at the Shell
A lovely morning sun smiles at me when I buy a few freshly prepared oliebollen in Betafo. The oliebollen man just sits on the road and bakes the oliebollen in a pan on a charcoal fire. His colorful round hat suits me more on a woman, but he is very clear about it. "I'm a Betsileo and everyone here wears this hat. Husband and wife.' I get a cup of coffee from his neighbor. I could not wish for a better breakfast. The butcher across the street greets me kindly: 'Salama!'
By ten o'clock women are busy on the vast rice plantations. When they see me coming from afar on my scooter, they put the work down to wave. 'Salama vaza,' they shout at full throttle.
Gas stations are rare outside the larger towns. At 157 km from Miandrivazo I stop to refuel at the only gas station between Miandrivazo and Antsirabe.
A coffee break and a bad road surface
The journey is progressing steadily. The road winds around some hills now and then, but is otherwise straight and in good condition. I regularly pause to take in the beautiful surroundings.
Around three o'clock I have covered 150 km and it is time for a gas stop. In the village of Morafeno, the petrol is poured into the tank via liter bottles.
Opposite is a small kiosk where I am served the last coffee from a large thermos. There is a lot of noise from the neighbors. "They're all drunk," says the coffee lady. 'They have been drinking cheap alcohol from plastic bags from 12.00 noon. Pffff,' she sighs.
Then I pass the back of a billboard. I stop and turn on the road to take a photo of this illustrious sign. This is because there is an announcement that there is a Shell Station in 152 km. I think it's very early, but at least I can confirm that it is correct.
During the last thirty kilometers to Miandrivazo, the road surface is very bad in some places. From a considerable distance I see young men standing by the holes with shovels. When I'm close, they suddenly start shoveling sand into the holes. And then hold out their hand for a 'gift'. Those rascals.
Welcome to Miandrivazo
After more than 210 kilometers I still have to take a dangerous bend before I can start the descent to Miandrivazo. As with any larger town, there is a Bank of Africa welcome sign. The bank's signs only represent cities where a branch of the bank is located. It is useful to know, because that means that there is also an ATM. For example, when you leave a city, there is always a sign with the name of the next city with a branch of Bank of Africa.
A lot of smaller places don't have an ATM at all, let alone a bank branch. But Miandrivazo is a big city by Malagasy standards. The city has more than 100.000 inhabitants.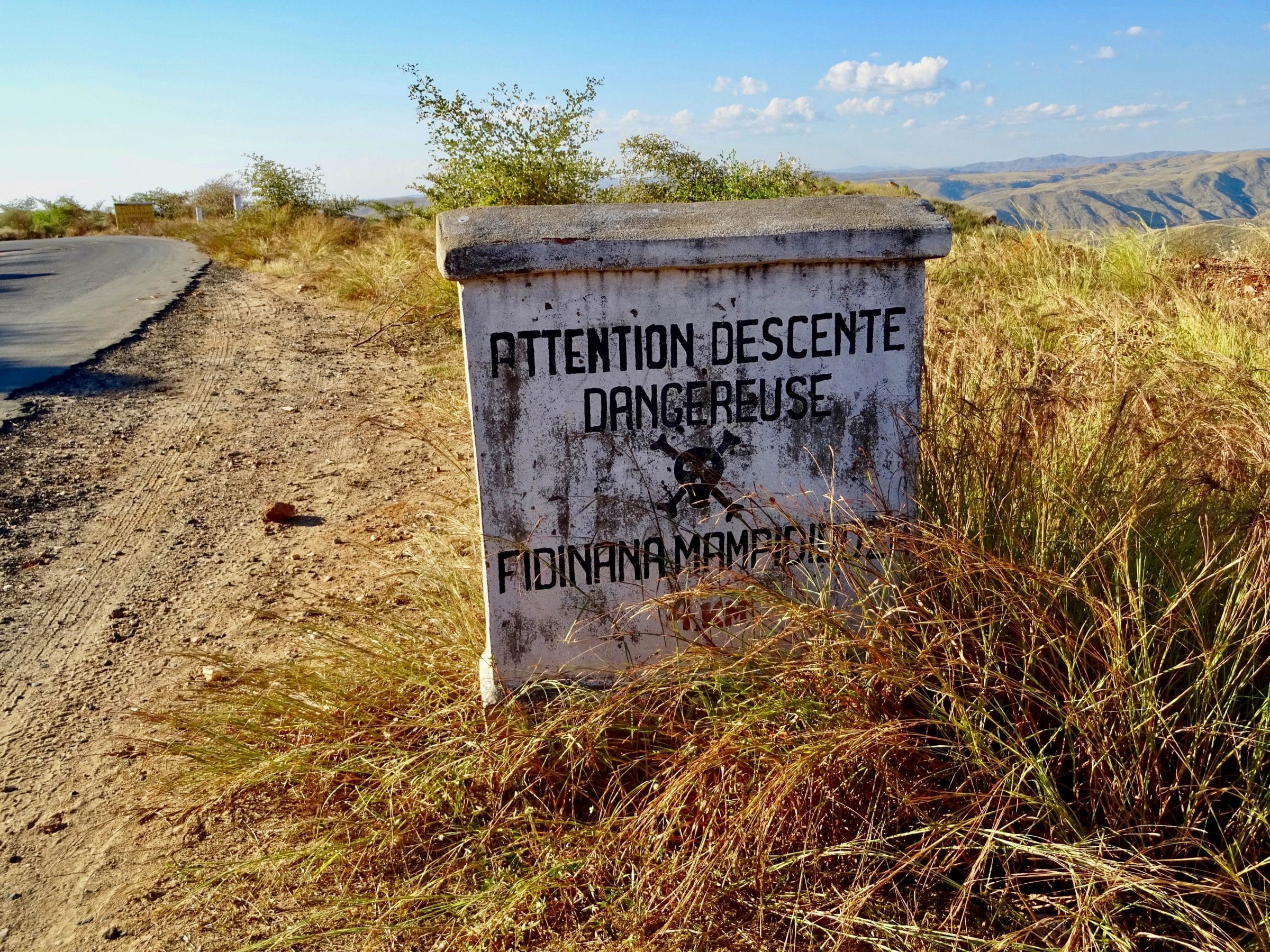 I don't have to search for Hotel Baobab. The hotel is close to the Mahajillo river. There is only one road that leads to that river. When you arrive at the hotel, Gilbert is already sitting in the lounge. 'Are you Eric? I'm your guide for tomorrow's canoe trip.'
There is no need to negotiate as tour prices are regulated. I pay 600.000 Ariary (150 euros) for the 2,5-day trip. 'That's for everything, food, drinks, lodging and your scooter,' says Gilbert.
Gilbert then assists me to the branch of Bank of Africa to withdraw money. Unfortunately, the only bank's ATM in a city of 100.000 is out of order. "They're coming to fill the vending machine in the morning. It's empty.' I take the opportunity to go to the hairdresser.
Gilbert says goodbye at Hotel Baobab. 'Tomorrow morning I will bring the tent and the provisions for the trip. If you make sure you have cashed in, we'll leave around nine o'clock.'
Tomorrow morning I will experience it all. Let's see if that scooter fits in the canoe…
Also read: