We (Cor and Grietje van NoFear Travel), travel with our Toyota Hilux 4×4 camper by Africa. The African continent is the Mecca for 'overlanding' with many challenging routes and beautiful destinations. The first African country we visited during our trip to South Africa is Morocco, followed by Mauritania. In this article we tell you everything about the sequel, the overlanding in Senegal. Of course you start again by watching the video at the top of the page!
About Senegal
Senegal is almost 5 times the size of the Netherlands. Dakar is the capital and counts as an agglomeration more than 3 million of the total 17 million inhabitants. There is a large seaport in Dakar, which also serves as a transit port to, among other things, inland Mali. There are two main rivers: the longest is the Sénégal, which forms the northern border with Mauritania, and in the southeast flows the Gambia River. The country of Gambia is completely enclosed by Senegal around the river Gambia. Senegal is in the list of the 50 least developed countries worldwide.
Border crossing Mauritania – Senegal
This time we start the story just before the Mauritania/Senegal border. The two countries are separated by the Senegal River and actually there are two border crossings. There are so many horror stories about the transition at Rosso that we just avoid this one. In Rosso people would be extremely unfriendly and corrupt.
At the border crossing at Diama everything seems to go easier, but for that you have to take a road through a nature reserve that is barely passable.
Well indeed, as far as there is still talk of "way". We are lucky that it is dry. This means that the loam has dried into rock hard concrete. But it doesn't make the holes any less deep!
The border crossing itself goes fairly smoothly. It takes us an hour. On the Mauritanian side they try to extort some money for some kind of tax, but with a bit of resistance we were free of that.
Everything seems much friendlier on the Senegalese side.
Only we have to go -within 5 days- to the capital Dakar to get a compulsory import stamp for the car there. They only want to put the stamp on the spot when paying 250,00 euros…
After the border crossing, the larger town of Saint-Louis soon follows, where we withdraw West African Francs and take out third-party insurance for the camper. It concerns an insurance policy for so-called ECOWAS countries, a collaboration of a number of West African countries.
There is also a well-stocked supermarket where we stock up. Many European products, with prices that rise above Europe. Probably unaffordable for the ordinary Senegalese.
zebra bar
We drive on to the Zebra bar, just south of Saint Louis. A campsite with some bungalows and a cafe/restaurant. The owner is Swiss and has lived and worked there for many years. The property is a well-known meeting place for overlanders. You can wash, buy a beer/wine and take a dip in the sea.
And above all… meeting other travelers. We meet Dutch, Italian, French, Finnish, Malaysian and German travelers. That, of course, makes for fantastic stories. With the Dutch we have a nice dinner on the terrace.
On the way to the campsite we already saw monkeys, but on the campsite you also have to be careful with those stray animals. We have to keep an eye on everything of value.
Furthermore, there are many crabs walking around the campsite and the beach, sometimes up to 25 cm in diameter.
Dakar Rally
Dakar, what a city…. We've seen quite a few cities worldwide, but this far surpasses it. Because there are few high-rise buildings in Dakar, the city covers many square kilometers, more or less the Noordoostpolder. The traffic is the most chaotic of all we've seen. It squeaks and honks at each other. In the two and a half days that we stayed there, we were able to spot exactly one car without scratches and dents. The fleet is of a questionable quality. In Dakar there is no separation between industry, trade and housing. This means that all forms of traffic cross each other. Donkey and wagon, thousands of taxis, some ordinary cars, countless mopeds and many, many smelly trucks make their way through the congestion.
The city is dirty, part of the city is unpaved, but the paved roads are also full of sand. The combination of the huge black smoke that traffic leaves behind with the large amounts of dust makes you quickly reach for your mouth cap.
Just like in the Mauritanian Nouakchott, our overnight stay was coincidentally close to the fishermen's beach. Here too you will end up breathing through the nose. At the end of the day, many fishermen, traders, porters, street vendors, women and other people gather here. A swarm of people that is seen from above by hundreds of birds of prey, who regularly catch a fish.
Campsite Cercle voile
This overnight place is actually not a camping site, but the best and only place where you can stay somewhat decent in Dakar with your own camper.
It is a restaurant and there are some sailing boats. And there is also a small corner under the trees where some campers or a tent can stand, at most 4.
You can enjoy the shade under the trees, but we have to be careful, the birds of prey that get their meal on the adjacent fishing beach, eat it above us in the trees. That means that our camper was full of shit and also regularly a half-eaten piece of fish comes down.
But it sure is fun…besides the other overlanders we cooked, ate and drank with, there are countless friendly men and women walking around who want to sell you all kinds of things and do odd jobs for you. They greet you many times and are not pushy. A lot of fun there!
By taxi through Dakar
To discover Dakar you actually have two choices, on foot or by taxi. Distances on foot are very long and taxis are affordable. So the choice was made quickly.
We will be dropped off at Gare de Dakar. We are immediately approached by a neat looking man in his 40s. After we told him that we wanted to explore Dakar and were from the Netherlands, he took us on a tow through the city. Not for money, but because he was so proud that we Europeans are showing an interest in his city. He told me that he is a math teacher and that he has some time left in the morning.
First we went to a coconut stall where we drank coconut water from the young fruit through a straw. Delicious in warm weather.
Enthusiastically we continued through narrow streets with many stalls and workshops.
One of the males sold birds that he kept in a cage. Letting go of such a bird is a tradition that celebrates freedom.
Because we are interested in the beautiful clothes that Senegalese women and sometimes men wear, we go to a sewing workshop. There is a lot of fabric for sale here on several floors. Rugs with beautiful motifs and colors are sewn into dresses, skirts, shirts and other garments by many dozens of seamstresses. We have a dress, skirt and shirt measured.
In the embassy area everything is a bit more western and we buy a cup of coffee in a cafe.
Meanwhile, our math teacher talks about his private life. He himself has two wives, according to tradition.
His father even had several. As a result, he has 33 brothers and 19 sisters. We were quiet for a while, his father was not a quiet person.
One of his sisters is now 40, unmarried and childless. This makes her the disgrace of the family for her father and he has not wanted to see her for 15 years.
After these amazing stories we say goodbye, he has to go to school quickly to prepare his math lessons.
We take a quick look at the westernmost tip of the African continent. Not very special, but while we're here…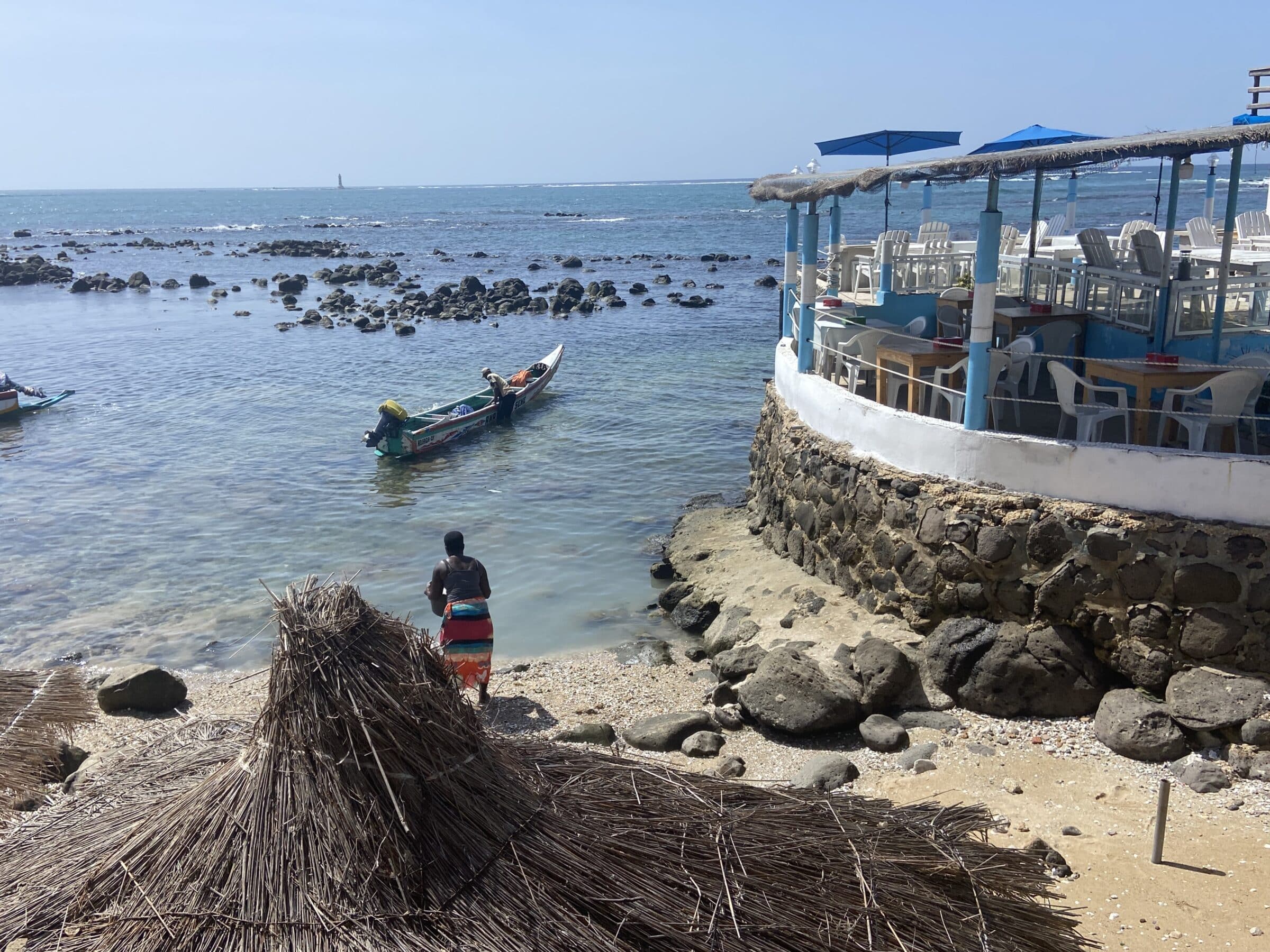 To Petit Cote
Leaving Dakar takes more time than estimated, but oh well, during the ride we are short of ears and eyes. Finally we leave the southern suburbs and we can drive on a bit. You have to, because it's getting dark already. Well, we once promised ourselves to always have found a place for the night before it gets dark, but this time it won't work. Many Senegalese have the habit of not turning on their car lights. Add to this the unlit roads, donkey carts and pedestrians and you will understand that we must be as alert as possible.
The last part of the path to the beach where we look for a place is also through a densely wooded area where our high-beam headlamps come in handy.
We find a spot on the edge of the sand and some low vegetation. Tomorrow morning we'll see how it all looks in light.
At least we fall asleep to the sound of crashing waves.
The next morning we see a wide beach on both sides where we are almost alone. In the distance we see a fisherman who brings in his fish and boat after a night of fishing. It seems like paradise here. Of course we first take a dip in the sea to freshen up after a sweaty night.
Furthermore, for today we only plan to relax and enjoy the beach and the beautiful surroundings.
Saloum National Park
Where the Saloum River flows into the Atlantic Ocean, a unique delta has been created which has been declared a World Heritage Site by UNESCO. In the 180-hectare area, the water is brackish. Migratory birds winter here in huge numbers. Many different species have their breeding grounds.
There are a number of villages in the area that are only accessible by boat.
We explore the National Park by boat and on foot. First we go through the area with the campsite owner in a piroque (African canoe). We sail to such a remote village. There we step into a smaller piroque with which we paddle through the dense mangrove vegetation. A wonderful experience.
The next day we set off on foot. We found a route via Wikiloc that starts near our campsite.
First we walk through a semi-open landscape with many striking baobab trees. Typically African trees with a huge thick trunk.
We chose to walk on slippers and that turned out to be a good choice. We regularly have to go through shallow water or swamp. Then we come to a part where some men are busy mowing grass. One of the men beckons us and we chat. The grass for horses and donkeys is now being collected and dried as the dry season is approaching.
A little further on, men are busy harvesting peanuts. The plant is taken out of the ground and also left to dry. The foliage is used as food for livestock.
Further on we suddenly see some buildings. We walk there and it turns out to be a lodge. A number of bungalows, a restaurant and even a swimming pool. All very neatly and modernly laid out. We take the opportunity and drink a cup of coffee. Wonderfully relaxed on the terrace with a fantastic view.
We walk further along a stretch where many birds, including pelicans, reside.
Back at the camper we first dive into the sea, after 14 kilometers and 35 degrees we are soaking wet with sweat.
We hereby conclude the first part of our adventure in Senegal. We pass the border with Gambia and will later return to Senegal.