in the east of Asia it is relatively unknown to many South Korea as part of the Korea Peninsula. It is a diverse Asian country with a quirky culture, where not everyone speaks the English language equally well. The language barrier can make traveling here challenging, so a trip to South Korea requires a little extra preparation.
You may not expect it, but according to a survey among 10.000 ANWB members, in 2021 South Korea, and in particular the capital Seoul, was one of the most popular distant travel destinations that the Dutch dream of going to one day.
For us Dutch, South Korea is a mysterious country and a strange culture that we are somehow very curious about. South Korea is a versatile country with a lot of nature and national parks, but also countless large cities where millions of people live close together. In addition to ancient temples, you will also find modern architecture. The country actually has everything a world traveler is looking for so it was high time for me to visit it.
More blogs from Eline about South Korea:
Plan your holiday to Asia here
Best time to travel
The best time to go to South Korea is in the fall or spring. During these seasons the weather is the best and the nature is very beautiful. At the beginning of spring, the cherry blossoms that South Korea is known for can be seen. Just like autumn, which is known for its beautiful autumn colours.
The high season is from June to September. In July there is a lot of rain and in the other months it can get very hot. The low season is from November to April. Then it can be cold and snow can fall. However, it is a good period if you want to go skiing. on the island of Jeju you can go all year round for mild temperatures and little rain.
Also read: Worldly | Which languages ​​are most spoken in the world?
Transport and accommodation
Public transport in South Korea is well organized and allows you to reach all corners of the country. To use public transport in cities (such as metro, bus or trains) you can T money card purchase, of which you can always top up the balance to pay for public transport.
Transportation
The easiest and most common way to get to South Korea is through Incheon Airport in Seoul. You can save money on flights to this metropolis on our page with all Skyscanner tips. From Seoul, there are then various options for traveling in South Korea.
bus: The cheapest way is by bus, which takes you to all corners of the country. This way of traveling takes the longest, but is by far the cheapest.
Train: Another good way is by train. Especially the KTX high-speed trains take you quickly to the other side of the country for a reasonable price, but also the slow trains do that. You have to buy a ticket with a fixed seat for both bus and train, so no one has to stand on the train or bus.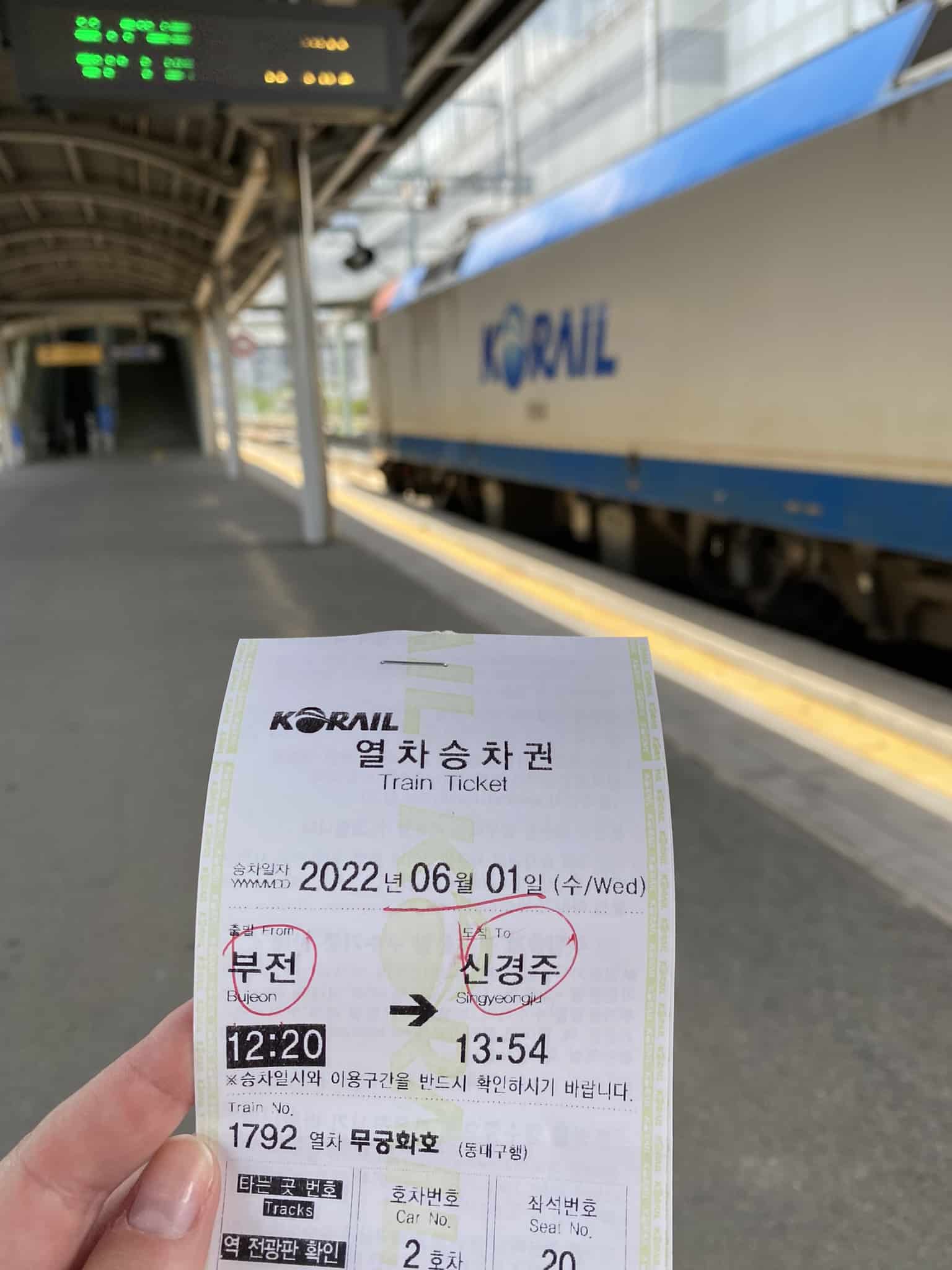 Plane: Another way of traveling is with domestic flights. You can fly across the country quite cheaply. This is a widely used mode of transportation in the country and especially to Jeju Island it is the most commonly used mode of transportation. Also use here our Skyscanner tips to find the cheapest domestic flights.
ferry: There is also a ferry that connects all the islands of South Korea.
Cars: There is also the possibility to rent a car. Not the cheapest option, but one that gives a lot of freedom. You must be at least 21 years old and in possession of an international driver's license. Also, the Korean language is at the rent a car a challenge. rentcars.com however, is an international provider where you can at least compare everything and make a reservation on an English-language website. That makes the whole process a bit easier.
Accommodation
In every city there are countless possibilities to stay overnight. You don't have to worry about this.
Do you want to spend the night cheaply? Then there are several hostels and guesthouses. These are the places where you will meet other English-speaking tourists. Through Trivago these are the easiest to find because it compares different providers, why Booking.com.
If you want to sleep in a typical Korean Hanok (a traditional Korean house), that's also possible. However, it is popular, so you will need to book in advance.
There are many motels, hotels and Airbnbs. Keep in mind that people outside of Seoul speak little or no English. This can make communication very difficult at times.
Itinerary and highlights
In South Korea, your trip will probably start and end in Seoul, unless you go by boat or plane to Japan travels. It is not possible to enter South Korea via country. Choose whether you want to visit Seoul at the end or at the beginning of the trip.
Travelers often visit Busan, Gyeongju, Daegu, Jeonju, and Gwangju. In addition, there are many national parks in South Korea. These include Seoraksan National Park, Sobaeksan National Park and Hallasan National Park on Jeju-do. Also visit the island of Jeju-do, which is seen as one of the 7 new wonders of the world and is therefore very famous.
Also read: Worldly | What are the 7 Wonders of the World?
Most tours start in Seoul, after which they fly to the island of Jeju-do, which is located south of South Korea. On the island you can easily move by bus and then fly on to Busan.
From Busan you can take the train to Gyeongju, from where you can continue by train to Daegu. This city of millions is located in the middle of South Korea and from here you can take the KTX to Seoul and the bus to Seoraksan National Park.
Another option is by bus along the coast to Seoraksan National Park. From here you can go back to Seoul. This is an itinerary you could do in 3 weeks.
Practical information for South Korea
Passport and visa
With a Dutch passport it is not necessary to apply for a visa in advance and you can get a 90-day tourist visa on arrival. If your passport comes from another country, you may need to apply for a visa in advance.
Before leaving for South Korea, it is useful to K-ETA to fill in the form. For example, all documents are checked before you leave for South Korea and things go faster at the airport. You can request the form through the official website and pay 10,000 KRW (approximately €8,00).
Money and Cost
In South Korea, payment is made with the Korean Won (KRW). You can take cash with you (can be arranged at an exchange office in the Netherlands) or by debit card in South Korea. ATM's are sufficiently available. Note that the ATM accepts foreign cards, because this is not the case everywhere. Furthermore, you can pay in almost all places with your credit card so that you do not have to pay everything with cash. The Korean Won is available in many notes and coins. 1000 KRW is approximately EUR 0,75 (July 2022).
Also read: Which (prepaid) credit card is best to travel with? And why?
It is generally known that South Korea is slightly more expensive than the Netherlands. Public transport and overnight stays are somewhat cheaper compared to the Netherlands. Hotel stays are a lot more expensive, so for a budget trip it is better to use hostels, guesthouses and Airbnb's. For food, drinks and the supermarket you generally pay the same or sometimes a little more than in the Netherlands. The tap water in South Korea is drinkable, but does not taste very good. Fortunately, bottled water is cheap.
Also read: Top 10 | What are the best backpacking destinations in Asia?
Also read: Top 10 | What are the cheapest countries for a world trip?
South Korea SIM card
In South Korea you can find wifi points almost everywhere. In every city, bus, train, in fact everywhere. The WiFi is fast and you rarely or never need mobile internet. The range is very good, all over the country.
If you really want to have coverage everywhere, you can buy a SIM card. You can buy a SIM card at the airport and have it installed by the seller so that everything works properly. A cheaper option is to buy a SIM card or E-SIM via internationalsim.nl.
Apps in South Korea
What is important to know is that not all apps from Google are supported in South Korea and they work poorly or even not at all. Before you go it is wise to check the apps Naver (like google), naver maps (like google maps; good and reliable for public transport), Currency (for converting KRW to Euro) and papago (such as google translate).
You can also Cocoa (a kind of WhatsApp) download various add-on apps such as map, metro, talk, bus and taxi, which you can use after creating an account. All these apps make your trip through South Korea a whole lot easier.
Remark: This took us quite some time to sort it all out on the spot so make sure you've downloaded and installed everything before you go!
Packing list
It depends on the season in which you travel what you need to take with you. For autumn and spring it is best to bring layers, because it can be cold in the morning and warm again in the afternoon. In the summer months you also have to take into account rainfall and so a raincoat or umbrella is needed. In winter it can get very cold, for which you will need thick clothing and/or a jacket.
In South Korea they have the same plug sockets as in Europe. A travel plug is therefore not necessary. Think especially about bringing a travel Guide. It will help you a lot with information about what to do. Mosquito repellent is also useful, especially in summer when it rains. You don't need to bring anything special for your trip to South Korea.
Finally,
Now that you, like me, are well prepared for a trip to South Korea, I will take you on a journey through this beautiful country in the following blogs. To be continued!
More blogs from Eline about South Korea:
Plan your holiday to Asia here