Krabi is one of the most surprising and diverse areas in the south of Thailand that you can discover. The blue one Andaman Sea and the immense rock formations is what makes the area so beautiful. Anyone who is crazy about nature can indulge themselves here and find the most amazing views.
Incidentally, Krabi is also the perfect base for every tourist who is on a beach holiday and all backpackers can also have a great time here. Despite the fact that Krabi is often visited by tourists, it still feels like a nice Thai destination. From the mainland Krabi you can easily go to different islands to stay or to visit other places. The choice is huge and that is why we describe the most pleasant places to visit.
Plan your holiday to Asia here
What to do in Krabi
Ao Nang
Even though the center of Ao Nang from 2 long streets, it is a pleasant destination for many travelers. Everything you need can be found in these streets; massage parlors, restaurants, street food, smoothies, souvenir shops, cafes and the beloved 7-Eleven's. Ao Nang is located on the sea, so you can enjoy the beach and the sunset, but for a real day trip you will have to go by boat or take a taxi / scooter.
Tip: Are you looking for a cozy hostel in Ao Nang? Then is K Bunk Hostel a good choice. They have a hostel in the center and near the beach.

Click here for prices and availability of K-Bunk Oa Nang Center.
Click here for prices and availability of K-Bunk Oa Nang Beach.
Railey Beach & Phra Nang Beach
The most touristic place to visit is Railey Beach (Location here ). On Ao Nang Beach you buy a ticket for 200 baht (about 5,45 euros) that takes you back and forth to Railey. The boat trip takes about 10 minutes and along the way you have beautiful views of the limestone cliffs.
The beach where you arrive will be overrun in the afternoon with tourists sunbathing or kayaking along the rocks, so make sure you don't leave too late to take some nice pictures.
We recommend skipping this beach and continuing to Phra Nang Beach (Location here ). Along the way you will come across many cozy restaurants and you will notice that the lively part of Railey feels like a hippie place. Love it or hate it. Keep your bag closed and walk carefully because the monkeys will be more than happy to check you for food. Once you arrive at Phra Nang Beach you can choose to relax on the beach, rent a kayak or start rock climbing. This is a very popular activity on Railey as it is one of the most beautiful places suitable for beginners and experts alike.
Tiger Cave Temple
This Buddhist temple (location here ) at an altitude of 278 meters is one of the most fun challenging hikes you can undertake in Krabi. Before you are rewarded with views over northern Krabi, you will have to face the 1237 steps. These steps are not what we are used to at home. They are stylish and sometimes up to knee height.
De Tiger Cave Temple owes its name to the monk who was meditating here in 1975 and heard the sound of tigers coming from the jungle. Tiger footprints can also be found on the walls of the temple. Since it is a difficult climb up, we recommend starting early in the morning or watching the sunset on top of the temple. Beautiful photos are guaranteed! Bring enough water and a good flashlight for the way back if you want to watch the sunset.
Dragon Crest Mountain
A tough hike to the tip of Khao Ngon Nak Viewpoint (Location here ) is a must for every hike and nature lover. 30 minutes drive from Ao Nang do you find it Mu Ko Phi Phi National Park, where you pay 200 baht (about 5,45 euros) at the checkpoint to start the walk.
Put on sturdy shoes, bring enough water and perhaps consider a towel for the sun that burns on your body for the entire walk. Apart from the first part of the hike, where you are mainly climbing, it is certainly doable. Take plenty of rest and keep to your own pace.
In about 2 hours you will hike up through the jungle, where you can spot various wild animals. Once at the top you will be rewarded with the beautiful view of the green mountainous surroundings, various islands, limestone cliffs and the waving sea.
Also read: Itinerary Thailand 2 to 4 weeks | Hints and Highlights
Koh Phi Phi
Koh Phi Phi (Location here ) is probably a name that you have heard before if you are interested in visiting beautiful Thailand. The islands of Phi Phi are not only known for the partying tourists, but also for the ends of the island that are incredibly beautiful.
The island is one of the most visited islands in the world Thailand and therefore take into account higher prices for accommodations, restaurants and souvenirs. However, if you put in some effort, you can still enjoy a lovely beach on your own. What's great about this island is that you don't encounter any traffic and everything is within walking distance. Below we list all the activities of Koh Phi Phi so that you get the best out of your time on the island.
Party
The most common reason for many young travelers to visit Phi Phi is to explore the nightlife. When you walk through the streets, this is also almost impossible to avoid.
The most famous bar is Reggae bar (Location here ) where you put it Muay Thai can admire while enjoying a drink. The reason this is such a busy bar is because after about 21.00 pm tourists also get the chance to stand in the ring. Of course this is your own responsibility. Some take it quite seriously and therefore do not come out of the ring without a fight.
The rest of the partygoers can often be found in Backpacker Bar (Location here ) or Slinky Bar (Location here ). If you are not a real party lover, there are plenty of places on the beach (on the side of the pier) where you can have a drink and enjoy the sound of the waving sea.
Snorkel tour
Another popular activity is a snorkel tour by longtail boat. This way you will discover different places around Koh Phi Phi. You can choose to go on a group tour or rent a private longtail boat with a group of friends. Both are very worthwhile and you will be on the road for a whole day! Moreover, you will visit the most beautiful places of Koh Phi Phi; Maya Bay, Shark point, Monkey Beach en Pi Leh Bay. All known for its crystal clear waters, beautiful beaches and best snorkeling spots.
Maya Bay is a special bay in itself, as it is visited by thousands of tourists every day. Here's a scene from the movie The Beach recorded with Leonardo Dicaprio and has since become a huge tourist attraction with thousands of visitors every day. To protect nature, Maya Bay has even been closed for 3 years. Besides all the snorkeling and visiting different bays, you can also relax on the tour Nui Beach or grab the kayak and float around.
This tour also includes lunch (how wonderful it is to enjoy one of the Thai specialties in your longtail boat) and at the end of the day you will sail to the best place to enjoy the sunset and take beautiful pictures to shoot.
Viewpoints
Would you like to admire the island from a different angle? Then walk to one of the three viewpoints, easily accessible from the center. Everyone has the chance to get a view of Phi Phi because there are 3 levels. The first level (location here ) you will reach after walking up for 15 minutes and many will continue walking to viewpoint number 2.
Make sure you leave early so you can beat the crowds and enjoy the view in silence. Did you get out of bed too late? Then walk on to viewpoint level 3 (location here ), because most will not walk beyond spot number 2 (location here ). At the top and after about 40 minutes of walking you have a panoramic view over the two elongated bays of the island. The best time to go to the viewpoints is at sunset.
The beach
The fine soft beaches and the breathtaking views over the limestone cliffs Koh Phi Phi perfect for a lovely beach day. There are several beautiful beaches on the island that are worth discovering. From the pier you can walk to the western part over the sand and rocks to several idyllic beaches.
viking beach
A beach that you will probably only share with a few others viking beach (Location here ). On this lovely beach you will also find a swing and you have an amazing view over the limestone rocks. While walking to this beach you will also encounter plenty of other places where it is very quiet. So discover them yourself during your walk!
Long Beach
Long Beach (Location here ) is another beach that you can visit if you walk a little further. You will have to make a little more effort to get here, but the distance from Viking Beach is only 10 minutes. The name says it all; this beach is the longest beach on the island. About 680 meters and has the whitest and fine sand of Phi Phi. When you walk to the easternmost tip of the beach, you will come to Shark point where you might be able to make another attempt to get acquainted with a reef shark.
Nui Beach
Do you want to be able to snorkel well from the beach? Then a trip to Nui Beach (Location here ) a recommendation! It is a small beach in the north where you have a good view to discover the aquatic world. While snorkeling, don't forget to enjoy the scenery that surrounds you.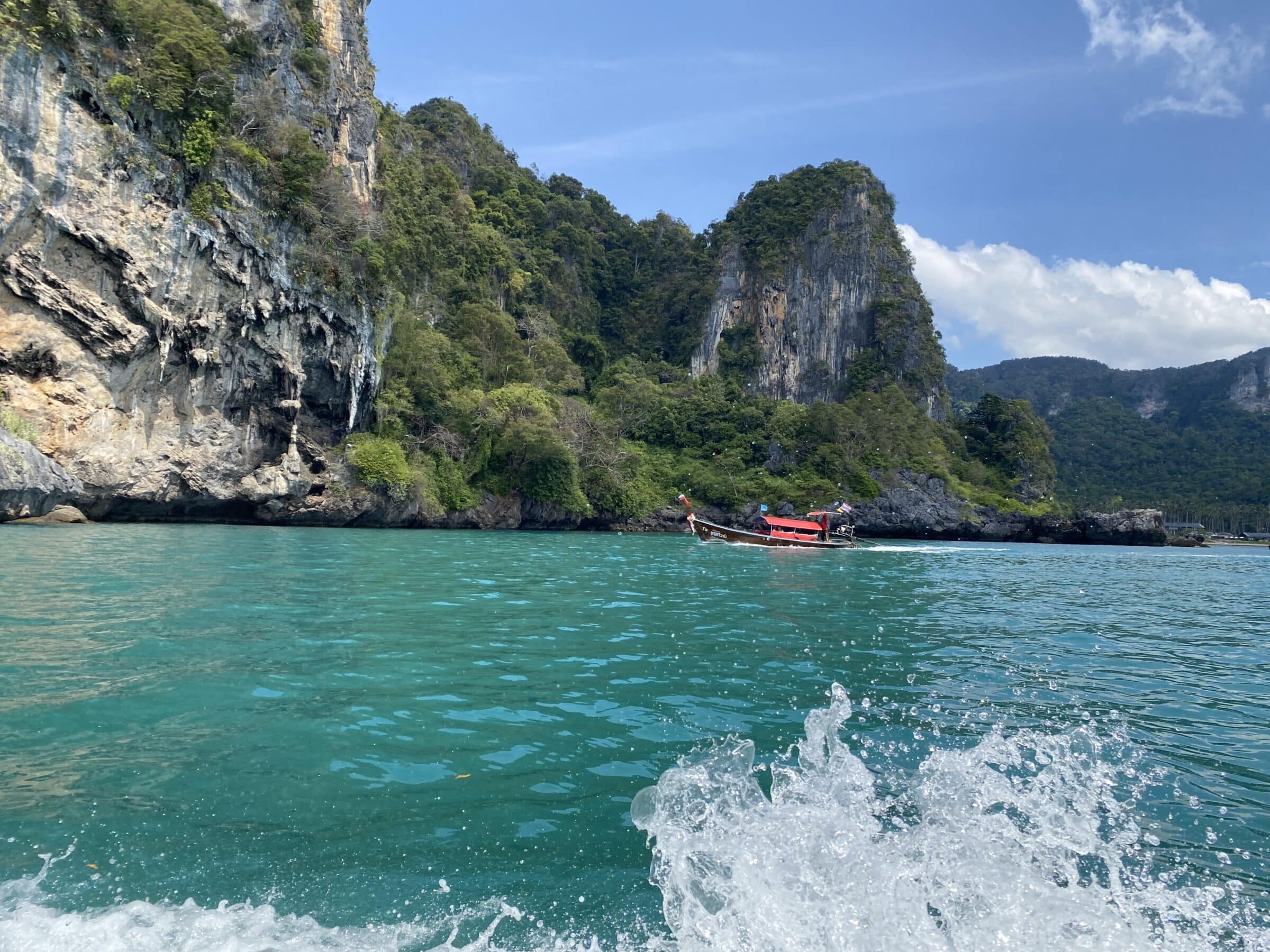 Plan your holiday to Asia here