Do you want Sri Lanka add to you world trip or do you just want to make a tour through Sri Lanka? Certainly do! This beautiful travel route through Sri Lanka, full of travel tips, takes you to all the must-sees in 2, 3 or 4 weeks. Mapping out your travel route through Sri Lanka can be difficult, because the country has a lot to offer. The great thing about Sri Lanka is that, unlike many other countries in Asia, you can see most of the highlights and must-sees in 2 weeks. In 3 weeks or more you can explore both the north and the south. I myself took 3 weeks on this route, or not really 3 weeks .. I just stayed 1 week at the last destination. Just because it's so nice! To get in the mood, watch the beautiful video at the top of this page – enjoy!
Plan your holiday to Asia here
What are the must-sees of Sri Lanka?
Sri Lanka has a lot of beautiful sights and places to discover. We wrote a nice blog about it before with the most beautiful photos! Do you want to quickly go through the Top 8 places to visit in Sri Lanka dig around? Then use the links below. The shortcut menu will take you directly to the right chapter in the Sri Lanka sightseeing blog.
The itinerary on the map
Use the map below to see how the trip goes and where you can find the different sights. Save the map or this page to your favorites so you can always quickly access it!
Also read: How much does traveling in Sri Lanka cost? | Everything about budget and costs
Also read: 8x the most beautiful things you must see in Sri Lanka
Start of your Itinerary: Negombo or Colombo?
When you arrive at Sri Lanka airport you actually have 2 options to start your itinerary. Negombo of Columbo† Both cities are the same distance. From the airport it is easy to arrange a taxi to your first destination. Since I entered the country without doing a bit of research, I went blindly to the capital: Columbo.
However, this was not a success at all. Even though I had already been in Asia for 7 months at that time, I really had a terrible culture shock and felt anything but at ease. The next morning I stopped a tuk-tuk and it drove me to Negombo brought. In Negombo do you still have a culture shock, but it is definitely less intense than in Columbo.
In Negombo you don't have to stay long though. I recommend that you just relax here from your flight and get used to the culture of Sri Lanka!
Hostel tip: Island Hostels Mount Lavinia
From Negombo to Kandy by train
From Negombo you can easily get on the train to Kandy† Try to be present at the train station at least half an hour in advance, because in some cases there is not immediately staff available to sell you your train ticket. From Negombo you first go to Colombo and there you can transfer to the train to Kandy† This is where your first train experience with Sri Lanka starts: everyone rushes into the train and does everything they can to get a seat. Do you have a seat? Then you are really lucky! In most cases you will be surrounded by the locals or you will be standing at an open door to enjoy the view.
Markets and elephant festivals
In Kandy its a must do to just stroll around and go to the local fruit and veg market. Are you in around August Kandy† Then you should google when the annual elephant festival takes place "the feast of the sacred tooth". This is truly an experience you will never forget!
Hostel tip: Kandy Tower Inn
From Kandy to sigiraya
In Negombo en Kandy did you experience the real 'city life'. If you continue your way to sigiraya then you will end up in a completely different part of Sri Lanka! You can easily take a bus to sigiraya† You simply do this by walking to the bus station and indicating that you are going to sigiraya want. Before you know it, you'll have a ticket in your hands and you'll be on the bus among the locals, on your way to your next destination.
The Lion Rock
A real must see is the view of the famous "Lion Rock† You are faced with 2 choices here. You can climb the famous Lion Rock along with 100 other tourists for € 25, -† Or you climb the one located exactly next to it Pidurangala Rock for only € 2,50 with a spectacular lookout at the Lion Rock! In any case, I made my choice very quickly and decided to climb the Pidurangala Rock. It is a climb of about 20-30 minutes where you have to climb over large stones on the last part.
Tip:: put on good shoes!
For the rest is sigiraya a place where you can survive just fine. It is very natural, so walking or cycling is recommended. Stop along the way for a delicious 'kottu' (local dish) and your day is successful!
Guest house tip: Freedom Home Stay
From Sigiraya to Ella by train
When you continue your journey to Ella you must first visit Kandy, so you travel the same route back (but trust me, sigiraya is definitely worth it) and you can go there on the famous train Ella steps. The train ride from Kandy to Ella belongs to one of the most beautiful train rides in the world† However, ensure yourself well in advance of a ticket and place, especially in high season.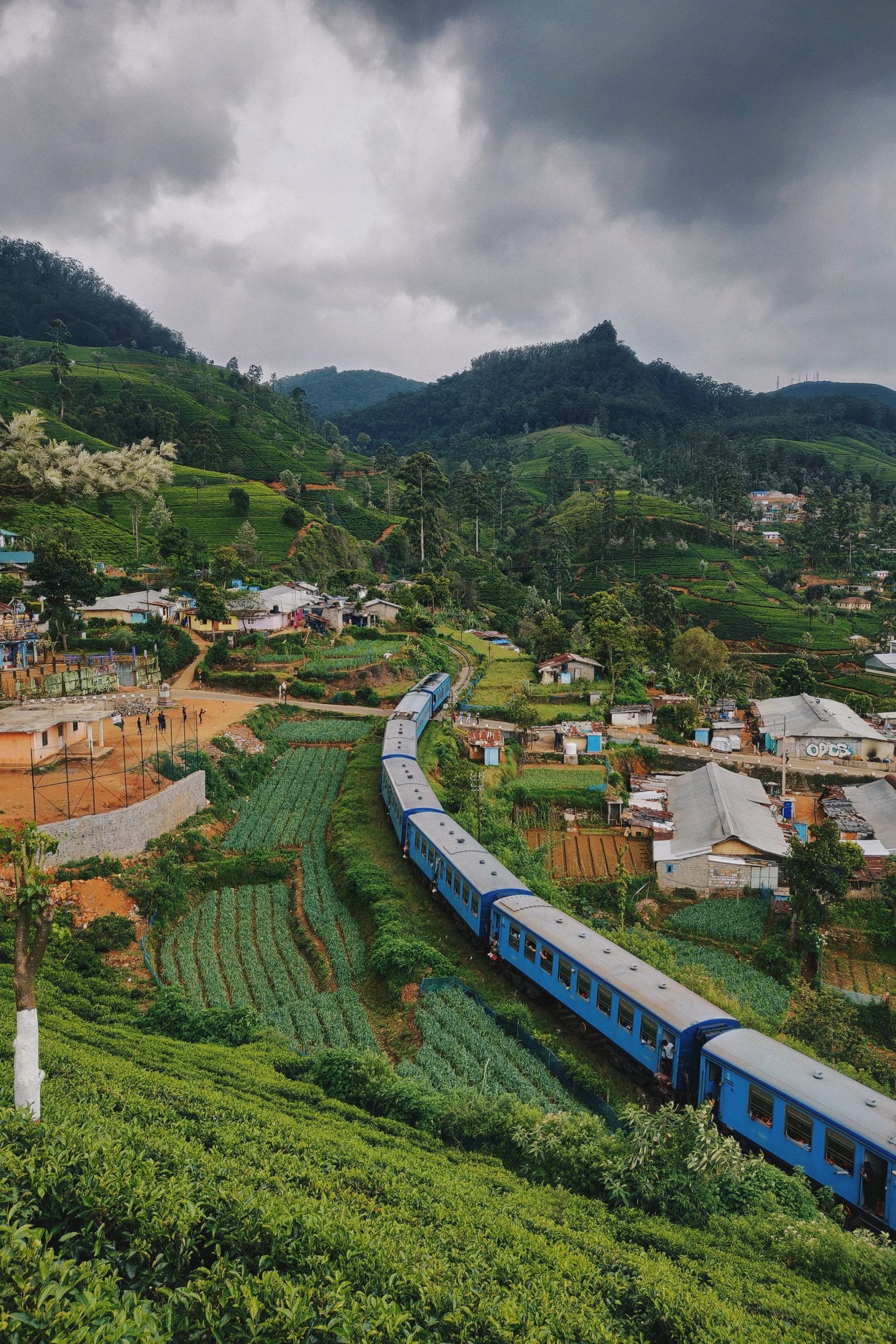 Things to Do in Ellac
In Ella you can (if you ask me) easily last a week. It is a very beautiful mountain village. However, the temperature here is a lot lower than in the rest of Sri Lanka. Must sees in Ella are the 'Nine Arches Bridge'&'Ella Rock† If you have an international driver's license, it is easiest to rent a scooter to explore the area. Otherwise you rent a tuk-tuk per day. It is highly recommended to end your day with cafe chill† This name is absolutely right!
From Ella to Arugam Bay
Arugam Bay is a place that many backpackers skip but definitely worth it! Especially after the cities and nature, it is wonderful to relax in this beach town. The town has a beautiful viewpoint that overlooks the entire coastline and a number of temples. You can also surf well here!
Also read: Arugam Bay: more than just a surfer's paradise
From Arugam Bay to Thissamaharama
We (me and my travel companion whom I met on the spot) decided to book a shared room in Tissamaharama and from there to visit Yala National Park and Udawalawe National Park. Why both? Because we simply couldn't make a choice.
Yala National Park and Udawalawe National Park
For Yala do you pay such € 23, - and for udawalawe do you pay such € 14, -. Yala is the most famous National Park of Sri Lanka, which is why they can easily charge this entrance fee. udawalawe is known for the amount of elephants and Yala is known for having leopards.
Unfortunately I didn't see a leopard in either park, but I did see a lot of other animals! If I had to make a choice between these 2 parks I would udawalawe select. In my opinion, the park is more beautiful and you can quietly enjoy all the beauty around you without sharing it with 100 other tourists.
From Tissamaharama to Mirissa
From tissamaharama can you take a shared taxi to the coast. Mirissa is a must as first stop! It's a great town that reminds you a little bit of Bali. Suddenly you can eat fancy food everywhere (unlike the rest you've been to) and you can even have breakfast with a smoothie bowl. The beach is lively, there is partying and it has real island vibes. A restaurant recommended is: Oh Mirissa† A bit on the pricey side, but worth it!
Also read: Things to Do in Mirissa | 6x fun hotspots and activities
From Mirissa to Unawatuna and Galle
From the coastal towns such as Mirissa it is very easy to take a bus to the next destination. There are buses every 5 minutes and there is a bus stop everywhere along the road. Nice and cheap! When in doubt between Unawatuna en Galle I would definitely choose to stay in Unawatuna. Galle is a great day trip. It is a small, historic city with many influences from the Netherlands.
But of course you don't travel all the way to Sri Lanka for nothing, right? That's why I would just stay in Unawatuna† This is the last stop of the travel route through Sri Lanka and with the 'beachy vibes' a perfect ending! You will also find the well-known swing on a palm tree, a must do during the sunset! In any case, all beaches in the vicinity of Unawatuna breathtakingly beautiful. I even had them all to myself 90% of the time! Unreal!
hostel tip: Hotel J (they also have hostel rooms – highly recommended!)
From Unawatuna to the airport
From Unawatuna you can easily take the bus to the airport and this immediately means the end of the - in my opinion - perfect travel route through Sri Lanka! The country is absolutely beautiful and has a lot to offer, much more than I have been able to write down here..
Plan your holiday to Asia here
Travel tips and travel information Sri Lanka
When is the best time to travel to Sri Lanka?
In fact, Sri Lanka is easily accessible all year round. The best time to travel to Sri Lanka is February to March† Yala and Maha are the two major monsoon seasons in Sri Lanka. Yala, in the southwest, reigns between May and July. Maha, in the northeast, takes over from November to January. In the east it is dry from March to September, but in the summer it is very hot.
February, March and April – In these months it is dry in Sri Lanka, with high temperatures. February, March and April are also the busiest months of the year.
May and June – In May the monsoon starts in Sri Lanka, with heavy rain falling mainly on the west coast in the afternoon and evening. The mornings, on the other hand, are often clear and sunny. In terms of tourism, this is a quiet and favorable period.
July and August – These are dry months in which you can enjoy high daytime temperatures in Sri Lanka. Due to the European holidays, this is a busy period in terms of tourism. I
September and October – The temperatures in Sri Lanka are wonderful in September and October and this is perhaps the best time to visit Sri Lanka. There may be a little rain every now and then.
November, December and January
The nights can be a bit colder during this period. Temperatures are most pleasant in early November and late January. This is a busy period in terms of tourism.
Do you need a visa for Sri Lanka?
Yes, a visa is required in Sri Lanka. Fortunately, these are fairly easily available. As the owner of a Dutch or Belgian passport, you can stay in Sri Lanka for thirty days. You can only enter the country if you are in possession of an ETA, or an electronic visa. As in many other countries, your passport must be valid for at least six months after the planned departure date from Sri Lanka.
There are several ways to apply for your Sri Lanka visa. If you want to arrange everything yourself, go to the website of the Sri Lankan government. You have to fill in your details and pay an amount of approximately 35 euros by credit card.
If you do not want or cannot apply for the ETA online, there are other options. You can also apply for your visa at embassies in Sri Lanka. Even if you have not applied for an ETA, you can usually also receive a Visa On Arrival for Sri Lanka on arrival. At the international airport of Colombo, for example, there is a counter where you can go. You pay 5 euros extra for this.
Is there a dress code in Sri Lanka?
In general, people in Sri Lanka think conservatively about the use of clothing. That is why it is wise that you adapt the clothing to your environment. To visit temples (Buddhist and Hindu) and even dilapidated shrines, men are expected to wear long trousers and not bare the torso. Women are expected to keep shoulders and upper arms covered, mini skirts and shorts are undesirable in places like this. These places may only be visited without shoes and without headgear.
Do you need a world plug in Sri Lanka?
Yes, you need a world plug in Sri Lanka. Sri Lanka uses power plugs and sockets of types D & G.
Can you drink tap water in Sri Lanka?
Only drink water from (sealed) bottles. Sometimes vegetables are washed in tap water. You should therefore be careful with raw vegetables, such as salads. Bottles of drinking water are for sale everywhere. The ice for a drink is usually taken from a manufactured, safe ice cube and usually does not pose any health problems.
Factory ice cubes are usually short sticks with a hole in them. To rule out any risk, you can ask to have the ice removed from your drink.
What is the currency of Sri Lanka?
The currency of Sri Lanka is the Sri Lankan Rupee (LKR). Banknotes are available in denominations of 20, 50, 100, 500, 1000, 2000 and 5000 LKR. All these notes are widely used and you can generally spend them without any problems. 2000 and 5000 LKR notes are sometimes not useful for small purchases, because there is not enough change to be given. So make sure you have enough change in your pocket.
At the time of writing, 1 euro is worth about 220 LKR. The Sri Lankan currency LKR is relatively unstable so check the current exchange rate before you go.
Are credit cards accepted in Sri Lanka?
Credit cards can generally be used as a method of payment in hotels, large shopping centers and more expensive restaurants. Furthermore, the use of credit cards is often limited, so make sure you always have enough cash with you.
Can you withdraw money in Sri Lanka?
You can withdraw money in Sri Lanka with your Dutch debit card at most ATMs. Keep in mind that most Dutch bank cards are issued first world class should be placed so that they can also be used outside the eurozone. With most Dutch bank cards you can withdraw a maximum of 500 euros per day. So keep this in mind in advance! Costs are charged per transaction (about 5 euros), so try to limit the number of transactions as much as possible. In addition, the range of ATMs outside the major cities is very limited.
What holidays are there in Sri Lanka?
January – Durutu Poya
January 15 – Thai Pongal
February 4 - Independence Day
May – Vesak Poya
May 1 - Labour Day
April 12 to May 11 – Ramadan 2021
May 22 – Day of the Heroes
12 and 13 in May – Sugar Fest 2021
July 19 to 23 – Feast of Sacrifice 2021
August 19 to 29 —Esala Perahera
November 11 – Deepavali
How much does traveling in Sri Lanka cost?
Sri Lanka is an inexpensive country to visit. Even if you go out a lot and eat out, it's not that expensive. In general I would say that you don't need more than a budget of 30 to 40 euros per day. The country is very cheap, especially if you stick to the delicious local or Indian cuisine. Street Food is so cheap that there is no need to go grocery shopping and cook your own meals! Avoid the expensive western restaurants (local food tastes much better anyway), travel second class and by bus, and don't go crazy with the accommodation.
Although I was on a budget there was no need to do dorm rooms, only Sri Lankan food, minimal activities, etc. every night. I could regularly opt for more luxurious, fun tours and good food without it costing me a lot of money. The expensive days when I took a tour or decided to try a fancy restaurant were offset with the other days I didn't.
Below is a basic list of costs that you can expect during your travel route through Sri Lanka.
Bottle of water – 60 rupees
Beer – 500 rupees
Lunch – 500 rupees
Tuk-tuk – 200 rupees
Bus to Tissamaharama (Tissa) – 240 rupees
Bus to Galle – 307 rupees
Western lunch in Galle (burger and fries) – 1.200 rupees
Airport taxi – 2500 rupees
National Museum in Colombo – 600 rupees
Train from Jaffna to Anuradhapura – 340 rupees
Bus from Anuradhapura to Dambulla – 340 rupees
Tuk-tuk from Dambulla to Sigiriya – 1000 rupees
Kottu chicken (and water) – 370 rupees
Bus from Dambulla to Kandy – 98 rupees
Kandy hostel – 600 rupees
Temple of the Tooth in Kandy – 1000 rupees
Dosai Dinner in Kandy – 200 Rupees
Train to Nuwara Eliya, second class – 160 rupees
Is tipping common in Sri Lanka?
Tipping is very common in Sri Lanka. Tuk-tuk drivers, chambermaids, guides and luggage carriers all expect a small tip. So make sure you have enough small notes of 20 and 50 LKR so that you can tip. A tip is also expected in restaurants, about 10% of the bill is sufficient.
Do you need to negotiate prices in Sri Lanka?
Bargaining is definitely recommended in Sri Lanka. Especially in tourist areas you can save up to half the price by haggling. A good strategy is to walk away if you think the price is too high, most likely the seller will make you a new offer. In large shops or hotels, haggling is uncommon.
Also read: How much does traveling in Sri Lanka cost? | Everything about budget and costs
Also read: 8x the most beautiful things you must see in Sri Lanka
Do you want a dose of travel inspiration, travel tips and beautiful travel photos on your timeline every now and then? Then follow us on social media! You can find us at Facebook en Twitter† See you there!
Plan your holiday to Asia here