The capital of Denmark been on mine for a while city ​​trip list. The beautiful Copenhagen has more than half a million inhabitants, making it the largest city in Denmark. The city offers an interesting combination of historical and modern sights: historic palaces, colorful houses, squares with fountains, interesting museums, green parks, trendy coffee shops, food markets and a historic theme park in the center of the city.
Kopenhagen heeft dus alle ingrediënten voor een toffe stedentrip. Daarnaast is de stad goed bereikbaar vanuit Nederland. Goedkope vliegtickets kun je bijvoorbeeld vinden via Skyscanner. Budget hotels boek je via booking.com. Wie een duurzamer alternatief zoekt, kan terecht bij moonback voor duurzame hotels en Choo Choo voor de treintickets.
Uiteraard wilden we van de stad genieten. Af en toe uit eten gaan, activiteiten doen en hier en daar koffie drinken, maar tegelijkertijd niet te veel geld uitgeven. Dat is best een uitdaging want Kopenhagen is niet echt een goedkope stad. Hierbij dus 10 tips voor low-budget dingen om te doen, zien en proeven tijdens een stedentrip in Kopenhagen.
Plan your holiday to Scandinavia here
1. Huur een fiets of e-bike
The bicycle is the ideal way to discover Copenhagen in a fast, fun and relatively cheap way. The city center is easy to view on foot, but the must-see neighborhoods outside the center are slightly further apart, making the bicycle a good solution.
If you choose to rent a bike, you are certainly not alone. The bicycle is the number one means of transport among the locals. Copenhagen has over 350 kilometers of wide cycle paths and there are many places where you can rent bicycles.
Georganiseerde fietstour
Huur een fiets bij één van de vele fietsverhuurders in de stad. Bij Kopenhagen Bikes zijn tevens compleet verzorgde fietstours te boeken inclusief een Nederlandstalige gids. Met een georganiseerde fietstour van drie uur kom je niet alleen langs de mooiste plekjes, ook wordt je ondertussen voorzien van veel interessante informatie. Wat mij betreft echt een aanrader.
Also read: Round trip Scandinavia | An unforgettable journey from fjord to smørrebrød
Tier Bikes
Je vindt de turquoise-gekleurde Tier fietsen en stepjes door de hele stad. Je kunt ze dan ook overal pakken en weer terugzetten. Om gebruik te maken van een Tier Bike, you download the app on your phone, connect a credit card and then scan the QR code on the bike to rent and 'turn on' the bike. Place your phone in the holder on the handlebar, which doubles as a wireless charger, turn on Google Maps and go on an adventure through the city. Tier prices vary, but to give you an idea: the starting rate for a ride costs about 10 DKK (1,30 euros) with an additional rate of 1,5 DKK (0,20 euros) per minute.
Tip:: Voor korte ritten is Tier Bikes redelijk goedkoop maar als je van plan bent om wat meer te fietsen in verschillende delen van de stad, dan ben je goedkoper uit om een fiets voor een dagdeel of volledige dag te huren bij Kopenhagen Bikes.
2. Visit the gardens of Rosenborg Castle
Copenhagen has several castles and palaces and Rosenburg Castle (Location here ), is één van de bekendste kastelen van de stad. Het kasteel dateert uit het begin van de 17e eeuw en werd gebouwd als zomerverblijf voor de familie van Christian de Vierde. Het vertelt over de geschiedenis van het Deense vorstenhuis en is zowel van binnen als van buiten prachtig om te zien.
The castle is free for young people under the age of 17 to visit. Adults pay the equivalent of 15 euros and students receive a discount of 5 euros per ticket.
We decided to admire the castle only from the outside and then to wander around the Kings Garden (Location here ), the city park located at the castle, which you can visit for free. In the spring and summer months, the park is a popular place among the locals, but many tourists now also know where to find the park for a pleasant picnic and to recover from the impressions of the city.
3. Stroll through colorful Nyhavn
When you think of Copenhagen, you probably immediately think of the colorful houses on the water. Nyhavn (Location here ) is therefore one of the most famous sights of the city.
Nyhavn was created in 1673 after a flood of the Nyhavn channel. The channel of the new harbor (Nyhavn) was constructed to connect the sea directly to it Kongens Nytorv Square in the centre of the city. Today the oldest house, number 9 dating from 1678, can still be admired. Besides number 9, numbers 18 and 67 are special. These houses were in fact inhabited by writer Hans Christian Andersen.
Along the canal you will find a busy walking area with many restaurants, bars and shops. Keep in mind that you pay tourist prices in many of these restaurants. After taking a number of photos, we decided to continue cycling and look for a nice coffee bar in a less busy area.
4. Take a coffee break
Copenhagen is packed with fun and hip coffee bars. Drinking coffee is therefore part of the Danish culture, so you will meet many locals here enjoying breakfast, lunch or just a cup of coffee.
The coffee bars are the ideal place to recover from the impressions of the city, get acquainted with Danish culture and at the same time not pay the top price for a weak cup of coffee, as is the case with some tourist hotspots. Three wins, right?
Keep in mind that a good cappuccino still costs between 5 and 6 euros, but in my opinion this was worth it. There are some nice coffee places in town Prologue Coffee Bar (Location here ), CUB Coffee bar (location here ), Arrebo (Location here ), Kompa'9 (Location here ), Social (location here ) or try one of the branches of Original Coffee (Location here ) or The Coffee Collective (Location here ).
5. Look for second-hand bargains
Copenhagen is great for shopping. The known Strøget (Location here ) is one of the longest shopping streets in Europe where you can find almost all famous fashion brands. Copenhagen is also a paradise for lovers of vintage and second-hand clothing.
Larsbjornsstraede (Location here ) in Latin Quarter used to be my favorite place for this. The street is lively, the buildings are painted in bright colors and the street is full of character. You will also find some of the best vintage shops in the city here, such as Episode (Location here ), Thrift Planet (Location here ) On Quirky Lane (Location here ). To get some energy while shopping, go to ROAST coffee (location here ).
Not finished shopping yet? Then take a look at the streets Hyskenstraede (Location here ) and the Study path (Location here ) or visit one of the flea markets.
6. Visit the botanical garden
The botanical garden Botanical Garden (Location here ) is a paradise for plant lovers and, according to many, even the most beautiful botanical garden in Europe! From the outside alone, the garden is a picture to see. The greenhouses, dating from the 19th century, can be seen from afar and are located in a beautiful park where you can enjoy a walk or sit down for a picnic.
Once inside it Palm House, you imagine yourself in a tropical climate and get acquainted with a wide variety of special plants and colorful flowers. A number of plants are so large that you need the stairs to the first floor to admire them properly.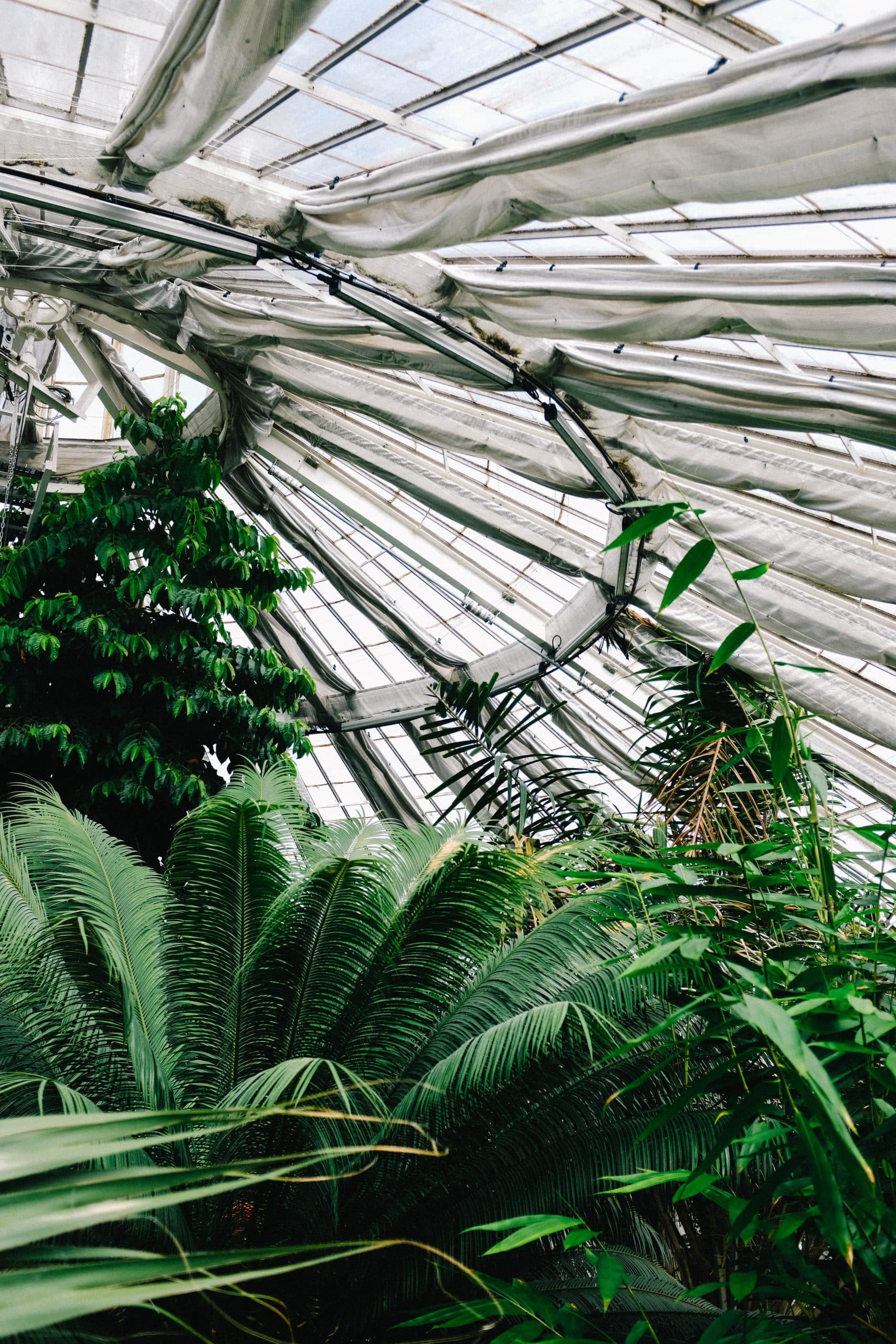 In addition to the greenhouses, also visit the butterfly garden, where you will be welcomed by a large group of colorful butterflies. The park is free to visit and belongs to it Natural History Museum. A ticket for the botanical garden costs 60 DDK per person, which is about 8 euros. This will give you access to the Palm House and Butterfly Garden.
7. Go tasting at food market Reffen
food market The reef has to be my favorite place in Copenhagen. You will find Reffen in Refshale Island (Location here ), a hip and industrial area outside the city center. The food market is easy to reach by bike, but also by bus or boat.
This non-stop food festival has no less than 41 different food trucks and containers where you can score all kinds of tasty street food and drinks for a good price.
Take a seat at one of the many picnic tables or on a beach chair with a view of the water and with your feet in the sand for the ultimate holiday feeling. When the weather is not so nice, you can take a seat in the large hall and still enjoy the food festival feeling. Regular events are also organized here, so with a bit of luck you can join a quiz, bingo, workshop or attend a concert. Holds the Facebook page keep an eye out for the calendar of events.
Reffen is free to visit and is usually open from April to December, so always check the opening hours before your visit.
8. Visit the city of refuge Christiania
The unique district Christiania (Location here ) was definitely the most interesting place we visited in the city. Christiana is the colorful free city of Copenhagen and was created around 1971, when the abandoned military area in the district Christianshavn was taken over by squatters. They claimed that the area should be a free city with its own laws and where no VAT had to be paid. New settlers then moved to this part of the city and the social experiment has become a permanent part of the city.
A visit to Christiania is a unique experience. The district consists of several houses, colorful street art and striking works of art, such as the big troll Green George, made from waste and recycled materials. You will also find several cafes and stalls here where you can buy jewelry, clothing and handmade accessories.
As a visitor you are welcome to walk around here, but you must adhere to the rules of the area. At the entrance you will find a sign with do's and don'ts, which states, for example, that you are not allowed to hold a mobile phone and camera in certain places. The police do not have free access to this area, which can cause dangerous situations. So follow the rules and leave when it doesn't feel right.
You will find the cafes and stalls near the entrance, then you can walk further into the neighborhood, but we soon turned back because the neighborhood gave a bit of a strange feeling.
9. Go on a discovery tour outside the center
There is a lot to experience in the inner city of Copenhagen, but some of my favorite neighborhoods were outside the city center. Like, for example, the hip neighborhood Norrebro (Location here ). This is the heart of Copenhagen when it comes to multicultural living and you will find countless restaurants with different cuisines here.
Visit it here Superkilen Park (Location here ) and for second-hand bargains, head to the Sunday morning flea market called Ravnsborggade (Location here ). Another district that you should not skip is Vesterbro (Location here ). This former red-light district of the city is today one of the hippest neighborhoods full of great restaurants and shops.
Okay one more then, the neighborhood Osterbro (Location here ). This quiet neighborhood with beautiful homes is located on the water. Many wealthy families live in the area. In addition to houses, you will find delicatessens, wide walking paths, well-kept gardens and parks and Copenhagen's most famous statue: De kleine zeemeermin.
10. Affordable dining out
Finding a good and affordable restaurant for dinner was the biggest challenge in the center of Copenhagen. The majority of the eateries in the center consist of fine dining or street food, but everything in between is very difficult to find and therefore often already fully booked. A wise lesson is that booking a table is definitely a good idea…
We were extra happy that we had pizzeria Luca (Location here ), to the Frederiksholm's Canal, and that there was just a table free in the cozy courtyard behind the restaurant. Here you can enjoy authentic Italian pizzas, antipasti, desserts and wines at a (by Danish standards) good price. Reservations are therefore recommended and can be made via the website. If there is no place, try restaurant Luke Piccolo (Location here ), of the same owner.
Plan your holiday to Scandinavia here