After we visit the Noordkaap had brought we continue our roadtrip south to Fins Lapland. Because we travel in peace, we first decide to drive a little further east along the northern Norwegian fjords. Along the way we stop for a few pictures of drifting ice in the fjords, but before we start the blog, watch the summary video above the page!
A Drenthe and a Frisian have caught the travel virus and travel the world with their Toyota Hilux 4×4 camper. We are Cor and Grietje van NoFear Travel and we'll take you on roadtrip / overlanding adventure. Below you will find a brief (expandable) overview of our previous articles. Have fun reading!
Norwegian Lapland
Tana Bru
On arrival in Tana Bru we are almost festively welcomed by an event that is going on. Inquiry learns that there is a competition with husky dogs.
A lively village festival with music and a market takes place around the competition. Fires are burning everywhere and Lappish delicacies are offered. We taste delicious salmon soup and tender reindeer meat. In this way, nice conversations with villagers arise by the fire and we learn about Lappish culture.
In the evening we find a spot near the beautifully lit bridge that spans the frozen river.
Husky races
This bizarre race is covered over a distance of 1200(!) kilometers through the cold Lapland. The drivers take 5-6 days and the fastest wins. The whole is subject to strict rules, so that the well-being of the dogs is not endangered. For example, they start with a maximum of 14 dogs and must reach the finish line with at least 6 dogs. When a dog is no longer physically able, it must be removed from the team immediately. There are also rules regarding compulsory rest. Anyone who does not follow the rules will be irrevocably disqualified.
Finnish Lapland
At the border crossing to Lapland we are stopped for a quick check. The officer asks for drinks and cigarettes and takes a small look at the car and camper, after which she wishes us a safe journey.
Finnish sausages on the campfire
In Inari we stop at a supermarket to get firelighters and Finnish sausages. We remember from our summer visit in 2020 that it is a tradition to light a fire in forest huts (Laava) and prepare your own food. These are often sausages with Finnish mustard.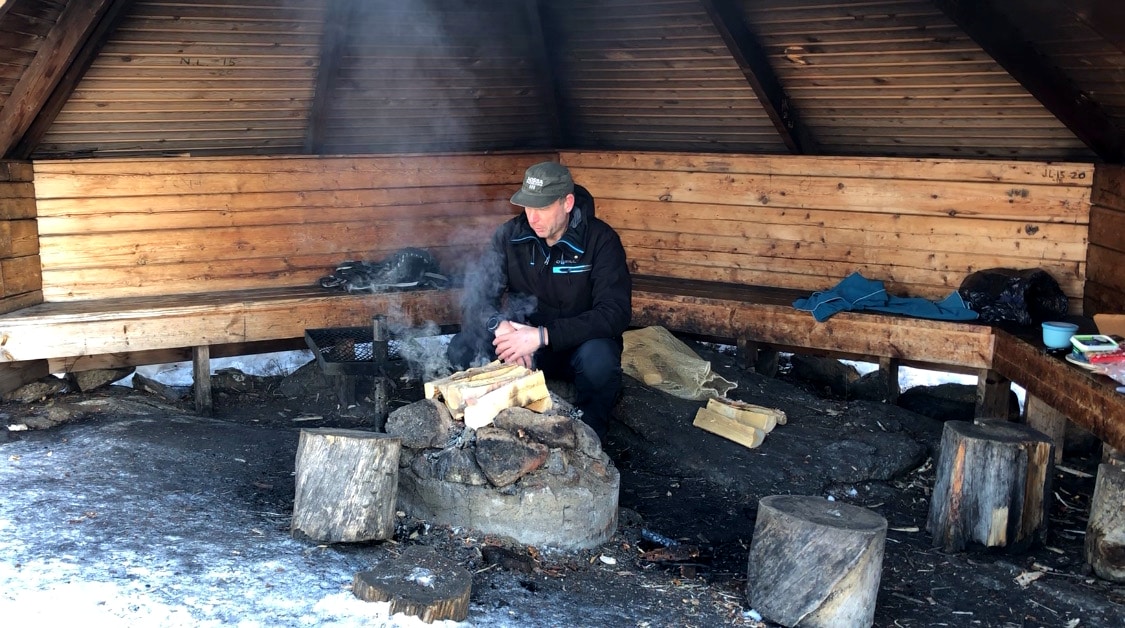 These cabins are fantastic… There is plenty of wood and usually a dry toilet. The Finns are disciplined and clean up after use. The hut we visited just outside Inari was located along a beautiful semi-frozen river.
Ski areas
In Finland we visit two ski areas, Oy Levic en Hand† We visit both areas for a full day. In Levi we first have our skis waxed and sharpened. That is really necessary, as it turns out. After the treatment we whiz down the mountains.
Ski areas in Finland are usually not that high. The relatively short descents ensure that you can quickly rest in one of the lifts. Lifts consist of drag, chair and cabin lifts. The slopes are wide and well maintained. Due to the cold weather conditions, the snow remains in perfect condition. We can ski almost all descents in one day in such an area.
The associated villages are surprisingly pleasant. The various restaurants and cafes make it an attractive whole.
reindeer competitions
Via endless roads we drive through snowy forest landscapes where the vegetation mainly consists of pine and birch. Interspersed with a huge amount of lakes. Although these are less noticeable in snowy conditions. We try to take as many back roads as possible, although this is hardly necessary, because the main roads are also very quiet and rural.
Today's destination is Salla, where we want to take a look at the Lappish reindeer competitions. On Sunday morning we go to a snow-covered frozen lake where an oval track of about 600 meters has been laid out. Around the track it is all fun, people are dressed in traditional Lappish clothing and in the various stalls many typical Lappish things are for sale.
But unfortunately…
We see all kinds of people busy on the track and the official starting time has already been exceeded. At one point a Lappish voice sounds from the speakers, and the audience looks for the exit. Inquiries learn that the event has been canceled due to the snow that is too soft due to the high temperatures. We have to make do with videos that we had seen on Youtube.
Walk Oulanka
In National Park oulanka we take a walk of about 12 kilometers. A wonderful trip through pine forests and along a fast-flowing river. The steep parts are facilitated by stairs and we cross the river by means of suspension bridges.
Also read: 5x beautiful national parks in Finland & travel by train!
The weather is fantastic and the trails are easy to walk with crampons. Halfway through we stop at a picnic bench for a cup of coffee. Here we are greeted by two fluttering birds. We feed them peanuts, which they obviously appreciate very much… a little later they eat out of our hands.
Also read: The 15 Most Beautiful National Parks in Europe | Unprecedented beauty
Snowmobile Icefishing tour
It seems that every Laplander has a snowmobile. We spoke to people of whom three out of four family members own a snowmobile. Some use such a scooter for work, for example, reindeer farmers, others just for fun. You can therefore drive beautifully through the landscape and reach places that are otherwise hardly accessible in winter.
We go on a tour with a guide. A beautiful trip through forests, over frozen swamps and lakes. The weather conditions are again beautiful, hot…too hot.
The snow gets mushy and it's hard to keep track. A minor oversight leads to a crash in the deep, soft snow next to the track. It is both Grietje and Cor's turn to miss the track. With the help of the guide and his scooter we pull our vehicles back on the track. We both come out of it damage free and laugh at the situation.
Halfway through the trip we go ice fishing. The guide brought materials. We start by drilling a hole using a hand drill. We are amazed at the thickness of the ice…a thick meter!
We go fishing with the small fishing rods while the guide heats a large pan of soup on a campfire.
After we found out that ice fishing entails special skills and that we are not yet available, we enjoy delicious reindeer soup.
Husky tour
In Lapland, the highlights follow each other in rapid succession. This time we are going to go sledding… but pulled by huskies. We had fallen in love with these fantastic dogs before. And someday, if we become less fond of travelling, maybe such a fantastic beast will come into our lives.
But now we let ourselves be pulled by 6 of these beautiful dogs. We report to the guide who has no less than 90 of these dogs in a kennel. He is busy with it day in, day out, seven days a week. He knows them all by name including the accompanying characters.
After a short but thorough instruction we can go. The guide leads the team with his team and is in command of the leading dogs. Our team, on which we sit together, follows.
Gretel is in the front and Cor is in the back. It's Cor's job to brake. You do this by pressing two pins into the snow while sledding so that it becomes heavier for the dogs and therefore automatically slow down. Actually a bit mean… The dogs are so eager to overtake the predecessors that we always have to brake quite a bit. Halfway through our two-hour tour we switch.
We regularly stop where the dogs can catch their breath and cool off by licking the snow. But they don't need much rest, they are already ready, barking, and on again.
We really enjoy the work ethic and character of the huskies and we have the best weather in the world. Under a clear blue sky with plenty of sun we swing through endless forests, open plains and frozen lakes. At the end of the tour there is still enough time to play with the dogs at the kennel. Highlight!
Northern lights
Unlike many other travelers, we didn't worry too much about the Northern Lights during our stay of almost 3 months. Our motto was, if we happen to see it… nice, but we are not going to wait long evenings and nights for it. And an "Aurora tour" is not for us at all, as there is of course no guarantee that you will see anything.
You can download an app that indicates your chances of seeing the Northern Lights at your location. This app actually works for the entire part above the Artic Circle. In Ranua we got an app that only worked in that place. And that worked great!
We had inquired with locals about a good place. This evening there was a clear starry sky. Sure enough, at 20.30 pm we got the first alert and rushed to the site. Unfortunately, the light was very dim.
Back at the camper came another message. And yes, the light could be seen directly behind the camper. Bright, above the trees. An amazing experience! So we were still able to see the northern lights on the last day of our stay in Lapland.
Also read: Northern lights | Hotspots to Hunt for the Fascinating Aurora Borealis
Finally…
For now, our journey ends by Iceland, Norway en Finland here. we go back to The Netherlands and prepare for the next adventure. To the warmth…
Below are some pictures of our camper during our trip.
A Drenthe and a Frisian have caught the travel virus and travel the world with their Toyota Hilux 4×4 camper. We are Cor and Grietje van NoFear Travel and we'll take you on roadtrip / overlanding adventure. Below you will find a brief (expandable) overview of our previous articles. Have fun reading!