a motorhome roadtrip by Croatia† To do! With these Croatia camper tips you dot the ultimate itinerary for your tour through this beautiful country.
In our previous blog we shared the first highlights of Croatia with you and see you part 1 of the two-part Croatia movie from our YouTube channel. These travel films are part of our YouTube series 'On the way to Turkey'. Have you not seen it yet? Check it out first in our previous blog!
Do you like it and want more people to see our movies? You can help us by subscribing to our channel and leave a comment under our videos. We like that and makes them easier to find 🙂
Also read: Highlights of Croatia | Itinerary for car, motorcycle, caravan or camper!
Croatia camper tips part 2
Have you watched the video at the top of the page? Then now the other Croatia camper tips that you should not miss during your ultimate tour through this fantastic country.
Pag Island
A place that should not be missed during your motorhome trip through Croatia is the island of Pag. Via the super cool bridge Paški Most you drive onto the very dry island in a spectacular way.
Perfect for a day trip and don't forget to try the local specialties. That's the salty sheep cheese and lamb. We tell you why this is so special in our video. We also made our most beautiful hike on Pag island, this is the Life on Mars Trail.
And for everyone who likes to party; forget the events calendar of Zcre beach not viewable. What a cool place that is! There is a lot of space on Pag, so finding wild camping spots for the motorhome is easy.
Tip:: Want to discover more great places in Croatia? Then read our blog about the most beautiful beach in Croatia, Pasjaca Beach. Or read our articles about Sibenik, Krka National Park, Advent Zagreb (Christmas markets), the new Peljesac bridge or plan a great one tour of all the highlights of Croatia. Need more inspiration? Then read our article about it free camping in Croatia.
Zadar
The three-thousand-year-old city of Zadar has a long and eventful history that can still be clearly seen in the old center. There is a lot to see and visit and if you like terraces, you're in the right place here. For the best view of the city, climb the Zvonik Cathedral Sv. Stošije, who is also called the Bell Tower is called.

A real Croatia camper tip is to take bicycles with you. When visiting major cities during our motorhome trip through Croatia, we were super happy with our bikes. We also noticed that there are many electric scooters that you can rent or buy one yourself and easily take it with you in the back of your camper.

For the coolest sunset, go to the observation deck at the boulevard in the historic center, here you will find the artwork called 'the sun salutation' and a 70 meter long organ that turns the waves into sounds. Highly recommended!
Dugi Otok
Do you want to go to the place where Expedition Robinson 2021 was recorded? Then take the ferry with the camper for € 30 from Zadar to Dugi Otok† There is also a catamaran, but it is only for passengers without a camper. The island has cute little villages, beautiful nature, clear blue sea and beautiful beaches.
In the northernmost part of the island is Punta Bianca, the highest lighthouse in Croatia and in the south you will find National Park 'Telascica', one of the greatest kept secrets of Croatia. Another recommendation is a visit to the harbor town of Sali, where many cozy cafes and restaurants can be found. There is much to see and do, but mainly when the weather is nice.

Our advice is take your camper with you on the island to have lunch in the most delicious places, take a dip and have all your stuff at hand. You can also rent a scooter on the island, if you decide to go by catamaran.

Jezera
This is one of the most beautiful harbors (in our opinion) where we stayed during our motorhome trip through Croatia. Here we have been on a mini campsite where you can also rent a small house, in our case perfect when Marc's parents came by.
On this island called Murtur In addition to the nice harbor of Jezera, you will also find the larger harbor Tisno, where you drive onto the island with the bridge. This coastal town is also home to many music festivals hosted at the Garden Resort. Very cool locations so definitely fun to keep an eye on.
Tip! Look for cell towers on top of the mountain, there is always a road leading there and that means a view to enjoy!
Handlebar can you send us a picture if you spend the night at this fantastic place to stay?
Krka National Park
Croatia knows 8 National parks from what Krka is one of the best known. It is a gigantic park where you can see many waterfalls and other beautiful natural phenomena. It is also not for nothing that you can buy a card for several days. You can drive around by car or take the boat (tip!) from Skradin. We really enjoy sailing with a boat, so we definitely recommend that you do that. The boat will drop you off at the highlight of the park; the largest limestone waterfall in all of Europe; the Skradisnki Buk.
Also read: Roadtrip Croatia | Krka waterfalls – tips & practical information
Sibenik
We really thought this was a hit! In our YouTube episode part 2 about our motorhome trip through Croatia we tell you why this is such a special town.
Split
Split stole our hearts too. The city is built within walls of the ancient Roman palace. We can really wander around here for days. The narrow streets with small terraces make the city attractive, intimate and cosy. Because of the romantic lighting in the evening and the fact that you literally walk through the old palace halls, you can discover something new every evening and you are not easily bored.
Do you need some more space around you? Then you can't go wrong here, because with the large renovated boulevard and the green city park Marjan you have plenty to see.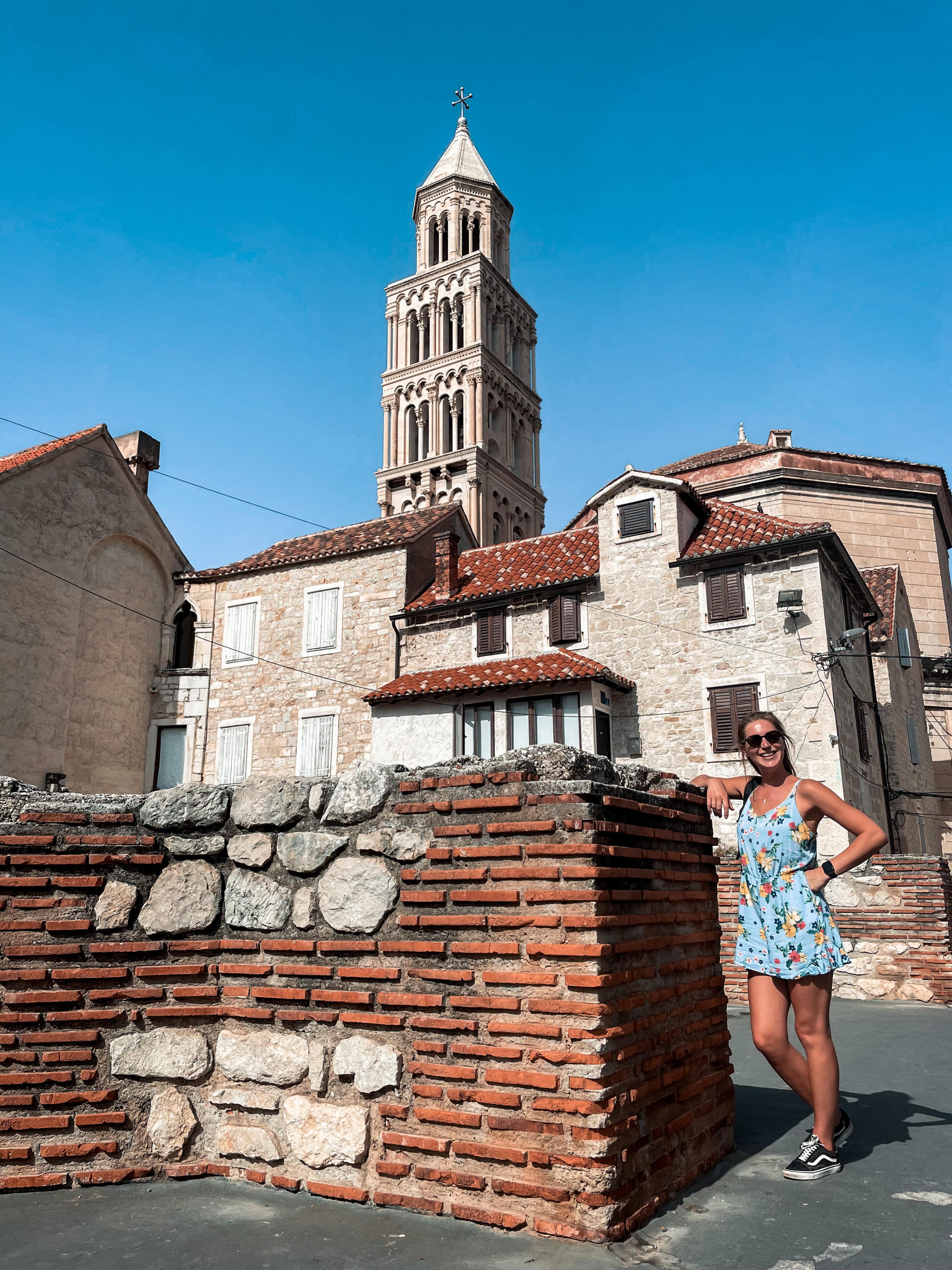 Tip! Park your camper at the harbor and take your bike to the city.
Dubrovnik
Who does not know it from the series 'The Game of Thrones'? So we! And that's why we did very different things in Dubrovnik. Without a doubt a must-visit. It seems to get very busy here, so don't go in high season.
Also read: The 15 Most Beautiful National Parks in Europe | Unprecedented beauty
Tip! Would you like to stay overnight with a view of the beautiful city of Dubrovnik? That's possible on the srd mountain.
Pasjača beach
Croatia's coastal road is really beautiful to drive and the further south you go the more beautiful it gets. It Pasjača beach is a small sand/pebble beach surrounded by impressive rock formations. You even have to walk through a tunnel to get there!
prevlaka
prevlaka is a peninsula and at the same time the southernmost point of Croatia. It is an old military base that has now been demilitarized and is currently considered Croatian territory. Here we conclude our 2,5 month motorhome trip through Croatia. A camper trip through Croatia you will never forget!
Tip! the Helicopter platform/monument of the former military base (see photo).
Are you going to Croatia with your motorhome and do you have any questions? Or do you have good Croatia camper tips yourself? Then send us a message YouTube of Instagram† Thanks for reading and in the next episode of 'on the way to Turkey' we would like to take you to surprising Albania.
Till there!
Loes, Marc & Pet | FRONT SEAT STORIES