We continue our 4×4 roadtrip by Norway along a road with beautiful views towards the town of Alesund.
Alesund
We continue our 4×4 roadtrip by Norway along a road with beautiful views towards the town of Alesund. In Alesund we don't have any special goals, just look around. We start high on a mountain right next to the city, where we get a nice picture of the city, harbor and fjord. Up here it is blowing hard, very hard! We can barely hold our own. Alesund is a large village with nice houses and a cozy atmosphere. We walk around for a while and shoot a few pictures.
Also read: Ferry to Norway from Groningen (Eemshaven) | April 2022
Every now and then we also need to wash. Because campsites are closed, we have to find alternatives for this. For example, on the Park4night app we find a harbor where there would be a washing machine and dryer. But ports are also closed in winter. This time we are lucky...while we feel the closed door, the friendly manager comes by to let us use the service. Because they are household machines, washing and drying can easily take a few hours. In the meantime we enjoy ourselves in the camper with reading and writing.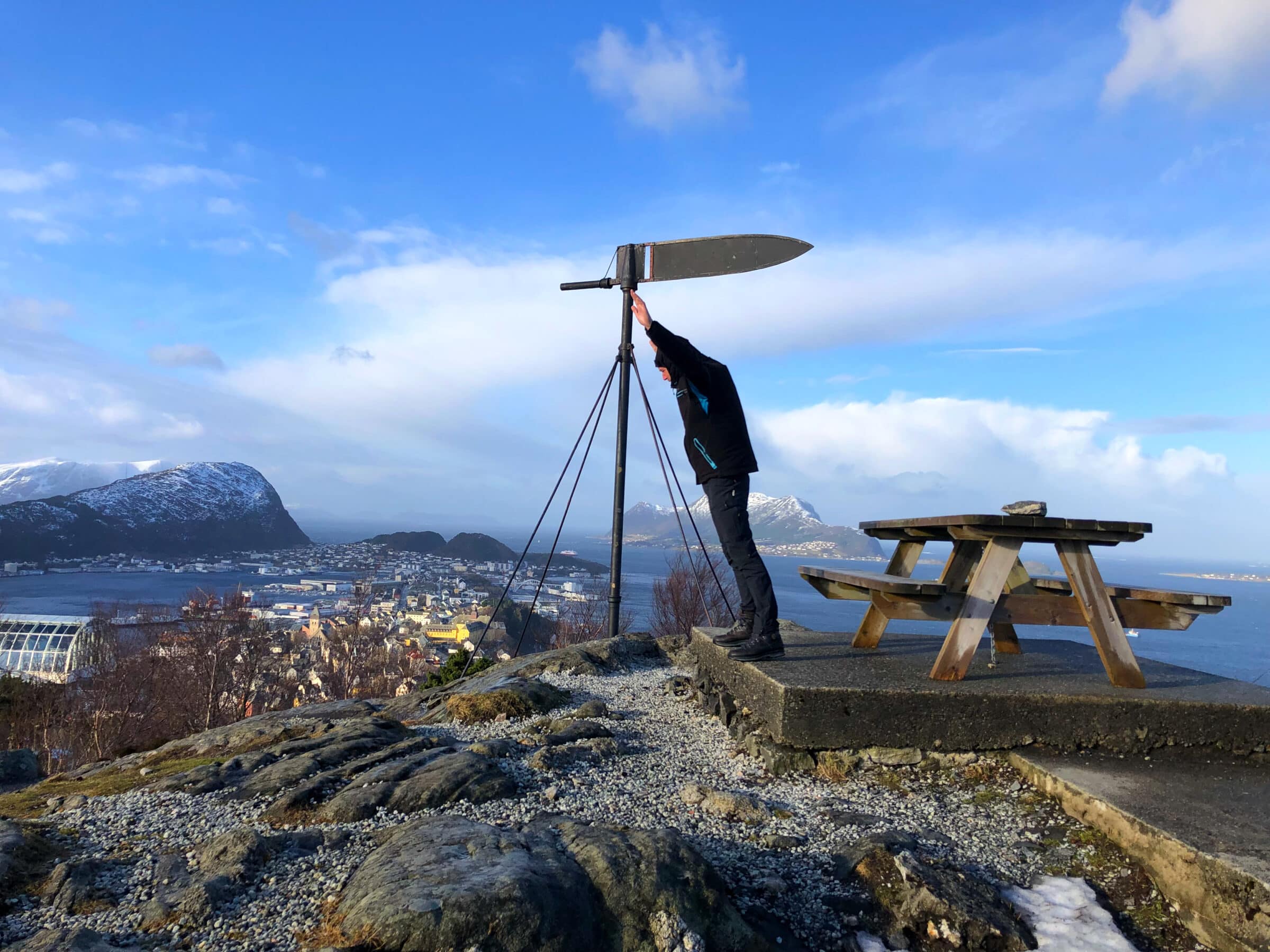 Atlantic Coastal Road (Atlanterhavsveien)
The much described Atlantic coast road (Atlanterhavsveien) is one to snack on (Fv64 from Vevang to Kristiansund). A little later we continue our journey via road number rv17 from Steinkjer to Bodø. You need many ferries and tunnels to continue your way through the fjord landscape. We'll take a few days off. We are not very lucky with the weather, it regularly drizzles and the wind is often stormy. Along the coast, the weather is of course greatly influenced by the ocean.
We try to find some sheltered places to spend the night, otherwise it will be like floating at sea in the camper.
At the Saltstraumbrua we see how much water flows under the bridge. It is the strongest tidal current in the world, 400 million m³ of seawater passes every six hours through a 3 kilometer long and 150 meter wide strait. This produces spectacular whirlpools, a beautiful sight.
shower
In Bodø we are introduced to the possibility to shower at a gas station. Because our outdoor shower is just a bit too fresh at this time of the year and campsites are closed, we have to be infinitive when finding a shower. In Iceland we regularly visited a swimming pool or hotpot where we could take a shower, but in Norway these facilities are hard to find. You will often find (free) showers, especially along main roads.
Lofoten
To reach the Lofoten we take the ferry from Bodø to Moskenes. During the three-hour crossing there is quite a lot of swell. While we can barely keep our stomach contents down, there are several people around us who can't. After the crossing we find a spot directly on the quay.
The next morning in daylight is our real introduction to the Lofoten. In fact, it consists of a series of separate islands that protrude from the ocean like a long ridge. Along the fjords you will find authentic fishing villages where the houses are beautifully colored and often stand on stilts. The whole produces picturesque pictures. Truly unique!
The population mainly lives from fishing. Salmon and cod make up the majority. During our stay the cod fishing was in full swing. The cod swims around this time from the Barent Sea past northern Norway and the Lofoten. Here the water is slightly warmer (5 degrees) than in the Barent Sea. The cod that is landed is used for various purposes, from direct consumption to cosmetics and animal feed.
Part of the fish is hung on racks to dry (stockfish). You see the drying racks everywhere and with the accompanying smell you know for sure that you are in Lofoten.
Tromsø
On the way to Tromsø we pass through the island of Senja, which is well worth the detour.
Tromsø is located on an island in the middle of a fjord. If you drive in from the north side over the bridge it is a fantastic sight in the middle of the water. After finding a parking spot we walk around in the center. At a cafe we ​​buy a cup of coffee with something delicious.
Also read: Northern lights | Hotspots to Hunt for the Fascinating Aurora Borealis
In the main street we see that quite a lot of tourists walk around here. We take a look in a store where they sell a lot of wool. Nice to see that knitting wool still occupies such a prominent place. We think back to the old days when in the Netherlands there was a handicraft shop in every village.
By chance we arrive in a building where there are a few fish restaurants and an exhibition about Norwegian fishing. A friendly employee tells us in detail about salmon farming and the associated industry.
We also look at the Polar Museum, where we see everything about expeditions and life in Arctic regions. Our own explorer Willem Barents occupies an important place in the exhibition.
We have a very good feeling about Tromsø!
Our way of traveling
Our unusual way of traveling is characterized by freedom. Every day is a new experience. In the morning we don't know where we sleep at night. We drive through the most beautiful landscapes, visit beautiful cities and do not turn our backs on sporty, challenging sports. Our 4×4 camper takes us to places where others stop. We have a rough line of countries or areas that we traverse, but on a detailed level there is a lot to choose from every day. The number of kilometers or countries visited is not important to us, but the freedom of being "on the road". We are largely self-sufficient, that is to say, if we can stock up on diesel, gas, water and foodstuffs in time, we will last a long time. We often spend the night in nature and sometimes in a parking lot.
(On the way to) the North Cape
We leave for a long drive to the North Cape. Just under four hundred kilometers to go. The roads are difficult to drive on. The weather is thawing and there are huge ice shelves that are quite slippery, interspersed with large, sometimes deep puddles.
About 70 kilometers before we reach the North Cape, we park the camper on a snow-covered parking lot. We can stay here overnight. In the otherwise completely deserted landscape there are a few holiday homes here and there that are not accessible by car. The parking spaces are used by the homeowners who then transport themselves to their cottage with a snowmobile.
The North Cape is for many a "must-see" or the final destination of a long journey. If you have indeed been to the monument, you can check it off your bucket list. You get a fantastic view in return from the 307 meter high rock over the coast and northern ocean.
We met a group of Dutch people who had completed the journey with 16 "old barrels".
It took them a week.
On the Noordkaap there is a building with toilet facilities, catering area and a film room where they converted about € 30,00 entrance fee pp for questions. We have let this pass us by.
From the North Cape we continue our journey in an easterly direction before entering southern Finnish Lapland.
Looking for other routes? Then take a look at the Roadtrip route for Norway by Marcella Miller.