Do you want a nice roadtrip through the Balkans, but you don't know where exactly to go? No worries! We have visited the best places in the Balkans for you.
This Balkan roadtrip is a 4600 kilometer drive that we covered in 11 days. So it was quite a drive for us. Of course you can also do it for two, three, four weeks, so you can take it a lot easier. We are during this roadtrip driven through the Balkans through the following countries: Austria, Slovenia, Bosnia, Croatia, Italy en Germany.
During this ride we drove an old, black and gold Volvo V40. The car has at the time of the roadtrip a current value of 500 euros and comes from 1999. We had already bought this car for another purpose and to leave it standing is also a waste of such a 'beautiful' car!
Also read: 5x nice Balkan destinations | Hot, hip and cheap!
Austria
turnau
The start of our Balkans roadtrip is the drive from home to Turnau in Austria. This is also the longest ride, namely 1100 kilometers, but definitely worth it.
You can sleep at the old-fashioned and typically Austrian Fruhstückpension Seeberghof (availability and prices here ), where Regina and her dog Mini are waiting for you with a glass of Prosecco. Regina will cook you a delicious meal if you want and in the morning she makes a nice breakfast. The price for this hotel is about 50 euros per person including breakfast.
Green Lake
The next morning it was time to head out to the Green Lake (Location here ). Here you can enjoy a lovely walk along the Grüner See and through the surrounding area.
Admission is free, you only pay for a parking ticket. Be sure to take a few hours here for a nice walk, because it is beautiful!
Slovenia
Ljubljana
After the Grüner See the trip continues to Ljubljana, Slovenia. Ljubljana is the capital and largest city of Slovenia. It is about a 4 hour drive. We booked a room in Rooms Sincere 1830 but this is no recommended! Highly recommended is EK bistro (location here ) for a nice breakfast.
In Ljubljana you can stroll through the old town and have a drink at the highest point of the city at the castle (location here ). With a cable car you can go up and back for 4 euros per person, but there is also a hiking trail to the top. At the top of the castle the view over the city was amazing.
In Slovenia you of course try Slovenian cuisine: sausage with bread… Simple, but very tasty.
Bled
The next stop is Bled, a must see in Slovenia! It is less than an hour's drive from Ljubljana to Bled. For a tenner you can park near the lake. The lake is beautiful! You can enjoy a nice walk here and take beautiful pictures. A circle around the lake is 6 kilometers long. Get your legs moving after all that sitting in the car.
Also read: Bled, Slovenia | A breathtaking destination for drone photographers
Postojna
De roadtrip continues on Slovenia to Postojna, where you will of course visit the Postojna Caves (location here ) finds.
Check in here at Apartment Beks (availability and prices here ) and you forget you are traveling. It is an attic of a villa and Mr. Beks makes his own wine, which he is only too happy to let you taste! It was so nice here! We didn't go out for dinner, but bought tasty things in the supermarket and ate in the apartment.
For the entire attic floor you pay 120 euros per night for 4 people.
Off to the caves of Postojna. The caves are a half hour drive from Apartment Beks. Once at the caves you take a train into the caves and there you walk behind a guide who tells you about the caves. Then you take the train back to the entrance of the caves. You can see a real baby dragon in the caves!
Of course you will take a look afterwards castle Predjama (Location here ), but not before having lunch at the castle with the Cevapcici (sausages from the Balkans), delicious!
Predjama Castle was built in the 12th century in the entrance of a cave against a mountainside. The castle is old, but beautiful and the view even more beautiful.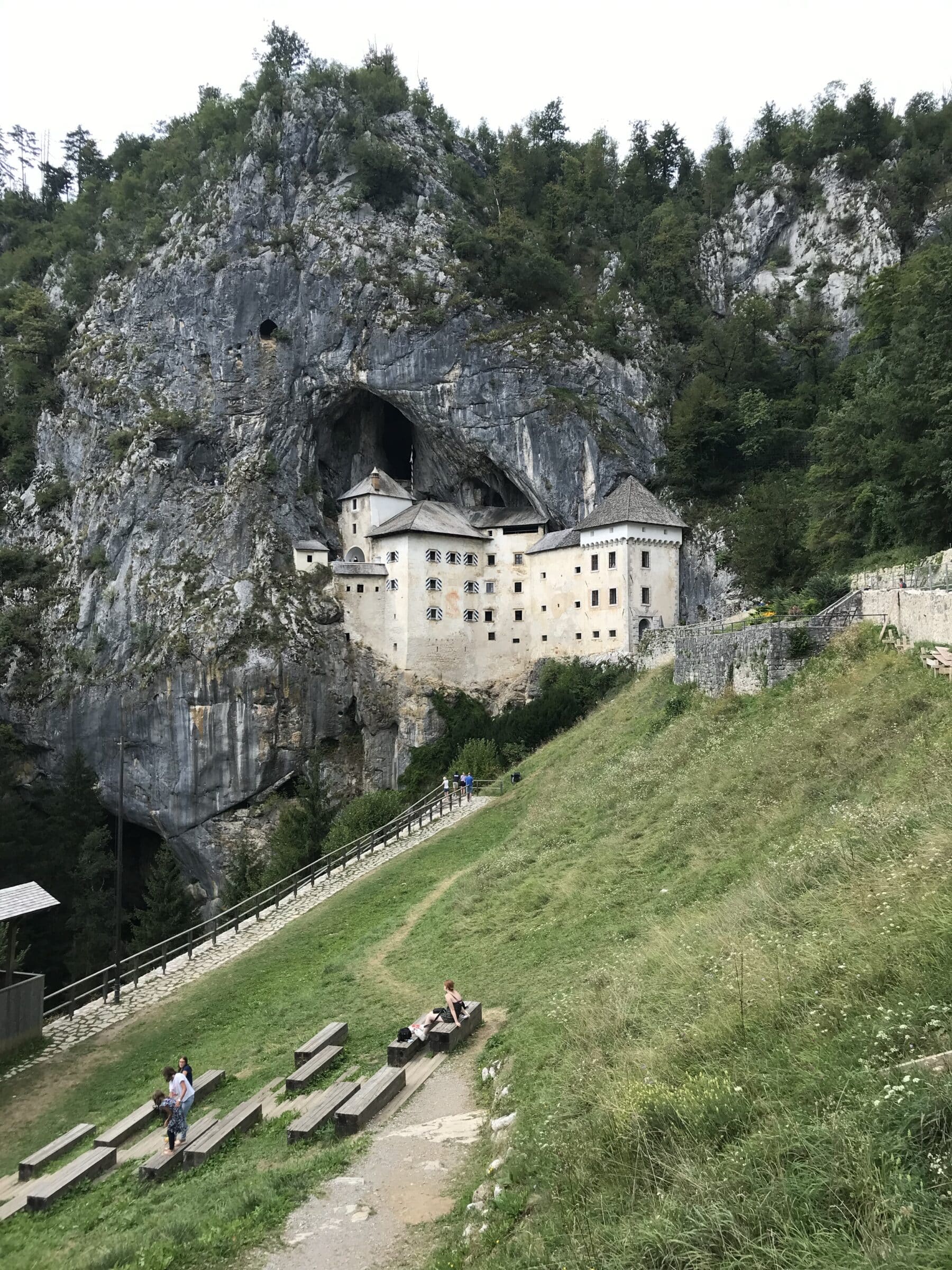 For the caves and the castle you can buy a combi ticket online for 38 euros per person.
Piran
If you have some time left this day, drive to the harbor town Piran (Location here ). This is an hour's drive from the castle and Apartment Beks. In Piran you can sit on a terrace on the boulevard and stroll through the alleys. While you're there, give one a try kremšnita (a Slovenian tompouce) at one of the eateries on the square!
Croatia
Mountain passes and hairpin bends
Out early and on to Croatia! To avoid the crowds at the border, it was recommended to drive inside. After almost two hours of bends, mountain passes and hairpin bends, the car finally made it to the border.
Also read: Croatia | Pelješac bridge opened – border crossing no longer necessary
Plitvice Lakes
From there it was also a few hours to the next destination: De Plitvice Lakes (Location here ). The Plitvice Lakes are an absolute must see in Croatia! You can enjoy a lovely walk along the beautiful lakes and beautiful waterfalls.
To visit these lakes you have to buy tickets. Prices vary and cost around 35 euros for half a day. When purchasing a ticket online, you must indicate when you want to enter the park. Make sure that you actually go in during this time block and keep in mind that you have to walk quite a bit before you enter the park.
From Plitvice it is an hour to Bihac in Bosnia.
Bosnia
bihac
Do you want a special overnight stay in Bosnia? Then book your own island with a house! The car stays on the mainland and the hostess takes you to the island with a boat Una Ada (availability and prices here ). It is a small house with 2 bedrooms, a bathroom and a living room. Outside is a terrace with an open barbecue and campfire, which you can use.
Una Ada you can book for 90 to 120 euros, depending on the season.
Also read: On holiday to Bosnia | 5 reasons to travel through this beautiful country
Egg
It is a 5 hour drive to Sarajevo and halfway there is a nice stop: Egg (Location here ). In Jajce there is a waterfall, right in the city! At the waterfall you have to buy a ticket for 4 euros per person. Please note, these tickets are only for viewing the waterfall. For the other sights, such as the fortress, you have to buy extra tickets.
Sarajevo
Off to Sarajevo! This is the capital and largest city in Bosnia.
Book a room with a beautiful view at Pension River (availability and prices here ) in Sarajevo. The large room has a balcony over the river and costs 110 euros.
The old town is a 2 minute walk from this hotel. In the old town you can stroll around and taste Bosnian coffee. The small shops are perfect for souvenirs to take home.
You can also enjoy delicious food in the old town. For about ten euros per person you have a sandwich in advance, a main course and some drinks.
Mostar
On the way to Croatia you can plan a lunch stop in Mostar (Location here ). It is about a 2 and a half hour drive. Mostar is a popular city in southern Bosnia and is known for its old bridge, the Stari Most. Nice to take a walk through the old town and take a look at the bridge. There are many nice restaurants on the rivers that flow into the Neretva. You can have lunch for less than ten euros per person.
Croatia
Split / Podstrana
From Mostar is it still 2 and a half hours to Sub page, 10 kilometers from the center of Split. Split is a port city and the largest city in Croatia. Split is located on a small peninsula.
After all this time in the car you can walk from Podstrana along the coast to Split, or take the bus. It is 20 minutes by bus to the center.
In Sub page book you Apartments Bevanda (availability and prices here ) for 90 euros per night. You have your own apartment and a shared pool!
Split has an old town with alleys and small streets with shops and restaurants, where you can stroll around for a few hours. Definitely nice to go!
Also read: Highlights of Croatia | Itinerary for car, motorcycle, caravan or camper!
Italy
Sad
The return journey begins. A nice stop is Sad in Italy on the border with Slovenia. It is about a 6-hour drive from Split, so you can view Trieste at the end of the afternoon. Sad 411 (availability and prices here ) is a nice and clean hotel within walking distance of the center and costs 35 euros per person.
Of course you eat pizza in Italy! Eat the best pizza in Trieste at Assay (Location here )! After dinner, a basket with 3 different Limoncello's is put on the table to taste. As a Dutchman you will of course not be told that twice!
The next morning you can have breakfast around the corner of the hotel at a typical Italian tent, called Harry's. Enjoy a cup of coffee with a croissant before you hit the road again.
Germany
Munich
From Sad to Munich, one of the largest cities of Germany, it is a 6 and half hour drive. A good hotel near the center is Bayer's Boardinghouse and Hotel (availability and prices here ). You can book a studio for 155 euros.
There are nice squares, great shops and many restaurants in the center of Munich.
The Hard Rock Cafe is always a must, but especially in Munich. It's big, the staff is friendly and the beers are Munich-size! If you sign up via the website of this Hard Rock Café, you get a free dessert.
Back home
The last ride is about 800 kilometers, depending of course on where you live in The Netherlands. Keep in mind that there can be a lot of traffic jams, especially in the high season and that you are still on the road for 12 to 14 hours with stops.
All in all, this one roadtrip so if you have some extra days, be sure to plan them in one of these fun places!
Additional tip!
Another extra tip: Always check the signs! If the navigation says you have to go somewhere, but the signs say otherwise, follow the signs and not your navigation. This way you are less likely to end up on the mountain passes and gravel roads and this saves you a number of heart attacks.
Until the next blog!