After almost 5 months of traveling through the United States we have finally arrived in Canada, where the next adventure awaits us. It is the first blog about the tour of Canada that we are going to make. Because it is still the same journey, we will continue to count with blog number 38!
In this article I will tell you all about our plan in Canada. We will be traveling around this beautiful country for six to eight weeks, which may seem like a lot, but again the distances are huge here. For that reason, we will mainly focus on Western Canada during this tour. We started in the small town of Cardston near the Canadian border, where I was warmly welcomed by the hairdresser and questioned by the locals.
Our journey through the United States and Canada
This article is part of a major one-year journey that we (Chris and Malou van Wereldreizigers.nl), are currently making by the United States en Canada† We started in New York City and are through Washington DC en Baltimore (where we shipped our RV), first traveled south (Florida) and then made a full round of the country. At the end of July we crossed the border to Canada via Montana.
Organizing this trip took a lot of time and energy. So we had to US B1/B2 visa of one year and we spent weeks working on it renovating our 4×4 camper† Then we got to work on the RV to America to ship and in hindsight it turned out to be a Dutch vehicle insurance in America to be one of the biggest challenges.
When that was all over, we could finally focus on the anticipation: figuring out and planning all the beautiful places we want to visit. I built the ultimate roadtrip route through America and Canada of roughly 50.000 kilometers in Google maps and we are now making our dream come true! The interactive map can be viewed below.
Our (global) travel route through Canada
Earlier in our itinerary, we mapped out an itinerary for our tour of Western Canada. The route that we will approximately take in 6 to 8 weeks can be seen below.
After crossing the US border via Montana at carway, we were the first to visit the town cardston where our car was repaired and I could go to the hairdresser. Then we visited Waterton National Park en Banff National Park. In the coming days, the city will be Calgary on the program, which is a welcome change after all that nature in the national parks.
After a few days in Calgary we will continue north to Glacier National Park (the Canadian variant) and Jasper National Park, before turning further west and south.
With Clearwater, Kelowna en Whistler blackcomb we then drive to Vancouver to cross there by ferry to Vancouver Island, which will be our last destination in Western Canada. From there we make the crossing again with a ferry, this time back to the American mainland.
The first week in Canada
Border crossing
But how did the border crossing actually go? From St. Mary Campground in Glacier National Park (location here ), we drove about 30 kilometers north to the Canadian border in Carway. We did this quite unprepared, because we had to get something fixed on the car quickly. A support on which the camper rests was torn and had to be welded urgently. The closest possibility was in Cardston, just over the border in Canada. We packed up and drove to the border, barely prepared.
ArriveCan App
Before we were allowed into Canada, we had to upload our vaccination certificates first in 'ArriveCan', because that is mandatory. ArriveCan is a website and Canadian government app. Paper proofs are not accepted here at the border, it must be done online or in the app.
After we downloaded the app and included the vaccination certificates, we received a QR code via email and in the app. This made crossing the border a piece of cake. Within minutes we were allowed through. The tour through Canada could begin!
To the hairdresser in Cardston
After I had delivered the car to the garage, I also visited the hairdresser. 'What on earth brought you to Cardston'? Is one of the first questions I got from the hairdresser. The town has only 3500 inhabitants and is completely extinct after 17 pm in the afternoon. I underwent a fire of questions from both the hairdresser and the people waiting there. People really didn't understand that I had ended up not in Banff or Jasper, but in Cardston.
People showed a lot of interest and strangely enough almost everyone had a link with The Netherlands. Some had Dutch grandparents who had worked and lived in the Netherlands. They also told me that music would be played later in the day to kick off the weekend. I was curious about that!
Malou and I therefore returned later in the afternoon and yes, there was actually a whole band playing! While the barber was still cutting, the customers and waiters enjoyed country songs played by the band.
I had already let it be known that Malou can sing well. Malou didn't feel like it, but the hairdresser didn't let it go. He stood on it!
They chose to play a few songs from Creedence Clearwater Revival together. Bad Moon Rising, I've Got A Spell On You and Lodi passed by in quick succession. The hairdresser couldn't get the big smile off his face, he was beaming! Meanwhile, he was also more concerned with taking photos and videos of his Dutch guests than with cutting. He couldn't wait to share this at home with his wife and family.
The interest in us and the warm welcome we received here in Cardston already promised something for the continuation of our tour through Canada. The Canadians have been incredibly friendly and unlike the US we didn't even have to talk about politics, what a relief!
Waterton National Park
The car was quickly repaired and we were able to pick it up again the next day. We drove without the camper on it (because it was disconnected at the campsite), for a day to Waterton National Park where we could test our new inflatable boat. It's a basic little boat from the Walmart, but we enjoyed it immensely!
After an official boat inspection we got a (free) permit and we were allowed to go on the water with it. We floated around here for hours on the water which was really enjoyable with the view of the mountains.
Banff National Park
A place that really doesn't suit you vacation in canada should be missing, of course, is Banff National Park. Here we spent several days and visited the world famous Moraine lake en Lake Louise. They are two of the most instagrammable places in the world and when you see the lakes with your own eyes, you immediately understand why. What a nature and what colors!
We also made a great hike to the 'six glaciers', the glaciers. A very hard walk of 18 kilometers. We saw so many other beautiful lakes and viewpoints during this hike that we will write a full blog about them, so more about that later!
Banff, the town
You can experience the real holiday feeling in Canada in the town of Banff, which is located in the middle of the National Park. Here you will find countless souvenir shops, restaurants and bars and yes, it can be quite busy.
The town is beautifully decorated in the summer. We saw a lot of flower boxes and gardens in and between the shopping streets and restaurants. With the imposing peaks of Banff National Park in the background, taking a great photo is a breeze here.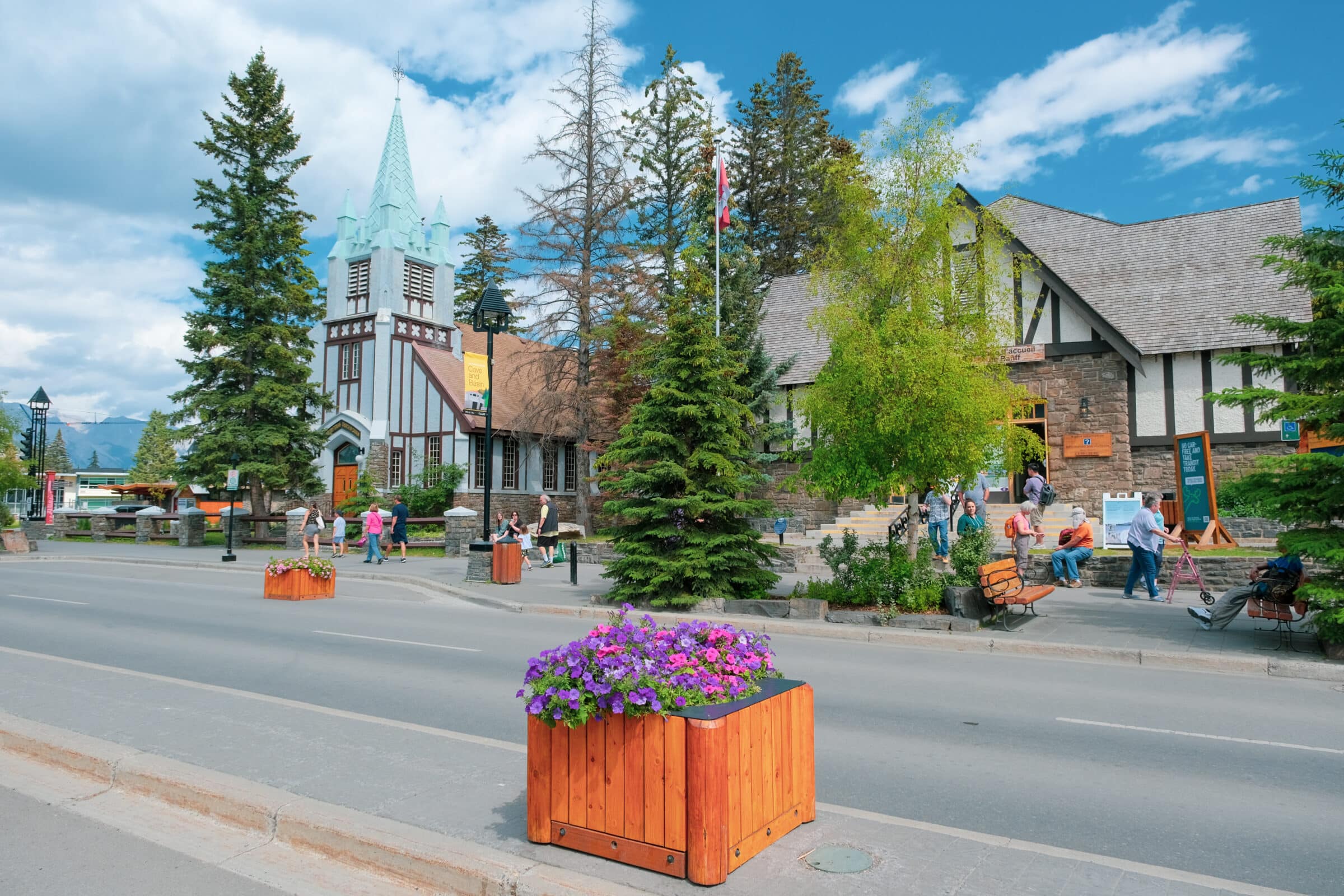 Finally,
Our tour through Canada has started and we're having a blast! The friendly people and the overwhelmingly beautiful nature have now fulfilled all his expectations. The first week of our vacation in Canada is already over, but luckily we still have 7 weeks to go in this beautiful country, before we travel back to America from Vancouver Island.
We are very excited to travel around here and share our experiences with you. In the near future, of course, much more will come online from this beautiful country. Are you traveling with us?!