Do you know that feeling? That the description of something beautiful that you have seen while traveling cannot be explained in words? We sometimes have to pinch ourselves and reflect on what we have all seen and done in recent years. It is unbelievable, traveling and visiting the countless bucket list destinations scattered around the world is becoming almost normal for us. Fortunately, there are still plenty of places in the world where our mouths still fall open in amazement. Banff National Park, the most popular national park in Canada, is such a place.
In this park you will find two world famous lakes: Lake Louise en Moraine lake. These are two of the most Instagrammable places in the world. The beautiful, unreal colors of the water and the extreme mountain peaks that reflect on the lake have a certain attraction for people from all over the world.
In this article, we'll tell you all about Banff National Park and its most popular attractions. We take you to busy Lake Louise and give you tips to avoid the crowds at Moraine Lake. Then we step up along other lakes and sights, during our walk to the Six Glaciers.
---
Plan your vacation to Canada here
---
Our journey through the United States and Canada
This article is part of a major one-year journey that we (Chris and Malou van Wereldreizigers.nl), are currently making by the United States en Canada† We started in New York City and are through Washington DC en Baltimore (where we shipped our RV), first traveled south (Florida) and then made a full round of the country. At the end of July we crossed the border to Canada via Montana.
Organizing this trip took a lot of time and energy. So we had to US B1/B2 visa of one year and we spent weeks working on it renovating our 4×4 camper† Then we got to work on the RV to America to ship and in hindsight it turned out to be a Dutch vehicle insurance in America to be one of the biggest challenges.
When that was all over, we could finally focus on the anticipation: figuring out and planning all the beautiful places we want to visit. I built the ultimate roadtrip route through America and Canada of roughly 50.000 kilometers in Google maps and we are now making our dream come true! The interactive map can be viewed below.
More blogs from our trip through America and Canada

America
More America articles? We wrote in total 37 articles about America. The full list can be found in one of the five links above.
Canada
About Banff National Park
The size and location
Banff National Park encompasses 6.641 square miles of mountainous terrain, with many glaciers and ice fields, dense coniferous forests, and Alpine landscapes. The Icefields Parkway extends from Lake Louise and connects to Jasper National Park in the north. Provincial forests and Yoho National Park its neighbors to the west and Kootenay National Park in the south. The main commercial center of the park is the town of Banff, in the Bow River valley.
The history
Banff was founded in the 1880s with tourism in mind. Construction began on the Canadian Pacific Railway, a coast-to-coast railway through Canada. The planned route went through the Bow Valley in the Canadian Rocky Mountains. Bee "Siding 29Three Canadian Pacific Railway employees discovered natural hot springs in 1883, what is now Sulfur Mountain is called.
In 1887, the park was named the "Rocky Mountains Park of Canada". Years later this was renamed Banff National Park. This made it Canada's first and third national park national park in the world. The town of Banff was established, a hotel was quickly built, and the area was promoted as an international resort and spa. And with success…
The Indigenous Peoples
In our Vermilion Lakes Archaeological evidence has been found pointing to the first human activity in Banff, about 10.000 BC. Prior to European contact, the area that is now Banff National Park was home to many indigenous peoples. These include the Stoney Nakoda, Ktunaxa, Tsuut'ina, Kainaiwa, Piikani, Siksika, and Plains Cree.
Many areas in Banff National Park are still known by their Stoney Nakoda names, such as Lake Minnewanka and the Waputik Range. Cave and Basin was an important cultural and spiritual place for the Stoney Nakoda.
Things to do and places of interest
But what can you do and see in Banff National Park? Well, very much. It is a gigantic park that will make your natural heart beat faster. From skiing and cross-country skiing in the winter to cycling and hiking in the mountains to swimming in the lakes in the summer. In short, you can stay here for weeks or months and not have seen and done everything yet!
We visited the park for several days and although we had the time, we also had to make choices. Below is a selection of the activities and sights that we have done and visited ourselves, with of course some valuable tips!
1.Lake Louise
Lake Louise is a beautiful, large and clear turquoise lake between high mountain peaks. It owes its emerald color to fine rock dust, which is ground by the glaciers. The dust floats in the water and reflects the light. This is how it gets its intensely bright color.
Chris took a beautiful photo of the phenomenon, on which you can perfectly see how that process works. Below you can see the place where the fine rock dust from the glaciers mixes with the water in the lake.
Most of the tourists just walk from the parking lot to Lake Louise to shoot a few pictures. In the photo below you can see Chris posing for a nice photo, but behind me and the camera dozens of people were queuing for a similar photo.
Fortunately, you can also walk well in the area, so you can quickly leave the crowds behind and see more of the area, without hordes of tourists.
Tip:: You can take a short walk along the lake or you can walk up for Mirror Lake, Lake Agnes, Lake Agnes Teahouse en The Beehive. Then you walk a total of about 8 km there and back.

Want a more challenging route? Then is Plain of the Six Glaciers Trail, from 14,6 km, a good choice. We decided to combine the two routes in a full-day walk (to be read at point 2 & 3).
2. Mirror Lake and Lake Agnes
In the first part of the route we passed Mirror lake. The lake is well protected between the mountain peaks, so there is hardly any wind and so the water is almost always nice and smooth. The environment is therefore well reflected.
Then you come to Lake Agnesa. Although it is a relatively short walk, it is a tough one, because you have to climb. At Lake Agnes you can drink a cup of tea or coffee at Lake Agnes Teahouse. From here you have a nice view of the lake and the surrounding area.
The Beehive is also a popular place to walk from here. Unfortunately we had to choose and had to skip this one. We didn't walk all the way around Lake Agnes either. We knew that we still had many kilometers to cover to get to the glaciers, so we weren't waiting for another detour.
We do have some regrets, because the view from the Beehive on Lake Louise has to be one of the best!
3. Plain of the Six Glaciers Trail
From Lake Agnes we walked further to the Plain of the Six Glaciers. We had a good seat and had a fantastic view of the surroundings. Here and there we also saw Lake Louise shine in the sunlight!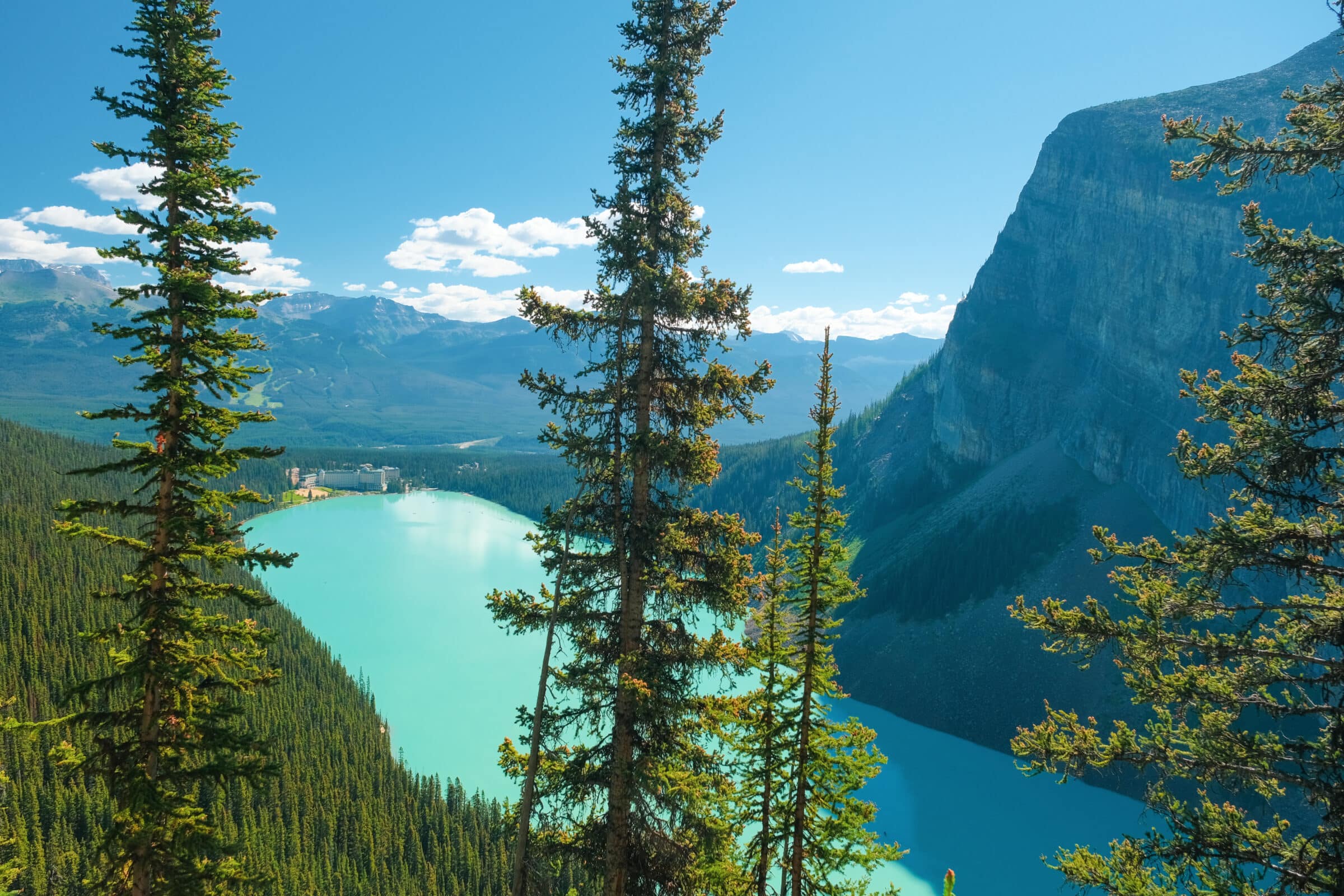 The walk was quite tough, especially at the end. On the last part we were climbing a lot again and the temperatures also rose. After you leave the tree line behind you, you walk full into the sun. So sweat well!
But, the effort paid off. Not only could we enjoy a drink and chocolate cake at Plain of the Six Glaciers Tea House (Location here ), but the view was nothing short of spectacular.
As we sat on top of the patio, we heard rumblings on the glaciers. When you hear that, you should immediately look up. Then ice and snow come down!
Remark: How long the glaciers will remain, that's the question… Due to global warming, the amount of ice has already been greatly reduced. It is no longer six (as in the name), but two. There is already 70% less ice compared to 1887, when the glaciers were discovered and photographed for the first time.
With sore feet and sweat everywhere, we made our way back. With Lake Louise soon in sight and walking down, it was a little easier in the heat… You actually walk with the water from the glacier towards the lake. Around you, the streams become a river, which flows into the lake.
After the walk of 18 kilometers, it was time to relax. You see many tourists venturing to the water of the lake, but they also come out quickly. The water of Lake Louise never gets warmer than 5 degrees (Brrr)! It doesn't take long to cool down...
4. Moraine Lake
Moraine lake is like Lake Louise a very popular place. It's just harder to get to. Moraine Lake RoadThe road to it is often closed. It is a steep road up and there is little parking. If you want to go to Moraine Lake during the day, you can really only do that with the shuttle (8 Canadian dollars pp) from the national park, which departs from Louise Lake Village.
Tip:: Go to Moraine Lake either very early in the morning (04:00 am to 05:00 am), or in the evening (after 17:30 pm). Only then do you have a chance that you can drive there yourself, because Moraine Lake Road has reopened.

After 05:00 / 05:30 the road to Moraine Lake is usually already closed because the parking lots are full. After 17:30 pm there is an empty run, which gives you the chance to drive up with your own car or camper.
We received the above tip from Dutch people we encountered in the parking lot of Lake Louise. It was indeed a golden tip. At 18.00 pm we could indeed drive to Moraine Lake ourselves, park easily and also had all the space and time to take some pictures, with the sun low!
Chris put his feet in the water for a while…. The water is really ice cold! He lasted a full three seconds, haha.
The sun occasionally showed itself briefly. Just before the sun disappeared behind the mountains, it briefly shone through the clouds, Chris shot this fantastic photo at just the right time. What a contrast, what a color!
5.Lake Louise Village
At Lake Louise Village you can go for all practical matters and some fun. Groceries, refueling, the visitor center an ice cream and a number of restaurants. We had almost no food left in our camper, so we went out for dinner at Lake Louise Village Grill & Bar (Location here ). The food was good and affordable.
6.Town of Banff
If you're really looking for fun, then you have to go to Town of Banff. on Banff Avenue (Location here ) are shops, cafes, bars and terraces. All chains (think McDonalds and Starbucks), are of course there too! This main street has no traffic and is beautifully decorated with flowers in summer.
7. Cascade Gardens | Cascade of Time Garden
Crossing the Bow River south of the main street in Banff Town will bring you to the Cascade Gardens (official name = Cascade of Time Garden - Location here ). Do not forget to look over the edge of the bridge at the river because it is also beautiful to see with the imposing mountain peaks behind it.
On a beautiful sunny day like this, it was very nice to take a walk around these tip-top maintained gardens. The garden is public and you do not have to pay an entrance fee.
8. Cascade Ponds
A little extra tip; near Town of Banff, is Cascade Ponds. A nice place to relax. There are a number of picnic tables and barbecues that you can use for free. We cooked our food, ate it and then decided to read a book by the water in our comfortable chairs. As night fell, the wind died down and the lake turned into a mirror for us. Chris
This was one of those moments where I thought, wow! It has become so normal for us, but you can't imagine such an environment when you're reading a book in the Netherlands, in your flat backyard fenced with fences?
What was also nice about this place is that there were a lot of marmots, the so-called Hoary Marmoto. Chris did a whole photo shoot with one!
Cute, isn't it? They come out of their hole and call to each other. They produce a very strange beep. You can hear what that sounds like in the short video below. Just turn your sound on, of course.
They immediately remind us of the marmot in this funny video from Animal Crackers from the BBC calling Alan (or Steve?!)!
Tip:: Although they almost convince you with their beady eyes, it is not wise to feed them. It may seem nice, but it is bad for the animals and people and therefore forbidden. There is a chance that the animals will become dependent on humans, come closer and bite, which in turn can transmit diseases. So don't do it and keep wild animals wild.
Practical information and tips
Camping in and near Banff
At Lake Louise, you will find Lake Louise Campground. A popular campsite and therefore often fully booked well in advance. If you manage to get a place at this campsite, on the (obscure) website of Banff National Park (website here , and good luck with it…), that will cost you about 27 CAD for a place without electricity. They have almost all facilities there.
Fortunately, the park also has an 'overflow campground'. Just outside Lake Louise Village (location here ). There are no facilities, with the exception of a pit toilet. You can stay the night there for 11,25 CAD (8,55 EUR). You have to register yourself and pay it in cash or via a credit card debit, for which you have to fill in a form.
Tip:: Before camping in the Banff area, stock up at a grocery store outside the national park. There are supermarkets in Lake Louise Village and Town of Banff, but these are very pricey! Read more about this under the heading refueling and shopping.
Wild camping in a National Park is prohibited in Canada. Places that were previously mentioned as wild camping places on the iOverlander app, have been removed with the warning that if you stay overnight there, you risk a hefty fine (up to 25.000 CAD!!!). If you do want to camp in the wild, you will really have to do it outside the national park.
The village Canmore (Location here ) is an example of this. It is located just outside the national park and therefore many wild camping spots can be found here. You will unfortunately have to drive about 50 minutes from there before you get back to Lake Louise. North of Lake Louise there are still a few options, east of Saskatchewan River Crossing, but even then you will have to drive an hour to Lake Louise.
In short: we were happy with the overflow campsite and hope to see it in Jasper National Park too…
Refueling and shopping
The distances in the park are large and there is a chance that you will not be able to avoid having to refuel in the park. Nevertheless, it is wise to fill your tank outside the park before your visit. Diesel cost us 2.15 CAD (1,64 EUR) per liter in the park. A liter of petrol costs 2.00 CAD (1,53 EUR). Outside the national park it is about 40 CAD (31 euro cents) cheaper per liter. A huge difference.
Groceries are also expensive in the park and supermarkets are also scarce. So try to go to a supermarket before your visit and stock up well. South of Town of Banff you will find a Safe On Foods store (location here ). West of Lake Louise, there is also one in the town Golden (Location here ). There are no supermarkets between Lake Louise and Jasper, which are about a three-hour drive apart. Keep this in mind!
Finally,
Be sensible and prepare well for a visit to Banff! The lakes and views will amaze you. The fanatics among us can indulge themselves with hiking, cycling and sailing boats. You won't find a place like this with so many glaciers, mountain peaks, lakes and rivers anywhere else in the world.
Until the next blog!
Plan your vacation to Canada here