Because I've lived in Vancouver for a while, I've had many opportunities to discover this beautiful area and believe it or not, I sometimes come across places that I've never been to. I like photography as well as walking/hiking (no extreme hikes) and that's how you sometimes end up in beautiful places. I am also regularly active on Facebook groups or forums related to travel to Canada en America. In this extensive blog you will find all my tips for Vancouver.
Plan your vacation to Canada here
About Vancouver
Vancouver is a much visited city and is often seen by many as a city and nothing more. Perhaps a city with a beautiful location on the water and with views of mountains. Or a city where many homeless people and drug addicts hang out, which is indeed the case in a certain area of ​​​​central Vancouver, and certainly does not give a nice image of the city… But it is the way it is.
Many tourists usually only visit the well-known spots in the center of the city and the most popular Stanley Park (which is certainly worth it) or a few other well-known attractions that are usually teeming with tourists. Most don't get any further than that and think that Vancouver is just a city.
People who travel for nature want to get out of Vancouver as soon as possible. Which is somewhat understandable, but if you want to acclimatize for a few days in Vancouver after a flight, there is certainly a lot to see and do. With this blog I want to show that Vancouver is not only a (nice/beautiful) city, but that you can also be in untouched nature within half an hour to an hour from the center.
Young City
Vancouver is still a fairly young city compared to European cities and is therefore more of a city with large glass buildings, so to speak. Here and there there are also some older buildings that give the city a bit of character and there is certainly something historical to be found. There are historical parts in the city as well as a Chinatown, which is one of the largest in North America.
The center of Vancouver itself is not very big and can actually be done on foot. You can get through it on foot in almost half an hour from one side to the other because it is only a few kilometers long and wide.
Vancouver is largely surrounded by water and has a beautiful harbor with views of the mountains and the water. There are also a section of beaches where you can laze and enjoy.
Vancouver is part of MetroVancouver or also Greater Vancouver or The Lower Mainland mentioned and that extends to Langley which is about 50 km away.
Agglomeration and general information
The Greater Vancouver metropolitan area (Metro-Vancouver or Greater Vancouver or also called the Lower Mainland) consists of 21 municipalities and because of this there is a wide variety of attractions / sights from city life to pure nature.
The following municipalities belong to this conurbation: Village of Anmore, Village of Belcarra, Bowen Island Municipality, City of Burnaby, City of Coquitlam, Corporation of Delta, City of Langley, Township of Langley, Village of Lions Bay, District of Maple Ridge, City of New Westminster, City of North Vancouver, District of North, District of Pitt Meadows, City of Port Coquitlam, City of Port Moody, City of Richmond, City of Surrey, City of Vancouver, District of West Vancouver, City of White Rock .
Vancouver is the largest city on Canada's west coast. The city has a beautiful location close to the water and surrounded by mountains. There is a mild climate with warm summers and mild winters.
High livability
Vancouver itself doesn't often see snow in the winter, but luckily the local mountains in the area do. It is therefore an ideal city to visit all year round and every season has its charms. A city where it is possible to go skiing in the morning and go sailing/hanging on the beach in the afternoon. Today, Vancouver is one of the top cities worldwide when it comes to liveability and quality of life, but life here is also getting more expensive and expensive every year.
Tourists visiting the provinces of British Columbia, Alberta and to a lesser extent the Yukon and Northwest Territories as well as the US states of Alaska and Washington often choose Vancouver as their point of departure and/or arrival. If time permits, I would definitely visit Vancouver for several days, because the city and its surroundings are well worth it. There are nice and hip neighborhoods, cozy restaurants, good shopping opportunities, beautiful city parks and untouched nature just outside the city itself where you can enjoy yourself, so you are in excellent hands in Vancouver.
Also read: All National Parks in the United States of America | List
Most famous sights
1.Capilano Suspension Bridge
This bridge can probably call itself the most famous (read also the most visited and very busy) attraction of Vancouver. The Capilano Suspension Bridge (location here ) is a 136 meter long wooden suspension bridge, which hangs about 70m above the Capilano River. The view above the river and between the trees is very nice.
You also have Tree Adventure with many bridges that connect higher in the trees. There is also the Cliffwalk with beautiful views over the river/Canyon. There is an entrance fee to visit Capilano Suspension Bridge Park.
2. Capilano River Regional Park
Next to the park with suspension bridge is the beautiful Capilano River Regional Park (free to visit). This park also has some bridges over the river (just regular bridges, not those long suspension bridges) and you can take walks up to the Cleveland Dam and Capilano Lake.
There is also a fish farm that is free to visit. This park is very quiet compared to Capilano Suspension Bridge and a favorite with us during a hot summer day. Nice walk through the woods and enjoy the river. In this park you have a few nice hikes to follow from short to longer.
3.Lynn Canyon Park
Another alternative is Lynn Canyon/Valley Park in North Vancouver. Here you also have such a suspension bridge (location here ), but not so long and high (a 50m long and 50m high).
This park is very beautiful with a lot of nature. It is not that busy because most tourists do not know this park directly. Go a bit earlier in the day and you sometimes have the bridge to yourself (especially outside the summer season).
There are several beautiful hiking trails once you cross the bridge in untouched nature with waterfalls, a clear green river and a lake. Definitely worth turning left after the bridge and up to the 30 foot pool to walk, this walk is about 15 minutes (one way). And when you come back you can go downstream to see the Twin Falls about 20 minutes walk (one way) if you turn right after the bridge. From both places you can also walk further if you want and have the time.
4.Stanley Park
This beautiful piece of nature reserve has been named as a city park since 1888. This park is visited by about 8 million visitors every year. Many residents of Vancouver and the surrounding area use the park not only to rest, but also to exercise on the surrounding trail which theSeawall hot.
The Seawall is 10km long and goes all the way around the park and out onto the water with views around every turn. The route is generally flat and ideal for walking as well as cycling. It has a separate walking path and bike path around the park. In addition, there is also a road around the park for cars with plenty of parking spaces to stop at the many sights and views.
One can rent bicycles just before the entrance to Stanley Park in downtown Vancouver from the many different bicycle rental companies. Just do a google search and you'll be able to find some.
To give you an idea of ​​how big this park is, we can report that it is another 10% bigger than the Central Park of New York City. Stanley Park also has many hiking trails within the park itself. You'll also find the Vancouver Aquarium, sports fields, lakes, pools, beaches, statues, totem poles, playgrounds and several picnic spots. There are also about 30 kilometers of hiking trails within the park itself. There are also some restaurants in the park as well as souvenir shops/coffee shops.
5.Gastown
Vancouver's Old Historic Town is named after the sailor Gassy Jack Deighton, which was the first to arrive there in 1867. It soon became a trading center and this meant that the district flourished as the center of the city.
Nowadays this part of the city is 'hip and happening' with many cozy restaurants and other catering establishments. Gastown is a neighborhood that is today much loved by architects, artists, actors and new media companies. The old steam clock on the corner of Cambie and Water Street (Location here ) is still high on the list. Shopping enthusiasts will also get their money's worth with the many nice boutiques as well as many souvenir shops and more.
6.Granville Island
On this peninsula (location here ) is Vancouver's largest public covered market and is home to a slew of shops and stalls selling mostly handmade items and artistic trades. Many local products are also sold here. There are dozens of stalls for culinary delicacies alone.
This market also has many fresh fruit/vegetable stalls, bakery stalls, fresh meat and fresh fish, delicatessen and many other foods. Of course, other products are also available on this market, such as clothing, household items and other knick knacks.
The market also has many food stalls for a nice lunch/dinner, but outside the market itself there are also several good restaurants on Granville Island. Outside the market itself there are also many nice shops, art galleries as well as a kids market and a park with playground. Granville Island is also a good place to do Whale Watching tours, there are some companies that run from here.
7.Vancouver Lookout
As befits a big city, Vancouver also has its own viewpoint. From the Vancouver Lookout you have a beautiful panoramic view of Vancouver including Stanley Park, Burrard Inlet and the mountains behind North Vancouver.
Vancouver Lookout is located in the Vancouver Harbor Center (location here ). With a height of 147 meters and according to the Vancouver Lookout website, you are on the panorama section at an altitude of 168,6 meters. For the tourist who wants to enjoy fantastic views of the city and the surrounding area, the Vancouver Lookout is definitely worth it.
Vancouver Lookout sits in the circular section that sits on top of the skyscraper. One floor up is the restaurant Summit of Vancouver. If you eat here you have the same view, but you don't have to pay an entrance fee.
8. Grouse Mountain
There are 3 different local mountains to visit, but the most famous and a major attraction that I can actually recommend for the whole family (even if it is very touristy) is Grouse Mountain (location here ).
Here you can go up with the SkyRide in 7 minutes. This will cost you a bit, but everything is included in your ticket. In the summer (usually from early June to late September) there are Lumberjack Shows, guided hikes, chairlifts to the top, a birds of prey show, a conservation area home to two grizzly bears and much more all included in the price of your ticket. Once at the top you also have beautiful views of the city, the ocean and the entire area. And of course there are also eateries here as well as clothing/souvenir shops.
The other two local mountains, Cypress mountain en Mount seymour also have beautiful views and quite a few choices of easy and more difficult mountain hikes. Both mountains can be reached by car and there is free parking at both mountains. Cypress Mountain also has the Eagle Coaster, a toboggan run is almost 2 km long. Both mountains also offer dining options.
Plan your vacation to Canada here
Things to do in and around Vancouver
1. The beach
Vancouver also has several beautiful beaches that can be enjoyed in any season. Famous beaches are English Bay Beach at downtown Vancouver itself as well as Second- and Third Beach at Stanley Park. Just outside downtown Vancouver you have Kitsilano Beach which is located in the Kitsilano neighborhood.
Also read: Tips for Calgary, Alberta | Roadtrip Canada (39)
Kitsilano is a nice and hip neighborhood with many nice restaurants, unique shops, coffee shops and the like. Further on from Kitsilano Beach there are some other beaches such as Jericho Beach and my personal favorite Spanish Banks/Locarno Beach, a lovely large beach with many parking spaces (free) and in the summer at low tide an ideal place to take long walks on the beach (barefoot of course) through the puddles to the sea.
Sometimes the water can be very far back due to the low tide and then it is wonderful to walk. It is usually not crowded either, so a favorite activity for our family during the summer months.
In West Vancouver there are also some beautiful beaches such as Ambleside Beach en Dundarave Beach. In North Vancouver you have Cates Park en Deepcove with beaches.
Outside of Vancouver you have other parks with beaches such as Barnet Marine Park in Burnaby, Rocky Point Park at Port Moody, Centennial Beach in Tsawwassen, Crescent beach en White Rock Beach at White Rock.
2. Gardens
Vancouver also has some very nice gardens to visit, some are free (parking only) and some gardens require an entrance fee.
The most beautiful gardens in Vancouver are the following:
Queen Elizabeth Park. Here you have 2 sunken gardens as they call it, 1 large and 1 small. You can walk through this and there always seems to be something blooming, no matter what season. From this beautiful park you also have views of downtown Vancouver and the mountains. In Queen Elizabeth Park you will also find the Bloedel Conservatory which is a tropical indoor garden with many bird and plant species. Park is free to visit, only pay for parking. The Bloedel Conservatory is not free and costs about $7.50 (5.50 euros) per person, children are even cheaper. There is also a restaurant in the park.
Van Dusen Gardens. Since 1975, the 22-hectare gardens have been open to the public. You will find more than 7500 plant species from different continents. Free parking, but paying to enter is $7.50 (5.50 euros) per person, children are a bit cheaper.
dr. Sun Yat-Sen Classical Chinese Garden. The Classical Chinese Garden of Dr. Sun Yat-Sen is the first Chinese or "learned" garden built outside of China and is located in Vancouver's Chinatown. The garden consists of a freely accessible public park and a garden with an entrance fee.
UBC Botanical Garden and Greenheart TreeWalk. Spread over 44 acres and featuring the BC Rainforest Garden, with over 3.500 plants found in British Columbia, which is just 1 of four gardens representing British Columbia's flora. Other highlights include the Physick Garden, a reconstruction of a 16th-century monastery garden planted with medicinal herbs; the Food Garden: a tiny garden with raised beds and more than 180 fruit trees, the harvest of which is regularly donated to the Salvation Army; and the Asian Garden, nestled in a second-growing coastal forest of spruces, cedars and hemlocks, with fragile magnolias and over 400 species of brilliant rhododendrons, including rare wild ones. The most recent addition to UBC's botanical garden is the Greenheart TreeWalk, a 310-foot-long hanging path that hangs from huge Douglas firs, red cedars and large spruces, many of which are over 100 years old. Walking between the platforms, visitors get panoramic views of Vancouver's coastal temperate rainforest.
Nitobe Memorial Gardens (also located at UBC). Named after Dr. Inazo Nitobe, a Japanese educator, scholar, and international diplomat whose personal goal was to "become a bridge across the Pacific," Nitobe Memorial Garden should be enjoyed at ease. Note the care taken in the placement of each rock, tree and shrub as you walk along the garden's gently curving paths: each element harmonizes with nature. Wander counterclockwise, accompanied by the soothing sounds of the lake, cascading waterfalls and small streams – the gardens move from beginning through growth and changing to an end. Native and imported plants and trees, azaleas, flowering cherries, irises and maples provide color all year round.
3. On rainy days
VancouverAquarium, located in Stanley Park and one of the best aquariums in North America. At the Vancouver Aquarium in Stanley Park, you can admire more than 1 species in a beautiful setting.
ScienceWorld. Spread over two floors, Science World features interactive science exhibits and an Omnimax cinema that offers entertainment for all ages.
Vancouver Art Gallery. Specializing in West Coast artists, the Vancouver Art Gallery has a notable collection by Emily Carr and the Canadian movement Group of Seven from the 20s.
HR MacMillan Space Centre en Museum of Vancouver. These are close to each other. At the HR MacMillan Space Center in Kitsilano, space-related topics are made transparent with interactive screens.
Vancouver Maritime Museum. Here you can discover Vancouver's maritime history.
Blood Conservatory is a covered tropical garden with various tropical plants and birds. Located in Queen Elizabeth Park.
Lonsdale Quay is a kind of covered market in North Vancouver. You can go here by seabus from downtown Vancouver and the views of downtown Vancouver from here are beautiful.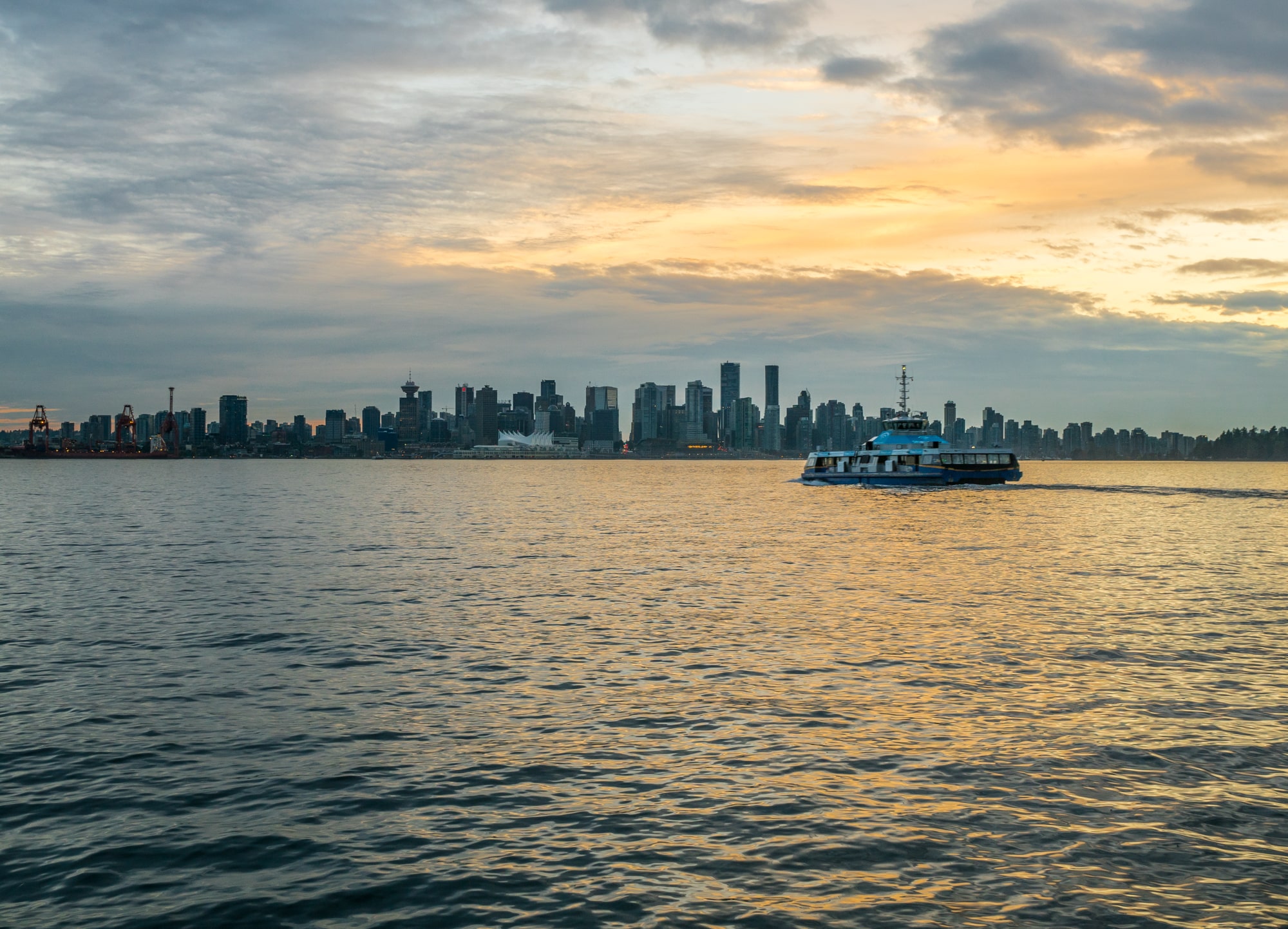 granville island this is also partly a covered market with some shops, restaurants and the like.
Metro Town Mall is a shopping center with about 500 shops. You can easily get here by Skytrain, take the millennium or expo line "eastbound" from various places in downtown Vancouver, and get off at the "Merotow station".
Museum of Anthropology located at UBC (University of British Columbia). The collection of more than half a million objects consists of African and Asian art, but the main piece is a collection of the native Indian inhabitants of British Columbia.
Fly Over Canada is the newest attraction in Vancouver for spring 2013. Fly over Canada's most beautiful landscapes in a kind of simulator that makes it feel even more real with wind, fog, smell and sound!
Tsawwassen Mills Mall is a large shopping center located in Delta near Vancouver and with more than 200 stores for shopping.
McArthur Glenn Outlet is a designer outlet shopping center at Vancouver airport with more than 80 stores such as Guess, Coach, Nike, Adidas, Levi's, Ugg, Vans, ...
4. Museums
The city of Vancouver has some excellent museums, some of which we will mention. First it Vancouver Art Gallery. With a permanent collection of more than 10.000 mainly contemporary art objects, this museum is one of the largest in Canada. Various collections of art are exhibited on almost 40.000 square meters.
The Vancouver Maritime Museum offers something completely different. This maritime museum tells you all about the history of the Pacific Coast. The showpiece is the historic ship 'St. Roch' which is partially accessible.
Finally it Anthropological Museum at the University of British Columbia. This museum offers a unique opportunity to explore diverse architectural beauties and art from various indigenous cultures as well as the indigenous cultures of British Columbia and Canada.
5. Whale watching
Canada is perfect for a whale watching tour. Particularly in the Strait of Georgia, which is next to Vancouver. As many as three whale families come to this area every year to fill themselves with delicious salmon, which are on their way to the Fraser River for mating. It is also possible to take a historical nature tour or book a sea lion tour.
Here are the local Vancouver Whale Watching companies:
Vancouver Whale Watch en Sea Breeze Adventures: both located in Steveston near Richmond, about 20-30 minutes from Vancouver).
Wild Whales Vancouver en Prince Of Whales: both located on Granville Island close to downtown Vancouver.
White Rock Sea Tours: This is located in White Rock near Vancouver.

6. Walking
As I mentioned earlier, Vancouver is a very walkable city and you can safely explore on foot. Along the way you will come across nice shops, coffee shops, restaurants and more. You are less than half an hour's walk from Canada Place to the beach at English Bay or vice versa.
There is also a nice walk to do from Kitsilano Beach to granville island (route here ) and there you can have lunch and walk back. Or vice versa. Definitely worth the effort with beautiful views along the water and on the city.
Close to town
Lighthouse Park en Whytecliff Park in West Vancouver there are nice parks for walking, especially with children. You also have the beauty there Ambleside Beach to walk along the water and hang out on the beach. In North Vancouver you have the beautiful Lynn Canyon/Valley Park with many hiking trails, Lynn Headwaters Regional Park en Deepcove with Quarry Rock and other trails. At Deep Cove you can also rent kayaks.
A little further from the city
For those with more time to spend in Vancouver, there are a lot of beautiful places that are less touristy. Most are located a bit outside of Vancouver. A few of my favorites are the following:
Burnaby Mountain is very beautiful with views of Vancouver, the mountains, an 18km long fjord and more.
Bunzen Lake, Sasamat Lake en Belcarra Regional Park are also very worthwhile, these are located in Port Moody which is a 20 minute to half hour drive from Vancouver.
Grant Narrows Regional Park en Pit Lake a little further from Vancouver located in Pitt Meadows you will find the beautiful Grant Narrows Regional Park with Pitt Lake where you can do many beautiful walks on dikes and along the lake.
Golden Ears Provincial Park a good hour from Vancouver with many hiking options from easy to experienced. You have Alouette Lake, a wonderful area for a picnic, hanging out on the beach and the like. I recommend continuing here to the Gold Creek Day Use area as well. From here you can take the beautiful walk through the forest along Gold Creek to what flows into Alouette Lake. If you go the other direction, you follow the trail to the Lower Falls.
For even more options, take a look at this page: http://travelwestcanada.blogspot.com/p/route-deel-5-osoyoos-vancouver.html

Transportation
Bus, SkyTrain and SeaBus
Traveling by public transportation in Vancouver is convenient and relatively inexpensive. Transport company Translink offers public transport in the form of bus, SkyTrain and SeaBus. You can use the bus, SkyTrain and SeaBus with the same ticket. There is no tram or subway network in Vancouver, but the SkyTrain is a type of tram on rails above the ground. You can choose single tickets or a day pass. A day pass is cheaper if you make four journeys in one day in one zone, three journeys within two zones or two journeys within three zones. On Saturdays, Sundays and public holidays you always pay the rate for one zone, even if you cross two or three zones. A reduced discount rate applies to children from 5 to 13 years old.
You can buy tickets for the bus from the driver when you get on the bus. From that moment on, you may change several times within the first 90 minutes. Please note that you can only pay the exact amount in cash with the bus driver.
You can buy tickets for the SkyTrain and Seabus at the machines at the stations. In addition to coins, you can also use paper money (notes up to and including twenty dollars) and credit card.
Travelers who plan to use public transport a lot may benefit most from a Compass card. You can buy this rechargeable card once for CAD 5 and you will receive all the benefits that are included in the Day Pass, and you can top up the card with a fixed rate of CAD 5 or more. The credit never expires. You must use the card to check in and out on any type of public transport you use and the fare of the journey will be automatically deducted from your card. You can find more information about the Compass Card here .

You can also plan your trip via public transport and that is possible here .
False Creek Ferries/Aquabus
These little boats (I sometimes call them bathtubs) sail around False Creek and take you to various places along the water such as Granville Island, English Bay and even Kitsilano (Maritime Museum).
You can buy tickets per trip, but there is also the option to buy a day ticket which is cheaper if you want to make a few different stops. With a day ticket you can sail back and forth all day long between the 9 different stops that these boats make and that as much as you want. You can stay in each place for as long as you want, because these ferries run back and forth every 10-15 minutes.
Seaplanes
A wonderful way to explore Vancouver is with a flight in these seaplanes. You can choose a flight over the city or a flight over the city combined with a glacial lake in the mountains near Vancouver, a flight to Victoria (Vancouver Island) and more… Look at Harbor Air's website for the possibilities.
Accommodations
Vancouver has many options for accommodations. Those traveling by RV/RV can stay in 2 places near Vancouver at the following campgrounds: Capilano River RV Park (in North Vancouver at the foot of the Lions Gate Bridge) and Burnaby Cariboo RV Park and Campground in Burnaby close to Highway 1 just outside of Vancouver itself.

You can also find options for overnight stays via AirBnB as well as VRBO (Vacation Rentals by Owner), I also use Google Maps and then go to Vancouver where I type "accommodations" and you can see what the possibilities are.
I can also recommend the following hotels/B&Bs:
Finally,
Want more information about Vancouver?
Information about Vancouver and what to visit:
Or visit the official tourism website from Vancouver.
Plan your vacation to Canada here