we sue our roadtrip through America further south. After a few wonderful days in and around Savannah, Georgia it was high time to put in some miles to stay on track. We want to be in Florida in a few days, but we don't want to rush. We therefore only drive a few hours a day and enjoy some beautiful State Parks along the way, including Barrington County Park en Blythe Island County Park where we decide to spend the night.
---
Arrange the logistics first
Through the iOverlander app, we've found a great place we're going to today: Barrington County Park. Since we already know that it is a pretty rough campsite with virtually no facilities, we first want to make sure that we go there fully filled.
Drinking water and water filter
First of all we have to get rid of our waste water and we also have to refill our fresh water tank. We are still doing this Skidaway Island where these facilities are free to use. It is good to know that drinking water in America is safe to drink in most places. It must be said that the taste often deviates from what we are used to in the Netherlands. There is often a bit of a chlorine taste to it, which is just really dirty, especially when you make coffee. Fortunately, our (AquaLogic Inline-C-Ultra water filter) water filter system these smells and tastes almost completely which ensures that we can just tap water everywhere and throw it in our tank, for free and for nothing. After using the water filter for a little over a month, we can therefore really recommend it to everyone. Really a top thing for that money!
Charging battery pack
After that, it is important to set things up properly so that our battery pack (the EcoFlow Delta Max) is charged while driving and via the solar panels so that it is full again when we arrive at the campsite. The cool box switches to 'eco' mode while driving, the roof fan switches off and all other unnecessary power guzzlers such as the electric hot water boiler we are temporarily shutting down. We had already read that there is a hot shower available in Barrington County Park, so we don't necessarily need hot water in the camper for the time being.
Saving electricity is extra important today, because we know that bad weather is coming for a few days. The solar panels will then generate a lot less. Also, the park we are going to is in a forest area where you will probably be in the shade. That also significantly reduces the yield.
These are all logistical matters that you as a full-time traveler learn to take into account. I secretly like it too, we live almost completely off-grid.
Finally, we also have to do some shopping, but we have already seen that there is a large Walmart on the way where we can stop for a while. Useful!
Barrington County Park–Georgia
With the cupboards stuffed with food and drinks and the water and batteries filled to the brim, we drive about 110 kilometers to the next destination. Below is the route we drove.
4×4 enabled
The last part had to be careful because the road turned into a dirt track for the last 10 kilometers – just as the iOverlander app had predicted. Some parts were quite fine and loose sand and the 4×4 was switched on anyway just to be sure. We didn't want to get stuck! These are the moments when you understand why a 4×4 pickup truck is the norm here. With a front-wheel or rear-wheel drive car you will definitely get stuck here!
Fortunately, with the 4×4 activated, everything went well and we arrived at Barrington County Park (location here † After straightening our camper with the support legs I take a look at the river as the sun goes down and it starts to rain.
Free camping
The park is in fact a riverside nature reserve with a free campground that is operated by the state of Georgia. you can here free camping for a maximum of 7 consecutive days, which is of course totally awesome.
We don't know that at all The Netherlands, that free camping. However, in the US it is quite common. There are really hundreds, if not thousands, of places where we can camp for free! Mostly in nature reserves managed by the national government or the state.
It's a spooky place
The campground is about 10 kilometers from the paved road and the nearest village is probably a lot further.. You're pretty much in the middle no nowhere here and the trees where the moss hangs ghostly doesn't really help with that either.
What makes it even more fun is that Barrington County Park is littered with death crosses. The caretaker named Albie told me that he kept some pets here over the years that died of old age. He honors the best animals in this way, right in the middle of the campsite. Spread over the camping site there were about 6 of these crosses.
However, don't imagine too much of this campsite. Like many other free campgrounds, this one is labeled "primitive" and indeed, there are virtually no amenities at this campground. There is a small WC and shower building from the year 0 where the paint is peeling off and the insects have free rein. It's all part of the spooky experience you have here.
Fog and rain
The next morning the weather was not as good as predicted. The sun had a hard time breaking through the fog so it was the perfect day for us to get to work after breakfast.
After a day of blasting and putting Savannah's blog online, we close the day with some NetFlix series and go to bed early.
Beautiful nature
The next day we had more luck and the sun broke through several times. Suddenly the campsite looked very different. What a beautiful nature! I move the motorhome for a while so that the solar panels generate more power to charge the batteries.
Despite the better weather, it was still a strange sight with the spooky trees and death crosses everywhere. But with the setting sun it was a very colorful affair in the evening. There was no wind and the river was nice and calm. Slowly but surely I could appreciate this place more and more, so in the middle of nowhere.
While I hear the many birds singing and the crickets creak as the sun goes down, we decide to already see where we are going the next day. After two nights and three days it is time for a new place. Our eye falls on Blythe Island County Park, where we will go the next day.
In retrospect, Malou and I agree that despite the very primitive facilities and the ghostly appearance, it was a lovely place in the middle of nature.
Blythe Island County Park – Georgia
After two days of hard work on the website, we needed an activity again and so we decided to travel to Blythe Island County Park, about 1,5 hours drive from Barrington County Park. Again we had to stop by the Walmart to do the necessary shopping.
Our life has become simple
Again to the Walmart and upon arrival at the campsite at Blythe Island County Park we again have to refill our fresh water tank and discharge the waste water. Gosh, what a hard life. We joke about it, realizing as we drive that our lives are really just three topics lately: what are we eating, where are amenities and where are we going to sleep tonight.
You just can't imagine it in the Netherlands. In the Netherlands, your agenda is always packed with getting up, working, exercising, shopping and other appointments or obligations. We have now been on the road for a month and now it is exactly the other way around! We wonder why we make it so difficult for ourselves in the Netherlands. No need, is the conclusion.
We arrive at Blythe Island County Park and after paying about 20 dollars a night take a tour of the campsite. What immediately strikes us is that it is all beautifully maintained! There is even a lake with a beach where you can swim, but unfortunately it is just a bit too cool for that, because it is very windy today.
Hiking in Blythe Island Regional Park
The Blythe Island County Park with accompanying campsite is located in the middle of a nature reserve. Here too there is a lot of water (swamp area) and there is also a boat ramp. Locals drive here all day long with their pickup trucks and trailers to launch boats. Fishing is very popular here.
You walk straight into various hiking trails from the campsite and the next morning we decide to take a long walk.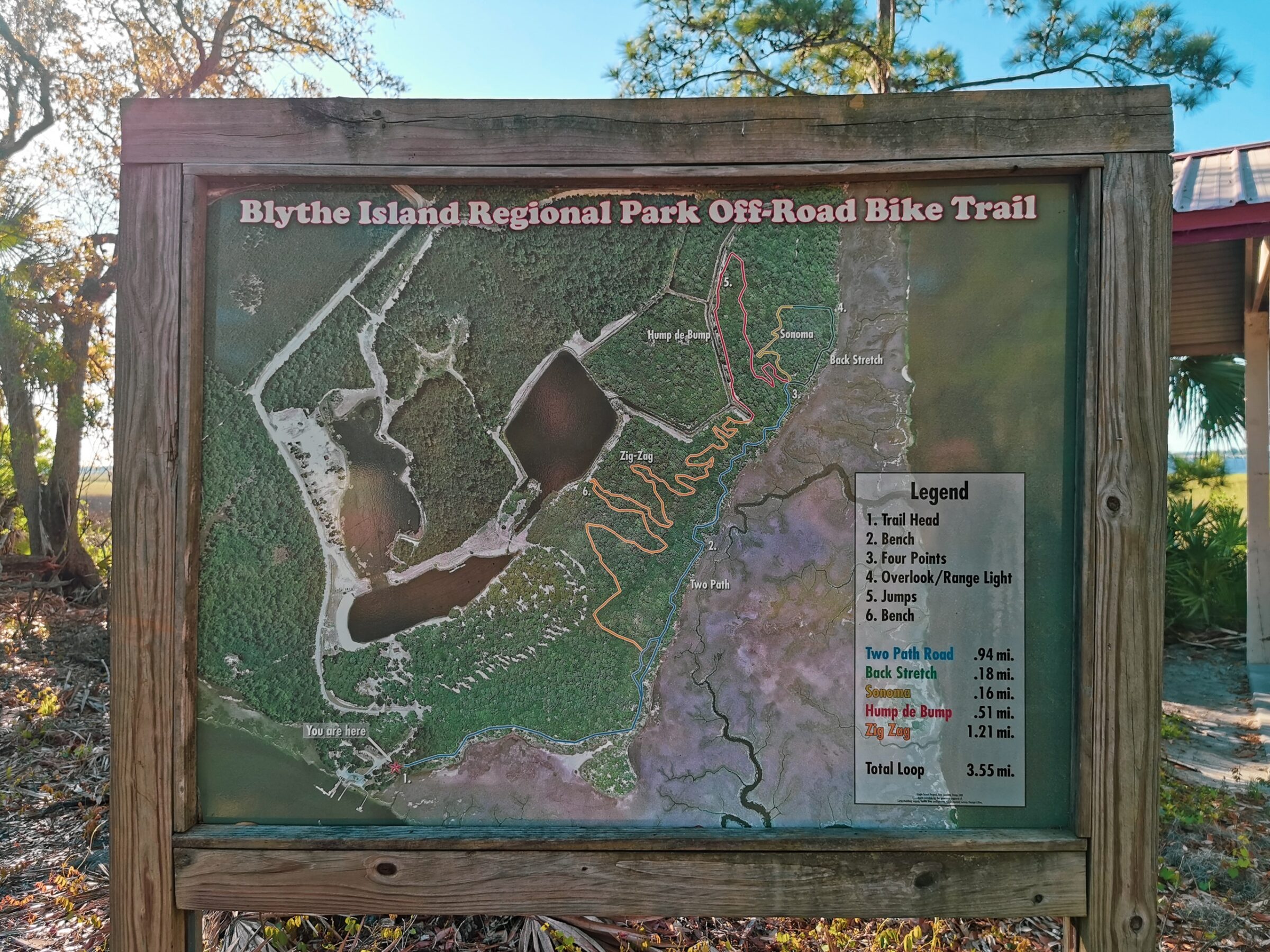 Beautiful nature with many mosquitoes
Although the nature reserve is really beautiful and we fully enjoy the trees and the river, we are attacked by the many mosquitoes that are active this early morning. We have anti-insect spray with us and spray it vigorously, but the mosquitoes don't care much about it.
In fact, it's so bad that when I follow Malou just see a small swarm of mosquitoes following her. When I turn around I see the same thing happening to myself. So at that moment there was nothing for it but to walk briskly and not to stand still. We therefore decide to shorten the long walk a bit and after roughly 1,5 hours we return to the campsite.
Curiosity of Americans
Traveling through America with a Dutch camper on a Dutch license plate does not pass unnoticed here. Almost every day we are approached by curious Americans or people who are connected in one way or another with the Netherlands. Often people try the name Wereldreizigers.nl read and one really doesn't understand it.
"What does it mean? We are ziggers?† That point NL behind it doesn't really help either, the majority of Americans often don't even understand that .nl is a domain. People are so used to .com here that they often don't even know that there are hundreds of such domains, different from country to country.
hello page
And while we really like the claim everywhere, it's sometimes a pain to have to tell the same story every time. We therefore decide ahello page' in English explaining who we are and what we do in America. We then placed a giant banner on the front page. It's now the first thing you see when you're on the front page of Wereldreizigers.nl ends up. Click on the image below to view the page.
Donations
On the advice of some Americans we spoke to earlier, we also added a donate button to the page. Americans are generous and like to give, we're told. People love what we do here and would like to contribute to it.
We decide to go with it because hey, this website is ad-free and we therefore often ask for a donation. We didn't have high expectations, but to our surprise we have received several donations since posting the message last week, both from Americans and people from the Netherlands. Super awesome!
Thank you!
Malou and I would therefore like to thank everyone who has donated. Maintaining this website is a full-time job and we emphatically choose not to place annoying, flashy advertising banners everywhere. With your help, we can keep it that way.
Until the next blog!
---
---
Seen a mistake? Ask? Remark? Let us know in the comments!