About an hour's drive from downtown Miami is the Everglades National Park (Google Maps location here † It is a large swamp reserve mostly run by the native Indians. The wetland is the ideal way to admire alligators in the wild, among other things, and it is therefore a very popular attraction for travelers visiting Miami.
The area is vast, wildly overgrown and the swamp is really only accessible by airboat or hovercraft. A normal boat would immediately get stuck in all the plants and roots just below the surface of the water!
In this article I will tell you everything about the park and the tours you can do there. In addition, I share a clever way how you can admire all the animals that live here completely free of charge, just from the car!
---
Plan your vacation to America here
---
Our journey through the United States and Canada
This article is part of a major one-year journey that we (Chris and Malou van Wereldreizigers.nl), are currently making by the United States en Canada† We started in New York City and are through Washington DC en Baltimore (where we shipped our RV), first traveled south (Florida) and then made a full round of the country.
Organizing this trip took a lot of time and energy. So we had to US B1/B2 visa of one year and we spent weeks working on it renovating our 4×4 camper† Then we got to work on the RV to America to ship and in hindsight it turned out to be a Dutch vehicle insurance in America to be one of the biggest challenges.
When that was all over, we could finally focus on the anticipation: figuring out and planning all the beautiful places we want to visit. I built the ultimate roadtrip route through America and Canada of roughly 50.000 kilometers in Google maps and we are now making our dream come true! The interactive map can be viewed below.
More blogs from our trip through America and Canada
About Everglades National Park
The park was designated a World Heritage Site by UNESCO in 1979. In 2010, the area was declared an endangered world heritage site. This is mainly due to the severe impact of climate change in the park. Rising sea levels are the biggest threat as the park is only one meter above sea level on average.
Also read: Danger for alligators and bears in Florida | Roadtrip USA (11)
The Everglades are…
One of the largest wetlands in the world, but used to be much larger.
The largest remaining subtropical wilderness of North America.
The largest contiguous protected mangroves in the Northern Hemisphere.
Home to unique, rare and endangered species.
Five other facts about the Everglades
1. It's a river
Believe it or not, the Everglades is actually a river that is in constant motion. Water seeps from north to south of Lake Okeechobee and forms a slow-flowing river 160 kilometers wide and XNUMX kilometers long. But the River of Grass is much smaller than in years past. As much as fifty percent of the wetlands in the Everglades have been destroyed by construction, related projects and climate change.
2. It's the only place in the world where alligators and crocodiles coexist
Both crocodiles and alligators live in the Everglades. Crocodiles are usually found in small numbers in coastal areas of the 'glades', while alligators prefer to stay inland, near fresh water. The Everglades ecosystem provides a natural environment for both and it is the only place in the world where these reptiles coexist in the wild.
3. Fire is common in the Everglades – and essential
When most people think of the Everglades, they imagine wetlands and wet, murky waters. While that's true, there's also a very distinctive dry season in which weather patterns create drought-like conditions that are perfect for fire. What many people don't realize is that fire is actually an essential part of maintenance, paving the way for a complex system of interdependent ecosystems.
4. Two endangered species and 16 unique birds
The Florida Everglades is certainly complex, but it is this complexity that makes it so spectacular. The panther and alligator are two of the endangered animals protecting the Everglades ecosystem. The Everglades is also home to countless unique species of birds, a variety of mammals, reptiles, plants and numerous unique flora.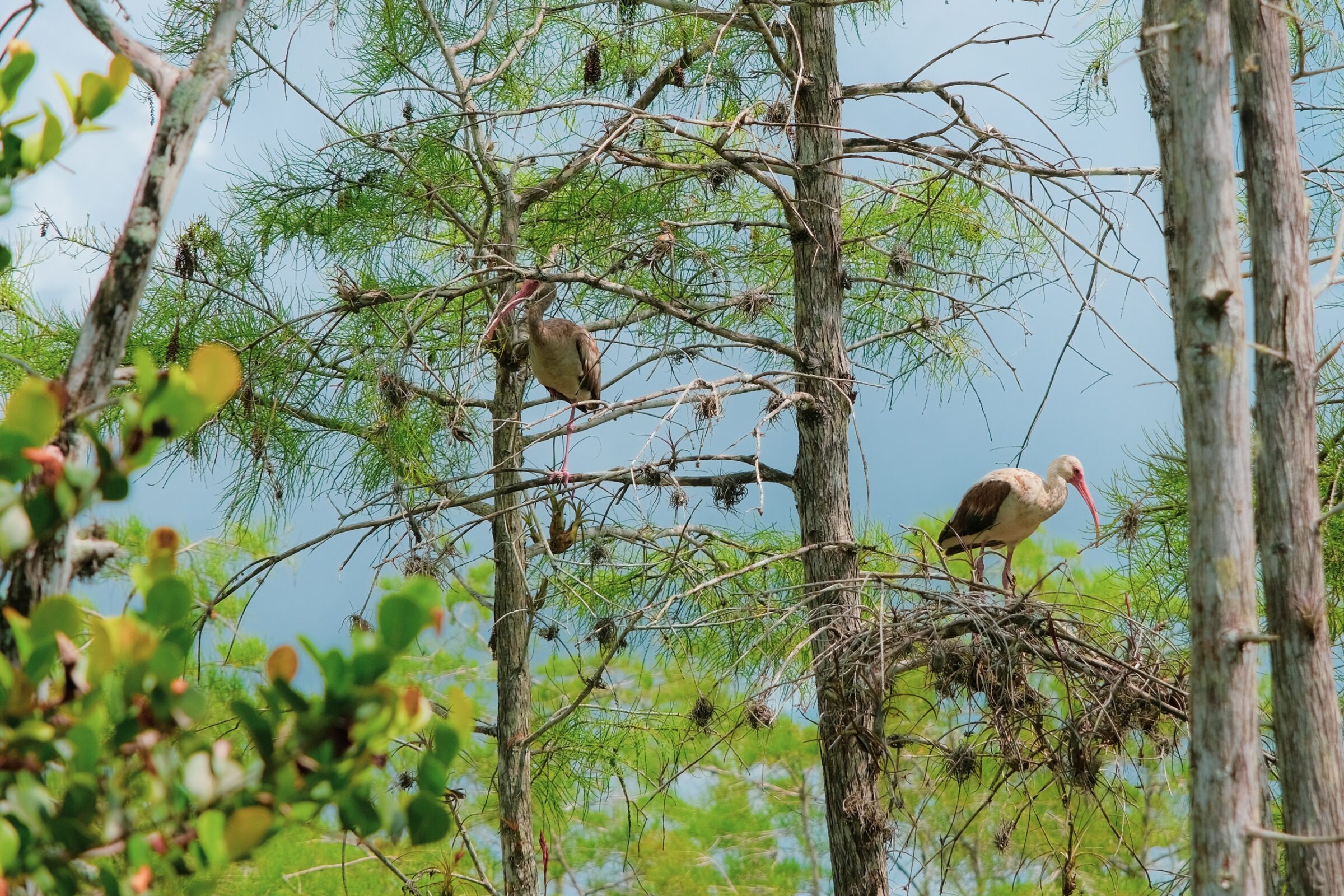 5. It provides drinking water for 7 million Floridians
As the largest subtropical wetland in North America, the decline of the Everglades is a major concern. Aside from providing shelter and protection to numerous wildlife, the Everglades is also an important asset to humans and one in three Floridians rely on the Everglades for drinking water. Rising sea levels are making the water salty, endangering the drinking water supply of millions of people in Florida.
Entrance fee
Everglades is a National Park, which means that you have to pay an entrance fee to enter the park. For example, if you do a tour (like the airboats – look here for the offer), there is an additional cost of 7 dollars per person for the park, unless…
America The Beautiful pass
…you have purchased an America The Beautiful pass. This pass is a must-have for anyone traveling through America and costs $80. The pass gives you free access to all national parks in America† If you only visit 3 or 4 of these parks with two people, you will have already spent this $80 so it is totally worth it.
If you're only visiting the Everglades from Miami, it's probably cheaper to just pay the $7 per person. So calculate this for yourself first.
Tip:: America The Beautiful pass is for sale at all visitor centers of the national parks† It is not necessary to order these in the Netherlands, for example – you will then save unnecessary shipping costs.
About the airboat tours
There are many providers in the area – watch here a selection from the gigantic offer. There are reputable providers that come up in every Google search, one even better than the other. However, these are often busy, on the expensive side and more importantly, the airboats have become so large due to mass tourism that up to 100 people can be on one airboat at the same time. This means a lot of weight, less speed and therefore less action.
My advice: Get a provider that has small boats. The smaller boats for +-10 people move quickly and agilely through the swamp, which is of course much more fun!
With some tour operators you can simply pay an additional fee for this (private tour). This is standard with other operators, so search and compare the photos and reviews well in advance.
Spot alligators, water lilies and birds
We were less than a minute on the road and we already had the first alligators in sight, the guide stopped the boat so we could take pictures and even more fun: the crocodiles came to us. They are curious, we were told. We do not know whether that is true, because it would not surprise us if they are actively used for tourism. Anyway, it hit the spot and it was cool to see them up close, in the wild.
Pretty intense for nature
While you continue sailing with the very noisy V8 airboat, you see the birds suddenly flying away from the swamp everywhere. They are clearly shocked by the enormous noise the boat makes… Fortunately, the alligators are less concerned about it. They lie on the edges of the water to relax in the sun and just stay put, even if the boat comes close.
Tip:: Bus tours are also offered from Miami, which is useful if you don't have a rental car, for example. In addition, there are also ecotours with guides available where you kayak instead of paddling a noisy boat through the mangroves. See here the full range for the Everglades.
While you watch your eyes out, the captain makes a 360° maneuver. To keep everyone awake for a while, a little extra entertainment in between! Very American, but fun.
In the meantime we saw many other rare birds, as a bird lover you really look forward to this.
Other Things to Do in the Everglades
Walk Road Scenic Drive
However, you don't have to do an expensive airboat tour to see alligators. You can already see them from the road. For road safety it is useful to spot them from Walk Road Scenic Drive† On this gravel road you have the option to drive slowly or stop for a while and don't worry: you will see plenty of alligators here!
Make sure to stop at the various bridges because the swamp there is often a bit open and you can see them extra well. You can of course also get out, but pay attention to the roadside and keep an extra close eye on the environment. The alligators are literally everywhere here and you don't want to be the next newspaper article from the Telegraph: Dutch tourist molested ear Alligator in Florida.
In addition to the roughly 100 alligators that we saw, we also saw several beautiful birds, turtles, large fish and also one water hammer. Unfortunately we don't know what kind it was.
Big Cypress Oasis Visitor Center
Are you really just coming to see some alligators? Then you can also stop at Big Cypress Oasis Visitor Center to get a good look at the Alligators. There are dozens of these in front of the door, almost all year round.
take a walk
It is also nice to stop for a walk. There are many places where you can stop for a bathroom break, picnic and therefore a walk. There are also so-called landscaped hiking trails, where you walk over the marshland by means of a 'boardwalk path'. A good example of this is the Kirby Storter Boardwalk, which is free to visit.
Other hiking trails are indicated at the Walk Road Scenic Drive but beware: alligators are everywhere and there are also deadly snakes and big cats such as panthers and bobcats. If you are planning to go really deep into nature, get information first at the visitors center and never go out alone. Four eyes see more than two!
Conclusion
If you have never been to a swamp area in your life, you should not miss this park. If you have a few days in Miami, make sure to set aside one or more days because you will find yourself in a unique piece of nature that you cannot see anywhere else in the world.
You don't even have to get out of your car if you don't want to. The many unique animal species are easy to spot when you drive the Loop Road Scenic Drive.
If you want to experience the real everglades feeling, definitely book an airboat tour. It's clumsy, noisy and very American, but a lot of fun to experience. The fact that you can also spot alligators and other beautiful wild animals during such a tour is a bonus.
---
Plan your vacation to America here
---