Colorado is so versatile! After we Silverton visited, it was time for the next stop at the Million Dollar Highway in Colorado. Although historically a mining town, Ouray is now a bustling and pleasant tourist place. In this blog I tell you about Ouray, what you can do there and where you can stay.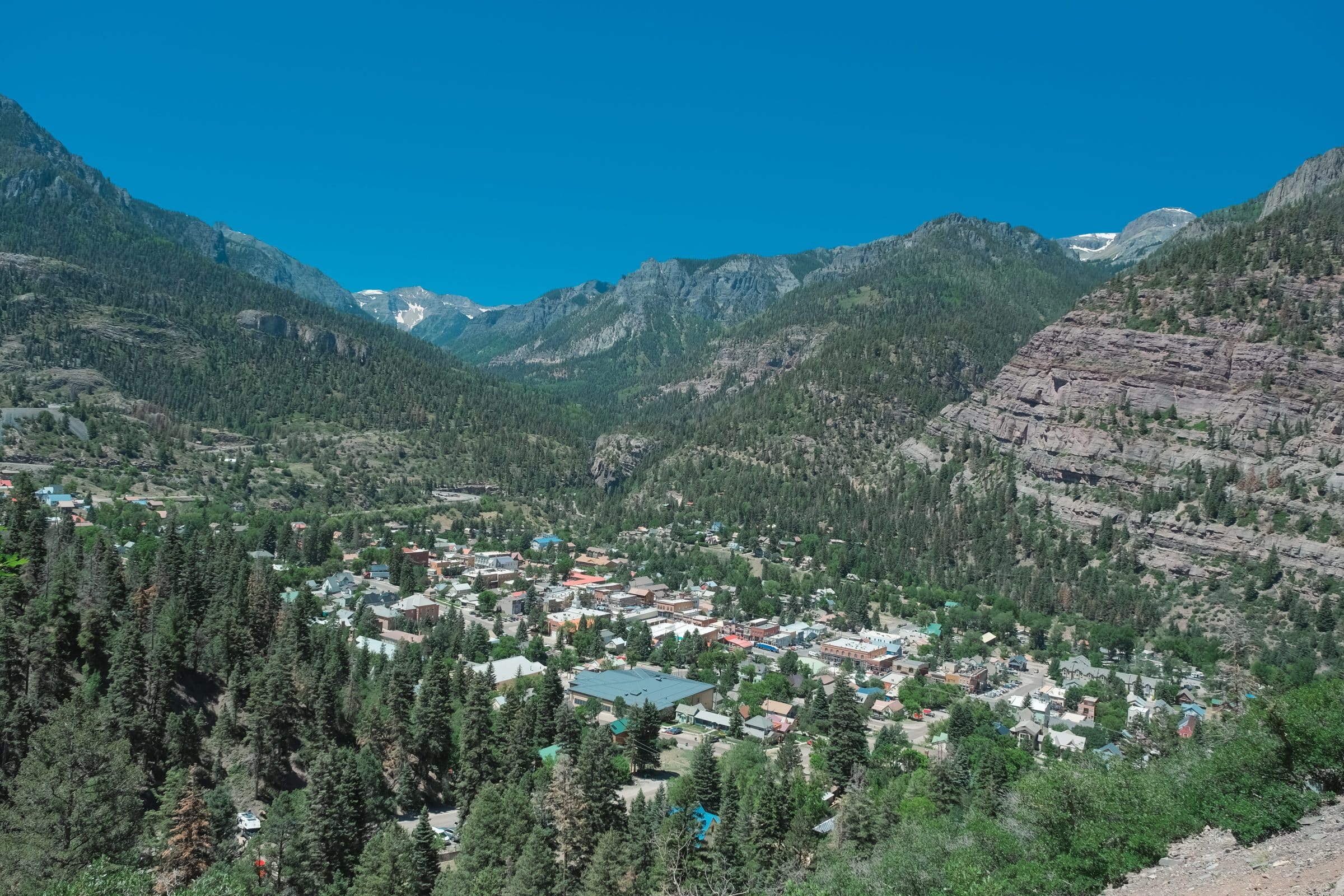 ---
The ultimate tour of North America
This article is part of a large one-year tour the United States en Canada in 2022, with a Dutch 4×4 camper that we shipped ourselves… It is a bucket list worthy and an once in a lifetime experience that will never be forgotten.
We wrote almost 100 articles about this ultimate tour. Below is a handy overview in 5 expandable categories.
1. Preparation
2. Highlights & Itineraries
3. Cities & places of interest (AZ)
4. National Parks & Monuments (AZ)
5. Plan your vacation to America here
---
About Ouray
Ouray and its surroundings are nicknamed 'het' Switzerland of America'. The climate and appearance, with its mountains and many waterfalls, are indeed somewhat reminiscent of European Switzerland.
Like Silverton, Ouray was originally a mining town. They searched for gold and silver. In the early years there were more horses and mules than people. Nowadays it is mainly a touristic place, and when you see the town for the first time you understand why. The unique location between the imposing mountains has a certain appeal.
Things to Do in Ouray
1. Ouray Perimeter Trail
Do you want to get a good idea of ​​Ouray and the surrounding area? Then put on your walking shoes for the Ouray Perimeter Trail† It's a long walk of 9,5 kilometers around Ouray and it takes you past all the main hotspots, while you have good views of the town from all angles.
you walk to Cascade Falls, the Baby Bath Tubs and you cross Canyon Creek† Officially the walk starts from the Ouray Visitor Centre to the north, but since you're doing a round, you can start and stop wherever you want. For example from your camping spot, which is so easy.
2. Cascade Falls
If you visit Ouray, you really can't ignore Cascade Falls. The large, imposing waterfall can be seen from many places in the town and you only have to drive (or walk) up a few hundred meters to arrive almost directly at the falls.
For the daredevils among us there is also the possibility to walk behind the waterfall and to take a cool picture there. When you look at the Cascade Falls straight ahead, there is a small trail on the left that leads you to the waterfall. Be careful because you will have to go through a bit under protruding rocks while the abyss is on your right.
But let's face it, isn't this a picture?
Also read: Ice Lakes Trail: Beautiful Lakes and Waterfalls | Roadtrip USA (28)
3. Food and drink
Ouray has of course (as a tourist town) numerous souvenir shops, cozy bars, cute coffee and ice cream places and fine restaurants. You can easily fill a whole day here in terms of shopping.
Ouray Brewery
We enjoyed a few beers at and from Ouray Brewery (location here ), with a fine view of Main Street. We had already cooked our prakkie at our camper, but the citizens passing by made our mouths water. So if you get the chance…
Gold Belt Bar & Grill
The next day, after visiting Cascade Falls, we quenched our thirst at Gold Belt Bar & Grill (Location here † From the roof terrace we had a nice view of the surroundings. We couldn't resist ordering a pizza too. This one was affordable and the pizza was so tasty, we fought over the last piece.
Mojo's Coffee Chai & Teas
The morning we arrived in Ouray, we had a very cute coffee shop Mojo's Coffee Chai & Teas (Location here ), drank cappuccino. It is located just outside the hustle and bustle of Main Street, but the locals certainly know where to find the place. It was already very busy at 9 o'clock in the morning.
Inside people were busy working on laptops (they have good WiFi) and the coffee we ordered tasted very good. Apparently they used good espresso, which isn't very common in America, because I've been bouncing with energy all day.
Mouse's Chocolates & Coffee
Oh yeah! And if you love sweets like I do, drop by Mouse's Chocolates & Coffee (Location here † I stuck with a scoop of ice cream, but the place was full of cookies, fudge, chocolate and what else…
After Ouray it was clearly time to pay attention to health again, haha.
4. Hot Springs
In the north of Ouray you will find so-called hotsprings (Location here † While the source may be natural, the rest is not. A large swimming pool has been built. You pay an entrance fee of 18, and you can enjoy a whole day of hot and cold baths.
Although I love swimming, I am not a fan of crowded pools. Fortunately, they have a section at this pool that is only intended for adults. There I found a quiet spot to sit in the sun, do some reading and of course immerse myself in warm water.
I went from about 4 in the afternoon to XNUMX:XNUMX in the evening. It was a perfect end to a perfect day in Ouray!
Camping
There are two options for camping in Ouray. One of these is a campsite in town called 4J+1+1 RV Park (Location here † There are many advantages to staying here. You are a few minutes' walk from the center, there is a clean shower and toilet block and you have the opportunity to do the laundry. The price, on the other hand, is quite high. We paid about USD 47 (in total) for one night without electricity or water.
Story: When we stayed at 4J+1+1 RV Park, we saw a bear for the first time during our trip through the USA! It was nighttime and we were asleep when we heard a rumble and something rushed past our camper. We woke up with a start and looked through our window. About 10 meters away under a lamppost, a bear was sitting comfortably looking around.
I thought it was quite a beast, but the campsite manager told me that it is only a youngster.
Just outside Ouray, about 8 km from the center, you have Amphitheater Campground (Location here ), a campsite of recreation.gov† You may be a little further away from the center, but you do have a good view of the city and there is a good chance that deer and other wildlife are walking around you.
Unfortunately you cannot reserve the camping pitches. These are awarded on a 'first come, first serve' basis. If you want to stay here and visit Ouray during a busy period, it is wise to report to the campsite early.
Conclusion
Ouray may be a small town, but there are plenty of options. Whether you are looking for fun, a good walk or relaxation, you can find it in Ouray!
---
Plan your vacation to America here
---