After spending a day in Black Canyon of the Gunnison National ParkIt was time to drive again. The Destination: The Rocky Mountains! Rocky Mountain National Park as it is officially called is one of the most popular National Parks of America. Because we are there in June, it was therefore important to book entrance in advance. It is already so busy that you cannot enter the park without a reservation.
In this blog we take you through the park along high mountain peaks and we drive along deep valleys without crash barriers. Believe us, it was sometimes sweating behind the wheel with those gusts and deep chasms. Nevertheless, the violence of nature and the beautiful animals soon made up for it.
---
The ultimate tour of North America
This article is part of a large one-year tour the United States en Canada in 2022, with a Dutch 4×4 camper that we shipped ourselves… It is a bucket list worthy and an once in a lifetime experience that will never be forgotten.
We wrote almost 100 articles about this ultimate tour. Below is a handy overview in 5 expandable categories.
1. Preparation
2. Highlights & Itineraries
3. Cities & places of interest (AZ)
4. National Parks & Monuments (AZ)
5. Plan your vacation to America here
---
About Rocky Mountain National Park
The park is located in the north of the state of Colorado. The mountains, the rocky mountains, stretch from northwest Canada all the way to New Mexico, a southern state of the USA. The park therefore only covers a small part of the entire Rocky Mountains. In the park you will (of course) find mountains, mountain lakes, waterfalls, forest and wild animals.
There are several ways to discover Rocky Mountain National Park. On foot, by bike, and of course by car. By the way, make no mistake about the size of the park, even by car you are on the road here for hours, meandering through the various mountain passes. We mainly discovered the park with our own car (motorhome) and got out at various places to go to a viewpoint or to walk a bit. More about this below, but first we will tell you about the permit that is needed for your visit.
Allow | Timed Entry System
Rocky Mountain National Park and the Bear Lake section are extremely popular with visitors. The places are even so popular that you can't just go there anymore. From May 27 to October 10 it is necessary to book your entrance for the park and the lake. If you know about two weeks in advance when you want to visit the park, you can book the entrance in time via this website or using the QR code on the information sheet below. Note that the Bear Lake entrance fee is included (if you intend to).
Remark: If you're not as organized (just like us), luckily your chance isn't gone yet. The tickets are often sold out quickly in the high season, but every day at exactly 17:00 pm a new batch of tickets for the next day online.

Make sure you are ready at that exact time. We did it this way and could easily get access for the next day.

The permit costs only 2 dollars in administration costs.
Although we came well prepared and had reserved an entrance between 06.00:08.00 AM and 6:8 AM, for both the park and Bear Lake, things turned out differently. We were at the entrance to the park before XNUMX o'clock. There was no park ranger to check on us yet and luckily we were able to continue on. We arrived at Bear Lake later than XNUMX hours (the drive took longer than expected), but were still allowed to enter this part of the park.

We do not guarantee, but if you are unable to obtain a permit, it is possible that if you arrive at the park before 6 am, you can just enter…
Accommodation (campsites and wild camping)
In the park: The park has five campsites, which are very popular and are therefore fully booked well in advance. Through recreation.gov you can book a camping pitch. Only on Long Peak Campground they have tent camping spots on a so-called 'first come, first serverd' basis. If you manage to get a spot, it will cost between 30 and 60 USD per night.
Campsite in the National Forest: South of Rocky Mountain National Park and around Grand Lake, Shadow Mountain Lake, and Lake Grandby (location here ), campgrounds can be found from the National Forest. You can also do this via recreation.gov book and it will cost you between 25 and 65 USD per night (depending on the campsite and the type of site). There are also many first come, first served spots. Some campsites also have showers available.
With high hopes we drove to a number of (very nice) campsites at Lake Grandby, but unfortunately there was no more space available for us… Everything was full!
Wild camping in the National Forest: So we had to find something on our own. We ended up staying at a wild camping spot south of the park near the town of Grand Lake on Still Water Pass. We found these via the app iOverlander. There were several places to be found in the (bandaged) forest. It was busy and we still had to look for a free place, but we found a place with a beautiful view of the lakes!
What was also exceptional about this place is that we once again had good internet coverage. We therefore stayed an extra night so that we could do some work on the website. The sunsets and sunrises were all magical, by the way. We saw all the colors of the rainbow here..
Those looking for something more challenging can also take a turn to one of the other, higher lakes. You can choose from Bierstadt Lake, Nymph Lake, Dream Lake en Emerald Lake. All these lakes are about 1 to 4 hours walking distance from Bear Lake.
Driving yourself | Kawuneeche Visitors Center
There are three options to enter the park. We chose to enter via road 34 and the Kawuneeche Visitors Center in the southwest of the park. You can also enter the park from the east via roads 7 and 36.
We chose the south-east, not only because we happened to come from there (we drove via Gunnison National Park to Rocky Mountain National Park), but also because this is (according to) the most beautiful route to drive.
Montane (up to 2750 meters)
You start here at the lowest level of the region, the montane. That is to say, large expanses of grass, flowers and countless different tree species that merge into hills with the imposing Rocky Mountains in the background.
This is also the region where you can spot the most wildlife, especially if you set out early (05:00am – 06:00am). As soon as the crowds enter the park, the animals move into the hills and forests, making them much more difficult to spot.
Subalpine (2700-3500 meters)
The Subalpine portion is the portion where rivers form from the melting ice water. It is also the place where you get an increasingly beautiful view of the montane (valley) have! You really get to the top from here.
Personally, I think this is the most beautiful part of Rocky Mountain National Park. The many streams of meltwater come together here and form rivers, which again and again flow into an even larger river. Because we are high in the mountains here and the slopes are steep, the water thunders noisily down here.
All that water creates green, lush forests and of course all that water, the fertile soil and green forests also attract a lot of animals. As far as I'm concerned, it's the best that mother nature has to offer, you can't wait to see it here.
This is also the best place to spot the mighty Elk (wapity). It is the largest deer species in the world! The males can weigh as much as 475 kilos and the antlers are much larger and sturdier than other deer species.
We were again lucky enough to bump into a small herd. They kept a close eye on us, especially the alpha male who has to protect the rest of the herd (as seen in the photo below).
Slowly but surely the trees begin to make way for grass and you see more and more snow-capped mountain peaks. Along the way we stop a few more times to enjoy the view.
Alpine (from 3500 meters)
Above 3500 meters you leave the Subapline part behind you and enter the Apline part. The trees give way to snow in winter and green grass in summer. You can see in the photo below which way we got here from the valley.
High peaks, deep valleys
Now that you are driving in the Alpine section, you can admire the high peaks of the park. Long's Peak at 4346 meters is the highest point of Rocky Mountain National Park.
Not only are the peaks high, the roads through the national park also take you to great heights. The highest point we visited was 3570 meters at Forest Canyon Overlook. So you don't necessarily have to go hiking or climb mountains to get high!
For people with a fear of heights, this route is quite a challenge to drive. The wind is often strong, the precipices are steep, kilometers deep and there is no crash barrier. The camper went up and down with the sudden gusts at this height. So two hands on the wheel 🙂 Watch the video below to get a better picture.
From viewpoint to viewpoint
While driving through the high mountain passes you will pass several viewpoints. Here you will find some information about the park on site and look tens of kilometers away, surrounded by high, snow-capped mountain peaks.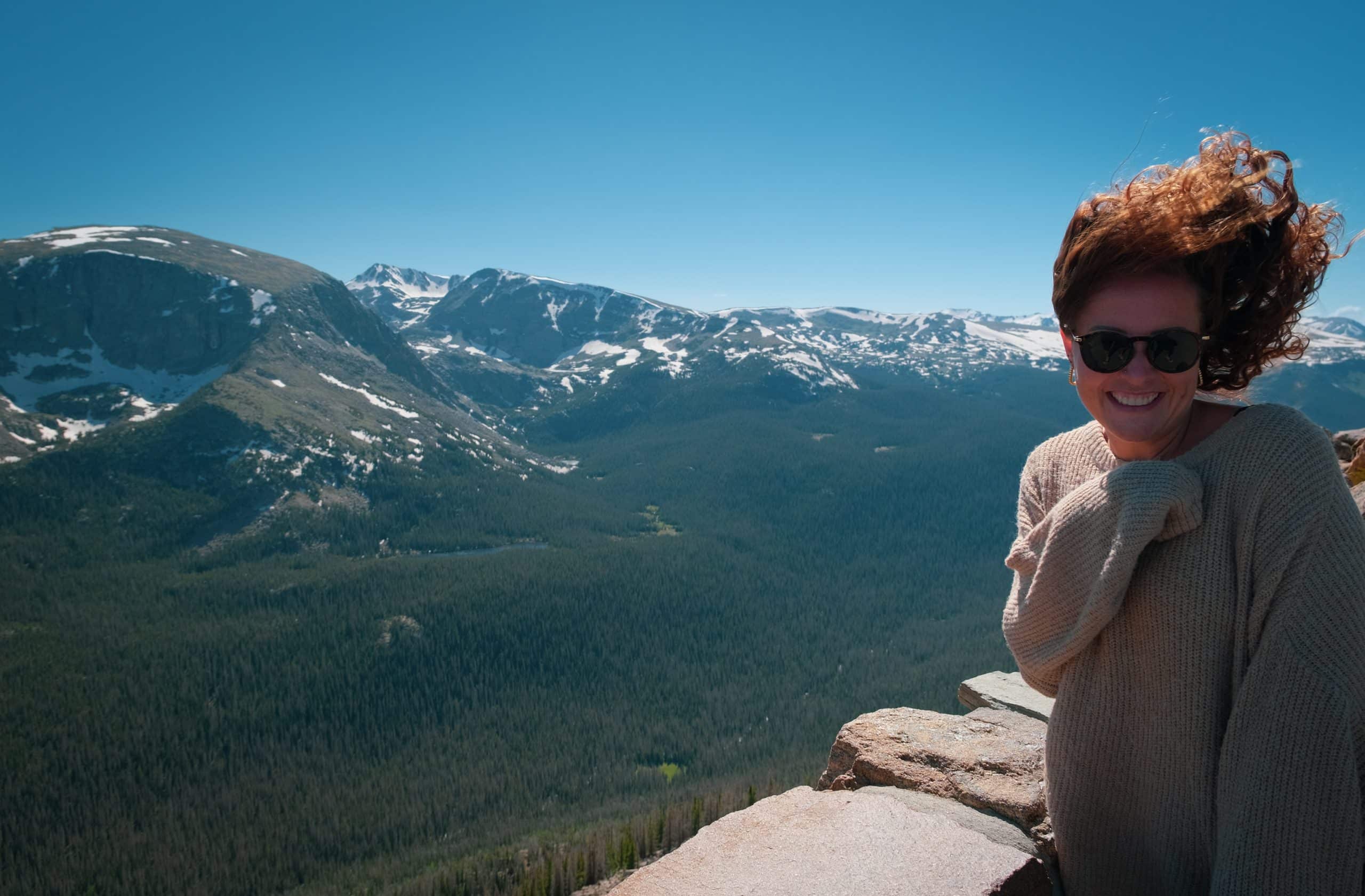 Keep your hat or cap tight or leave it in the car, because you are guaranteed to lose it. We saw several flying around during our visit to the park!
Weather and wind
Don't underestimate the wind here. It can go really fast and especially the sudden gusts can surprise you. Every year accidents happen with cars, campers and (caravan) trailers that disappear into one of the deep ravines due to sudden gusts of wind. Most people who have an accident here don't survive.
Hiking in Rocky Mountain National Park
Once you've conquered your fear of heights and left the windswept Alpine by car, you'll drive into a valley somewhat sheltered from the elements. This is the perfect place to take a nice walk and there are many options for this.
Bear Lake
For example, there are a number of mountain lakes to visit. The most famous and popular is Bear Lake. Bear Lake is located at 2888 meters and is frozen for much of the year. In spring and summer, the lake often turns bright green or bright blue, depending on the season and from which point of view you view the lake.
A loop around Bear Lake is an easy walk of about 45 minutes. It is very flat and wheelchair friendly with plenty of shade, so suitable for almost everyone.
Other trails and walks
Bear Lake is also the meeting and starting point for many other activities and trails. From Bear Lake you can take various other walks to other sights, for example to the Alberta Falls.
Note: This is the time for a one-way hike from Bear Lake. you have to go back too!
Alberta Falls
Another fun trail you can do is the trail to Alberta Falls. We chose this walk because it takes about two hours. We had already walked for an hour around Bear Lake, so we thought this was a nice length.
There is plenty to see on the way to Alberta Falls. Super cute squirrels often look you straight in the eye. Unfortunately, this cute behavior is the result of people feeding them nuts or other foods, which is strongly discouraged. In fact, it is strictly prohibited.
You then cross small streams and wooden bridges a few times and slowly but surely you hear the roar of the water coming closer. The entire river is actually a kind of waterfall, a lot of water comes down.
Conclusion
Rocky Mountain National Park is one of the most visited national parks in America. It's also easy to understand why. The immensely high mountain passes where you can drive with your own car without crash barriers but with deep valleys below you, leave many drivers behind the wheel with sweaty hands.
But there is more than just high mountain peaks and snowy peaks. In the green valley you will be treated to green plains, lush forests and of course the wildlife that America is so famous for. Black bears, Elk (Wapity) and Elk are spotted in abundance here.
Here you can choose from the many hiking trails, admire a range of emerald green lakes and gaze out on the high mountain peaks for countless miles. What does a man want more?
---
Plan your vacation to America here
---