after again a beautiful sunrise right by the sea We were ready for history and culture again. We like a bit of variety. Over the past few days we have descended further south and have found a place in the middle of St. Augustine, the oldest settlement in America. We only stayed here for one night, as St. Augustine is quite a small city that you can easily explore in a day.
---
The ultimate tour of North America
This article is part of a large one-year tour the United States en Canada in 2022, with a Dutch 4×4 camper that we shipped ourselves… It is a bucket list worthy and an once in a lifetime experience that will never be forgotten.
We wrote almost 100 articles about this ultimate tour. Below is a handy overview in 5 expandable categories.
1. Preparation
2. Highlights & Itineraries
3. Cities & places of interest (AZ)
4. National Parks & Monuments (AZ)
5. Plan your vacation to America here
---
Where we stay
This time we stayed in the middle of the old town of St. Augustine. We also found this place again via iOverlander, where various campers indicated that they could stay one night without any problems at this place, which is located directly on the water. During the day you pay 8 dollars an hour from 5 a.m. to 3 p.m., but parking is free after 5 p.m. There are also no signs stating that you are not allowed to park after this time.
After a quiet evening and night (when I saw the police drive past a few times…), we woke up and looked out over the water. Of course we start the day again today with sunrise and a fresh cup of coffee!
Coffee that I made with our own water filter filter system and ours 2200 watt electric kettle which are controlled by the Ecoflow power station† It's the luxurious comforts we have in our 20 year old camper!
After coffee it was time to explore the city, but before we tell you about this, let's first give you some information and history about the city.
About St Augustine | The oldest city in the US
St. Augustine is a place in the US state Florida and administratively falls under St Johns County† The city was founded in 1565 by the Spanish admiral Pedro Menendez de Aviles.
St. Augustine is with that the oldest city or settlement in America and the place therefore breathes history. The large fortress to protect the settlement and the narrow, European streets are living proof of this.
And wherever you go in St. Augustine, chances are you'll come face to face with American history. In addition to narrow cobbled streets and colonial architecture, you will also find many Romanesque-style buildings here.
While the main draw here is the plethora of sights dating back to the Spanish occupation, the old town offers other forms of entertainment as well.
Think various boutiques, eateries, live music venues and art galleries. For travelers with children it is St. Augustine Pirate & Treasure Museum well worth a visit.
Shopaholics can't pass up the chance to check out St. George Street. And once you're ready to relax, pack your things and head to the beach. As with many coastal Florida towns, St. Augustine offers excellent access to the Atlantic Ocean. Here it is almost all year round sunshine!
San Marcos castle
San Marcos castle is the oldest fort in the United States and arguably St. Augustine's most famous landmark. We visited before the fortress in Amelia Island and therefore plan to take a closer look at this fort as well, but…
…To our surprise, the entrance fee for this fort is a mere $15 per person! If you've never seen a fortress like this from the inside, definitely go for it! However, we think $30 + taxes is too expensive for half an hour of entertainment (and we've already seen countless of them) and so this time we make a tour around the fort.
Near the entrance of the fort I saw this beautiful bird! No idea what kind of bird, but it sure is beautiful.
Flagler College | St Augustine
Of all the universities I've ever seen in the world, Flagler College perhaps the most beautiful. What a bizarrely beautiful entrance and courtyard! It just made me quiet for a while… While the students whizzed around me on electric scooters to get to class (it was just after 08:00 AM). When everyone was inside I saw my chance to make a quick video.
I really wanted to go in, because the beautiful lobby and the rest of the building are supposed to be amazing… Unfortunately, it seems to become a trend during this trip, as I wasn't allowed in. The building was closed to the public due to exams. So unfortunately I didn't get further than the front and the first courtyard garden with a fountain.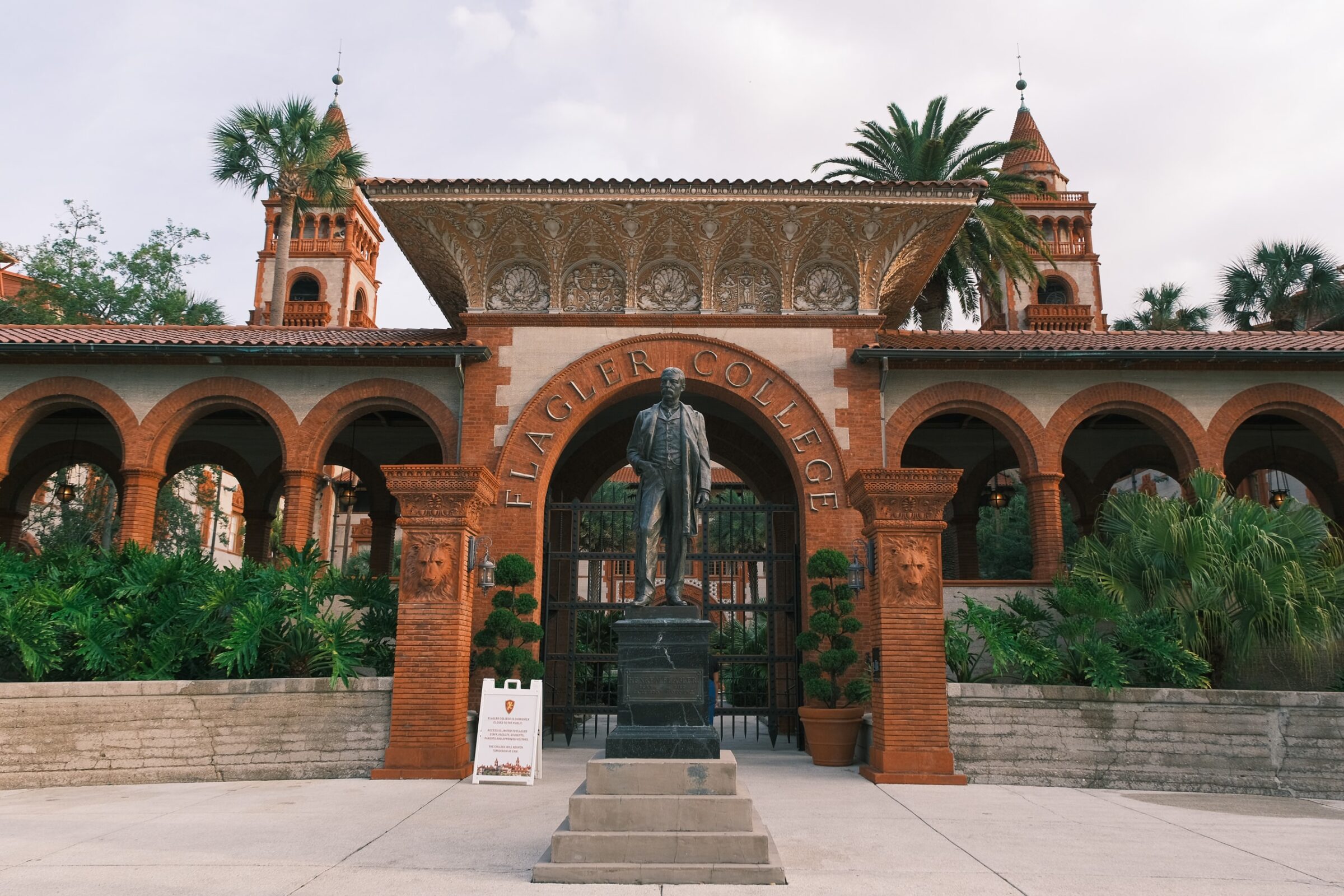 It is normally allowed to walk around here and there are even tours available that tell you everything about the architecture and history. Shame!
Lighter Museum
When I turned myself 180 degrees, there was another beautiful building: the Lighter Museum† Here too I was immediately treated to even more splendor, but also the harsh reality.
As I take a photo of the fountain with the building behind it, I see two homeless people lifting a crack pipe. It is still early in the morning and there is no one else to be seen. The men see that I see them busy there on the bench and I think; nothing to worry about and have a nice walk.
I came a little closer and one of the men spoke to me. I immediately expect that they want something from me, a dollar or so… To my great surprise, I am offered something!
Because the men have the greatest pleasure there on the bench, watching that crazy tourist (me) who alone takes pictures here in the early morning.
"Hey man, if you want a hit from the crackpipe: it's free for tourists because we have plenty over here."
There's some gibberish at the end with laughter in between. His friend, meanwhile, can't stop laughing. While they offer it again with a smile and assure me that I don't have to be afraid and it is actually free, I politely decline. I don't really know what to do with the situation, but it was funny. The men were clearly having fun, turning the awkward situation into something funny.
I thank the two gentlemen and continue on my way.
"See ya later, dude!"
St. George Street (looks like an amusement park)
I then continue my walk towards St. George Street. This is in fact 'the place to be' in St. Augustine according to some locals I spoke to in Florida. In good spirits I go there early in the morning, because I just couldn't get a decent photo the night before because of the crowds.
This street looks like an amusement park! Everything here revolves around tourists and children. Ice creams, cheap souvenirs, living statues and more of that sort of thing. Malou and I had therefore seen it the night before after half an hour. We just don't like that...
But unfortunately I also have bad luck this morning, because the street is strewn with homeless people who are still sleeping and/or just waking up. It is only a narrow street of about 300 meters and yet I see about 20 of them lying here, bizarre!
Just walking around the city
So I decide to take my loss and make the best of it. I randomly walk around St. Augustine while Malou parks the camper in the large parking lot. Malou doesn't feel like going for a walk this early morning, which is of course fine. Toedeloe!
As I watch the sun rise behind the bridge in the distance, I realize that St. Augustine really does have two faces. In the afternoon and evening it looks like a funfair and in the night and morning it is strewn with homeless people. I have unfortunately seen this many times in Florida. Fortunately, the homeless here do not suffer from the weather, because the temperature here is also very pleasant at night.
I take another tour of the city while I take some pictures and in the meantime enjoy a street musician who plays his instrument beautifully.
Time to leave
After only one day we actually saw it in St. Augustine. I was not allowed to enter Flagler College, some museums are closed and the hotspot of the city, St. George Street, is a bit too touristy for us to enjoy. Still, I'm glad we stopped by. On to the next destination! (and we do the laundry on the way…)
In the next blog we visit Welaka State Forest where we take a lovely walk in nature and meet Mike, a nice American war veteran. Then we drive on to Ocala State Forest where I almost drive the camper to a total loss during a short off-road adventure full of mud and potholes.
You can read all about it in the next blog!
---
Plan your vacation to America here
---
Seen a mistake? Ask? Remark? Let us know in the comments!