Death Valley is one of the most famous National Parks of America. The park is a collection of absolute extremes. This is where the lowest point is North America and the hottest temperatures in the world are also measured here. In this article we tell you everything about the park and, as usual, we also give our personal tips for Death Valley.
A visit to this beautiful, dry and above all warm national park is a treat for the senses. From vistas as far as the eye can see, to absolute silence and crackling salt crystals in the sun. We have now visited this park twice for several days. Once in 2016 and again in 2022. Hopefully our tips for Death Valley will help you, so that you too can enjoy it to the fullest during a visit to the park.
---
This article is part of a large one-year tour the United States en Canada, with a Dutch 4×4 camper that we shipped ourselves… It is a bucket list worthy and an once in a lifetime experience that will never be forgotten.
We wrote almost 100 articles about this ultimate tour. Visit our North America page for more information.
---
About Death Valley National Park
As the hottest, driest and lowest national park, Death Valley is a land of extremes. The park is more than a burning desert. Death Valley offers visitors a striking contrast of landscapes to explore. From the snow that freezes the park's towering peaks to flower meadows and oases that offer escape, from the heat to endless desert plains. It was really fantastic to drive around here with our own camper The Netherlands.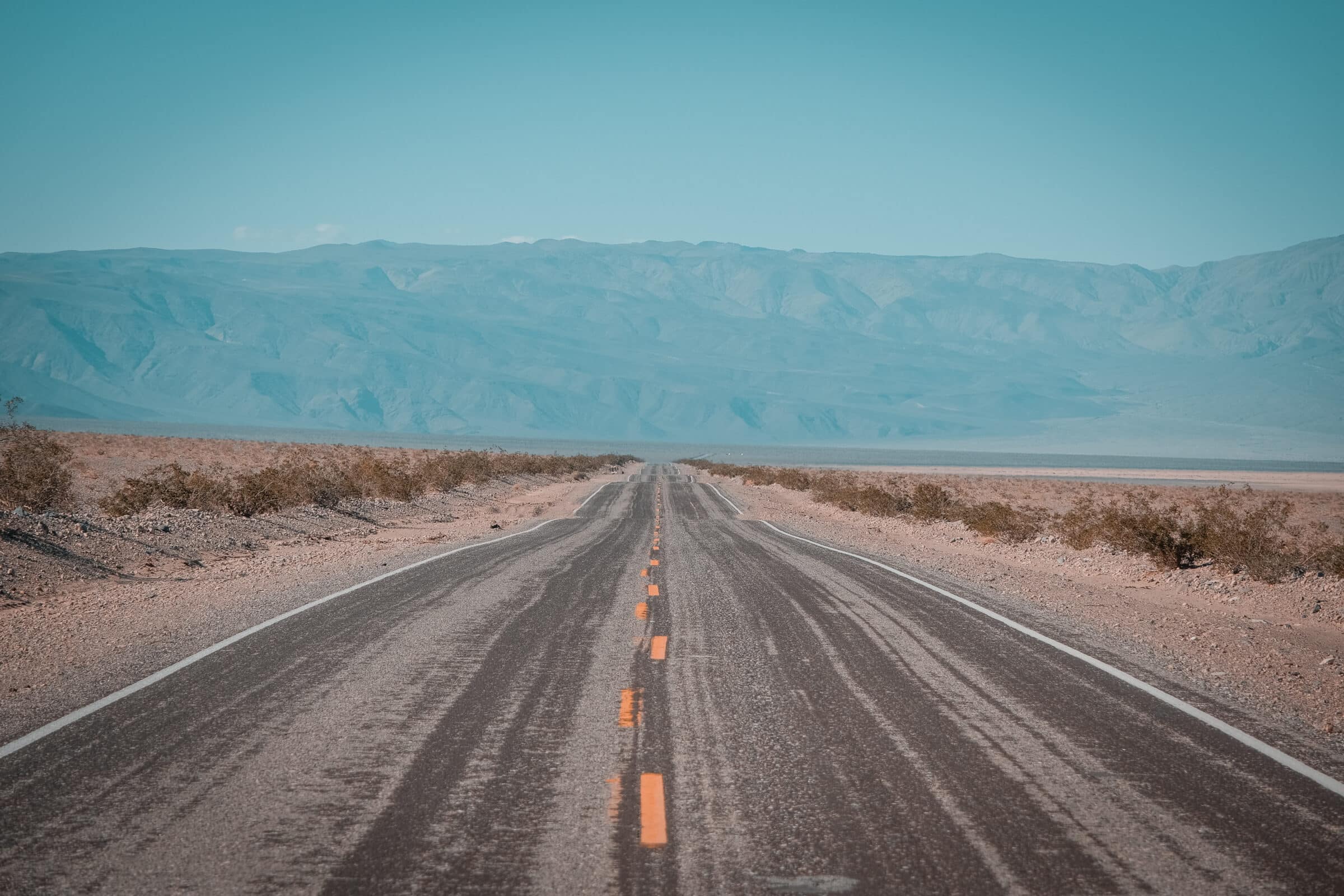 Highest point
Telescopic Peak (Location here), is the highest point in Death Valley National Park. It is also the highest point of the Panamint range. From the top of this mountain you can see more than one hundred and fifty kilometers on clear days. The mountain is named for the great distance visible from the top. A telescope has also been built on the mountain to look at the stars.
Lowest point
At 86 meters below sea level it is Badwater Basin (Location here) a surreal landscape that deceives the senses. What many visitors mistake for snow covering the ground is actually a thick layer of salt at the bottom of the valley. Badwater Basin, at 86 meters below sea level, is the lowest point in North America continent.
Hottest point
Death Valley is known as the hottest place on earth and the driest place in North America. The world record highest air temperature of 57°C was recorded in furnace creek (Location here) on July 10, 1913. Summer temperatures often reach 49°C in the shade with nighttime temperatures well above 30°C.
A visit to Furnace Creek in Death Valley is therefore one to prepare well. Death Valley is remote and if you visit the park especially in the summer, it is best to bring plenty of extra drinking water. Cars are known to have problems with cooling in this park, so if you break down, make sure you can survive in the blazing sun for at least several hours.
Sights
Below you will find an overview of the most famous and most popular sights in Death Valley National Park.
Pro Tip: with every point of interest we put a 'Google Maps – location herelink at. Use these! If you click on these links, Google Maps opens and you can save the place on your own Google Maps.

This is useful because you then have all the important sights at hand during a visit to Death Valley. Simply open your Google Maps app when you get there to view and navigate your saved favourites.
1. Furnace Creek
I deliberately put Furnace Creek at the top because this is the place where most visitors to Death Valley spend the night. In the town of Furnace Creek you have The Ranch At Death Valley (hotel and lodge), Oasis at Death Valley (hotel and cottages) and also some campsites where you can go with both large and small campers. Where and how you can stay here exactly, I will tell you more about that at the bottom of this blog.
A dreamlike Oasis
So the town of Furnace Creek is more or less the only place you can go in Death Valley. Don't worry about that, because it's beautiful. It is a dreamlike oasis in the middle of the desert. It is green, beautifully maintained, there are swimming pools to cool off and it breathes history.
It was in this place where the first explorers of Death Valley settled, because a hot spring was discovered deep in the ground here. The first restaurant opened here in 1849. This historic restaurant and accompanying (saloon) bar are still there in 2022.
Historic Saloon
Walk in and order a cold beer in the historic saloon. While you can cool off here in the air conditioning, I absolutely recommend that you take a good look at what's hanging on the walls. From stuffed animals to historical paintings and 100+ year old 'Wanted – Dead or AliveWild West era posters. It really is like going back in time 100 years.
If you book a hotel room in Furnace Creek at The Ranch At Furnace Creek (here bookable) or camping at the campsite Furnace Creek Resort Campground (here can be booked), then you can use all facilities at the resort for free, including the beautiful swimming pool.
Cool off in the pool? Then take a look at the historic garden. Here you will find all kinds of objects that were used in the mines of Death Valley. There is also a beautiful, antique steam train here.
2. Furnace Creek Visitor Center
The official Death Valley Visitor Center (location here) is also located in Furnace Creek. Go visit it! Not only do you learn a lot about the geology and history of the park, you can also get free maps and get up-to-date tips about the current situation in the park (closed roads, dangerous points, etc.) and where you can see certain animals. mock.
Tip:: almost every national park in America has a theater in the visitor center where a film of about 30 minutes is shown about the park every 15 minutes. Sit down for it! This is the best way to quickly learn a lot about the park, including beautiful images.
3. Bathwater Basin
Badwater Basin (location here) is the most popular place in Death Valley. At -86 meters below sea level, it is not only the lowest point in North America, you will also find the enormous salt flats here that you can walk on. Definitely bring your sunglasses because when the sun shines, it is really dazzling white.
It can also get really intensely hot on the salt flats of Badwater Basin due to the reflection of the sunlight. 50 degrees is the rule rather than the exception in this place. So go early in the morning or in the evening, when the sun has set behind the mountains.
Tip:: Also for a short walk of 20-30 minutes, take a full bottle of water with you. It's really intensely hot here. You are guaranteed to get thirsty!
Tip:: Curious about what I shoot with? Then view the display below.
The ultimate world travel camera
Fujifilm X-T5 Silver + 16-80mm
The Fujifilm X-T5 with 16-80 is the ultimate all-round world travel camera† This camera has been declared several times by both the consumer association and Tweakers.net the best system camera you can buy.
Even on the automatic mode you suddenly feel like a professional photographer! You can effortlessly shoot the most beautiful photos, and thanks to the versatile zoom range of the 16-80 lens, you can easily get closer to the action anywhere in the world.
Pros:
The best tested camera

Fantastic photos

6.2K video

IBIS image stabilization

5 year warranty
Buy now
Our review
Want to support us? We earn a small commission if you make a purchase via our link(s), at no additional cost to you. Win win!
4. Dante's View
Dante's View (location here) is, in my opinion, the most beautiful viewpoint of Death Valley National Park. The viewpoint is 1669 meters above sea level while the Badwater Basin below it is 86 meters below sea level. From this point you therefore have a perfect view of the salt flat of Badwater Basin and Telescope Peak, the highest mountain in the park.
What I find so special about this place is that you can see the many layers of stone with the many different colors. Some pieces turn green or red, indicating copper or iron, for example. In combination with the beautiful white contrasts of the salt flats below, the view is very special. I don't know of any other place on earth where you can see something like this.
What was also striking during our visit in October 2022 is how much damage the 'Death Valley Flooding' of August 2022. The record-breaking '1000 year event' flooded much of Death Valley, causing major mudslides. Roads and bridges washed away. The large white salt flats we saw in 2016 were also now visibly full of brown scars from the mudslide. In the photo below you can clearly see that a lot of water and mud has recently flowed through the valley.
5. Devil's Golf Course
Devils Golf Course (location here) is not intended for golfing. Devils Golf Course got its name because "only the devil could play golf here". It is a bizarre landscape that has been carved by wind and rain into beautiful but jagged, razor-sharp rocks.
Tip:: If you listen closely, you can hear tiny pops and crackles of billions of tiny salt crystals expanding and contracting in the heat.
The sculpted salt formations form a rugged terrain that is delicate yet dramatic at the same time. You can carefully walk between them, but realize that the hard salt crystals are really rough and sharp. If you fall or scrape your ankle or shin along the edges, heavy bleeding will definitely result.
6. Mesquite Flat Sand Dunes
Death Valley National Park contains a number of large sand dunes, the Mesquite Flat Sand Dunes (Location here). While sand is present throughout the park, there are only a few locations where large dunes can be found. To create sand dunes, there must be a sand source. Erosion wears down the mountains to the north, wind carries the sand through the valley, and a barrier (the mountains to the south) prevents the sand from being blown further. The conditions at Mesquite Flat Sand Dunes are perfect for creating dunes.
You can park about 500 meters away and walk up the sand dunes. Again, you have to take the time into account. Go as early as possible and avoid full sun in the middle of the day. The sand is then really hot!
Tip:: do you have a surfboard or bodyboard with you? Take it up the sand dunes and slide down again!
The special thing about sand dunes is that they are never the same. They are constantly deformed by wind and weather. In 2016, Malou stood on the sand dunes (photo above), after a strong thunderstorm and wind earlier that month. At that time it was mainly a large messy sand mountain, without really nice folds in it.
In 2022 it was a lot more consistent again, as can be seen in the photo below. The calm but ever-present wind has delicately formed beautiful dunes again, as you also see in the Sahara desert or in the Great Sand Dunes National Park from Colorado.
7. Artist Palette
Artists Palette (location here) is a colorful display of rocks in Death Valley National Park that has to be seen to be believed. The natural phenomenon is located near the center of Furnace Creek and is one of the most photographed places in Death Valley.
The colors are created by the different minerals that are in the sand and rocks. Most of the photos do not represent the colors very well. Seeing them in person allowed me to see how many different colors there were. It's a very nice place and it's easy to visit in Death Valley.
8. Rhyolite Ghost Town
Rhyolite Ghost Town (Location here) is a real ghost town that came to life in the Wild West after a few prospectors discovered high-quality, extremely valuable gold ore in 1905. Several camps, including Rhyolite, popped up in the region.
As quickly as the town was built at the beginning of the 20th century, it disappeared again. When, after many years of success, no more gold was found in the mine, the town was suddenly abandoned.
Nowadays you will mainly find broken cars, collapsed buildings and art. For example, do you see the image of a man holding a bicycle in the photo above? Such beautiful works of art currently adorn the town. The only inhabitant of the town is currently the artist responsible for the sculptures.
10. Golden Canyon Trailhead
The Golden Canyon Trailhead (location here) is a short trail of about 30 minutes through a gorge. Towering walls and colorful side gorges invite you to explore. The canyon was named 'Golden' because of the gold-colored walls on the sides.
This easy/moderate hike is 3,2 miles round trip. Although most walkers turn around at the intersection with the Red Cathedral (the rocks you see in the distance), those looking for a more adventurous hike can continue for a further 0,8 km to get a closer look at the vertical walls.
11. Zabriskie Point
Zabriskie Point (Location here) is an iconic view of Death Valley and a favorite location to watch sunrise and sunset. The spectacular views from Zabriskie Point are among the most photographed in Death Valley National Park.
These yellow and brown stripped hills are formed by the immense force of water. Geological forces have pushed this rock upward for millions of years and the porous sandstone is now visible in the mountains of Death Valley.
12. Ubehebe Crater
Ubehebe Crater (Location here) is an excellent place to explore the power of volcanoes. It was here that molten lava came into contact with groundwater, creating steam that eventually produced enough pressure to explode and create a giant crater.
Although the Ubehebe crater is only one of about a dozen craters in the Ubehebe volcanic field, it is the largest and the youngest at an estimated age of 2100 years. The crater is about 0,5 miles (0,8 km) in diameter and ranges from 500-777 feet (152-237 m) deep, depending on which ridge it is measured from.
Practical information and tips
Current travel information
Whether you're from Californië or from Las Vegas traveling towards Death Valley, check always the current travel advice before you leave. There are frequent road closures due to falling debris or mudslides that damage roads. Because Death Valley only has a few access roads, omitting this check can just add 5 to 6 hours to your travel time, as we experienced ourselves in 2022.
We didn't pay attention for a moment and drove into a road that later turned out to be closed. This meant that we had to drive back for hours to a place where there was telephone coverage again so that we could see which roads were still open. We therefore missed our first night in Furnace Creek, a costly mistake.
Therefore, always consult the official website from Death Valley National Park. There you will find all the necessary travel information.
Best time to travel
This area is one of the hottest places on earth. I would therefore really not recommend a visit in the summer. The average temperatures in the period June to August are between 40 and 50 degrees. These are the official temperatures.
In some places, for example on the salt flats, it can get a lot warmer in the sun than 50 degrees. To avoid the hottest months is the period October through April the best time to visit Death Valley. October and April are the clear transition months, in which there is a chance of hot days in addition to reasonable weather conditions.
Car and RV tips
Make sure you fill the fuel tank completely if you come near Death Valley. There are two gas stations in Furnace Creek, but fuel prices there are about 100% higher than outside the park. So you pay double for the same fuel!
It can get freakishly hot in Death Valley. Rental cars and campers also have visible difficulties with this. Especially if you are also going to drive in the mountains, for example to Dante's View, you can engine hot become. So keep a close eye on the temperature gauge and drive slowly up in one low gear. Is the temperature still rising? Then slow down… As a last resort you can turn off the air conditioner temporarilyThis also requires a lot of extra power from your engine.
Hardly any facilities and shops
If you travel to Death Valley, you will find that there are hardly any facilities in and around the national park. Do your shopping outside the park and take plenty of drinking water with you. Because you lose a lot of moisture on extremely hot days and you may have to travel longer, it is better to take an excessive amount of water with you. Count on at least 3 to 4 liters of water per person per day.
Campsites
The most obvious place to stay with your RV is in Furnace Creek itself. You can then choose from four campsites. The two most famous are called the official of the national park Furnace Creek Campground (Location here) and that of the resort, called Furnace Creek Resort Campground (Location here).
The names are very similar and they are only 100 meters apart, but there are important differences! The campground, which is managed by the National Park, has good toilet and shower facilities and is usually a lot cheaper. The campground of the resort, on the other hand, gives you access to all facilities of the resort, including the swimming pool!
Don't expect too much from the campsite itself. It is mainly just an open gravel plain with about 50 places for campers and a basic toilet building. However, there are some fire pits available that are shared by the guests in the evening, which can be very cozy. It is therefore up to you to determine what is more important to you. In any case, we found the beautiful swimming pool decisive!
The other two campsites are on the other side of the road, just a few hundred yards away. These are Sunset Campground (Location here) On Texas Spring Campground (Location here). These campsites are fairly new and even still under construction (end of 2022). These campsites were completely empty in the month of October, but it is said that these campsites are also very popular in high season. Don't expect too much at these campsites either. They look more like a large parking lot with a lot of gravel and concrete and a few toilet buildings.
Tip:: Do you want to escape the heat? Then there are three more free primitive campsites available high up in the mountains at Telescope Peak. The three campsites are about 1,5 hours from Furnace Creek, see info below:

- Wild Rose Campground (Location here – suitable for motorhomes).
- Thorndike Campground (Location here – car and tent only).
- Mahogany Flat Campground (Location here – car and tent only).
Hotels, lodges and cottages
In and around Death Valley there are plenty of hotels, lodges and cottages where you can stay. However, the prices vary enormously and the location is also very important. Do you want to be relatively close to everything? Then stay in one of the two hotels in Furnace Creek.
Furnace Creek has two hotels in it mid to high segment. An average room or cottage here costs average $150 to $450 per night. These are perhaps the two most expensive hotels in the region, but for good reason. The location is perfect (in the middle of Death Valley) and there are many additional facilities such as a golf course, a tennis court and a large swimming pool to cool off.
The Ranch at Death Valley - Click here for availability.
Tip:: early booking pays off. That is a lot cheaper. These two hotels are fully booked almost throughout the high season and booking well in advance ensures lower prices.

Both hotels have a 'free cancellation' option up to 72 hours in advance, should anything come up. This way you can book with peace of mind.
On the edges of the park you will find more de budget options with rooms or cottages from $50 to $150 a night.
Amargosa Opera House & Hotel - Click here for availability.
Panamint Springs Motel & Tents - Click here for availability.
Shoshone Inn - Click here for availability.
Conclusion
That was it! It was now our 2nd visit to Death Valley, so we knew better in advance what we wanted to see exactly. The vast desert with endless roads and viewpoints are really fantastic to drive. The fact that we were here with our own Dutch camper this time made it extra cool.
We have been very spoiled in the past year America with all those great natural parks. And although Death Valley really is a sweltering desert where hardly anything grows, it is still an absolute must to visit. It is precisely those extreme weather conditions in combination with high mountains and immense salt plains that make it a unique place on earth.
The beautiful green oasis with swaying palm and date trees at The Ranch in Furnace Creek with accompanying swimming pool was a very welcome escape from the heat. We felt very lucky to visit this place for the second time.
---
Plan your vacation to America here
---