Most people know the three largest cities of Canada; Toronto, Montreal and Vancouver, but haven't heard much about Calgary yet. Neither do I. Yet it is a large and pleasant city, which is worth a visit. During our roadtrip we left our camper in the countryside to discover the city. In this blog you can read about the sights and we give you the best tips for Calgary!
---
Plan your vacation to Canada here
---
Our journey through the United States and Canada
This article is part of a major one-year journey that we (Chris and Malou van Wereldreizigers.nl), are currently making by the United States en Canada† We started in New York City and are through Washington DC en Baltimore (where we shipped our RV), first traveled south (Florida) and then made a full round of the country. At the end of July we crossed the border to Canada via Montana.
Organizing this trip took a lot of time and energy. So we had to US B1/B2 visa of one year and we spent weeks working on it renovating our 4×4 camper† Then we got to work on the RV to America to ship and in hindsight it turned out to be a Dutch vehicle insurance in America to be one of the biggest challenges.
When that was all over, we could finally focus on the anticipation: figuring out and planning all the beautiful places we want to visit. I built the ultimate roadtrip route through America and Canada of roughly 50.000 kilometers in Google maps and we are now making our dream come true! The interactive map can be viewed below.
More blogs from our trip through America and Canada

America
More America articles? We wrote in total 37 articles about America. The full list can be found in one of the five links above.
Canada
About Calgary
Calgary is a large city in the province of Alberta in Canada located about 80 kilometers from the Rockies. The city has about 1,4 million inhabitants, making it the largest city in Canada after Toronto and Montreal. Calgary city has a relatively small center. Apart from the high-rises in downtown, the city is very spread out and spread over a large piece of land. With approximately 900 km², it is the fourth largest agglomeration in the country.
Liveability
In 2022, the city was in third place (along with Zurich in Switzerland) on the list of the most livable cities in the world. This makes it the most liveable city in all of North America! When ranking, The Economist Intelligence Unit (EIU) looked at stability, health care, culture, environment, education and infrastructure. The city even scored so well that if it were included in the list of safest countries in Europethat it would be in the top 10.
History
The Bow River and Elbow River flow through the city. As far back as we can go in history, we know that people have always lived in the Calgary area. The black foot people came centuries ago to hunt and fish. The city grew considerably in the early 19th century due to agriculture and the construction of railways. Economically, in 1914 it received a further boost from the discovery of oil and gas. The first large hotels and skyscrapers followed not much later.
From oil and gas to tourism
The city has undergone a major change in recent decades. The gas and oil ran out and the city has invested to attract tourists. More than 3 million people visit the city every year.
They are particularly attracted to the sights and festivals, in particular the Calgary stampede, a major rodeo event in the month of July. People also like to come here for the natural environment, where Banff National Park en Lake Louise can be found. More about that later because we will of course visit those places.
Sights
Street Art and Architecture
Everywhere in the city you will discover art and special buildings. That makes Calgary incredibly photogenic. Chris has often taken his camera out of the bag and shot beautiful pictures. In ChinatownAlthough there are also many old and dilapidated buildings, there is much to see. Besides the delicious food of course
For example, you can walk through some buildings, such as the Calgary Chinese Cultural Center in the photo above. From the outside, the building looks little. It is mainly a piece of gray concrete, but as soon as you step inside you imagine yourself in a colorful piece of architecture. You can also see several walls in Chinatown that are beautifully decorated, or Street Art.
You will also find various works of art on the wall in downtown. Some are high on buildings and less noticeable, others are very well and prominently visible on buildings.
The Wonderland sculpture is also a special object to look at. It stands in front of the building which was given the name 'the bow'. In the 2nd photo below you will understand why it is named after an arch.
Tip:: In downtown Calgary, don't forget to look straight up every now and then. Some of the buildings are towering and while it all looks quite square and normal from below, it's often a feat of engineering at the top. It Telus Sky Building is such a building.
Viewpoints
Because we stayed north of the river, we always took a walk through the park to the city and back, where we could first enjoy the view. This naturally resulted in beautiful photos of the city, the river and the green surroundings.
Crescent Heights Lookout Point (Location here ) On mt. Pleasant Viewpoint (Location here ) give you a perfect view of the city. It is also nice to be in the vicinity of Crescent Heightsin Sunnyside Bank Park en Rotary Park, walking or cycling while looking at the city.
Sunset
The above-mentioned viewpoints are extra cool to visit when the sun goes down. The colors seem to change every five minutes.
Tip:: When it got dark we walked back to our AirBnB, but if you have the time (and inclination), night photography should be great here too.
Tip:: Curious about what we shoot with? You can read all about it in the display below.
The ultimate world travel camera
Fujifilm X-T4 Silver + 16-80mm
The Fujifilm X-T4 with 16-80 is the ultimate all-round world travel camera† This camera has been declared several times by both the consumer association and Tweakers.net the best system camera you can buy.
Even on the automatic mode you suddenly feel like a professional photographer! You can effortlessly shoot the most beautiful photos, and thanks to the versatile zoom range of the 16-80 lens, you can easily get closer to the action anywhere in the world.
Pros:
The best tested camera

Fantastic photos

4k video at 60 fps

IBIS image stabilization

5 year warranty
Cons:
Get used to it, many options!

Pricing
Buy now
Our review
Want to support us? We earn a small commission if you make a purchase through our link(s), at no additional cost to you.
Plus 15 Skywalk Network
The Plus 15 Skywalk network is a special piece of architecture conceived by the architect Harold Hanen in the 60s. The first floors of more than 130 buildings (!) are connected by 62 bridges and the network is still growing! You can now walk about 18 km over the first floors. You will mainly find eateries and shops. Several shopping centers are connected in this way.
The network is named Plus 15, because you are about 15 ft (4,5 meters) above the streets of Calgary. The advantage of this is that the people who walk there are no longer on the street and do not participate in the busy city traffic.
In addition, it is perfect in winter, when temperatures can drop to -30 Celsius. During the week, around noon, you can see it gets very busy with people moving from their offices (who work in the floors above) to the first floor for lunch.
In addition to restaurants and shops, there are also various courtyards. In 'The Core' shopping center is a warm tropical garden where you can relax. There are tables and benches here and there where you can enjoy your lunch. You can bring your own lunch or buy it at one of the many food courts.
Bridges and Parks at Bow River
With Center St Bridge you enter directly into Chinatown. On the bridge you can see four statues of lions. According to the Chinese, the lions come to life at night and roam the city. Another special (bicycle and walking) bridge is the Peace Bridge. On the side of the center you will find Peace Park, Eau Claire Park en Delta Garden. These are also places where you like to walk or cycle around.
Prince's Island Park
The above bridges and parks are all around Prince's Island Park (Location here ). You should not miss this park either! The park is an important factor that contributes to the quality of life in the city. The park hosts many festivals and events throughout the year. It also has enough facilities that people like to spend a day in the park.
Calgary Tower and Olympic Plaza
Although the Calgary Tower (Location here ) is no longer the tallest building in the city, it is still prominent. The tower is about 190m high and has an observation deck. From the deck you have a panoramic view of the city and surroundings. The floor is made of glass, so it is not for people with a fear of heights! The entrance costs 19 CAD (14,50 euros) for an adult.
Not far from the tower (location here ) do you think Olympic Plaza. The square was built for medal ceremonies during the 1988 Winter Olympics. Now it is used for events and festivals and in winter it is converted into a skating rink, welcoming locals and tourists alike.
Food and drink
Whether you're in downtown Calgary or beyond and whether you're on the Plus 15 Sky Network in one of the suburbs, Calgary has no shortage of tasty and multi-cultural food! Below are some great tips to quench your thirst and eat your barrel around.
Inglewood
Inglewood is a hip neighborhood in Calgary. You will find vintage shops, record stores, restaurants and breweries! High Line Brewery en Cold Garden Beverage Company are two of them. If you can't choose from the different beers they offer, ask for a beer tasting. The beer tasting of High Line Brewery was particularly popular with Chris.
Tip:: If you're in Inglewood don't forget to check out the record store Record Country Limited to visit. It is packed full of LPs, CDs, cassettes and 8-tracks.
Ari Sushi is a small but very nice restaurant where the sushi is freshly made in front of you. We were lucky that they still had a spot available. If you plan to eat there, it is wise to make a reservation. They are also often completely full during the week.
Downtown (8th Avenue SW)
El Furniture Warehouse is a cozy place where you can eat very cheaply and where you should especially try one of the cocktails. You mainly see young people there. The music is loud, so it's always alive. The food is tasty and a meal will cost you only about 9 CAD (6,85 euros).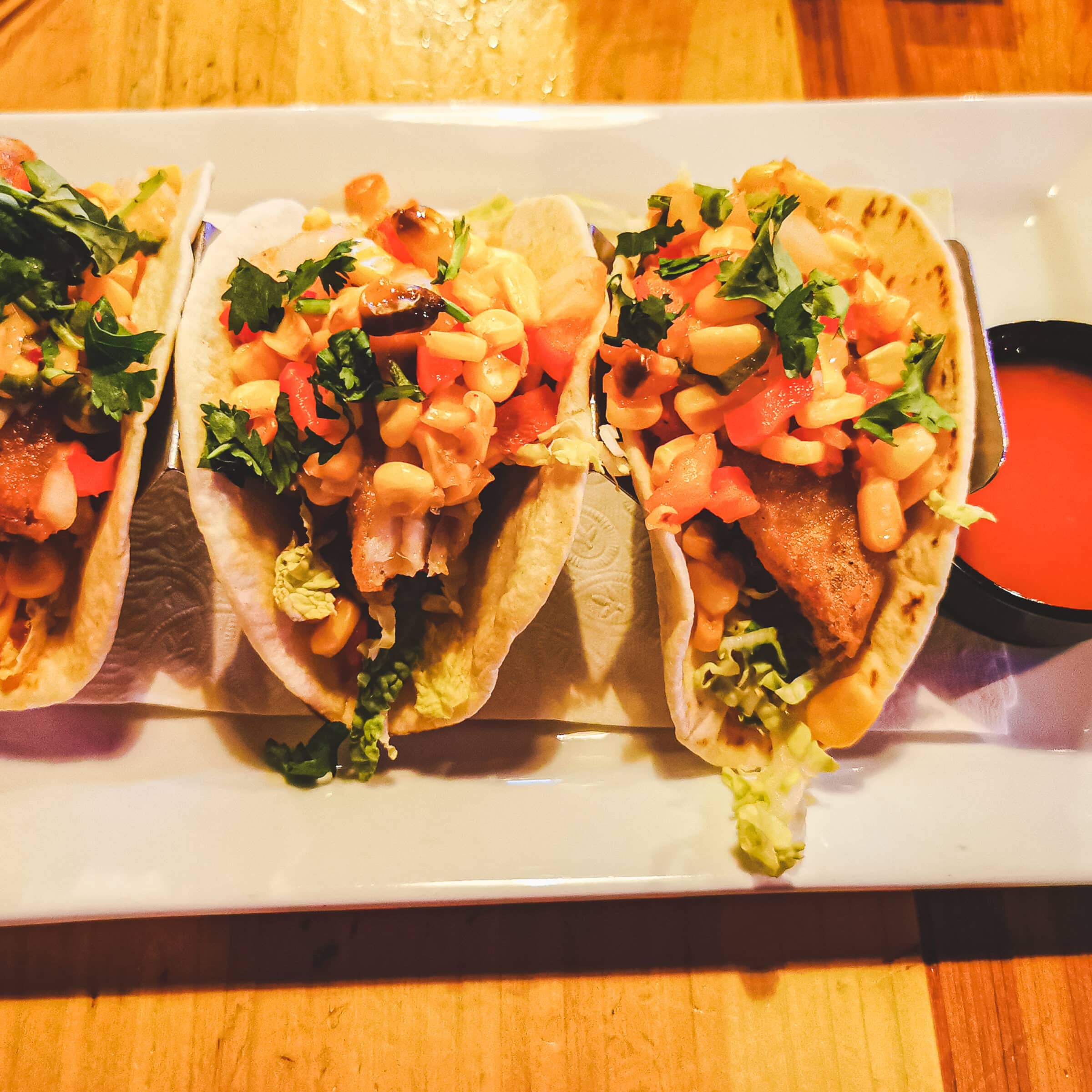 The entire street (8th Ave SW) is packed with these kind of hip places. From cheap and cozy bars to expensive, exclusive tents with dishes of 100 dollars or more. If you want to grab a terrace, people watch and eat good food, this street is the place to be.
Tip:: Before you go to Calgary, check out the concert program of the Palace Theatre (location and website here ). Who knows, one of your favorite artists might just show up when you get there.
17th avenue SW
South of downtown is 17th avenue SW, a long street full of cozy terraces and restaurants. Unfortunately, we didn't have the time and space in our stomachs to explore this place. We just tore through it with our scooters. Are you there on the weekend? Then you will find a lot of fun in this street!
Crescent Highs
In the district Crescent Highs north of the center, you can still find good and popular comfort food. Bee Boogie's Burgers (Location here ) you can eat a delicious burger among the locals. For dessert you would do well to go to Peter's Drive In (Location here ) to go for an old fashioned Milkshake. Both places were tipped off by a local who studied in the city and knows the city like the back of his hand.
Activities and transport
Sailing on Bow – and Elbow river
There are several rental companies for rafts, canoes and kayaks in the city. If you're a bit adventurous, you can brave the rivers right through the city. It is also possible to use your own boat or paddle board. A motorized boat is not allowed. You can enter the water in several places. Pay attention to the current and your safety; it is not a river for inexperienced swimmers. Wearing a life jacket is mandatory.
Neuron e-scooters and e-bikes
Everywhere in the city you see the orange e-bikes and e-scooters (electric scooters) from Neuron. With internet on your phone and the Neuron app, you can easily use and pay for them. They also ask you to read the rules before using them, as they can vary from city to city. For example, in Calgary it is mandatory to wear a helmet on an e-bike and strongly recommended when using an e-scooter. There are also rules about where you may or may not drive with the devices.
Tip:: You can buy SIM cards and E-sims for Canada at International sim.
It costs 1.15 CAD (88 euro cents) to unlock an e-bike or e-scooter and after that you pay 0.42 CAD (32 euro cents) per minute. You can also choose to take a pass for 3, 7 or 30 days. You then pay one amount per day and you can use the e-scooters and e-bikes for 90 minutes per day.
Tip:: Using Neuron you can also earn rewards for example learning the rules and parking your e-scooter or e-bike correctly. More information can be found in the Neuron app.
Free train in Downtown
De C Train in Calgary has a so-called fare-free zone. This means that you can travel for free with this train on the route between 3rd Street East en 11th Street West along 7th Avenue. Below in the image I have circled the part where you can travel for free by train with a yellow marker.
Do you want to travel further? Then you have to buy a ticket at the station. It costs 3,60 CAD per person and is valid for an hour and a half. You can travel with the Red Line from the Northwest to the South of Calgary and the Blue Line from the Northeast to the West.
Conclusion
Calgary is a unique city that offers something for everyone. Whether you're looking for sports activities, architecture, beautiful green parks or modern shopping centers, Calgary has it. You can walk around here for days and enjoy the parks or relax on one of the many cozy terraces and associated bars.
Tips from a local: Normally we mainly use the internet to discover a city. This time the information came mainly from another source; Jonathan. Jonathan is the son of Kim and Jakko where we stayed on the acreage for a week (more on that later!).

He studied in the city and knows the city like the back of his hand. His tips helped us find the many nice places in the city. Chris and I would like to take this opportunity to thank him very much for this. Thanks Jonathan!
In addition, there are also numerous festivals and events that attract people from outside. Walking around or cycling you quickly understand why it is the most livable city in North America.
It was a nice change from all the beautiful nature reserves in Canada. In any case, we really enjoyed it!
Plan your vacation to Canada here