Yoho National Park is often overshadowed by its big brothers Banff in the east and Jasper north of the park. Yet, like its brothers, Yoho has beautiful lakes, rivers, and waterfalls. Reason for us to also visit this park during our Canada- roadtrip and give you the best tips for Yoho National Park!
---
Plan your vacation to Canada here
---
Our journey through the United States and Canada
This article is part of a major one-year journey that we (Chris and Malou van Wereldreizigers.nl), are currently making by the United States en Canada† We started in New York City and are through Washington DC en Baltimore (where we shipped our RV), first traveled south (Florida) and then made a full round of the country. At the end of July we crossed the border to Canada via Montana.
Organizing this trip took a lot of time and energy. So we had to US B1/B2 visa of one year and we spent weeks working on it renovating our 4×4 camper† Then we got to work on the RV to America to ship and in hindsight it turned out to be a Dutch vehicle insurance in America to be one of the biggest challenges.
When that was all over, we could finally focus on the anticipation: figuring out and planning all the beautiful places we want to visit. I built the ultimate roadtrip route through America and Canada of roughly 50.000 kilometers in Google maps and we are now making our dream come true! The interactive map can be viewed below.
More blogs from our trip through America and Canada

America
More America articles? We wrote in total 37 articles about America. The full list can be found in one of the five links above.
Canada
About Yoho National Park
The history
Yoho National Park was established in 1886, simultaneously with Glacier National Park in the West. The Canadian Pacific Railway had just completed its transcontinental line connecting the fledgling nation of Canada. The spectacular scenery along the railway was an opportunity for the railway company to attract tourists.
Lodges and hotels were built to lure travelers into what was wilderness just a few years earlier. The famous Roger's Pass is located in the center of Glacier and Yoho National Park. The pass is named after Major AB Rogers, chief engineer for the railways. It has been designated a National Historic Site in memory of its role as an essential, yet dangerous, link in the construction of the transcontinental railroad.
The highest mountain and fossils
The highest mountain in the park is Mount Goodsir at 3567 meters high. Another well-known mountain is The President of 3138 meters. Due to the presence of claystone in these mountains, many fossils have been found. The Kicking Horse River flows through the park and Trans-Canada Highway 1 runs alongside it.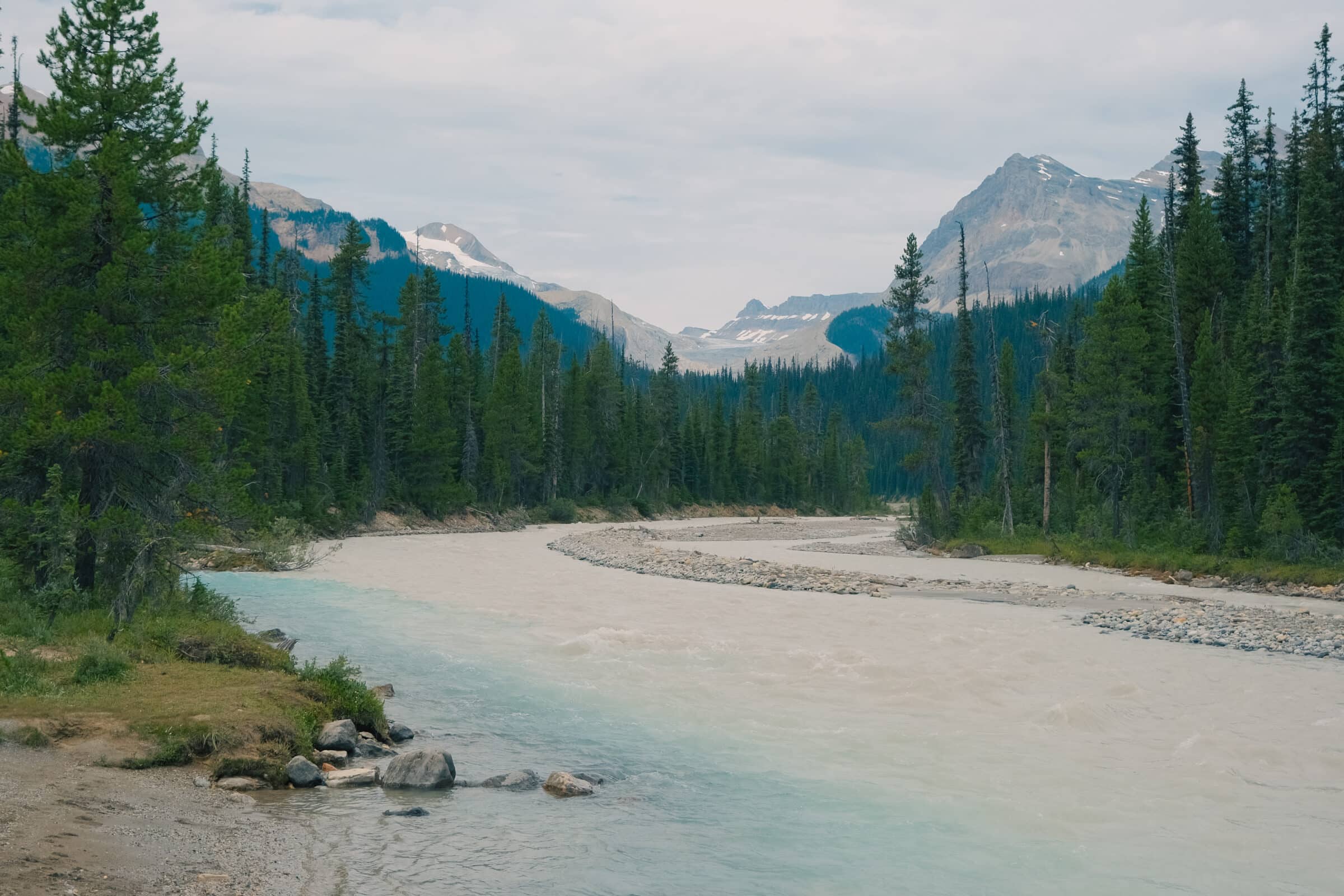 The size and location
The park is located in British Columbia, in the Canadian Rocky Mountains. The park has a relatively small area of ​​1.313 km². From Lake Louise you drive there on the Trans-Canada Highway 1, in about half an hour. To the west is the town of Golden, about a 25-minute drive away. In the park you will still find the town of Field, which is very small with its 300 inhabitants.
Things to do and places of interest
1. Takakkaw Falls and Laughing Falls
De Takakkaw waterfalls (location here ) are easy to reach by car or camper. There is a parking lot and after a few hundred meters of walking you are in front of it. You will therefore find many tourists who make a stop here. The waterfall is very high with its 373 meters. Canada's second highest waterfall. The water comes from the higher elevations Daly Glacier. Even in the warm summer months there is still enough water coming down!
Via the Iceline Trail you walk through the Yoho Valley, along the Kicking Horse River to Laughing Falls (Location here ). It is a walk of about 4,2 kilometers if you walk from the parking lot at the Takakkaw waterfall. You still have to go back and then walk a total of 8,4 kilometers, unless you want to challenge yourself and walk the entire Iceline Trail. Then you walk a challenging route of 21,7 kilometers where you go up at least 1000 meters.
A bit too much of a good thing for us! On this warm, but cloudy day, it was a beautiful walk through the woods with 9 kilometers. We regularly had to cross a river on wooden bridges as the melted glacier water thundered below us deafeningly.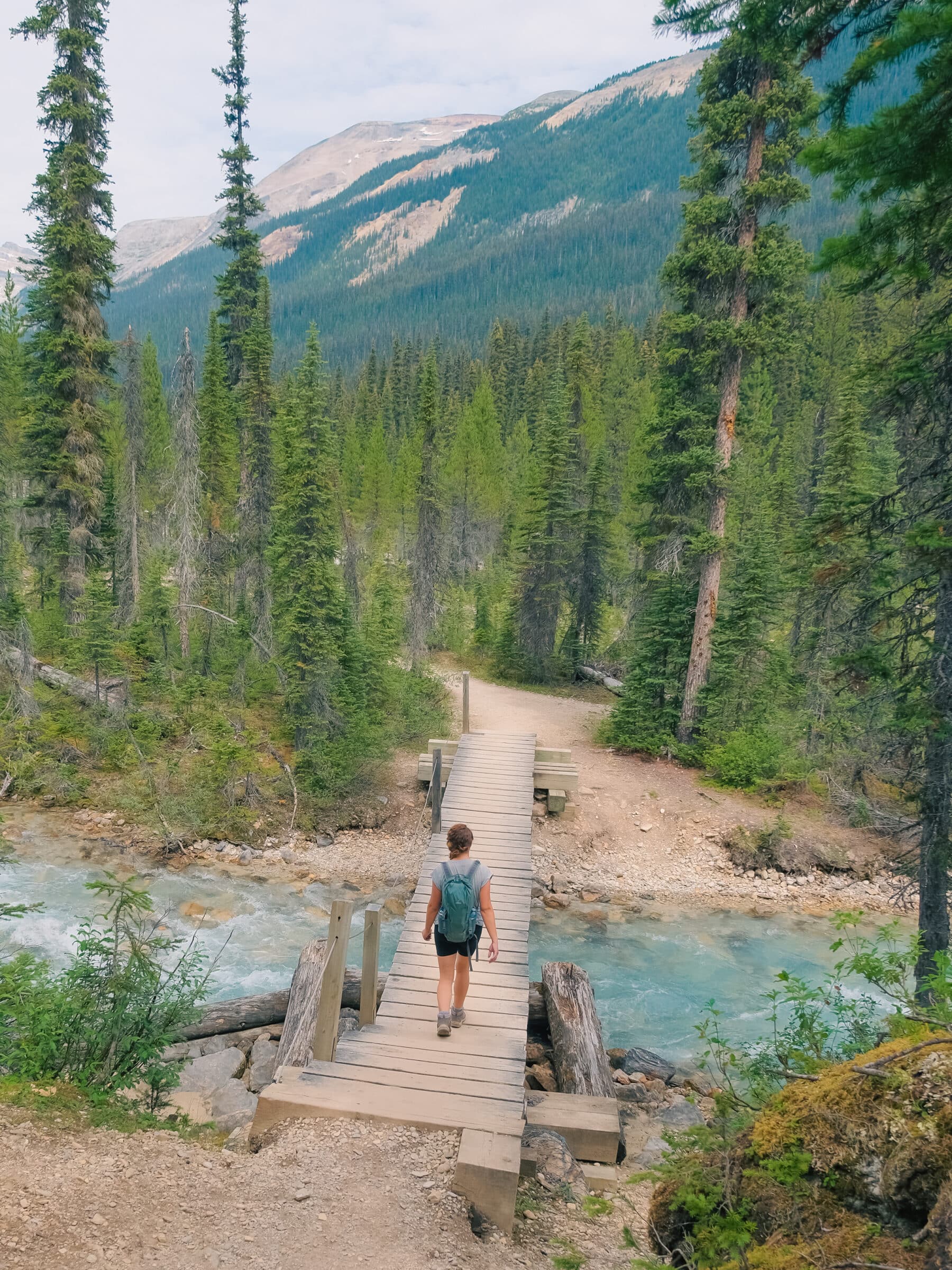 We ate our lunch at the trail's end point, the Laughing Fallsbefore continuing on our way back. The waterfall is the largest of the Little Yoho River that finds its way to the Kicking Horse River. Of course there were also chipmunks here that we had to keep a close eye on. They'll grab something from your hand or bag if you're not paying attention!
2. Wapta Falls
Another waterfall in the park, or rather waterfalls, is the Wapta Falls (location here ). This time not a high, but wide waterfall. It is 30 meters high and 150 meters wide.
To get there you have to walk at least 5 kilometers there and back. The walk is not difficult and the waterfalls make it worth it!
3.Emerald Lake
On a sunny summer morning, we found our way to Emerald Lake (location here ). From the parking lot you can see how picturesque this lake and its surroundings are. Time to shoot some pictures. It wasn't even necessary to grab the 'good' camera, but of course Chris did!
The ultimate world travel camera
Fujifilm X-T4 Silver + 16-80mm
The Fujifilm X-T4 with 16-80 is the ultimate all-round world travel camera† This camera has been declared several times by both the consumer association and Tweakers.net the best system camera you can buy.
Even on the automatic mode you suddenly feel like a professional photographer! You can effortlessly shoot the most beautiful photos, and thanks to the versatile zoom range of the 16-80 lens, you can easily get closer to the action anywhere in the world.
Pros:
The best tested camera

Fantastic photos

4k video at 60 fps

IBIS image stabilization

5 year warranty
Cons:
Get used to it, many options!

Pricing
Buy now
Our review
Want to support us? We earn a small commission if you make a purchase through our link(s), at no additional cost to you.
We didn't take the time to hike at Emerald Lake. We do know that you can make a beautiful round (a short walk) around the lake, with the route called Emerald Lake Trial. For enthusiasts and sports enthusiasts, you can also make a de-tour from this route to Emerald Glacier, where you will have a nice view of the lake.
4.Natural Bridge
Natural Bridge (location here ) is, as the name suggests, a natural bridge. The rock formation forms a bridge over the Kicking Horse River. It is easy to reach by car and after a short walk you can admire the bridge from different points of view.
5. Lake O'Hara
Lake O'Hara is located at an altitude of 2020 meters (location here ) and again beautiful blue. It is easily accessible by car. From here you can take a beautiful, fairly easy walk of 9 kilometers, where you will encounter more of these mountain lakes, namely Lake Usa en Mary Lake.
6. Extra tip for train lovers
From the Trans-Canada Highway 1, a lookout point on the so-called Spiral Tunnels. This one is 7,4 kilometers east of Field. This is not indicated on Google Maps, but it is well along the road.
Practical Information
Refueling and shopping
You will not find gas stations and supermarkets in the park. For this you will go to Lake Louise of Golden should. Golden has the supermarket Safe On Foods, which is quite affordable. In both places you pay a lot for your diesel or petrol, unfortunately…
Also read: Travel setbacks | Inflation, weak euro and car problems | Roadtrip USA (37)
cosiness
Golden, on the other hand, offers fun again! It has restaurants, bars and a small cinema. After doing our laundry at a Laundromat we had a nice beer, eaten and then the movie 'Bullet Train' seen. The latter is also a nice activity during a long journey.
Camping in Yoho National Park
There are three campsites in the park, where you can go with a camper. Those are Kicking Horse Campground, Monarch Campground en Hoodoo Creek Campground. The Monarch and Hoodoo Creek are first come, first served campsites. There are three other campgrounds in the park, but these are for hiking with your tent.
Kicking Horse is the only one of the three with showers and luckily Chris and I found a place for 2 nights via the Parks Canada reservation system.
Conclusion
If you have time during your tour in Canada, you will also find the most beautiful lakes, rivers and waterfalls in Yoho National Park. It is steps away from Lake Louise. In the park you can drive to the sights at your leisure or you can opt for a walk in this beautiful nature here and there. We can only imagine how beautiful the park will be in winter!
Plan your vacation to Canada here