Whoever says Death Valley might think of a bleak landscape, a barren, dry sandbox. But nothing could be further from the truth! Admittedly, Death Valley National Park is a very dry and warm place. America's Warmest National Park has a true desert climate, with extremely warm temperatures and very little precipitation. But did you know that, despite that drought, Death Valley is actually very diverse? Hot springs, sand dunes, salt flats, canyons and high mountain peaks: Let Death Valley surprise you!
Death Valley National Park Information
Location and Region
Death Valley National Park (location here ) is located in the southwest of the USA, on the border of the states Californië and Nevada. The national park is about a two-hour drive from Las Vegas. The park is adjacent to the well-known Mojave desert and the Great Basin Desert. You hear it already – Death Valley is as desert as can be!
The Dead Valley
Death Valley didn't steal its sinister name: According to legend, the park got its name when a group of prospectors got stuck in the valley. Overwhelmed by thirst, heat and exhaustion, one member of the group perished. His last words: "Goodbye Death Valley…". The name Death Valley was born.
At first glance, there is little life in the park. Here you will find no forests, refreshing rivers or green lawns. But when you get a little closer, your view changes: Death Valley is alive… albeit in a special way. The park has more to offer than you think! So it definitely pays to visit Death Valley during your trip in the US.
Facts and trivia
Death Valley National Park is the fifth largest national park in the United States. That means that you sometimes have to travel long distances to get from one point to another! So fill the tank well before you leave and turn on the air conditioning: Death Valley is the driest and warmest place in North America! Many record temperatures have already been measured in the park, including in 1913, when the thermometer indicated no less than 56,7 ° C.
Also read: All National Parks in the United States of America | List
Caution! Because you cover such great distances by car in the park, there is a gas station in Death Valley. But be prepared to pay a hefty buck! Not only in Europe, but also in the US, the fuel prices rising. Gasoline prices are especially expensive in this national park: In March 2022 you paid no less than $8.75/gallon for gasoline and $9.75 for diesel in Death Valley.
The best period
The best time to visit Death Valley is simple: preferably outside the summer months. In summer, the thermometer here shows an average of 47°C! Not fun! December turns out to be the coldest month with average temperatures of 19 degrees. Death Valley is therefore best visited in the fall and winter. For example, we visited Death Valley in mid-October. It was not that busy and not too hot (25°-30°).
Highlights
Dante's View
This is a real classic: From the top you have a beautiful view over the valley. You can easily reach Dante's View by car and once parked, there are some hiking trails that you can follow all the way up. We climbed in this way until, after fifteen minutes, we had the top all to ourselves. The ideal place for sunsets during your visit to Death Valley!
Salt Creek
This may not sound so special, but it is: Salt Creek is the only place on earth where you will find the Salt Creek Pupfish! These finned fish are an endangered species, which bravely swim on despite drought and salt water. You can walk around on wooden paths and if you look closely, you might see a pupfish swimming by!
In the summer it looks dry and barren, but in the winter Salt Creek is buzzing with life! The time period in which you visit Death Valley makes a world of difference.
Badwater Basin
Where the lowest point in the Netherlands is 6,76 meters below sea level, Badwater Basin in Death Valley scores slightly better: This salt flat is 86 m below sea level! It is therefore the lowest point in North America.
Having an salt flat is a strange phenomenon: It is actually a dry bottom of a lake, with a crust of clay and various salts. When it rains in the desert, the salt remains on the dry soil, creating salt flats. Since there is only 38 mm of rain per year (!) in Death Valley, there is no such thing as a lake in Badwater Basin! What does remain is this famous white salt flat, which you can walk on by the way. You see the strangest shapes in the salt, scars from the extreme dryness and heat. Be sure to bring a sun hat and water, as this is one of the hottest places on earth.
Telescopic Peak
Where you previously stood at the lowest point in North America, you can now climb all the way up! Telescope Peak is with his 3,368m the highest mountain in Death Valley. The park is surrounded by the Panamint Range, a mountain range with Telescope Peak as its highest peak. The walk from the car park to the top takes about 7 hours and takes about 22 km there and back.
Bring plenty of water with you, as there are few water sources in the park. And important: dress warmly! Because you ascend almost a thousand meters, you end up in a much cooler climate. It cools down considerably here, especially in contrast to the heat down in the valley.
Very appropriate: On the mountain top you will find a nice surprise… a telescope! Next to the telescope you will find a log where you can write down your name and the date. You can find a logbook like this on most mountain peaks in the US – always fun to read and immortalize your own name on the mountain.
Ubehebe Crater
People with a fear of heights will swallow the sight of this crater: The Ubehebe Crater is no less than 237 meters deep! It is definitely worth a walk around this crater (2,5 km) and admire the depth from different points of view. This volcanic crater was created by an explosion of steam and gas several thousand years ago. In the crater you will find different colored rocks, including basalt.
Watching stars
Visiting Death Valley is a special experience in many ways. Besides the extreme drought and low, Death Valley is also one of the darkest places in the US! Although light pollution threatens nearby megacities Las Vegas and Los Angeles, Death Valley is still an excellent place for stargazing. The north of the park in particular is known for its dark skies – ideal for star spotting!
This way you can easily see different galaxies, including the Milky Way, with the naked eye. So roll out your mat and direct your gaze upwards. Give your eyes some time to get used to the darkness - you will see more and more stars.
Also interesting
A visit to Beatty and Rhyolite
Beatty is a small town in Nevada just eight miles from Death Valley. You will find some cheap motels, nice places to eat, a casino and a few bars. Rather bizarre are the infamous inhabitants of Beatty: Donkeys! These donkeys are the offspring of the donkeys that worked in the mines in and around Death Valley. When the mines closed and the prospectors left the area, the poor donkeys stayed behind… But donkeys are very strong animals, easily adapting to extreme conditions, and so it happened! In 13 you can still spot herds of donkeys in Beatty, and yes, shit on the streets. Traffic often comes to a standstill because a herd crosses the street very slowly… Welcome to the Wild West!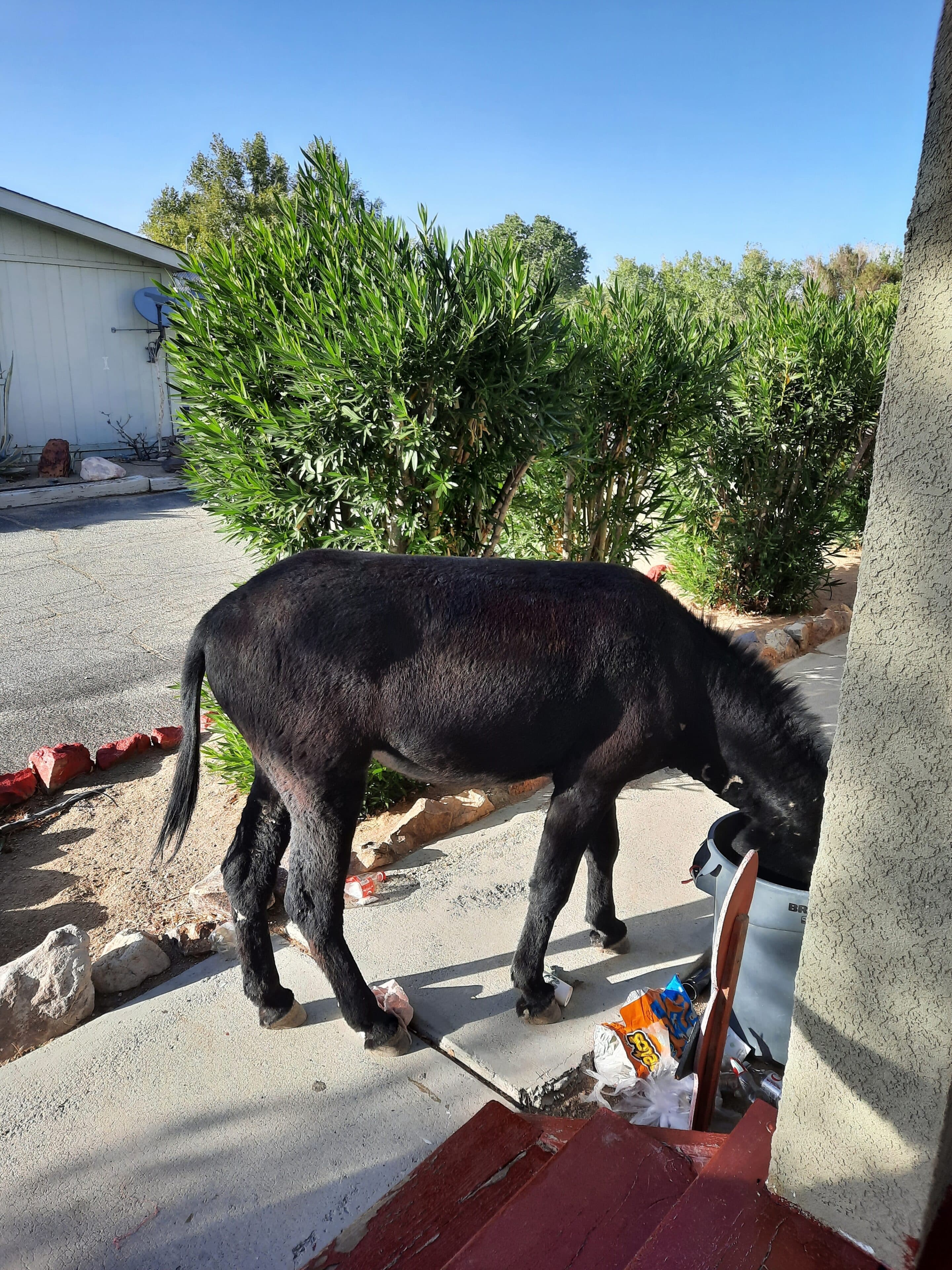 Rhyolite is a well-known ghost town, a 3-minute drive from Beatty. The village was built in 1905 after wild rumors of a discovery in the mines. Miners, prospectors and other fortune seekers took up residence in Rhyolite, but the song didn't last long. When the mine closed a few years later and the financial market collapsed, there was not much left: By 1920 Rhyolite was virtually abandoned. Today you can drive around in the town and the old bank, hotel, train station and some other facades are still standing.
PS: Don't forget to visit the extraordinary Bottle House and creepy artwork along the way…
Saline Valley Hot Springs
Admittedly, getting here is no easy feat. But with a full tank of gas, a solid car and persistence, you have the chance to bathe in what are arguably the most beautiful hot springs in Nevada! These three hot springs are fairly primitive, nicely secluded and offer a nice view of the Saline Valley, located in the north of the park. You have to drive an 80 km-long dirt road before you get there. At the time, we did not want to drive the 80 km … and now we quite regret it.
Off Road Adventures
Death Valley is a true paradise for overlanders and 4×4'ers! You will find countless off-road adventures, including the well-known Hell's Gate and Titus Canyon. Many places in the park can only be reached off-road, preferably with a 4×4.
Furnace Creek Visitor Center
Once you arrive, it's best to visit the visitor center† Here you will find current information about the weather, which roads and/or hiking trails are closed, where you can find camping and water, and so much more. It comes with a handy brochure and we bought this National Geographic map, among other things: Ideal for planning nice walks or routes.
Accommodation
Death Valley has 9 official campsites, where you can usually sleep both with the tent and with the car/RV/camper. These campsites are run by the National Park Service and often have running water, tables and toilets. You often pay a small fee ($14 – $20) per night you stay. Do you prefer off the grid you can also opt for the alternative 'boondocking'.
In the US you can often camp for free on public land, this is also called 'dispersed camping'. When visiting Death Valley you can camp for free in several places. The app is highly recommended for this iOverlander, which shows you on the map where you can find free camping spots.
Can it be a little more luxurious? Then you can visit The Oasis, The Ranch or Panamint Springs Resort, all of which offer accommodation in Death Valley National Park. More information about prices and availability can be found on their website.
Have fun in Death Valley!