We have been working on our ultimate roadtrip through America and Canada for 8 months now and still the beauty of this continent keeps amazing us on a regular basis. From Canada we took a ferry from Vancouver Island crossing to Port angeles in mainland Washington state of America. The bucket-list-worthy tour continues from here, starting with a 1800-kilometer drive on Route 101 and Highway 1 along the west coast. Many say this is the most beautiful roadtrip route of America and maybe even the world, so I decided to find out for myself.
---
About Highway 1 / U.S. Route 101
Before I go any further, I would like to clarify that Highway 1 is a very different road than most people think. Whoever says Highway 1, thinks of the coastal road on the west coast of america, as shown in the image below.
However, this is not entirely correct and below I will (try to) explain how that works exactly. It's quite a confusing story. The 'real' Highway 1 is the first highway from North to South on the East Coast of America, as shown in the image below.
Tip:: In the early months of our journey through the United States of America, we drove much of the 'real' Highway 1 along the East Coast. Read the blog'US East Coast Highlights' for more photos and information.
Why is there confusion about Highway 1?
So where does this confusion come from? That is a complex story… For those interested: Read the explanation below. If you are not interested, skip this chapter. No hard feelings! ?
Why the road is called Highway 1
De U.S. Route 101 of U.S. Hwy 101 is the US Highway that runs along the West coast of the United States through the states of Washington, Oregon, and California. The road connects Los Angeles in Southern California to Olympia in northwest Washington.
For a large part, the trajectory of the U.S. Route 101 so along the coast of the Pacific Ocean. The road thus covers almost the entire coastline of Washington and Oregon. An exception to this, however, is the section between Los Angeles and San Francisco, where the California State Route 1 is the road that goes along the coast; the 101 is usually a few tens of kilometers from the coast on that stretch.
US Route 101 and Highway 1 overlap
The trajectory of the U.S. Route 101 also overlaps several times with the California State Route 1, including between Oxnard and Gaviota and between Pismo Beach and San Luis Obispo. Also, both roads share a stretch where they meet just north of San Francisco over the Golden Gate Bridge to go.
In Southern California, the U.S. Route 101 usually The 101 (the one-o-one). The California State Route 1 is what is "recognized" by (California residents) as the "Highway 1'.
This is actually not correct, but that is how the road was promoted in tourist magazines for decades. And with success, because it has definitely stuck with people. This is still happening in 2022, so this confusion will probably continue for a while.
How long is Highway 1?
Highway 1 on the west coast of America (officially US Route 101/Highway 101), is 1550 miles (about 2500 km) from North to South and crosses three states (Washington State, Oregon and California).
How long does it take to drive Highway 1?
Whoever drives down the road continuously at a hundred kilometers per hour, would without stops no less than 25 hours. However, this is impossible as many sections of Highway 1 are only allowed to drive at 25 mph / 45 kph. The road meanders and winds enormously in many places and you will also be constantly busy driving up and down mountains.
Also read: The Highway 1 Ring Road Australia | How long does a full tour take?
I drove a total of about 1800 of the 2500 miles of Route 101/Highway 1 and it took me about a week. My average speed with our 4×4 camper was about 60 kilometers per hour. So this week I was behind the wheel for a sloppy 30 hours! For the full 2500 kilometers I would have to drive at that speed for about 42 hours.
Note: those 42 hours are therefore pure travel time without refueling and/or breaks!
Highlights: What to do and see on Highway 1
Highway 1 on the West Coast of America is truly fantastic to drive. There is so much to do and see along the way. From visiting State and National Parks to simply meandering endlessly along the winding coastal road and staying overnight in the most epic wild camping spots you've ever seen. Below I tell you more about my personal top 10, what to see and do during a roadtrip on one of the most beautiful roads in the world.
1. Driving on the beach (with a 4×4)
America is one of the few countries where you can still drive your car on the beach (in certain places), provided you have a 4×4. If, like us, you have a 4×4 camper, then you can't pass up this opportunity!
Remark: I already drove with our 4×4 camper on the beach at Amelia Island in Florida, on the east coast of America. This was really great fun to do, so I went looking again for a place where it was possible!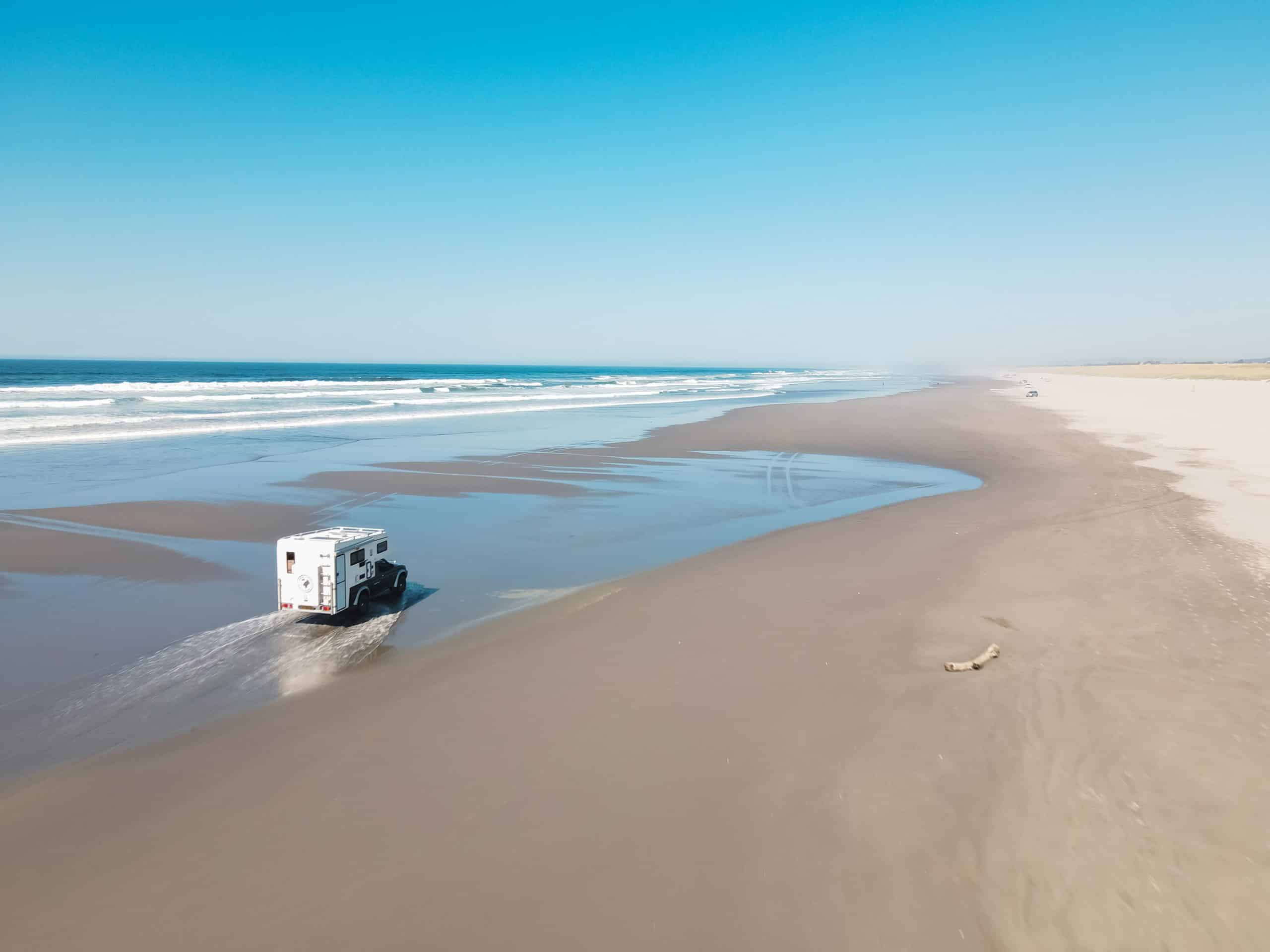 One of the places where you can still go on the beach with your 4×4 is on Sunset Beach State Recreation Site in Washington State, northwest of the city of Portland. It is a large, very wide and long beach. Below is a short video of my ride on the beach.
Tip:: You can drive onto the beach in three different places. Here, here en here . Before you drive onto the beach, always go 'spotting' on foot; how loose and deep is the sand? Try to estimate whether your 4×4 combination is capable of driving through the loose sand before throwing yourself into the deep end.
Of course, the experience isn't just about 'driving' on the beach. Take your time! You park your car or 4×4 camper like a real American right on the water, so you can enjoy a wonderful day at the beach. Drink a beer, light the barbecue, take a dip and then shower off the salt water. You have everything with you in the camper, so make use of it!
Tip:: wash your car well after driving on the beach. Spray the bottom well in particular! The salty sand and water is bad for the chassis of your vehicle. The nearest car wash is here to find .
2. Experience epic sunsets
Because the sun always sets in the West, you have endless beautiful sunsets on the West Coast of America. A roadtrip over Highway 1 / Route 101 along the coast is therefore the perfect way to watch the sun sink into the sea again and again. Many evenings in a row I chose a nice spot for this natural spectacle.
I parked the RV high on a steep cliff with the roaring sea below me, or just right on or on the beach. Every day I received the last rays of the sun with open arms.
Remark: It may sound silly, but I felt so damn good after sunset every time. Whether it had to do with the tranquility I experienced or whether the colors on the horizon had anything to do with it, I dare not say. I do know that these were moments I will never forget.
It doesn't really matter where you go during your roadtrip stops to watch the sunset, it's equally beautiful everywhere. A simple pullout, as they call it here, is often good enough. There are literally thousands of pullouts along the coast on Highway 1 / Route 101 where you can stop for a while.
3. Whale watching
Did you know that huge numbers of whales migrate along the west coast of America? Now you do! Humpback whales, gray whales and even killer whales can be seen on the coasts of Washington, Oregon and California almost year round.
I have seen whales in several places. They even woke me up once! (see chapter on wild camping spots). Sometimes the whales are really close to shore, but most of the time they are a bit further away. They are generally easier to see than to capture in the photo. They usually only come up for a short time and you will need good timing and a big zoom on your camera for a nice picture!
Tip:: Sit back and watch some whales along the West Coast of America. Look ahead to the sea. Look for white plumes that seem to suddenly appear out of the water. these plumes are caused by the exhalation of the whales. Often, after seeing a plume, a beautiful tail appears at the back. It's like fishing: have patience!
4. Ride among the Giant Redwoods
The Sequoia trees in southern California may be the thickest and tallest trees in the world by volume, but northern California is home to the tallest trees in the world; the Giant Redwoods. U.S. Route 101 runs right through 'Redwood National And State Parks', a collection of natural parks that are protected at both the state and national levels.
You don't even have to get off Route 101 to see the gigantic Redwoods, but it certainly pays to get off the main road and take a scenic route so you can see them up close. The Newton B. Drury Scenic Parkway (see the arrow on the map above or click here to open the location on Google Maps), is a good option for that.
If you've never seen a Redwood up close, you really can't imagine how gigantic they are. In the photo above, the Redwoods are still relatively young and about 60 meters high. Do you want to see the biggest Giant Redwoods? Then you can take short walks to these trees. The most famous trees to view at the Newton B. Drury Scenic Parkway route are:
Corkscrew Tree: a twisted tree (location here ).
Big Tree Wayside: a 1500-year-old tree (location here ).
Atlas Grove: several large Redwoods close to each other (location here ).
Or, if your vehicle can handle it, you can go off-road a bit on the Cal Barrel Rd. Do you have a 4×4 and is this road open? Then I can absolutely recommend him! It is damp and slippery. Sometimes narrow, steep up and full of large pits and stones.
Still, the route is absolutely worth it. The photos speak for themselves! I'm on the below Cal Barrel Rd with the Wereldreizigers.nl 4×4 camper among Giant Redwoods of 100+ meters high. Bizarre!
Note: in winter the Cal Barrel Rd (the off-road route) usually closed.
5. Experience fog banks and wild sea
Especially in the morning and afternoon it often happened that huge fog banks suddenly rolled over the mountains or that fog suddenly came up from the sea on land.
Sometimes the fog disappeared as quickly as it came. One moment you are enjoying the sun and the next you can barely see 50 meters in front of you. It's very strange... I experienced this just south of Ecola State Park (Location here ), about which I will talk more below.
It is amazing to see how quickly this can change the entire experience of driving this beautiful coastal road. From gray, dark and depressing you sometimes go back to sun, warmth and color in a few minutes. All this while the great ocean crashes violently on the beaches and rocks.
Example: The 4 photos below were taken in approximately 30 minutes as I drove leisurely along the winding Highway 1 / Route 101 coastal road, stopping regularly at viewpoints. It gives a good idea of ​​how quickly the weather (and color) can change here.
The fog and clouds moved at a rapid pace towards the sea. Suddenly there seems to be some color in life again and I take the photo below in the north direction where I came from.
However, what I saw 5 minutes later (looking south) I could hardly believe. Suddenly I saw the end point of the thick fog bank that went out to sea. It was a bizarre sight. Under the thick fog at sea it was still gray and dark, while the sun shone on the coast from the east. What a contrast!
I went from dark and depressing to sunny and colorful in about 30 minutes. The first time I saw this I thought it was an exception. However, I experienced it several more times in the days that followed.
It is a natural phenomenon which is quite normal here. You can see this regularly in the northern part of the coastal road in Washington and Oregon. It also occurs regularly in the northern part of California, approximately up to and including San Francisco.
6. Check off hundreds of viewpoints
I drove a total of 1800 miles on the west coast of America, stopping maybe 200 times to enjoy the view. After every mountain and around every corner it was a surprise what you got to see. One beautiful view after another!
From gigantic long and beautiful beaches to mountain peaks and rocks that rise from the sea out of nowhere, to clear blue skies and fog banks. No photo is the same here.
I soon realized why this the prettiest roadtrip route of America is called. It is indeed a unique route, winding thousands of kilometers along the Pacific Ocean.
The Highway 1 / Route 101 absolutely stole my heart. I could entertain myself here for weeks without getting tired of it. Sometimes I drove for hours while my body was actually already tired from driving in the camper. It is also really steering with this car on the winding roads!
Still, I couldn't stop. I wanted on. Every time I wanted to know what to see after the next bend, as the sun slowly reached the golden hour before sunset, turning the shoreline orange and red. Fantastic!
7. Stargazing (Galaxy Spotting!)
Op Devonte Lookout (Location here ), a remote spot half an hour north of Fort Bragg, California, the sky was so incredibly clear that I could see the Milky Way before it was even dark. It was insane! So I grabbed my camera just after sunset and started taking pictures.
I took more pictures when it got really dark. Devonte Lookout is very remote, far from civilization. I immediately decided to stay here overnight. There is literally 0,0 light pollution here and I wanted to make use of that on this beautiful day.
The moon was not there this evening and the weather was extremely clear. I just couldn't believe what I saw when I looked up. Never before have I seen the galaxy so crystal clear with the naked eye. I tried to get a nice picture of the fat tire with the stars behind me and the camper and it hit the spot!
While I was quietly drinking a Hazy IPA beer at the camper and staring ahead of me at the starry sky, I saw twenty shooting stars. They were so easy to see here! But heaven was far from finished with its treats this evening. About an hour later, the center of our solar system emerged from the sea.
Tip:: Yes, just as the sun and moon rise and set, so does the galaxy! I use the free app star walk 2 (Download here ), to know where I can find certain stars or planets.
Again I couldn't believe my eyes. Thick clusters of stars and large clouds of stardust with shades of yellow, purple and blue were visible to the naked eye. I decided to grab my Fuji X-T4 camera again.
I tried some different settings on my Fuji X-T4 Camera to get both the stars and the camper in a good picture. I just did something, tweaked some settings and tried again. After some failed photos I got a little bit of what worked and what didn't, with the following result.
Tip:: The pictures below show the settings I used for shooting the starry sky, if you want to try it yourself.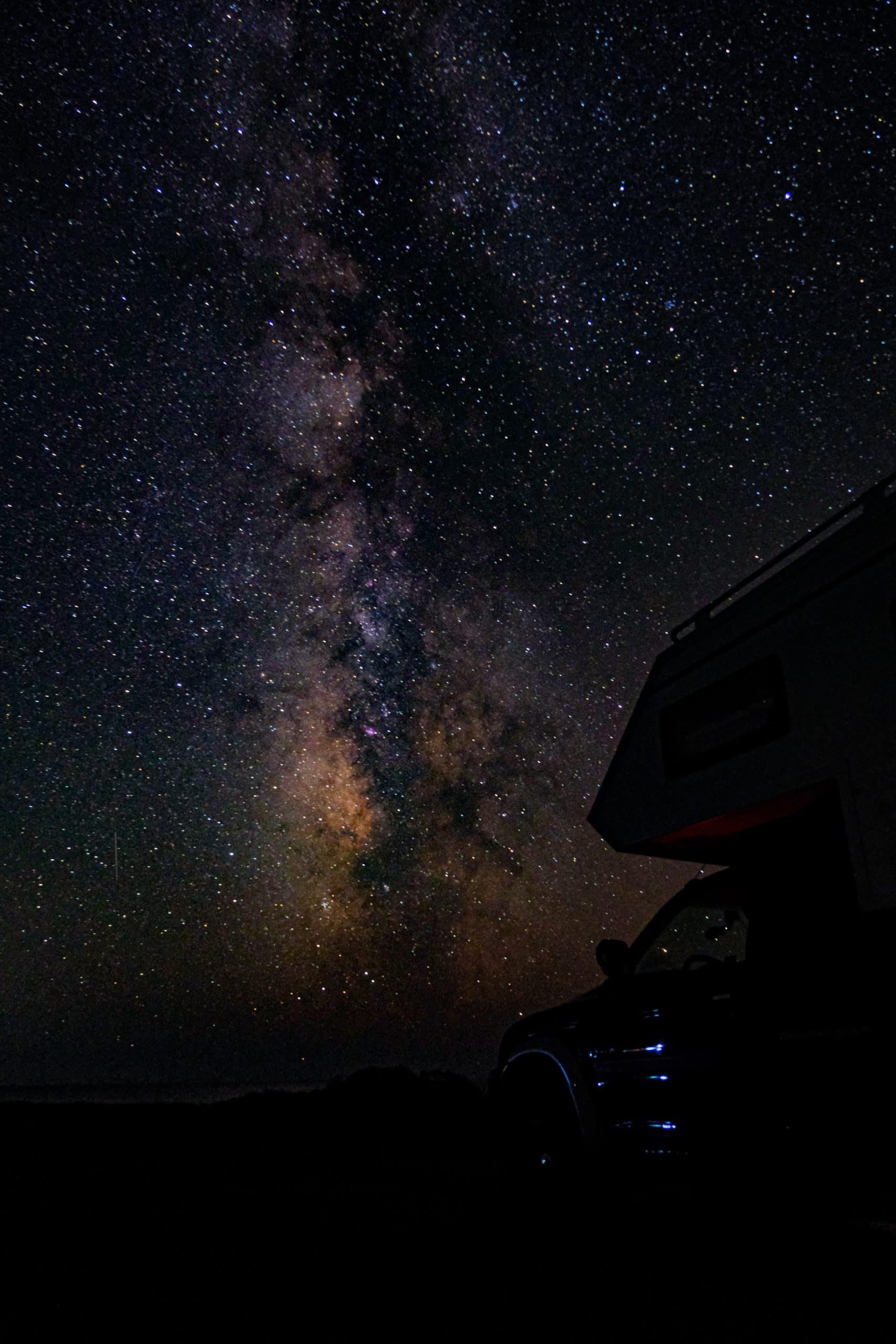 Although I was really enjoying what I saw in front of me, in the meantime I also started to realize that seeing a starry sky like this in 2022 simply no longer occurs due to light pollution.
It is a great pity that light pollution has taken away from us our view of this amazing starry sky. In The Netherlands you don't see a starry sky like that anymore. Never again. I therefore consider myself fortunate that this 'overlanding' experience in North America occasionally takes me to really uninhabited places without light pollution. I cherish these moments.
Sometimes you don't know what you've lost until you see it again. This was definitely one of those moments when I realized that. So I decided to grab another beer and stay awake longer. Just to enjoy the starry sky in front of me and the sound of the waves below me.
8. Admire the Golden Gate Bridge
Of course, a visit to the Golden Gate Bridge cannot be missed on this route. Highway 1 and Route 101 literally converge here to cross over this iconic bridge into downtown San Francisco.
Tip:: from Battery Spencer (an old fort, location here ), you have a great view of both the bridge and the city.
I 'secretly' spent the night in the parking lot of Battery Spencerso I could enjoy the sunrise in the morning. The whole night people drove up and down here, mostly young people who had a drink, so unfortunately it was not a very quiet night.
However, several 'park rangers' drove past who left both the youngsters and me alone. Spending the night was apparently tolerated here. There were two more vans in the parking lot that did the same as me and were left alone by the park rangers.
The next morning I got out of bed at 06:00 am. As usual I made a cup of coffee with the kettle en EcoFlow Power Station in the camper and with coffee and camera bag in hand walked back to the viewpoint. Fifteen minutes before sunrise, the horizon turned into a rainbow of color. Wow!
I wasn't the only one with this idea though. It was 06:00 am on Saturday morning, but it was already quite busy. Many people come here to watch the sunrise over San Francisco. It was so beautiful this morning that I also let the drone in the air to take a panorama picture of the Golden Gate Bridge with the city behind it.
9. Wild camping in epic places
Of the entire West Coast America experience, this has to be my favorite: wild camping in epic locations. I have during my roadtrip stood on fantastic wild camping spots along the west coast of America. All right on Highway 1/101 and just steps from the sea. Each beautiful in their own way.
Below is a selection of my favorite wild camping spots on the West Coast of America, including the corresponding locations or coordinates via Google Maps so that you can find them quickly and easily. can save for your own use. Use it to your advantage!
---
Location name: Devonte Lookout, Northern California.
Google Map link: Click here .
The most beautiful wild camping place I have ever been. I saw many whales in the distance here, as the wild sea beat against the rocks below me. It is very remote and there is therefore no air pollution. Except for the wild sea, you hear nothing here at night. This is the location where I also took the beautiful night photos of the starry sky. There is room for several campers. Towards evening two more 'overnighters' came and stood next to me.
---
Location name: Coast Highway 1, 3 hours north of San Francisco
Coordinates: 38°29'20.6″N 123°11'31.4″W
google map link: Click here .
This location is on a slightly busier road in California at about 100 meters altitude. It's a simple pullout, but the view here is truly fantastic. You look out over the winding road with the wild sea below you. There is room for several campers.
---
Location name: Port Orford Visitor's Center, Oregon
Coordinates: 42°44'35.8″N 124°29'32.9″W
google map link: Click here .
This place is close to a town, where you can do some shopping or go out for dinner. What makes this place so beautiful is the beautiful large beach directly below it. In the morning I took a lovely morning walk here and drank my coffee on the bench while the clouds rolled over the mountains.
---
Location name: Boiler Bay State Scenic Viewpoint, Oregon
google map link: Click here .
It is a large parking lot / rest area / viewpoint where you can stand directly by the sea. This was the place where I woke up in the morning to the sound of whales! PSSHHHH!!
I flipped open my window by the bed and immediately saw whales less than 50 meters away. According to my neighbor for the night (a local), whales are seen here all year round, close to the coast. Unfortunately I was unable to take a decent picture this morning due to the thick fog. Hopefully you have more luck!
---
Location name: Silver Point Interpretive Overlook, Washington
google map link: Click here .
Another viewpoint where I decided to spend the night. Here you have a beautiful view in both northern and southern directions. With a huge beach on its doorstep (see how small the people are?), it's also a great place to take a walk on the beach.
10. Take it easy and enjoy!
Finally: What is perhaps most important during the ultimate roadtrip along the West Coast of America, is that you should not forget to enjoy. That's easier said than done, especially if you're behind the wheel yourself. Then you have your eyes on the road and not on the beautiful view.
So take it easy. It is not an easy road to drive. You are really constantly steering and you are continuously going up or down.
Stop often. Take lots of breaks. Stay longer if you are in a nice place. Highway 1 and Route 101 has hundreds, maybe thousands of pullouts, viewpoints and parking lots where you can stop and even stay overnight. Stop in time each day to watch the sun sink into the sea. Give yourself the moments to enjoy!
Why not Big Sur?
Many of you may be wondering, why aren't we seeing anything from the stretch of Highway 1 between San Francisco and Los Angeles here? That must be a very beautiful part, perhaps the most beautiful part of Highway 1 along the coast of California.
Mostly Big Sur (Location here ) is a huge attraction that is 'must see', they say. Maybe that's true, but I just didn't feel like it anymore!
The reason is this: I thought Highway 1 was simply getting too busy between San Francisco and Los Angeles. In addition to that wild camping along this entire stretch of coastal road is forbidden and that fines are regularly handed out. I saw everywhere'No Overnight Parking' signs and on iOverlander, all wild camping spots were gray with the note 'permanently closed'.
I didn't like looking for campsites. They were very expensive at first (70-90 dollars a night) and this completely missed my goal… I REALLY wanted to spend the night in epic, remote places. That's why I'm here!
I want to be right by the sea, while I can enjoy a beer with sunset in peace. I don't want to be lined up at the campground between 50 RV's with full hookups. It was not. I therefore decided to end my journey along the West Coast of America on Highway 1 and Route 101 here, even before I got to Big Sur.
Conclusion
If you're talking about roadtrips got it on you bucketlist. belong, then the West Coast of America is over Highway 1 en Route 101 through Washington, Oregon and California perhaps the most ultimate you can imagine.
2500 kilometers wind along rugged coastlines, mountains and forests. Wild seas crashing on the rocks. Fog banks, migrating whales, hundreds of viewpoints and epic views. In addition, in the sparsely populated areas you will still find wild camping spots that are extremely remote and are so intensely beautiful that you can hardly believe they exist. All along one and the same coastal road.
De roadtrip route along the American West Coast on Highway 1 and Route 101 does something to you. At times it even made me a little emotional. Sometimes steering for hours on the endless winding roads that never ended, hoping for a place to rest.
This while at other times I dreamed away with the feeling and recognition, how incredibly beautiful the world can be. The whole experience really made me feel human again.
A beautiful new view around every corner. Waking up to blowing whales that I could hear and see right in front of my camper. I enjoyed yet another sunset while the pelicans flew overhead. I saw here the most intense starry sky ever in my life.
I have really experienced Highway 1 and Route 101 on the west coast of America and what they say is true: It is definitely one of the most beautiful roads in the world. I consider myself lucky that I am 1800 kilometers from this ultimate roadtrip able to drive the route. An experience you will never forget!
---
---