From the United States to the Atlantic Coast in France and Porto. The beautiful weather has reached us! The barbecues have been working overtime this week and many Dutch people have made a splash in the sea, the local lake or simply the inflatable pool at home. And what could be nicer than enjoying a refreshing delicacy on a summer day? From a sardines rillettes from the Fringe Atlantic Coast, which you can proudly serve to your neighbors, until Sweet Iced tea Texas, which is guaranteed to be a hit with the kids. We present seven delicious summer dishes from all over the world.
Atlantic Coast France
On the French Atlantic Coast you will find the picturesque fishing village of Saint-Gilles-Croix-de-Vie (location here ). Perhaps not so well known in terms of name, but the sardines that come from this place are world famous! About 2.900 tons of sardines are traded from this port every year.
Next to the harbor you will find two large dune areas and extensive sandy beaches. With the sounds of the waves and flying seagulls in the background, this is a wonderful place to stay!
Back to the sardines. The fishing season runs from April to September and you can buy the delicacies fresh or canned in the harbor town. Local artists paint the cans from special years and that results in beautiful creations. Do you want to discover more about the sardines? In Saint-Gilles-Croix-de-Vie you can walk a 2 km long route along 14 historical sites of the sardine fishery.
Sardine rillettes for 2 persons
Ingredients
1 can of sardines in oil
1 small shallot
1 teaspoon capers Piment d'Espelette (or other chili seasoning)
100 g cream cheese
3 stalks coriander (or parsley, to taste)
green olives
2 tbsp lemon juice
Preparation
Finely chop the shallot and a teaspoon of capers. Mix the cream cheese with the chopped coriander, shallots, capers, a pinch of piment d'Espelette and lemon juice. Season with salt. Add the sardines and mix/mash them with a fork (leave some small pieces). Garnish with olive slices and a coriander leaf.
Sweden
In every Zweeds In a coffee shop you will come across the kanelbulles, a cinnamon bun. The sandwich is so popular that the country has even dedicated a holiday to it: 'Kanelbulles Day', on October 4.
Besides delicious coffee and the best cinnamon rolls in the world, Sweden is also a paradise for nature lovers. You will find about 100.000 clear lakes and 24.000 islands. And if you're looking for a unique experience in pure nature, then you've come to the right place. Travelers here can sleep in tree houses with spectacular views, take a raft ride on the Klarälven River, spot the Northern Lights and take one of the most epic train journeys. Wild camping is also allowed in Sweden. This means that travelers can choose their own place to sleep in the middle of nature. Adventure is out there!
kanelbulle
Ingredients
500 gr flour
100 gr sugar
1 / 2 teaspoon of salt
1/2 teaspoon cardamom
60 gr melted (cream) butter
1 bag of dry yeast
3 dl. lukewarm milk

For the filling:
50 gr melted butter
Sugar & cinnamon
1 beaten egg
Preparation
Mix flour and cardamom in a bowl. Make a well in the center and sprinkle the salt on the outside. In the well add the yeast, sugar, melted butter. Stir with a fork. Add a little milk at a time. Keep stirring. If it is a big dollop of dough, knead it by hand. When you have a nice ball of dough, knead for at least 6 minutes. Set the bowl aside with a damp tea towel over it for half an hour.
Divide the risen dough into 2 pieces. Dust the work surface with flour and roll out into a 1 cm thick rectangle. Brush with melted butter and sprinkle with sugar and cinnamon. Roll into a sausage. Cut slices of 1,5 cm and place on the oven rack (with baking paper). Place a tea towel over the baking sheet and let the kanelbullar rise for 30 minutes. Do the same with the second slice of dough.
After rising: brush with beaten egg and sprinkle with sugar. Bake the buns for 8 minutes at 225 degrees.
Texas
In 1983, The Dallas Morning News declared Sweet Iced Tea as the unofficial state drink of Texas. The ice-cold sweet treat has a long tradition in the state.
Ask any Texan and they will tell you all about the 'cold sweet iced tea of ​​grandma'. Each 'grandma' had her own recipe, which the grandchildren bragged about in the schoolyard. Foodies will definitely want to put Texas on the list.
In addition to the well-known barbecues, you can enjoy a diverse cuisine in trendy cities such as Houston, Austin and San Antonio, a mix between American dishes and the Mexican kitchen offers interesting dishes.
In the state you can easily get a roadtrip making weeks, as nature is as diverse as the cuisine. From snow white sand dunes to desert canyons and fast flowing rivers. Get a taste of Texas and make your own Sweet Iced Tea.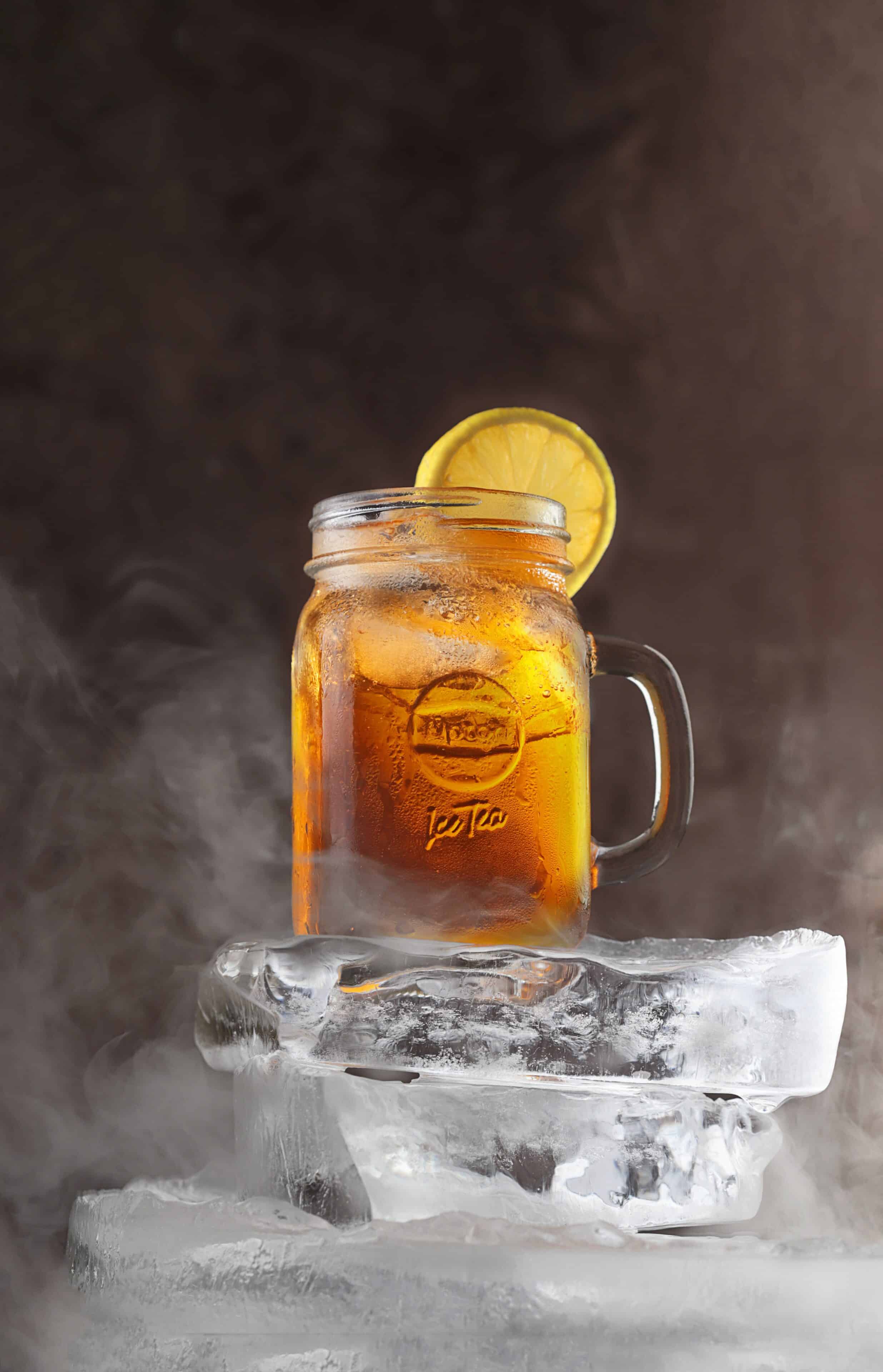 Sweet Iced Tea
Ingredients
6 tea bags (black tea)
25 g baking soda
480 ml of boiling water
300 gr sugar
1,5 liters of cold water
Ice cubes
Preparation
Place the tea bags in a large measuring cup and add baking soda. Pour the boiling water over the tea bags. Cover and let steep for 15 minutes. Take out the tea bags and don't squeeze them! Pour the tea mixture into a 2 liter pitcher; add the sugar. Stir until the sugar is dissolved. Add the cold water. Place the Sweet Iced Tea in the fridge and serve with ice.
Oman
In Oman you will find many architectural highlights, paradisiacal beaches and valleys greener than green. But what Oman is also known for is its delicious cuisine! From sweet treats like 'Halwa' to 'Shuwa', a lamb dish prepared in banana leaves.
When foodies go to Oman, they best start in the capital 'Muscat'. You walk there from one architectural highlight like 'Sultan Qaboos Grand Mosque' to another like 'The Royal Opera House'. And in between you will find many culinary gems.
Everywhere smells of coffee and dates, the pride of Oman, meet you. The 'Muttrah' souk is a feast for all the senses due to its colours, spices and scents. Oman is known for its hospitality and in Muscat you will find many restaurants, where the locals proudly serve Omani cuisine, such as the Bedouin meal 'Qabulli'.
Qabuli, the Bedouin meal
Ingredients
2 slices of leg of lamb with bone
400 ml water
1 tsp. bizarre
1 tsp. turmeric
pinch of ground cardamom salt
100 g basmati rice
1 tbsp. raisin roasting butter
1 clove garlic
1 tsp. cayenne pepper
2 beef tomatoes
1 tbsp. tomato paste
vinegar, salt
1 red onion in rings
2 tbsp. boiled chickpeas
cucumber, radish
Preparation
Score the meat twice at the edge with a sharp knife. Simmer the water with herbs and meat for an hour under a lid. Cook rice and raisins in stock. Then let the rice stand in a dish for a while, then all the moisture is absorbed.
Squeezed garlic with cayenne fruit and in the butter. Add the chopped tomatoes and sauté for a while. Season with vinegar and salt. Transfer to a bowl. Fry the cooked meat until light brown in the butter. Add onion rings and chickpeas. All this on the rice scoops. Around slices of cucumber and radish. Add the thick tomato sauce (duqqus al-tamata).
Porto
For those who have not yet made a city trip to Porto, we recommend that you put this at the top of the wish list. From the colorful houses and narrow streets of the old town, to the Douro River and the delicious cuisine. It Portuguese Porto is a favorite for many!
And the city is not called 'Porto' for nothing. It is the birthplace of port wine. Across the Douro and opposite the historic center you will find WOW, Porto's new cultural district. Located in Vila Nova de Gaia, this area is where you will discover all about Portuguese wines, history and even design. The area is home to seven museums, from the Rosé museum 'PinkPalace' to 'The Wine Experience', where you can discover your preference for grapes through jellybeans. To prepare for a Porto adventure: try this PortonicCocktail.
Also read: Must Sees in Portugal | Beautiful beaches, cities and culture
Portonic Cocktail
Ingredients
50 ml port
100 ml tonic
Slice of orange
Sprig of fresh mint
Ice cubes
Preparation
Put a handful of ice cubes in a highball glass or gin & tonic glass. Pour in the port and tonic and garnish with a slice of citrus and a sprig of fresh mint. Enjoy!
Ottawa
Ottawa is the capital of Canada, but as far as we are concerned it is also the culinary capital of Canada. From Maple Taffy's, winter popsicles, to a 44-course dinner at Atelier Restaurant and of course Beavertails.
This beaver tail pastry is a favorite of locals. It's been around since 1978, when Pam and Grant Hooker sold the Beavertail at a local market just outside of Ottawa. You can find them in sweet and savory form: deep-fried dough topped with marshmallows, chocolate, banana and maple syrup or with, for example, Poutine.
If you go to Ottawa, we tip the Byward market. Here you can taste the crunchy piece of Canadian heaven in the Beavertail shop. But this summer it is also recommended to make a Beavertail yourself and take it to the beach or picnic. That will be enjoyable!
Beaver Tails
Ingredients
60 ml of lukewarm water
2,5 teaspoons dry yeast
120 ml warm milk
50 gr granulated sugar
1 / 2 teaspoon of salt
1 egg
2 tablespoons of melted butter
160 gr flour
160 gr whole wheat flour
200 gr granulated sugar
2 tablespoons cinnamon Lemon wedges
Preparation
Mix the yeast and warm water in a mixing bowl. Let stand for 3 minutes. Add the sugar, milk, eggs, salt and melted butter and stir to combine. Mix the flour and flour and add to make a soft dough. Knead for about 5 minutes with a dough hook or 8 minutes by hand. The dough should be smooth and elastic.
Place the dough in a greased bowl; cover with plastic wrap and let rest for about 45 minutes to an hour. Flatten the dough and then divide it into 10 equal portions. Let rest, covered with tea towels, for 10 minutes.
While the dough balls are resting, mix the sugar with the cinnamon in a wide, shallow bowl. Roll out one ball at a time into an oval about 1cm thick; cover again with a towel and place on a floured surface.
Heat about 4 inches of oil in a deep-fat fryer or large, high pan. Wait for the oil to reach a temperature of 195 degrees. Place the portion in the hot oil and fry for 2-3 minutes per side. Remove with tongs and drain on kitchen paper.
Sprinkle the BeaverTails with cinnamon and sugar; flip to coat both sides and shake off excess sugar. Squeeze fresh lemon juice over the dough and eat while warm.
USA
Roadtrippen by the USA is always a good idea! And while you can find excellent restaurants in the US, the country is mainly known for comfort food and we all love that, right? You will find hot dogs in all shapes, sizes and colors and with all kinds of toppings. This recipe is the perfect combination between sweet, sour and umami.
Take a bite and you'll find yourself in your colorful Escape Campervan on your way to grandiose natural parks like Sequoia National Park, where you spot ancient and gigantic trees and then set course for Joshua Tree National Park, where you are almost in an otherworldly landscape . And of course you also immediately grab Los Angeles and its famous beaches. Can't wait to make this hot dog now? Or a trip to the United States…
Also read: Overland in America and Canada | The ultimate roadtrip prepare route
Hot dog
Ingredients
4 slices of bacon
1 tbsp maple syrup
1 tsp light brown sugar
2 sausages, for example from Brandt & Levi
Ketchup amount to taste
Truffle mayonnaise amount to taste
Mustard amount to taste
40 g cooked sauerkraut
2 hot dog buns
Preparation
Mix the sugar and maple syrup. Fold in the bacon slices and fry in a frying pan. Bake the sausages. Cut open the buns and spread with ketchup, truffle mayonnaise, mustard or one of these (whatever you prefer!). Place the sausage, sauerkraut and bacon on top.