Traveling is good for you personal development† Since the dawn of time, our brains have been wired to acquire knowledge and evolve. And while school is the place to go to improve your academic knowledge, it doesn't do much when it comes to learning other skills like your adaptability, out-of-the-box thinking and getting to know yourself as a person. Traveling does a lot for a person, much more than you might initially expect.
1. Not learning, but experiencing
Discovering yourself and improving your skills is something you have to do on your own, without schools and academies showing you the way. And when it comes to activities that can improve your life, travel is perhaps the most enriching. Whether it's the places you see, the people you meet, or the need to step out of your comfort zone, travel offers some valuable life lessons in personal development that neither school nor any academy can provide.
It's simply because you do these things experiences rather than just learning, reading, or talking about it. Traveling is fun and can even seem superficial at times, but only for those who don't want to see the bigger picture. After all, it's what you want to make of it.
2. Personal development and your career
Are you still in doubt whether traveling actually promotes your personal development? I previously wrote a popular article with 10 reasons why a world trip is good for your career and future. This article was picked up by professionals on LinkedIn and went viral as companies and recruiters from across the country loved the views.
Traveling makes you a better person and the skills you gain in doing so are skills that companies are looking for.
3. Learn to adapt to change
They say that change is the only constant in life and yes, travel contributes to this belief. Even if you follow an itinerary to the letter, chances are you will experience some unpredictable situations.
Learn to deal with setbacks
You may be stuck due to a corona lockdown. Maybe there's a volcanic eruption that caught everyone by surprise and ruined air traffic so you can't get back home. But what can you do about it?
You can get stressed and anxious, or you can accept the fact that there are things you can't control and just embrace this change. In this extra time, climb that mountain you thought you didn't have time for, or that concert you just heard about last night!
Also read: Staying calm and positive during your World Trip | 6 Tips
Learn to deal with exciting situations
"That you dare." Or "you're crazy for doing that." Every time I tell people about the things I'm going through or share some pictures again on Facebook, they ask me if I'm crazy. But what they don't know is that the things I go through are often situations that I can't do anything about, but I have to deal with.
Recently, for example, I drove during the pikipikitour2021 through Uganda on a scooter. Along the way I experienced the craziest things. We drove on a scooter safari through areas with elephants, hippos, buffalo, leopards, hyenas and lions.
More than once exciting situations arose. Sometimes there is only one way from A to B within a radius of hundreds of kilometers, and buffalo lie on the road or lions lurk in the trees. Take a good look at the two photos below and above.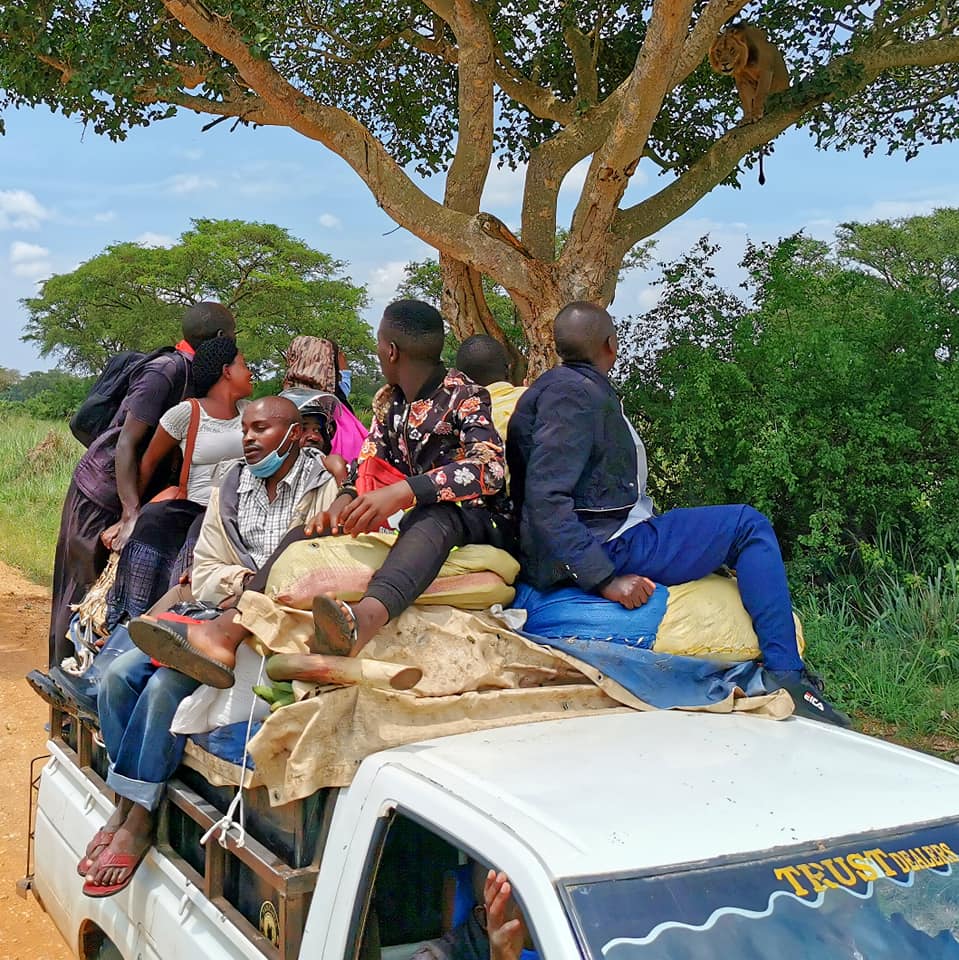 Turning around is not an option, you just have to pass. You look again at the locals, they also look again and decide to continue driving.
This is just one of the countless moments while traveling when you get to know yourself. You learn to deal with exciting situations, whether you like it or not.
Stop being a control freak
Traveling therefore teaches you how to do it stop being a control freak† Travel shows you change as a normal part of life. That you can accept change or tension. Change can cause setbacks, but at the same time you learn to solve these setbacks. Adversity is the root of evolution, so what better way to allow yourself to evolve in your personal development than by accepting change?
4. Embracing Cultural Differences
However open-minded you are, there will eventually be a cultural shock when you travel abroad. Usually the main reason it happens is the way certain cities or places are portrayed in the media.
cultural shock
Take the example brought to our attention by the BBC in 2020, when a group of 12 Japanese tourists suffered a nervous breakdown after visiting Paris as a result of cultural shock. Paris is often portrayed as a romantic city, almost dreamy, but the reality of it is not as perfect as you will see in movies. There are homeless people on the streets, protests and strikes are quite common and the metro is just as crowded and smelly as any other major city.
Not to mention security in Paris. France in 2022 is still invariably in the list with the most unsafe countries in Europe† For an outsider from for example Asia of South America Paris therefore feels very different. For us Dutch, Paris is 'normal'. Almost every Dutch person has been there at some point. We really don't think about the cultural differences or possible safety risks in this city. Paris is simply too much like the Netherlands for that!
Experiencing cultural differences
To truly experience and embrace cultural differences, you will have to travel further out of your comfort zone. And the more you start to travel, cultural differences will become less and less surprising. You will learn to accept cultural shocks as a normal part of life.
Good and bad things happen wherever you go. One of the most important things you will learn while traveling is that we are not all the same. We have different habits, ways of thinking, and even common sense doesn't mean the same thing to everyone.
5. Meeting new people
Traveling opens you up to countless opportunities, including meeting new people and making friends. Especially if you are traveling alone, meeting people in the most unlikely places will bring a sense of comfort and satisfaction. That's not to say you should trust anything a stranger tells you. Keep an open mind and remember that there is a possibility that they could turn into lifelong friends.
My new friend Marshall
I met this great guy named Marshall in Uganda. We happened to be wearing the same shirt and he called me. You can keep looking ahead and walking when someone calls you in an unfamiliar country – or you can just listen in and be open to what they have to say. Marshall loved that a 'Mzungu' (white person) was wearing a Uganda shirt. He wanted to take the picture to share it with his friends and family.
We exchanged phone numbers and kept in touch. Later he helped Malou (my wife) with the immigration from Uganda and ensured a quick approval of the visa. So there you have it…
Unforgettable meeting with Rosa
On a completely different moment before sunset I was walking with Malou through a hamlet in Croatia called Kuterevo (Google Maps location here ), with about 500 inhabitants. It is literally in the middle of nowhere there is nothing to do except the bear rehabilitation center we came to see.
During our walk through the deserted village we passed the house of this cute old lady. She immediately spoke to us and introduced herself: my name is Rosa. Rosa probably hadn't seen or spoken to anyone in a while. She only spoke Croatian and we really didn't understand anything except that we should sit down and have a beer.
Nearly 1,5 hours of babbling later, we knew she was left alone in the village with her granddaughter. Her husband had died and her children worked in the big city nearby. She lived a simple life and grew everything herself. Her garden looked pico-bello!
It was a difficult conversation with hands, feet and the Google translate app. If you didn't understand something, she grabbed your arm and repeated it clearly in Croatian – and we still didn't understand.
Embrace new people
But still I wouldn't have missed it for anything. We laughed a lot, especially at the visible happiness on her face. How happy she was to see us, and how much she had to say! These kinds of experiences are what you do it for in the end. Meeting new hospitable people is one of the best things about traveling. And don't forget: in terms of personal development it also does a lot for you. You get to deal with different people from different cultures, from all walks of life. You undergo personal development without realizing it.
6. Step out of your comfort zone
If you manage to step out of your comfort zone and meet new people with an open heart and mind, you could end up with more than just a pen pal. You never know when you might meet your future boyfriend, business partner or boss.
open yourself up
Travel has its unique way of instilling a sense of openness in us. When we embrace it, we open ourselves to the possibility of forming strong bonds that last a lifetime. Anyone you meet can teach you something, if you're willing to do so. Not to mention getting a new perspective on topics you thought you knew all about. Someone who lives in a remote desert of Jordan lives, for example, has a very different view of the world than you do.
How do you step out of your comfort zone?
Stepping out of your comfort zone can be done in many ways. It's really not just pushing your (physical) limits by doing exciting things, such as bungee jumping† It's mainly about gaining experiences, especially the things that you actually think you're not going to like.
For example, are you really a hotel person? Then go camping. Do you find it difficult to talk to strangers? Then book a hostel in a shared room. Do you find the Muslim culture scary? Then go on a trip to an Islamic country. I promise you that these experiences will make you think differently.
That way you force yourself to step out of your comfort zone. You force personal development.
7. Disable Autopilot
Because whether we want to admit it or not, we mostly run our lives on autopilot. Wake up, get up, brush your teeth, have breakfast, drive to the office, take a break, go back from work, take a shower, eat dinner, go to sleep – this is the daily ritual for most of us† We learn to do this so that we don't have to focus on every single task. The automatic pilot therefore stands in the way of personal development, without us realizing it.
Also read: Reality check: What long-term travel does to you mentally | Roadtrip USA (20)
Doing things consciously
Traveling can help you switch off autopilot and relearn how to do things consciously. You can't keep doing the same things you did at home when you wake up in a cozy hotel in Iceland or in the nature of Switzerland.
Also read: Things to do in Lauterbrunnen and Interlaken | The most beautiful Swiss region
You are ready to embrace new experiences, to make conscious decisions. You feel revitalized as soon as you break the monotonous cycle of everyday life.
8. Learn new things about yourself
Those who travel willingly expose themselves to learning something new. As you get to know new cultures, you will experience personal development and creativity in a way you didn't have then. This can spark new interests and open you up to learn new skills and abilities, or just get to know yourself better.
Maybe you thought you could never keep your cool if you got lost in a big city like Kuala Lumpur, or even mustered the courage to ask for directions. However, if you're desperately trying to catch the next train and have no idea where the nearest subway station is, your instinct kicks in. You'll gain the courage to talk to people, or even learn to read a subway map in less than two minutes. This will prove that you are and can do more than what you let yourself believe.
That dear people, is personal development.