The time has come, we are (finally) on a trip with the camper! Before we could leave, we were very busy with the final preparations and social appointments. That's why it took us a while to get a new blog ready, but here it is! We take you in the period before we left.
Also read: Traveling with a motorhome (1) | Traveling indefinitely: introduce yourself!
Also read: Traveling with a motorhome (2) | Selling a house and looking for a motorhome
Also read: Traveling with a motorhome (3) | Camper bought + features and upgrades
Also read: Traveling with a motorhome (4) | Camper insurance full-time living and travel
Also read: Traveling with a motorhome (5) | Final preparations and departure
Also read: Traveling with a motorhome (6) | Experiences and tips for motorhome travelers
Final preparations
House transfer
4.5 weeks before our departure, we handed over our house to the buyers and new residents at the notary. Fortunately, this all went well. We cleaned the house, closed holes in the walls, removed all the weeds, etc. It was a job, but we thought it was neat to deliver the house in a neat condition.
In recent weeks we have sold all the last items, such as the furniture and the TV.
Then we spent the last two weeks on the camping chairs in the living room because the furniture had all been sold and picked up. But, no problem, that way we could get used to it a bit. We gave away the other smaller items that were still there, took them to the clothing bank and the thrift store. So everything turned out well.
Also read: Selling used stuff for a trip around the world and preparing your home
also read: How do you save for a trip around the world? † Saving in 12 steps | Instruction manual
You may be wondering where we lived before we left? No, not in the camper. This would certainly have been an option (with the nice weather), but we had nice other options.
We were allowed to stay in the apartment of friends who were on vacation. Our friends have pets and so the nanny for their home and pets was also arranged. A great solution for both parties! In addition, we have also lived 'at home', with our (in-law) parents.
There are organizations that link travelers or people without their own home with people who go on holiday and are looking for a 'babysitter'. Perhaps a tip for the travelers among us. We ourselves have no experience with this (yet).
Saying goodbye to our work and colleagues
Our last working day was the last Friday of July. The following Monday we left. We worked until the end. I (Laura) really said goodbye to my work and colleagues. Unfortunately, it was not possible to work digitally for the company.
Stefan has partly said goodbye to his work. Stefan was a furniture maker, a profession that he cannot continue to perform digitally. Nevertheless, Stefan remains employed by the company. He will digitally design/draw kitchens and furniture. It's just a switch from always being physically busy and making the most beautiful furniture with his hands, to designing a piece of furniture behind a laptop. He sees this as a great new challenge!
Also read: 10 Ways How Digital Nomads Make Money Online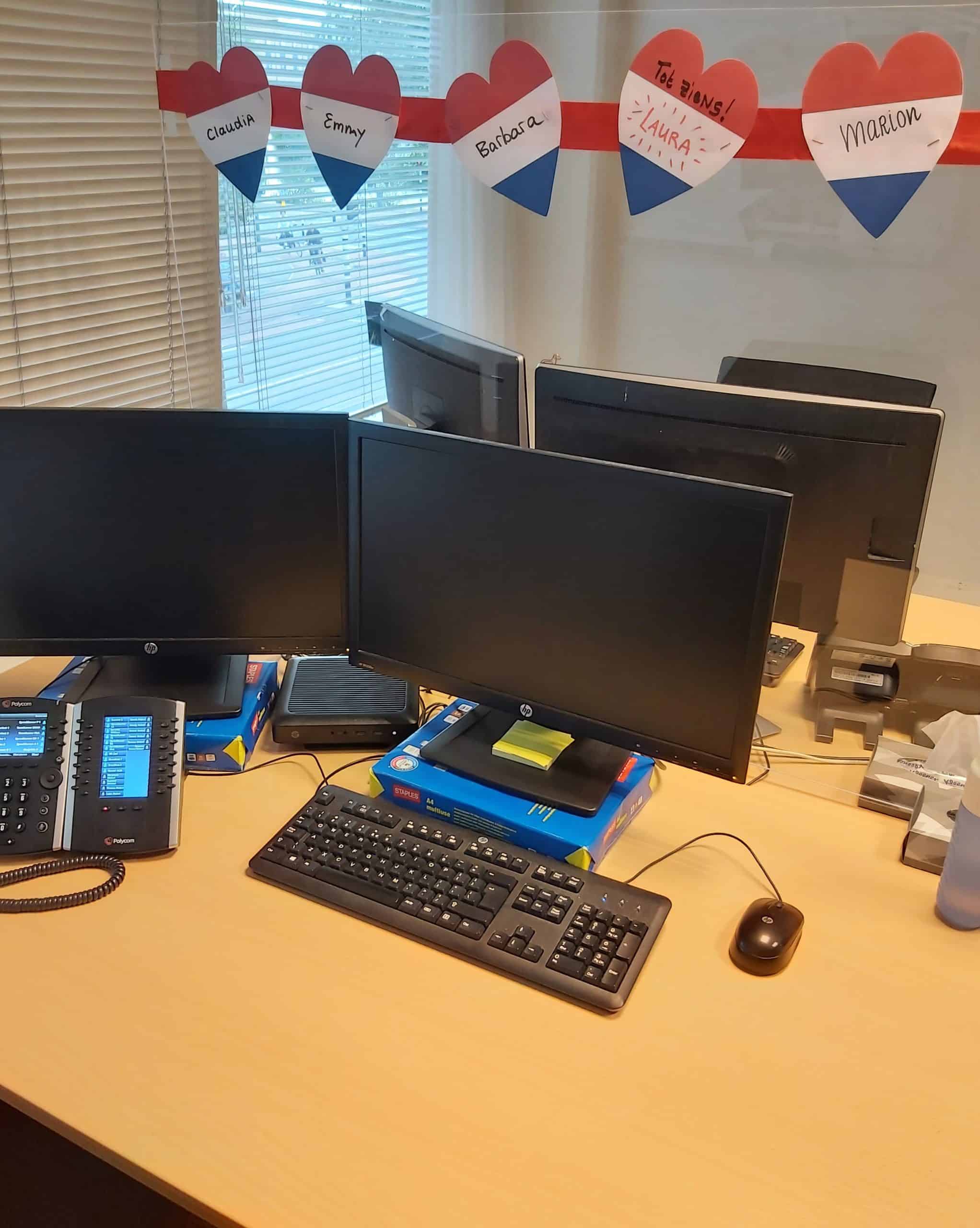 Car and bicycle sold
Just before departure we sold the car and bicycle(s). There are of course several options for this; a car dealership, a bicycle shop, marktplaats, social media, a car sales site and so on…
We sold our car to a car dealer. We liked being able to do business quickly and reliably. We were able to sell our bicycles to family members. Maybe we can borrow them again when we are back in the Netherlands…
furnishing a motorhome
Before our departure we made some changes to the camper. Stefan has a water filter installed in our kitchen. In addition, he has mounted brackets in the garage of the motorhome so that we can hang a small parasol, outdoor rug, etc. there.
I (Laura) focused more on the layout of the camper. I have hung lights to create some atmosphere, pictures with friends/family, put pillows on the bed for decoration, etc. It has now become a cozy place!
Curious about what our motorhome looks like?
Also read: Sold house and bought camper | Our motorhome features
Always clean drinking water
AquaLogic Inline-C-Ultra water filter
Do you ever doubt the water quality? The AquaLogic Inline-C-Ultra water filter is a water filter that is easy to place in your motorhome or caravan.
The AquaLogic Inline-C-Ultra is a drinking water filter with the ability to absorb taste, color and odors, including chlorine and other chemicals. This will greatly improve the taste and quality of your drinking water.
Pros:
Best tested

Affordable

Odor and tasteless water

Easy installation
Cons:
Replace filter membrane after 12 months
Order Now
Want to support us? We earn a small commission if you make a purchase through our link(s), at no additional cost to you.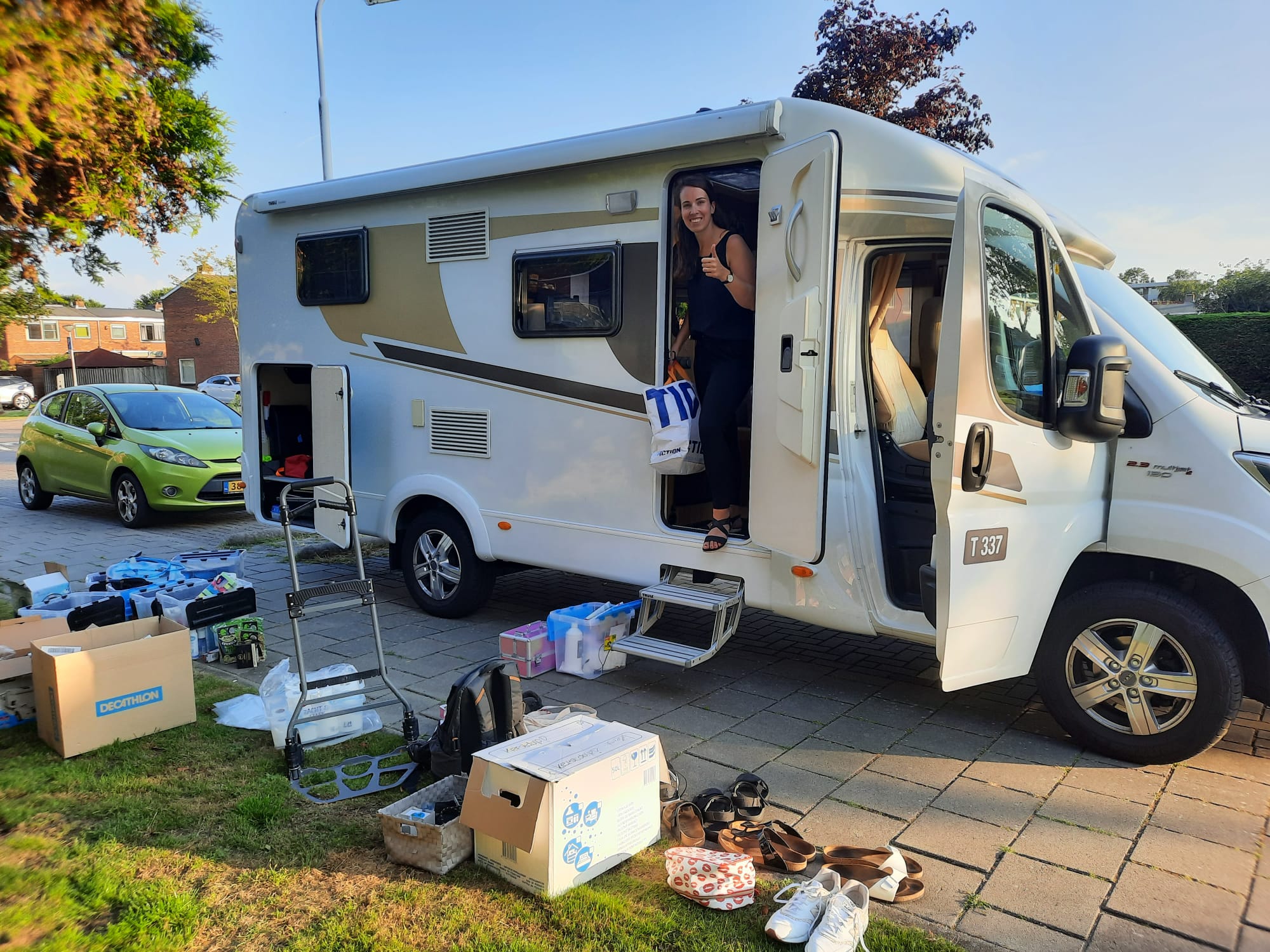 Check the weight of the motorhome
Every motorhome must adhere to a certain weight. A few weeks before departure, Stefan had the camper weighed on a weighbridge. We weighed everything that went into the camper after that.
How did we do that? Stand on the scale with the items in your hands (in boxes, crates or bags), and then stand on the scale alone. Subtract the weight and you know how much your stuff weighs. We've written everything down. The items that were not included were also weighed and then removed from the weight again.
It is useful to take into account how much fuel, water, gas bottles, groceries, etc. will go with it that may not be in the camper at that time. Tip, get your groceries as much as possible at the destination and not too much at once. This again saves some weight.
On the day of departure we had ourselves weighed again on a weighbridge and luckily we are within the allowed number of kilos. Keep in mind that the people in the camper are also weighed!
Also read: How to: Buy or convert a campervan
Practical issues
It is recommended to regularly discuss whether everything has been arranged before departure. Making lists can help with this. This can of course be done on paper, but also in an Excel file or, for example, a to-do planner. There are even to-do planners that you can digitize by scanning a QR code and then erase the written text so that you can use the page again.
We found out that Stefan's driver's license had to be extended. Because it can be busy at a municipality, it is advisable to take action in time. Fortunately, in our case, it was all arranged on time, for us it is a bit of a last-minute thing.
Our municipality makes it possible to renewal of your driving license digitally to be able to request. Stefan had passport photos taken at a shop that is affiliated with their photo service at the RDW. The passport photo taken can be sent to the municipality via the internet. As a result, only one ride to the town hall was needed (to pick up the driver's license) instead of two (also for the application). In our case, very pleasant in terms of time and work.
A few more things to look at and arrange before departure include:
Any adjustments to a mobile phone subscription
Good insurance: travel, camper, household effects, etc.
Take printed insurance papers, damage form, etc
If using medication, get a stock from the pharmacy
Purchase a vignette if necessary
Read (driving) rules of the destination
Also read: Travel preparation | 5 things you must have arranged before departure
Farewell outings and parties
The last few weeks we had a lot of social appointments. We enjoyed spending quality time with our friends and family. Besides that we had planned it ourselves, we were also surprised. We had a small farewell party for Stefan's family. We were totally overwhelmed, didn't notice anything and it was a lot of fun!
The last day before our departure we had organized a camper warming with a farewell drink. We had parked the RV and opened the door to let everyone have a look.
After all, a whole tour is not necessary, a camper is not that big, haha! In addition, we had arranged drinks with a small snack to be able to toast and chat with family, friends and colleagues.
We were very spoiled during the drink. We have received beautiful cards, with kind words. But also personal gifts, cups with our logo on them and delicious stroopwafels for on the go. Saying goodbye to our loved ones was also part of it. We see it as a goodbye and not a goodbye forever.
Departure
We left the morning after the drink! We consciously chose not to ask us not to wave goodbye, because otherwise we would continue to say goodbye. At the moment that I (Laura) are writing this blog, we are in our first week of travel.
Austria is the destination where the journey really began for us. We drove a lot of kilometers the first days, by Germany and partly Austria. We stayed in Germany for two nights. We have not mapped out a route for Austria, but we have written down the places we would like to go to. Let's go!
Also read: Traveling with a motorhome (1) | Traveling indefinitely: introduce yourself!
Also read: Traveling with a motorhome (2) | Selling a house and looking for a motorhome
Also read: Traveling with a motorhome (3) | Camper bought + features and upgrades
Also read: Traveling with a motorhome (4) | Camper insurance full-time living and travel
Also read: Traveling with a motorhome (5) | Final preparations and departure
Also read: Traveling with a motorhome (6) | Experiences and tips for motorhome travelers