We have already seen many special places in the world, but nowhere have we seen so many large groups of elephants
at a place. More than once just meters away! Chobe National Park (Location here ) in the northern part of Botswana is a unique area where you can easily see hundreds of elephants in one day. Of course you can also spot other wildlife in Chobe. Giraffes, lions, hippos, buffaloes and countless special birds are present here in large numbers. In this article we take you to the most special places in the park, we give you tips where you can eat well and what is the best way to explore the park and its wildlife. These are our tips for Chobe National Park, the elephant paradise of Botswana!
Plan your holiday to Africa here
About Chobe National Park
Chobe National Park in the northern part of Botswana is the first national park of Botswana and also the most biologically diverse. Chobe is Botswana's third largest park after Central Kalahari Game Reserve en Gemsbok National Park. Chobe National Park has one of the greatest concentrations of game in all Africa which makes it particularly attractive to safari tourists. The sheer abundance of wildlife along the river makes it easy to spot many different species in just one day. Entire animal families walk along the water here.
The 'Big Five'
The entire 'Big Five' (lion, leopard, elephant, buffalo and the rare rhinoceros) can be found in the park, although you will have to make a lot of effort (and be lucky) to actually see all five. Rhinoceroses are also very rare here and leopards are very good at hiding themselves in the tall grass and the many trees.
The gigantic elephant population
If you like elephants, Chobe is the right place for you. Chobe National Park is a unique area where you can easily see hundreds of elephants in one day. In fact, there are so many that they have to warn you with road signs all over the area!
According to the latest estimates, there are 160.000 to 200.000 elephants in Botswana. Some that are hard to comprehend. A large part of the elephants are concentrated in the northern part of the country, including in Chobe National Park and the surrounding protected nature reserves.
Many elephants are refugees
These bizarre numbers are unique in the world and it was not always the case. The number has actually grown in recent years. Why? On the one hand, they are fortunately well protected here in a gigantic protected nature reserve and adjacent national parks, a positive development.
On the other hand, large groups of elephants have fled from neighboring countries in central Africa to southern Africa and Botswana in particular in recent decades. This is a direct result of ongoing war and unrest in those countries.
Balance between humans and animals
Fortunately, there is a quiet habitat for the elephants in Botswana, although the locals are also increasingly concerned about the huge numbers that live here…
Make no mistake, elephants really destroy everything. They clear entire football fields of vegetation every day and then you are only talking about one elephant family. With roughly 200.000 elephants, you can imagine what an impact these animals have on the nature and the land of the local farmers. It will take a lot of money and effort to manage this properly in the coming years. Fortunately, we see that Botswana is well organized by African standards. We are therefore confident that it will work out.
Also read: The green part of Namibia: the Caprivi Strip!
Also read: Itinerary Namibia 2 to 5 weeks | Tips, highlights and example routes
Tips for Chobe National Park
Jeep safari
One of the best ways to explore Chobe National Park is of course with a Jeep Safari. Many hotels and lodges offer these tours, but keep in mind that the prices vary widely and you often pay too much, because the lodges keep a fixed amount in between. Therefore, always view and compare first here the range of activities from the different providers, so that you know approximately what it should cost. Almost all tour operators will pick you up at your hotel or lodge and bring you back at the end of the day.
Tip:: Of course you can also book your tours via this website books (you're doing us a favor with that; it doesn't cost you anything extra and we get a small commission for that).
During a Jeep Safari you almost always see many elephants, zebras, giraffes, impalas and wildebeests. However, it is usually from a somewhat greater distance, because most animals actively avoid the large off-road vehicles and run away from them. Only the lions don't seem to care at all about the wagons full of people. They regularly walk right past it, as if nothing is wrong.
River Sunset Cruise
Do you want to come face to face with these beautiful animals, just like we did? In our opinion, the best way to explore the park is not the regular jeep safari, but a safari by boat! The river cruise takes you close to the action via the Chobe River. More than once we came face to face with giant families of elephants, buffaloes, hippos and more. Because we floated on the water in a small boat, the animals saw us less as a threat and came much closer. In peace they walked over to us to drink water right in front of us, only three meters away.
The feeling you get when you can experience this so intensely and up close, I can't really describe it with a photo or words. My heart started beating faster! Not only because I had never experienced anything like it before, but of course also because it was a bit exciting. We were really close!
Tip: also read Safari in Uganda Murchison Falls (on a scooter!)
Whispering to each other, we enjoyed this unique moment while we took pictures in peace and occasionally filmed a bit. At the same time, there was always at least one elephant in the group keeping a close eye on us while the others were drinking.
The little ones were well protected at all times, without it feeling stressful. They accepted us and did not see us as a danger on the water, just as our guide told us in advance. Incredibly beautiful to make eye contact with these gigantic animals in this way. This is simply not possible in a jeep.
Tip:: curious what I shoot with? Check out the display below…
The ultimate world travel camera
Fujifilm X-T4 Silver + 16-80mm
The Fujifilm X-T4 with 16-80 is the ultimate all-round world travel camera† This camera has been declared several times by both the consumer association and Tweakers.net the best system camera you can buy.
Even on the automatic mode you suddenly feel like a professional photographer! You can effortlessly shoot the most beautiful photos, and thanks to the versatile zoom range of the 16-80 lens, you can easily get closer to the action anywhere in the world.
Pros:
The best tested camera

Fantastic photos

4k video at 60 fps

IBIS image stabilization

5 year warranty
Cons:
Get used to it, many options!

Pricing
Buy now
Our review
Want to support us? We earn a small commission if you make a purchase through our link(s), at no additional cost to you.
Also read: Why you should NOT take photos with your smartphone while traveling
Other large animals in the park
Of course, in addition to the large number of elephants, there is more big game to see in Chobe National Park. Many hippos live in the water and to my surprise they also came out of the water at the end of the afternoon, in the full sun, to graze. That is quite unusual, as their skin can burn in the full sun. Usually the hippos wait to come out of the water until the sun has set.
During our river cruise we also encountered several crocodiles, including this big boy. This gigantic crocodile of at least four meters, was resting quietly on the side in the sun.
Buffalo, one of the original 'Big Five', can also be seen in abundance in Chobe National Park. Some of them had swum to the islands in the great river to enjoy all the green grass in peace.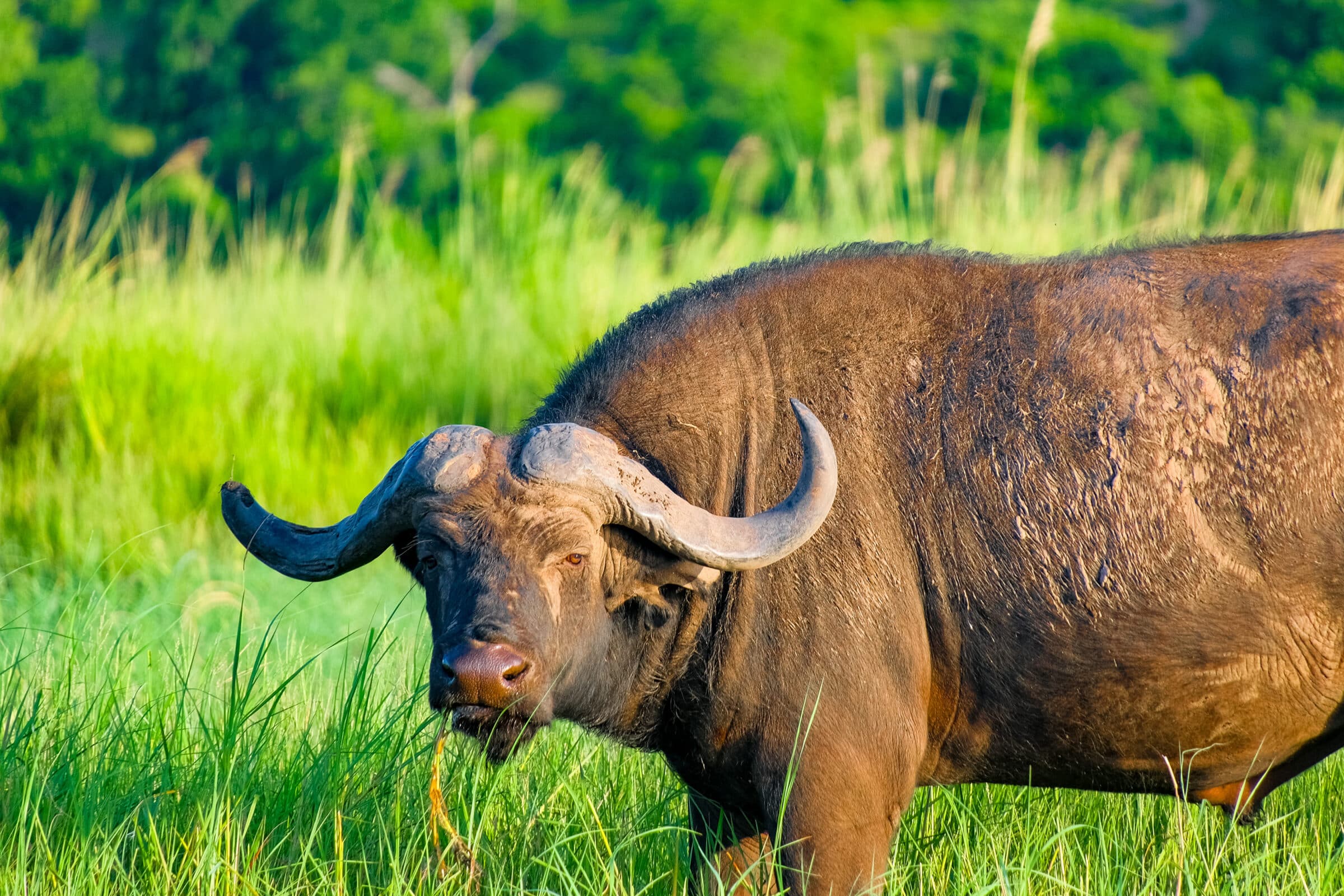 From the water we also saw a group of seven lionesses spread out in the tall grass. A group of elephants with some little ones came face to face with the lions from the forest. After some doubt, the elephants walked towards the water past the lions, of course with the little ones well protected between the strongest elephants.
We are now really spoiled travelers. We often don't even stop for giraffes, zebras, wildebeests and buffaloes, simply because we encounter them everywhere in southern Africa (also outside the parks)… So it's not that special for us anymore, but you can of course find these animals in abundance in and around Chobe National Park.
Baboons and impalas
Other common animals in Chobe National Park include baboons, impalas and other similar deer species. We always like to stop and observe these animals. They are known for being very active and playful. There's always something happening! Baboons are actually always romping among themselves.
Tip:: Spot the alpha males, who are always quietly on the lookout somewhere. They often make direct eye contact with you! Experience how the little ones climb, frolic and bore each other almost non-stop.
The male impalas are actually always busy determining who the alpha male is. From a young age they are already engaged in 'play fighting'. As they get older, this fight naturally becomes a lot more intense and serious. In the low season when there are many young males, you actually see this phenomenon constantly.
The many beautiful birds
My interest in birds has grown in recent years. I never actually photographed them before. Since I started paying attention to which birds I encounter while traveling, I am more and more amazed about the beautiful species that I see. I'm definitely not a bird expert, but I really like this deep black bird with a blue glow (which you only see with reflected sunlight). If anyone knows what kind of bird it is, let me know in the comments!
Another nice bird is the bright yellow 'weaver bird'. You come across them a lot in both South Africa, Botswana and Namibia. These birds do not make normal nests, but real houses for themselves, which hang in the tree. Below you can see one at work. These birds are also known to be very vocal, they really make noise together!
Good food
Lots of hotels and lodges kasane (Location here ) provide their guests with meals, but not all of them. When in Kasane you are tired of your standard hotel food or just want somewhere good to eat, then go to The Coffee Buzz (Location here ). We can really recommend this very well rated restaurant! We returned there no less than three times because it was just very good ... You can go here for breakfast, lunch and dinner. You do have to take into account that the restaurant closes at 16 p.m., just like almost all other restaurants in Kasane…
Tip:: Order the freshly breaded schnitzel with homemade cheese sauce for lunch and/or dinner at The Coffee Buzz in Kasane. And for breakfast The Bush Breakfast!
Accommodation
Kasane is the hotspot and base for Chobe National Park. The town is packed with accommodations and you can really go all-in here in terms of price and luxury. You can even book lodges here for 1000 euros or more per night…
Fortunately, there are also plenty of mid-range and budget options. Some nice places to stay in and around Kasane are:

(prices are based on two persons)
Tip:: all the above accommodations are equipped with a swimming pool. Even the cheapest guesthouse has one!
Best time to travel
Peak season: The best time to visit Chobe National Park is the dry winter months, from May through October. During this period the temperatures are pleasant and there is little to no rainfall. The landscape is then dried out and the vegetation is less dense. This makes it easier to spot wildlife as they often concentrate around the Chobe River. In the dry months there is less vegetation and water resources are scarce, meaning animals flock to the river to drink and hunt. This makes it an ideal time for wildlife viewing.
Low season: During the low season or rainy season, from November through April, the landscape of Chobe National Park is green and lush. In theory, the vegetation makes it more difficult to spot the animals. Roads can get muddy and sometimes even flood, making access to certain areas of the park challenging.
Our experience: as you can see in the pictures, we have been there in the low season. In the relatively wet and therefore very green months. Our experience is that it can rain heavily now and then, but that's about it... Nature was incredibly green! To be honest, we only thought that was a plus. In terms of animals, we really lacked nothing. The river will be teeming with animals and we haven't really missed anything. Our friend (and also Wereldreizigers.nl blogger) Eric who traveled with us, was also here a few months earlier in the high season, when everything was very dry and yellow. He also confirms that it doesn't really matter in which season you travel to Chobe National Park. You are bound to have a great experience no matter the season.
Conclusion
Those who travel to Africa come here largely for the many beautiful animals. There you absolutely go to it in South Africa Kruger Park wants to travel, it is in Botswana Chobe National Park. Chobe is the absolute Safari hotspot of the country and you really cannot miss this park during your trip through the country.
The large river that runs through Chobe makes the park unique. The river gives you a rare opportunity to experience big game, and elephants in particular, in an intense way. In no other wildlife park in the world did we get so close that we could just hear the animals drinking and even breathing. Literally standing face to face with gigantic groups of elephants is an experience you will never forget.
The broad smile on Malou's face at the end of the sunset river cruise says it all. The best tip I can give you, therefore, is that a river safari in Chobe National park, absolutely on you bucketlist. belongs.
Plan your holiday to Africa here