Pearly white beaches, clear blue water, friendly people and endless choice of travel routes. That's the Philippines† Do you like island hopping, sun, sea & beach? Then this destination is perfect for you. But due to the fact that there are qua itineraries as much as possible, this destination can be quite overwhelming. We have bundled our experiences and a beautiful travel route philippines composed. Dream away!
Plan your holiday to Asia here
Start backpacking itinerary Philippines
The itinerary Philippines that we highlight in this blog has a duration of about 4/5 weeks. Do you like to take it all a bit easier? Then it will take you 6 weeks. Do you have 'only' 3 weeks to backpack? Then skip certain destinations or choose to take the plane more often. This way you can also save a lot of time. The minivans and ferries are nice and cheap, but of course it all takes a little longer.
Arrival in Manila
Most likely you will fly to the capital Manila. Use this destination to catch your breath for half a day to one day. This way you are fresh and fruity the next day to go to your first real destination in the Philippines!
Boracay
From Manila to Boracay
Do good research when you airline tickets scores in the Philippines† Comparing different providers can sometimes save you 100 euros. If you want to go to Boracay, you can choose to fly to Kalibo or Malay. From both destinations you can take the minivan (and boat) to Boracay. Minivans and boats are best booked via bookaway.com† Bookaway.com is very active in the Philippines so check their website for just about every bit of transportation you need. The minivans and boats can often be booked very cheaply on this website.
Also read: Skyscanner | How to save (a lot of) money on flights
Things to Do in Boracay
Boracay is a nice first introduction to the Philippines† Here you can really relax after a lot of travelling. The beach in Boracay is also called the most beautiful beach in the world named. Of course we had to assess that. And sure enough, the beach is beautiful. Almost as beautiful as in the Maldives! Boracay has had quite a bad reputation in the past due to the fact that everyone came here to party.
In 2018, the Philippine president decided to put a stop to this. The island was then locked for 6 months to prepare itself for the 'right' tourist. The result is certainly there! It's still an island with plenty to do, but it's not too much.
There are countless tours and activities to book on Boracay, look here for the offer.
Cebu city
From Boracay to Cebu City
Cebu City has an airport that you will most likely need to get to your next destination (also very cheap!). Then it is of course nice to take a look at this city right away. Keep in mind that the ride from the airport to the city will take longer than you expect. The traffic is a big chaos! A nice contrast compared to Boracay.
Cebu City Attractions
Make sure you have at least half a day to a full day in Cebu City to explore the city a bit. There are not many sights, but it is certainly nice to taste the atmosphere and to gaze at what is happening on the street. Do you feel like shopping or escaping the heat? Then go to the mall Ayala Center Cebu.
Moalboal
From Cebu City to Moalboal
From Cebu City you can easily travel from the South Bus Terminal to other destinations on the island. The direct bus ride with Ceres Liner to Moalboal takes approximately 4 hours. Ask for an air-conditioned bus at the bus station (or check it yourself if they don't understand you). Your ticket is then 0,50 euros more expensive, but it is completely worth it. In addition to the air conditioning, you have cooler seats and more personal space. Something you will definitely appreciate if you go backpacking through Asia. After 4 hours you will be dropped at the 7 eleven about 3,5 kilometers from the center. Fortunately, enough tricycles are waiting for you here to offer you a lift.
Things to Do in Moalboal
Moalboal is delicious and one of my favorite destinations in the Philippines itinerary! Moalboal is mainly visited for its beautiful kawasan waterfalls† They are a bit away from the center (about half an hour on the scooter), but that immediately makes it a nice trip where you see enough of the area. So you can choose to do it on your own and go hiking along the waterfalls.
Another (popular) option is canyoneering. You can a tour book at your accommodation but in most cases it is cheaper if you do it yourself through NIC arranges. Another must do in Moalboal is ssnorkeling with thousands of sardines and turtles† The pictures don't lie, it's true that you can see this just meters from the beach. Definitely a very nice experience! Keep in mind that you will be in Moalboal for at least 2 days. It's such a nice place.
Tip: End your day with a super cheap dinner at local Ven'z Kitchen† More in the mood for a fancy Italian dinner? Then pay a visit Trattoria Altrovea† You can find this chain in several places in the Philippines.
Siquijor
From Moalboal to Siquijor
From the bus terminal in Moalboal (read: roundabout where buses stop that you have no idea that is the bus stop) a bus leaves every hour to Bato. The roundabout is located at the end of the 7 eleven street where you were dropped off on the outward journey. Most likely you will also see other backpackers waiting here. Then you know immediately that you are in the right place! When you arrive in Bato, transfer to the bus to Liloan. From the port city of Liloan you walk to the boat that leaves for Siquijor.
It is important that you plan this trip well and leave Moalboal on time. The disadvantage is that there is only one ferry per day. Mayoo Shipping departs promptly at 10.00:2 AM. The journey from Moalboal takes approximately 1,5 hours by public transport. When you travel directly with a minivan you will be there within 2,5 hours. The journey from Liloan to the port in Siquijor (Larena) takes XNUMX hours. And here too you don't have to worry about getting to your accommodation. Enough choice of tricycles!

Do you have more time in the Philippines? Then make a stop in Oslob. You actually just 'pass by' there when you travel to the ferry from Moalboal. Oslob is known for beautiful waterfalls and whale shark diving.
Things to Do in Siquijor
Siquijor is our favorite destination in this Philippines itinerary! It is a beautiful island where you can completely relax and seek adventure. The island is huge, so there are plenty of places to visit. In addition, there are more than enough nice restaurants, hostels, hotels and glamping sites. But despite that, the island still retains its charm and it still feels authentic.
We therefore recommend that you stay in Siquijor for at least 3 days. 3 days are not enough to visit all the waterfalls on the island. The most popular and beautiful are the Cambugahay Waterfalls† Make sure you are at the entrance at 08.00:XNUMX sharp. Then you can enjoy it all by yourself! There is even a rope with which you can jump into the clear blue water from a fairly high distance. Super awesome! You can also choose to hike to the top, there are more waterfalls there. The hike itself is very nice, but the waterfalls above are less impressive.
If you want to visit another waterfall, we also recommend the Lugnason Falls at. You can spend the afternoons on one of the many beaches that Siquijor has to offer. Kagusuan Beach en Solagon Beach to chill and Palito Beach to watch the sunset. It's also the most popular beach for the sunset, so don't expect to be alone here.
Healers in Siquijor
Are you looking for adventure in Siquijor? Rent a scooter and look for the 'healers' in the mountains. The island of Siquijor is known for the mysterious 'healers', also known as modern witches named. When you visit you can experience how they 'heal' you in their way. The drive there is super beautiful and an experience in itself! Be sure to set aside at least an entire afternoon for this. If you like you can also make a stop at the Butterfly sanctuary, you practically pass there.
Our favorite restaurants in Siquijor are:
Bohol
From Siquijor to Bohol
From the port where you arrived in Siquijor you can also take a boat to the next destination in this travel route Philippines: Bohol. Oceanjet sails once a day at 12.30 pm so make sure to be there at least 1 hour in advance. It's quite a 'process' to get on the boat. You can buy your ticket at counter 1. At counter 2 you get the tickets for the corresponding seats and at the 3rd counter you pay tax for the port. Not very useful, but oh well. You will then be rewarded with a fancy boat including air conditioning, snacks that are for sale and a movie. The journey from Siquijor to Bohol takes about 1,5 hours.
Things to Do in Bohol
In Bohol you arrive at the port Tagbilaran. Here you are faced with 'only' 2 choices. Do you like crowds, restaurants, shops and nightlife? Then Panglao is the best hangout in Bohol. This is also where most backpackers and tourists can be found. Would you rather look for peace and nature? Then you have to look for an accommodation in the Loboc area. The advantage is that you are immediately close to the main attractions. Loboc is quite a drive from Panglao, but it is perfectly doable as a day trip. After 1 hour by scooter you are in the vicinity of the Loboc River.
It is very nice to take a boat trip on this river. You can arrange this at your accommodation, but I recommend that you just drive towards the river and talk to a local there if he wants to take you around with his boat. Much more fun in our opinion! After the Loboc river you can make a stop at the Bilar Manmade Forest, Chocolate Hills and the Tarsier Sanctuary† You often read about the Twin Bamboo Bridge, but I really didn't think it was worth the 'detour'. You can plan all of the aforementioned stops in 1 full day. You can have breakfast or lunch at Fox & The Firefly Cottages which is right next to the Loboc River. You won't see much along the way.
El Nido
From Bohol to El Nido
From Bohol you take the ferry to Cebu City where you can catch another flight to the island of Palawan. El Nido is a super fun, but touristy destination in this Philippines travel route.
Things to Do in El Nido
El Nido is therefore touristy, but oh how beautiful it is there! It's the perfect destination to go island hopping! Ever dreamed of staying overnight on a desert island? Here this dream comes true. The choice of excursions is huge from this destination. The most popular tour is the ABCD Island Tour. Creative name not? Just don't expect exclusivity, because every tourist in El Nido will definitely do this tour.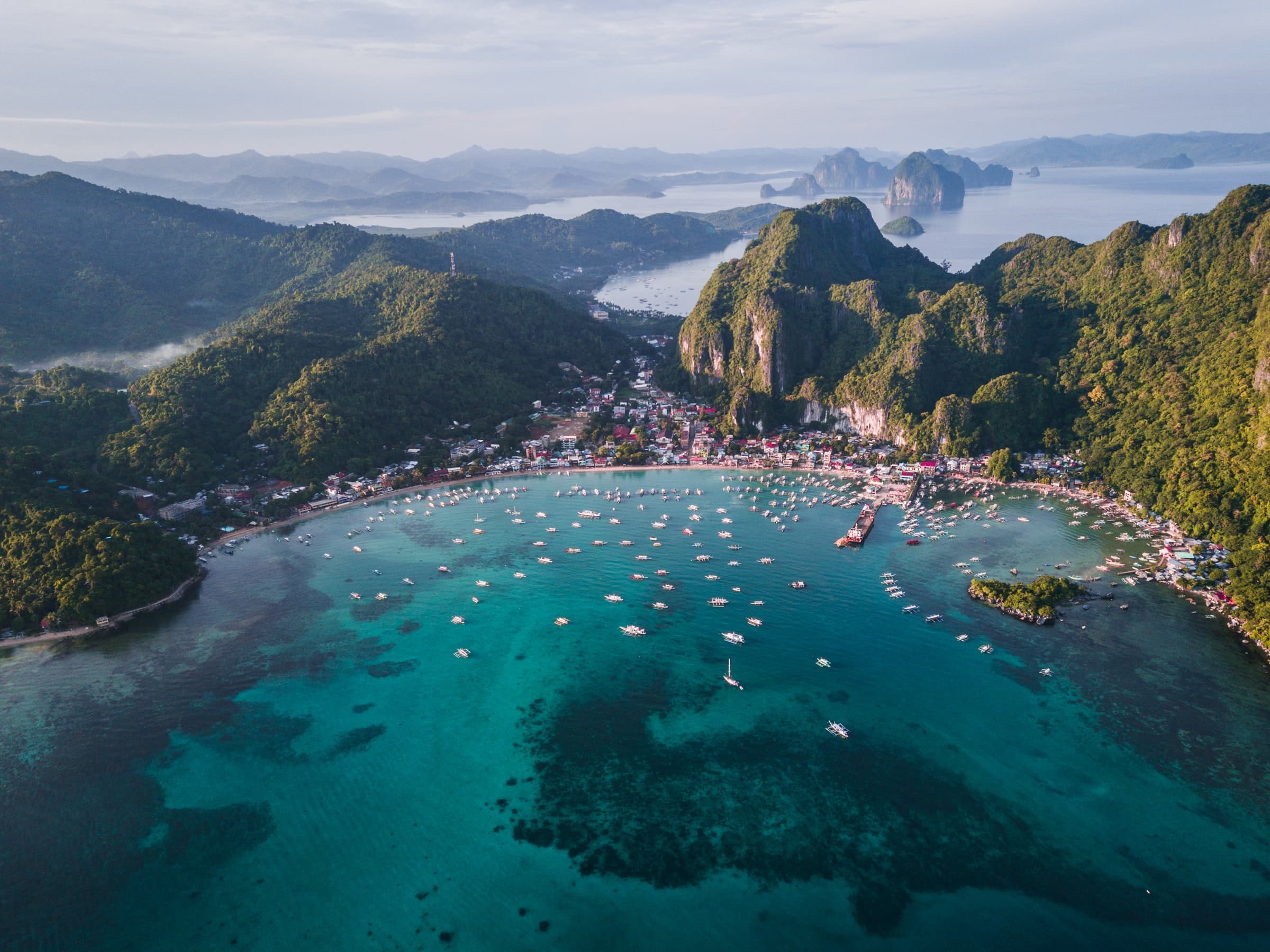 Besides a nice tour it is definitely a must do to see the beautiful Napan Beach en Duli Beach to visit. These 2 beaches are in the North of El Nido, so it's a little way out, but well worth it! Nacpan Beach is even number 1 of the top 10 most beautiful beaches in Palawan! Are you looking for a nice beach closer to the center? Then go to Las Cabanas Beach where nice restaurants are located and where you have a beautiful view of the sunset. Looking for adventure? Then you can de Taraw Peak climb for breathtaking views of El Nido.
From El Nido to Coron with an expedition
As you may read in many blogs, the expedition from El Nido to Coron (or vice versa) is for many the highlight of the Philippines travel route† And so for us! Beforehand I did a lot of research about what is the 'best' provider in these expeditions. You will soon find out that there are 3 major, popular providers: El Nido Paradise, Buhay Isla and TAO Expeditions. TAO Expeditions is the most popular, but also the most expensive. You pay about 500 euros for 3 days of expedition. My backpackers budget was not very happy about that. The 2nd option for us was El Nido Paradise† Great reviews and a lot cheaper. It's still a lot of money, but I can say that this expedition was a really nice experience. And that is of course worth something!
Our experience with El Nido Paradise
Our experience with El Nido Paradise was incredibly good. We had the nicest crew who prepared the most delicious meals for us 3 times a day. It is unbelievable what they can achieve on such a boat. That was a real party! They were super helpful and really made sure we were all happy. We had no bad luck with our boat and everything went according to schedule. There was also more than enough space to find your own place on the boat. We almost always arrived first at our locations, resulting in a beautiful destination for us alone!
We spent night 1 in a hut on a desert island and night 2 in a hut on an island where a large family lives. You spend the evenings with delicious food and drinks on the beach where you really won't want for anything and are closed with a campfire. A must do for the real Philippines experience. Incidentally, we found 2 nights more than enough. But you can also opt for 3 nights or even longer. It also depends on the date when you want to leave. In any case, make sure you book this expedition well in time in this Philippines itinerary. It would be a shame to miss out on this experience!
Coron
Things to Do in Coron
Coron is the last destination in this Philippines itinerary and only a 1-hour flight away from Manila. Coron is a super nice destination where you can enjoy yourself for 2 to 3 days. It has a chill vibe and there are countless nice restaurants and places of interest. Mount Tapyas is within walking distance of the center. Make sure you start the climb up 2,5 hours before sunset, then it is not so crowded at the top. The view is beautiful and a fun (free) activity.
Are you an early bird? Then in the morning you can take the Corona Public Market to experience the real local atmosphere. You can also arrange a boat in this area to go island hopping. The most popular destinations in the Coron area are Barracuda Lake en Kayangan Lake† You can visit these places by sharing a boat with other travelers, but of course you can also arrange your private boat so that you are more flexible. Other popular activities in Coron include to dive (at shipwrecks from the Second World War), snorkeling & enjoy in the Maquinit Hot Springs† A perfect end to a beautiful trip through the Philippines!
End of travel route Philippines
The minivan ride to Coron airport takes only 1 hour. And within 1 hour you are back in Manila. Coron's airport is really tiny, so there's no need to be here hours in advance. That would be a waste of your time in Coron!
Travel tips and travel information Philippines
How much does traveling in the Philippines cost?
Accommodation – Dorms in hostels start at about 6 euros per night. Private rooms in hostels and guesthouses generally cost 10 to 30 euros per night, depending on where you are in the country. Free Wi-Fi is the norm for hostels these days, and some also include free breakfast. You can get comfortable guesthouse rooms for 25-40 euros with air conditioning, TV and other amenities.
Beyond that, the sky's the limit, but I've never had to spend more than $50 a night on luxury in this country! Airbnb is available in major cities, with prices starting at around 15 euros per night for shared accommodation. Expect to pay closer to 50 euros per night for an entire house or apartment.
Food – Food is very cheap in the Philippines. Local street vendors will cost you around 2-3 euros per meal, and simple meals in a restaurant will cost between 5 to 7 euros. Western meals in nice restaurants cost between 5 and 15 euros per person.
If you plan on doing your own shopping and cooking your own meals, expect to spend between $20 and $25 a week. Stick to local markets for the cheapest produce.
Transportation – Local city transport is cheap. Trikes can be found on every corner in the major cities, but be sure to negotiate a price in advance (usually no more than 5 euros depending on the distance). Hiring a driver for the day will cost you between 15 and 25 euros, and most hostels can help you find one.
Activities - Tours, walks and entrance fees are between 5 to 20 euros, depending on the length and popularity of the activity.
What is the recommended daily budget for the Philippines?
low budget – How much does it cost to visit the Philippines? Not much! It's a super cheap place to travel. When you travel through the Philippines, you spend approx 30 euros per day† This will get you a dorm (or in some cases even a private hostel room if you cut your other costs), food from the street stalls, a few drinks a day, a few tours, day trips and local transportation around the country. If you stay in dorms a lot, you may be able to travel for even less.
Average budget – With an average budget of 40 euros per day you get a cheap air-conditioned hotel room, some meals in a restaurant, as many drinks as you want, and also all tours and excursions you want! This amount goes a long way in Philippines and you really won't have any problems doing whatever you want. You still won't be in the nicest places or eating the fanciest meals, but you won't lack for anything.
High budget – With a "luxury" budget of 60 euros or more per day the sky is the limit! You can stay in nice chain hotels, full apartments, resorts, eat world-class meals or opt for private tours† This country doesn't cost a lot of money and for 60 euros each or more you can get everything you need! The more you want to spend, the more fun it will be!
Below you will find some answers to important questions if you are planning a trip to the Philippines. Think of the best travel time, general travel tips and whether there are, for example, certain dress codes.
When is the best time to travel to the Philippines?
Peak season - The best time to travel to the Philippines is from November to June. The highest average temperature in the Philippines is 33°C in april and the lowest is 28°C in january. Philippines has a monsoon climate. In general it can be said that it is always very warm, and that there is always enough sun.
Rainy season – Don't be put off by the rainy season. The rainy season certainly does not mean that it just rains for weeks on end. The weather can also differ per area in the Philippines, so that you can have pleasantly calm weather in some areas during the rainy season. And if it rains, during a holiday in the Philippines you will often encounter a heavy tropical rain shower in the morning or afternoon, after which the sun can break through again surprisingly quickly.
During the rainy season you will also find more blooms in nature and another advantage of the rainy season is that it is often quieter at the destinations. This really gives you an extra experience to your trip because you will encounter few other tourists at some destinations. Especially during the holidays Christmas, Chinese New Year and Easter are the peak periods in terms of visitors in the Philippines.
Typhoons – Tropical storms (typhoons) can occur all year round in the Philippines. Many people think that these typhoons only occur in the rainy season, but it is also possible for a typhoon to hit the country in the dry season. A typhoon always makes landfall from the east coast and often turns north (the main tourist destinations are in central and western Philippines). The vast majority of storms barely touch land, or skim along the northeast coast toward Taiwan. The advantage of a typhoon is that you can see it coming about a week in advance and that we as a travel organization can anticipate this well. However, if it turns out that a typhoon has an effect on a trip, we can switch in time to ensure that you will experience minimal inconvenience.
Do you need a visa for the Philippines?
You do not need a visa for the Philippines for a stay of less than thirty days. However, your passport must be valid for at least six months after departure from the Philippines. In addition, you must be able to demonstrate (on arrival) that you will also depart, for example by having booked an outgoing flight. This is checked at the airport. The visa can be applied for at the Embassy of the Philippines in The Hague or by appointment at the Philippine consulates in Rotterdam and Amsterdam. The visa application must be submitted in person, the application form can be downloaded from thehaguepe.dfa.gov.ph/example-pages.
For the visa application you need:
A passport.
Copy of the information page of the passport.
1 recent passport photo (not older than 6 months).
A personally signed application form.
For employees: a recent pay slip.
For self-employed persons: a copy of the Chamber of Commerce extract and a recent personal positive bank statement (minimum € 1000).
Retired: a copy of the pension benefit and a recent personal positive bank statement (minimum € 1000).
Unemployed: proof of benefit and a recent personal positive bank statement (minimum € 1000).
Students: copies of the parents' passports, copies of the parents' bank statements (the parents must be able to provide a financial guarantee) and a recent personal positive bank statement (minimum € 1000). For a side job: a recent salary slip.
A return or onward ticket.
The visa is valid for 3 months for a stay of 59 days and costs approximately € 30. Extension of stay can be requested at the immigration service in Manila or at the police or the local town hall.
Is there a dress code in the Philippines?
The Philippines has a tropical climate, making light, spacious and comfortable (cotton) clothing the most comfortable. Against the mosquitoes (or the scorching sun) it can be wise to bring something with long sleeves / pipes. In terms of temperature, a t-shirt with shorts is sufficient for most regions. It is cooler in the higher areas, so it is advisable to bring a few pieces of warm clothing. In the rainy season, a raincoat, poncho or umbrella can be nice (you can also buy this on site). Hiking boots with a good profile are a must for certain trekkings, especially in the rainy season. If you visit a church or a Muslim area, make sure to wear appropriate (covered) clothing.
Do you need a world plug in the Philippines?
Yes, you need a world plug in the Philippines. In the Philippines the power plugs and sockets are of type A, B and C. The mains voltage is 220 V and the frequency is 60 Hz.
Can you drink tap water in the Philippines?
The tap water in the Philippines is not drinkable, it is recommended to use bottled water. If there is no potable tap water available, it is best to boil the water well first or use water purification tablets or water filters, such as a lifestraw.
Ice cubes: Besides drinking the water, the water is often also used to make ice cubes or ice. It is not recommended to use ice cubes or ice creams made from tap water in the Philippines or for which you are not sure.
What is the currency of the Philippines?
The Philippine currency is the Philippine Peso (PHP). The Philippines has also increasingly become a dollar economy in recent years and amounts are often rounded to whole dollars for tourists. In the cities and tourist spots you can pay with dollars more and more, but in the countryside and in local markets the PHP is often the most important currency.
What might surprise you is that more and more bitcoin is being accepted. The coins.ph payment app is extremely popular among young people and allows users to make and accept digital payment requests with their mobile phone. Payment can be made in various currencies, including the Philippine Peso, but also the dollar and bitcoin. During my TAO tour on a remote island in the middle of the sea with hardly any telephone coverage, I paid a young lad for fruit and fish with this App!
Also read: 10 Ways How Digital Nomads Make Money Online
Are credit cards accepted in the Philippines?
With a credit card you can go to the better hotels and restaurants, and at some travel agencies. However, make sure you always have cash with you, because the economy of the Philippines is still mainly cash-based.
Also read: Which (prepaid) credit card is best to travel with? And why?
Can you withdraw money in the Philippines?
Yes. There are plenty of working ATMs in cities such as Manila and Cebu where you can withdraw PHP. Sometimes you can also withdraw dollars. You also see ATMs appearing in more and more touristic places. A few years ago, for example, there was not a single ATM in El Nido, now more than 10 have been placed within an area of ​​1 square kilometer.
What holidays are there in the Philippines?
Public holidays occur throughout the year in the Philippines. Find out if any holidays are celebrated during your tour. In general, many public facilities are closed on a public holiday. The locals can tell you which shops and markets are open during the day. In any case, keep the following holidays in mind:
January 1, 2020 – New Year's Day
January 25, 2020 – Chinese New Year
February 25, 2020 – People Power Revolution
April 9, 2020 – Day of Heroism, Maundy Thursday
April 10, 2020 – Good Friday
April 11, 2020 – Black Saturday
April 12, 2020 – Easter
May 1, 2020 – Labor Day
June 12, 2020 – Independence Day
August 21, 2020 – Ninoy Aquino day
August 31, 2020 – Day of the Heroes
November 1, 2020 – All Saints' Day
November 2, 2020 – All Souls Day
November 30, 2020 – Bonifacio Day
December 8, 2020 – Feast of the Immaculate Conception
December 25, 2020 – Christmas
December 30, 2020 – Rizal Day
Is tipping common in the Philippines?
Tipping is not expected in the Philippines, but it is always appreciated. Many service workers in the Philippines earn low wages, so if you're happy with the services of waiters, drivers, guides, or others, leaving a small tip depending on the service is a good way to show your appreciation.
Do you have to negotiate prices in the Philippines?
Yes, in the Philippines it is customary to negotiate prices. Especially on the market and the small shops on the street.
Follow us on social media
Do you want a dose of travel inspiration, travel tips and beautiful travel photos on your timeline every now and then? Then follow us on social media! You can find us at Facebook, Instagram, Twitter en Pinterest.
Plan your holiday to Asia here