It took me a while to figure out how to even pronounce the name of this trekking / hike, so I'm just going to start talking about it right away. If we spelled it out how you pronounce it, I'd spell it like this: Hu-way-wash. Huayhuash is a mountain range, either Cordillera Huayhuash (Location here ), in the Andes in Peru.
There are no less than six mountain peaks that are more than 6.000 meters high and are therefore also covered with snow. With an eight-day trekking in this area you actually walk around these highest mountains. Do you like hiking and do you want the ultimate experience? Then this eight-day hike is really something for you!
Tour in Peru (backpacking)
Peru; the land of the Incas, mysterious discoveries, colonial cities and the traditionally dressed population. Peru is the country of the impressive Andes mountains, deserts and high-altitude lakes. Are you looking for inspiration or information about Peru or are you already backpacking in the country? Then read the articles below packed with information, travel stories and practical tips…
1. The Preparation

How much does backpacking in Peru cost? | All about costs and budget
2. Highlights
3. Activities and places of interest
4. Plan, compare & book
General tips and information
How do you get there?
There are several options for trekking around this mountain range. Actually, all options are from hikers village anyway Huaraz (Location here ), where you can also make many beautiful day hikes.
You can undertake this eight-day hike yourself, but also through a tour operator books. We have not investigated the option of undertaking it ourselves. It was not feasible for us to bring all your clothes, camping gear, but also food for those eight days for eight days. With a tour operator, these matters are taken care of, so that during the hike you only have to take a backpack with the stuff for that day's hike.
If, like us, you choose to book a Huayhuash hike with a tour operator, you will find out that you can choose a five-, eight-, ten- and twelve-day hike. The most offered is the eight-day hike. The five-day is simply the first five days of the eight-day hike. The fifth day you sleep in a village and there is also a road leading to it, so you actually leave the route of the eight-day hike early. So you can also choose longer options. Depending on your tour operator (private or in a group), this may mean that you walk the route of the eight-day hike more slowly, or that you walk a different and therefore longer route around the mountain range.
Proper preparation to acclimatize to the altitude is extremely important. I therefore recommend doing shorter hikes in this area first.
Also read: Hiking in Huaraz (Peru) | Tips, walking routes, tours and information
The best travel time
During the dry season it is best to make a trekking through Cordillera Huayhuash. This means between the months May through September. Of these five months are the months July and Augusts the very best months, as there is hardly any rain.
Incidentally, it can be very cold during the evening and nights. This does not mean that you can leave your rain gear at home, because it remains unpredictable in the mountains. More about this later in the packing list tips. If you go earlier, for example the month of May, you may have a slightly higher chance of rain, but nature is still a lot greener than later in these 'dry' months.
What does it cost and what do you get for it?
We've got our tour operator Paid 1500 soles (€380) per person for the eight-day hike. The prices can vary considerably and this has to do with the luxury, among other things. You can also do an eight-day hike privately with your group. This means that you should certainly count more than double per person, whether or not even more.
What are you packing?
It is difficult to really give an exact packing list, because it is very personal what you like. For example, I like to hike in hiking pants, but someone else might prefer to walk in sports leggings. I did have the latter with me to be able to put on under the hiking pants, but in the end I only put on the leggings (I had two with me) in the evenings and nights.
Here's a summary of what I brought with me and what I recommend to bring!
Clothing with different layers. For me this was a long-sleeved thermal shirt, two t-shirts, three cardigans/sweaters, two leggings, two sports bras, hiking pants, underwear and socks.
Good one hiking boots.
Flip flops.
Very thick socks for the evening and / or at night.
Walking sticks. Of course not mandatory, but we do recommend it since you hardly walk flat.
water bottle or 2 liter water bag.
A jug. You can have this filled after the evening meal and take it into your tent!
Gloves and hat.
Good rain and wind jacket. We didn't need it for the rain, but it kept us extra warm over all other layers.
Cash. Along the way we were lucky enough to be able to buy cold cola three times and you can really feel like it.
Own snacks for the road or in the evening. You don't get a lot of snacks, so we were happy with our own supplement.
Headlamp.
Sunburn.
Medicines. Consider, for example, pills against altitude sickness.
Other personal matters.
The eight-day hike
Wow, where do I actually start? Together with 11 others we walked this hike. This means 11 other tourists and therefore without the staff of this hike. We had as staff a guide, an assistant of the guide, a cook and two men who took care of the donkeys and horses.
The draws at a tour operator often only start with a minimum of six participants. It was indicated to us that 12 was the maximum number of people, but apparently this became 13. It is wise to ask around yourself whether others want to join, because otherwise they really won't leave or move your departure date.
The first day
On the first day, the day of departure, we were checked in at 04.30:XNUMX am our hostel picked up. Our big backpacks we left behind in our hostel and we only saw it again after this trek. We did take two other bags with us, the day pack and a duffle bag.
You get this duffle bag from the tour operator and is for the stuff you don't need during the day while hiking. Examples for this are your clean clothes for the evening, your slippers and some snacks you brought yourself. In the end, we left at 05.15:XNUMX am, but you have to leave a late departure South America don't stop looking.
The way to the start would take five hours. This turned out to be a four hour drive and a one hour break for breakfast. We thought this was much too long, but you don't really have a say in that. Incidentally, this stop was not at a restaurant (which is often the case with tours), but in a village. As a result, we were able to score fresh sandwiches and bananas last minute.
A good tip: Bring a jug! In the village we immediately made contact with other hikers of our group and they shared this ultimate tip. They had also received this tip from someone else and that is why I would like to pass it on to you.
It may sound strange or maybe even decadent, but this is going to make you happy. It can get very cold at night. The guides found it no problem at all to heat water.
The start
Once off the bus at the departure point, all gear was put on donkeys and horses and the guide introduced himself and the other four staff. The moment we left it was very cold and it started to drizzle. Not the best start, but you don't know yet if it might get much worse in the coming days, so you're hardly thinking about it.
We were very lucky that it was dry again after 15 minutes and stayed dry all other days after that. The first day started right away with a fairly tough climb. No one was at his or her fittest due to the nightly alarm clock and the long bus journey, but you have to move forward so you go up that mountain. Like every day, you then descend again to get to the camp.
Setting up the tents
When you arrive at the first camp, you may/must help set up the tents. This was only on this first day, because the horses and donkeys had left later than them and still had to travel the same way.
At the tent everyone got a mat, a sleeping bag and a blanket. Once everything was set up, it was time to rest and dinner was served around seven. We ate meals together in a large tent with tables and small stools.
The other seven days
Actually, the other days are quite similar and also difficult to describe separately. We got up almost every morning at 06.00 am, then had half an hour to get ready and to tidy up the sleeping bag and the rest of the stuff from the tent. Then we had breakfast together in the shared tent and then we left for the hike of that day. It came down to the fact that we often started hiking between 07.00:08.00 and XNUMX:XNUMX.
How long do you hike per day?
On average we were on the road for seven hours a day. This includes short breaks and sometimes also a longer break. This also meant that you will arrive at the next camp between 14.00 and 15.00 pm approximately. That may feel a bit strange, because you don't have much to do, of course, but doing nothing for a while is wonderful.
By the way, the arrival time also depends on your condition. Fortunately, you can walk completely at your own pace. The guide's assistance always closed off the group, making it completely safe to walk last in the group as well.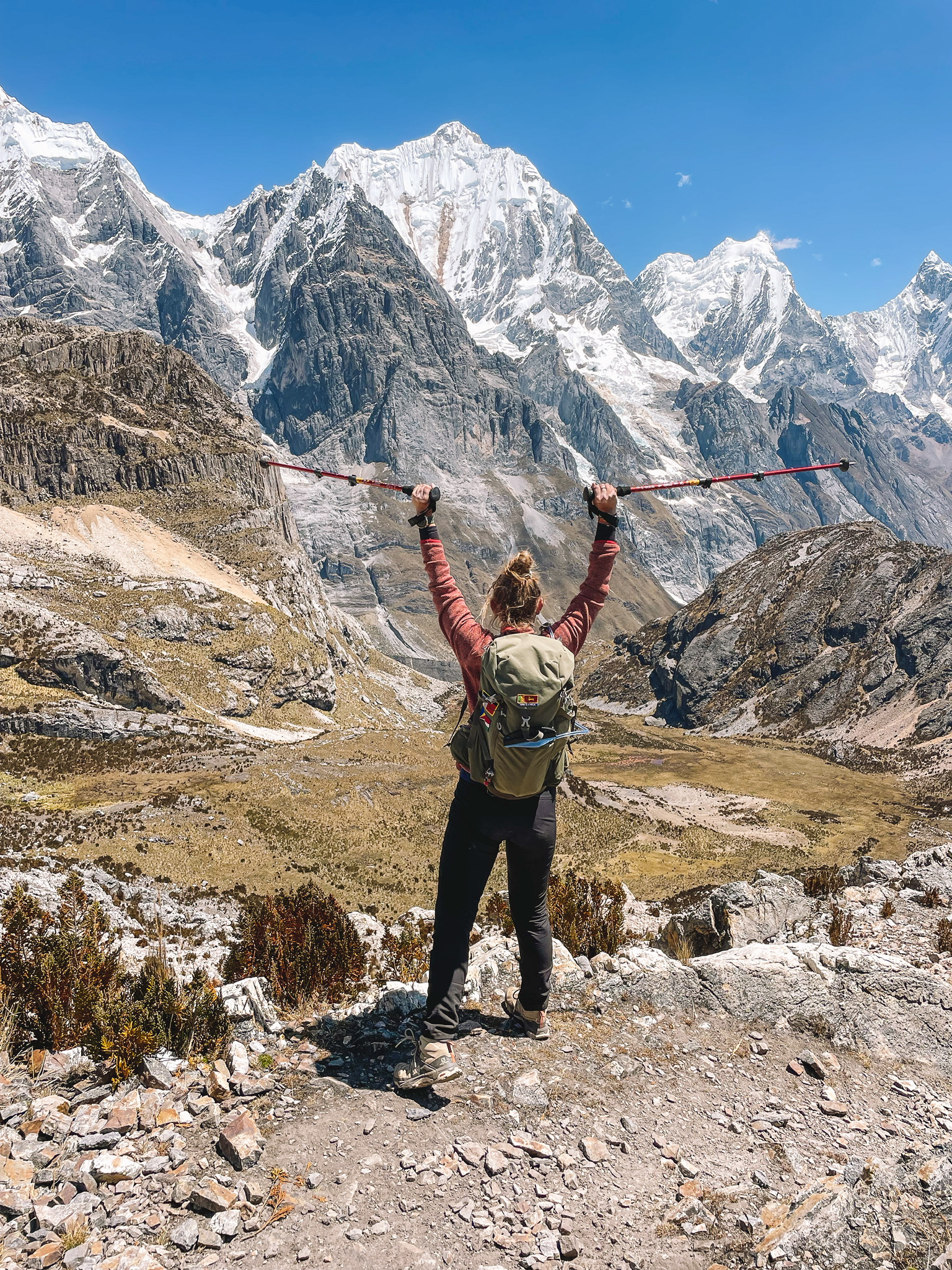 Arrive at your camp
After the first night you didn't have to set up a tent anymore. The staff had already done that and so you could choose a tent on arrival and put your stuff in it.
We often got a snack on arrival, but don't expect too much from this. Unfortunately, the food was disappointing for us, so I recommend bringing some snacks with you. You do not necessarily have to carry it with you for the entire trip, because you can also put it in the duffle bag that you give to the organization every day.
The (cold) evenings and nights
After the joint evening meal, which was often served around 19.00 p.m., the day was often discussed or other travel tips were shared. However, this didn't take that long, because we were tired and very cold! During the night we had a lot of clothes on in that thick sleeping bag. It really depends on the season you go, but we even had frost on the inside of the tent for two nights!
The statistics
Day 1:
Number of hours walked: 4 hours
Highest point: 4.700 meters
Slept at: 4.280 meters
Day 2:
Number of hours walked: 7 hours
Highest point: 4.800 meters
Slept at: 4.200 meters
Day 3:
Number of hours walked: 7 hours (1 hour of lunch break, with fresh lunch from our cook)
Highest point: 4.800 meters
Slept at: 4.200 meters
Day 4:
Number of hours walked: 7 hours
Highest point: 5.000 meters
Slept at: 4.400 meters
Day 5:
Number of hours walked: 6 hours
Highest point: Today you could choose to only go down or also get a higher point. Due to my strong breathing with ascending, we chose that day with descending only. This was also the only day for us that this was possible, so we just took it.
Slept at: 3.500 meters (considerable drop!)
On arrival we saw a village and other people for days! We slept in a small village, where we could take a hot shower for a fee! After five days of effort, you want that I can tell you! There was also a very small kiosk where you could drink something and buy something, such as a bottle of soda and chips.
Day 6:
Number of hours walked: 7 hours and 15 minutes
Highest point: 4.800 meters (so much up!)
Slept at: 4.300 meters
Day 7:
Number of hours walked: 6 hours
Highest point: 4.800 meters
Slept at: 4.000 meters
We made an extra 2,5 hour walk to a third lake nearby in the afternoon.
Day 8:
Number of hours walked: 4 hours and 45 minutes
Highest point: 4.560 meters
Steep climb as a start, but the very last one! Then an even tougher descent, because we descended back from the top to the village Poppa, which was almost 1.100 meters lower than today's summit.
Conclusion
All in all a fantastic, incredibly beautiful long hike! What doesn't really come to the fore is that I had a really hard time with my breathing during the ascent. Fortunately, after ascending, I was no longer bothered by it and I was able to fully recover at the camping spots. It was tough, that's for sure.
The views along the way and from the camping spots were really so bizarrely beautiful and I will never forget. It is considered one of the most beautiful multi-day hikes in the world and I can now say that it is certainly beautiful.
And…… I DID IT! Did I get you excited too?
Tour in Peru (backpacking)
Peru; the land of the Incas, mysterious discoveries, colonial cities and the traditionally dressed population. Peru is the country of the impressive Andes mountains, deserts and high-altitude lakes. Are you looking for inspiration or information about Peru or are you already backpacking in the country? Then read the articles below packed with information, travel stories and practical tips…
1. The Preparation

How much does backpacking in Peru cost? | All about costs and budget
2. Highlights
3. Activities and places of interest
4. Plan, compare & book