Peru† the land of the incas, mysterious discoveries, colonial cities and traditionally dressed people. Peru is the country of the impressive Andes mountains, deserts and high-altitude lakes. Peru; the land of llamas, alpacas, vincuñas and condors. Hardly any country is as diverse as Peru! Is a tour through Peru starting to itch? Then read on quickly and find out what you should not miss during your travel route through Peru!
Also read: 20 Must Sees in South America | Feed for your Bucket List ✔️
Plan your holiday to Peru here
Start ideal travel route through Peru
De itinerary which is featured in this blog focuses on a duration of 3 weeks. Do you only have 2 weeks? Then skip the destinations between Lima and Arequipa, and/or skip Puno and take one or more domestic flights to save time.

From the great ocean, the mountain peaks of the Andes to the Amazon;
Peru is one of the largest countries in the world and a longer stay is certainly recommended. If you have the time and like to do everything at your leisure, you can easily set aside 4/5 weeks for this itinerary.
Arrival in Lima (day 1 & 2)
There is a good chance that you will fly directly to Lima, a typical Latin American (capital) city. The city is sometimes described as ''gray'', in my opinion this is not entirely justified and is probably due to the low-hanging clouds along the coastline in the period June – October.
Admittedly, there are so many beautiful places in Peru that it would be a shame to stay here for days when you have limited time. Nevertheless, Lima has some beautiful sights and I recommend staying here (at least) for a full day. Being a highlight Plaza Mayor in the historic center, around this square are the most beautiful sights where you can enjoy yourself and get acquainted with the delicious Peruvian cuisine.
Lima also has several museums and beautiful parks where you can recover from the long flight. Stay at Miraflores, one of the nicest (tourist) districts of the city! Another district worth visiting is the colorful Barranco, from Miraflores you are here within fifteen minutes by taxi. Enough to experience!
Paracas, Ica and Huacachina (days 3 & 4)
If you go to Peru you naturally want to go to Machu Picchu (as soon as possible), which is understandable! Still, I would advise traveling to the South first, so you can slowly get used to the differences in height and you can conclude your trip with a visit to the wonder of the world.
In less than 4 hours you travel from Lima to Paracas, a completely different world!
In Paracas you can, under the guidance of a guide, National Park visits. Enjoy the sunset in the evening with a delicious Pisco Sour, but make sure you are fresh and fruity the day after for a boat trip to the Ballestas Islands, also called the Galapagos Island of Peru. The rest of the day you can go to Ica and nearby Huacachina, a beautiful oasis in the desert! Here you can go sandboarding and/or take a rough buggy tour through the dunes.
Nasca (day 5 & 6)
From Ica you travel further south in about 2,5 hours. Nasca is known for the Nascalines and the many geometric figures in the desert. To this day, the exact origin of the lines is still unknown, very mysterious! Obviously you see the figures best during a sightseeing flight† Do you not have such a strong stomach and do you prefer to keep your feet on the ground? Then you can also partly view the figures from the different watchtowers, or with a drone!
Another place of interest in Nasca is Cauchilla† a pre-Inca cemetery with mummies where you can also find remnants of hair, clothing and bones in the desert sand! If you don't like this at all, you can also choose to visit the aqueducts of Cantalloq† impressive structures that are used for irrigation to this day.
Arequipa (day 7,8 and 9)
After a long (night) ride (+/- 9 to 10 hours) through the mountains you are finally in
''La ciudad blanca'', or the ''The white city'', located between three volcanoes.
As far as I'm concerned this is one of the nicest places in Peru, this is partly due to the pleasant climate, the beautiful Plaza de Armas and the many special colonial buildings.
The Santa Catalina Monastery is a must see! Here you can wander around between the colorful walls. Nuns used to live in this ''town'', completely isolated from the outside world.
Another must see is Museo Santuarios, located in the center.
Here you can see the famous ''ice mummy'' Juanita. Because Juanita has been under the icy cap of the Ampato volcano for 500 years, the body has remained almost completely intact, which makes her unique.
If you have seen the center, consider taking a ride (or walk) to Yanahuara† From this quiet neighborhood you have a wonderful overview of the city and the surrounding volcanoes.
In short; you will never be bored in and around Arequipa. The city is located at 2325 altitude, so I recommend staying here for at least two full days, also to get used to the altitude.
Chivay (day 10 & 11)
Even more informed! After a drive of 4 to 5 hours, the bus (the tourist buses make regular photo stops) will take you to the small village of Chivay, located at 3632 meters altitude. This place is the start of the Colca Canyon, the second deepest canyon in the world! You can book an organized tour in the village itself. The highlight of this tour is "Cruz del Condor", where you have a good chance of spotting huge condors from June to August!
Do you have more time and/or do you prefer to visit the gorge on your own? Then you can also choose to travel from Arequipa to Cabaconde. Are you traveling on to Puno afterwards? Then you will still have to travel via Chivay, from Cabaconde there are no buses to Puno.
You can also book organized (multi-day) tours from Arequipa, this is only recommended if you have very limited time, want to skip Puno and fly from Arequipa to Cusco.
Puno (day 12 & 13)
From Chivay you travel to Puno in about 6 to 7 hours by bus, a beautiful ride! Puno is located at an altitude of 3800 meters and is best known for the Lake Titicaca† the highest navigable lake in the world! The town itself is not very special.
Puno is the base for a visit to the (albeit touristy) Uros islands.
Almost everything on these islands is made of reed and it is believed that the Native Americans fled here hundreds of years ago to escape their enemies.

Opinions about these tourist islands vary quite a bit, personally I think that a visit to Puno and the Uros islands is worth a visit. It is a nice change from the trip and under the guidance of a guide you will learn a lot about how the Indians have built up their existence here. It's often colorful encounters with the locals that I think are worth it.
Do you have time to spare and/or do you not like (tourist) boat trips? Then visit the nearby Sillustania; a mysterious Inca cemetery with tombs in the shape of inverted cone trunks.
TIP: From Mirador del Condor, in the center, you have a nice view of Puno and Lake Titicaca! It is quite a climb (take it easy because at 3800 meters the climb is slightly more difficult). Once at the top you can buy a drink and enjoy the view.
Cusco (day 14, 15, 16)
Again a long drive, straight through the Andes, but again more than worth it! After about 8 hours in the bus you arrive in the Inca capital Cusco, in my opinion one of the most beautiful cities in Latin America. The old center is beautiful, but there is also a lot to see/do in the region (known for the many Inca ruins). You can enjoy yourself here for a week.
Below I share my tips for the most important activities in and outside the city.
What to do in Cusco
Discover the old center. It Plaza de Armas is beautiful and surrounded with beautiful buildings and cozy restaurants. Ideal for a first introduction to Cusco and to recover from a long bus ride. (don't forget the side streets, including the Inca walls in the loreto alley)
Visit the Coricancha . Inca Temple
The nice neighborhood is within walking distance of Plaza de Armas San Blas.
A cozy creative district, known for the (sometimes narrow) white alleys and buildings. Also an ideal place for a souvenir!
Imagine yourself among the locals and visit the San Pedro Market† You can see, smell and taste everything here! Fun to be with.
Visit a museum. Are you interested in learning more about this impressive Inca city? Then visit it Inca museum† Do you feel more like something tasty, instead of a history lesson? Maybe it's known Chocolate museum or something for you.
What to do near Cusco?
Day trip to Pisaq/Pisac, located in the Sacred Valley. There is a market here on Thursday and Sunday, here you can also find a lot of clothing in addition to food. However, Pisaq is best known for the Inca ruins, interesting to visit with a guide, also in combination with Ollantaytambo.
Visit the nearby Sacsayhuamán† This is a huge Inca fortress built on three overlapping platforms. You can reach Sacsayhuaman on foot (+/- 45 minutes), or by taxi. You also have a wonderful view of the city from here! TIP: Return to the center on foot, meander through narrow alleys and you will be treated to beautiful vistas.
A little further away, but also worth it, is the Rainbow mountain.
The name says it all; a colorful mountain of 5020 meters high. There are plenty of sporty day tours to this special mountain from Cusco.
The salt terraces of Maras† Very special and impressive to see how salt is still being extracted here. Also good to combine with Moray (according to some the most impressive Inca terraces!).
And of course..Machu Picchu† More about which below.
Aguas Calientes (day 17, 18)
For many (rightly) the highlight of their trip to Perú…Machu Picchu!
There are several ways to visit this magnificently preserved city, but you cannot go there directly from Cusco.

With enough time and budget you can choose to use the well-known Inca trails to walk. This can be done in 3 to 5 days and will cost you a few hundred euros. In addition to the Inca trail, there are also alternative trails, these are often a lot cheaper. You can also choose to have a (multi-day) tour from Cusco to book.
However, the most comfortable option is with the tren to Aguas Calientes, a special village at the foot of Machu Picchu. The train journey to this village is impressive, but also pricey (count on an average of €80 one way).

I recommend staying one night in Aguas Calientes. This way you can explore the village during the day, buy souvenirs and/or relax in the thermal baths. The next day you travel early by bus (+/- 25 minutes) to Machu Picchu so that you are ahead of some of the tourists from Cusco and you can also enjoy the impressive sunrise.
Did you feel like a trekking? Then you can also choose to go on foot from Aguas Calientes to Machu Picchu. Either way, a visit to Machu Picchu is an unforgettable experience!
Also read: Inca Trail | The mystical journey to Machu Picchu
Cusco (day 19)
Before you leave Peru you will first have to return to Cusco (what a punishment). Ideal for stocking up on the last souvenirs and recovering from all impressions and/or your trail.
Lima – Amsterdam (day 20 & 21)
From Cusco you fly back to Lima in +/- 1 hour 20. Depending on your flight times, you can relax here (for example in Miraflores and/or Barranco, see day 1&2). Don't forget to end your trip with a national meal! Divertirse!
Plan your holiday to Peru here
Travel tips and travel information Peru
How much does traveling in Peru cost?
Accommodation – From €6 per night you can already stay in a dorm or a shared dormitory, but the average price is slightly higher. Personally, a dorm is not for me, if you make a relatively short and intensive journey then comfort and a good night's sleep can be very pleasant! In that case, opt for a private room in a hostel or guesthouse (can also be very cozy), or hotel.
The prices for these rooms range from approximately €20 to €35. Here you have a great room with Wifi and (often) breakfast included.

I myself slept in 25 nights for an average (double) room price of € 32, - these were mostly 2 or 3 star hotels with the occasional slightly simpler room in a hostel.

Of course, prices can also rise considerably in Peru, especially in the touristic places. Do you want real luxury? Then the prices can even go up to €300!
Food – Peru is known for its delicious cuisine, and eating out doesn't have to be expensive at all. For a meal in a simple restaurant you often spend no more than €5, a three-course menu will cost you on average €16. Are you craving a Western meal? Then count on Western prices (in the major cities).
If you choose to reduce the costs for food and cook yourself, you will spend almost 2x less money in Peru than in the Netherlands. For less than €2, you can prepare an easy meal.
TIP: Try the national specialties Lomo Sauté (marinated beef with red onion, tomato, rice and fries), Ceviche (fresh raw fish cooked in lemon juice, often served with corn and sweet potato), Cuy (Guinea pig, yes really! From the oven or fried) and Pisco Sour (the national drink, for which a holiday has even been created!).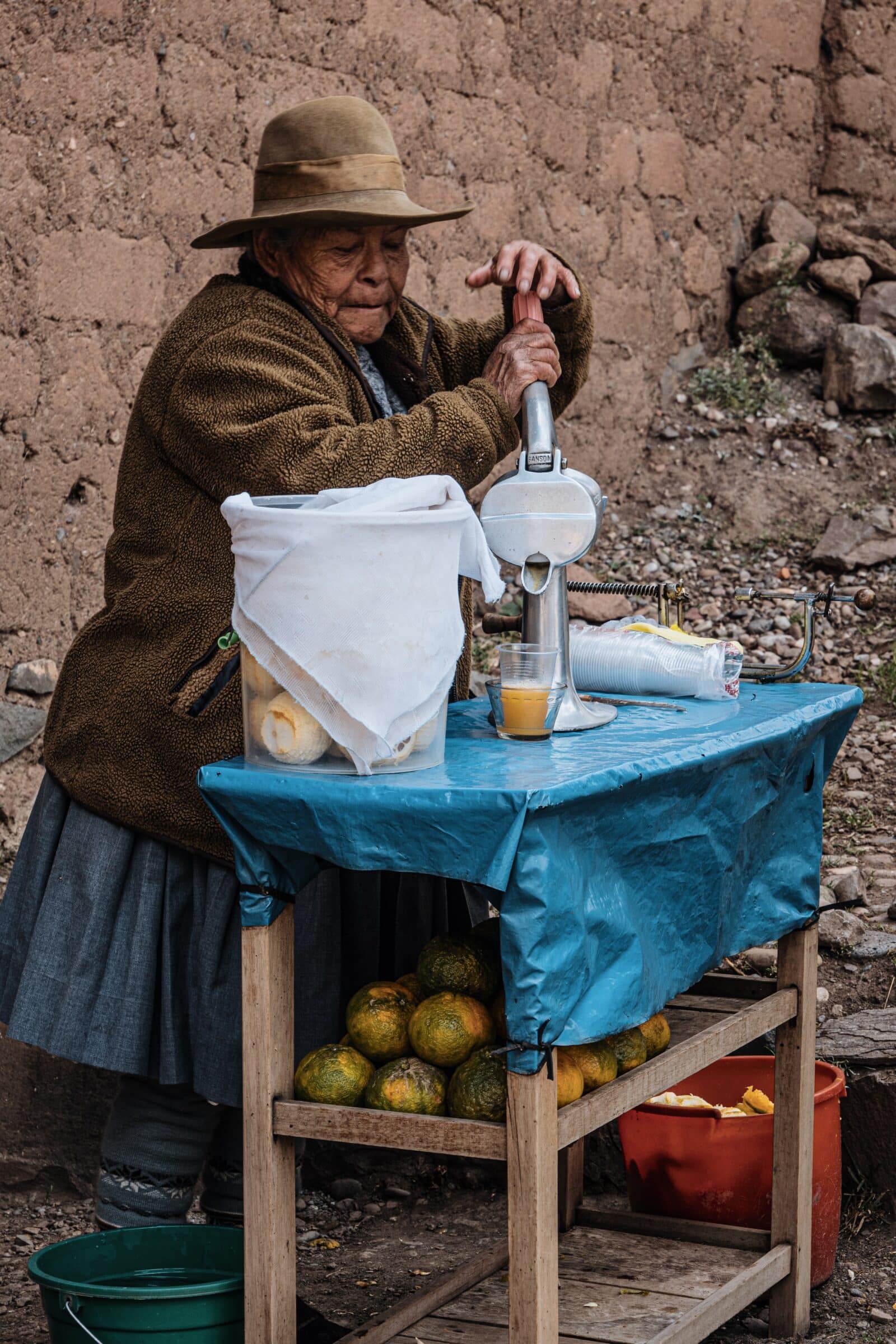 Transportation – Given the enormous distances, you will spend a lot of time in the bus Spending time. 's tourist buses Southern Cross are slightly more expensive, but you get comfortable buses in return. In addition, the buses make nice (tourist) stops, so you don't have the idea that your day has been lost on travel. On average you are about €4 per hour lost when you travel with this bus.
TIP: Buy your bus ticket to your next destination a day before departure (or immediately upon arrival), so you are assured of a spot. You can also book your tickets online via https://www.redbus.pe/en/ .
Within the major cities you can easily use one of the many taxis. Make sure you agree on a (fair) rate in advance! Most taxis do not use a meter (if necessary, ask your accommodation what a ride would cost). A ride in the taxi normally costs you about 5 sol (€ 1,15) per kilometer.
If you don't have time, you can also use a domestic flight, but I would only recommend this on the distance between Cusco and Lima (a bus ride takes you no less than 21 hours!) n €1 to €20 lost, the rates change regularly.
Finally, you can also choose to rent a car, although this option is a lot more expensive than the bus (prices about €35 per day). The roads are generally quite good to drive on.
TIP: In Nasca it can be useful to rent a car to go to the various viewpoints and other places of interest. In Nasca I chose to use a private driver (and guide in one), very handy!
Activities – This is a tricky one! The Inca trail is a great experience, but a drain on your budget. Walking this trail can cost you just €400! Fortunately, there are also plenty of cheaper tours to this lost city.
Cost overview activities travel route through Peru
You can make your travel route through Peru as crazy as you want, so below is an overview of the most common activities during this tour, with the (indicative) prices:
| | | |
| --- | --- | --- |
| Location | Activity | Price |
| Paracas | Ballestas Islands | € 13, - |
| Paracas | National Park | € 20, - |
| Huacachina (near Ica) | Buggy tour + sandboarding | € 10 - € 20 |
| Nasca | Flight Nascalines | € 100, - |
| Arequipa | Monastery | € 10, - |
| Chivay | Day Tour Colca Canyon | € 35 |
| Puno | Day Tour Uros Islands | € 25, - |
| Cusco | Cathedral | € 7,50 |
| Cusco | Pisaq | € 23, - |
| Cusco | rainbowmountain | € 21, - |
| Cusco | Sacsayhuamán | € 27, - |
| Machu Picchu | Day ticket | € 40, - |
What is the recommended daily budget for Peru?
You cannot give an unequivocal answer to this, this is very personal for every traveler. Personally, I would like to see as much of a country as possible and still experience the holiday feeling by going out for dinner now and then, and then resting in a standard private room. Of course there are also backpackers who would like to travel as cheaply as possible. For that reason, the daily budget is undivided for three types of travelers.
TIP: The amounts below are only an indication. Practice shows that you often spend a little more (for example on souvenirs), keep this in mind.
low budget – This Peru itinerary doesn't have to be expensive. If you really like to watch money, you have a daily budget of €25 enough already. For this money you sleep in dormitories, you do not eat out (cook yourself or street food) and you make more use of local transport. You can certainly not pay for all the above activities with this budget, which is a shame as far as I'm concerned!
Average budget – Do you want to do something more and do you attach more value to comfort? Then count on an average daily budget of €40.
This allows you to sleep in fine, yet affordable, private rooms with Wi-Fi and you can use the tourist buses. With this budget you can also have a bite to eat and visit the main attractions.

High budget – With a daily budget of minimum €60,- you can do almost whatever you want in this travel route through Peru. You will stay in more luxurious hotels and you can even use private transport and/or take a domestic flight. You can also pay for the tours from this blog with this amount, so you will not come up short!

The above amounts do not include a return ticket and the Inca trail. Now that we have an understanding of the budget, we will continue below to answer other practical questions. For example, what is the best time to travel? Do I have to take holidays into account, and are there still a dress code? Read on to get all these questions answered!
When is the best time to travel to Peru?
Peak season - The high season runs from June to August† This period falls in the dry season and makes it the ideal travel time in terms of climate and temperature. It is often dry with clear skies and with an average of 20 degrees in Cuzco and Machu Picchu it is very pleasant, in the Andes it can get quite cold! The disadvantage of this period is that this is also the busiest time of the year, because many Americans and Europeans have holidays during this period. Logically, the prices are also a lot higher during this period than in the low season.
Mid-season(s) – From September to November en March to May Are you dealing with a mid-season? In general, the spring/autumn weather is nice during these periods. Especially in September it is dry, sunny and pleasant in Lima. Towards October and November it will be a bit warmer, but the clouds and the chance of a shower will also increase, mainly in the mountains and around Cusco and Machu Picchu. This is also the case in March, where the weather is usually nice on the coast. In April and May it cools down a bit and it rains less, and nature is also beautifully green. A good period for a visit to Peru, also because you are just before the high season, which means it is a lot less crowded.

Low season – The period between December and March is known as the rainy season and therefore also the low season. Especially in the Amazon region and in the Andes, a lot of rain can fall, which makes a visit to Machu Picchu, for example, far from ideal. In addition, well-known Inca Trail is closed for maintenance in February. On the other hand, the temperatures are a bit higher during this period. It is a good place to be on the coast in these months! It can get quite busy around Christmas and New Years. In summary, you could say that the period May to October the best travel period based on the climate. April and November are often still doable! Are you not tied to the summer holidays? Avoid the busier months of July and August.
Do you need a visa for Peru?
No, in principle not. As a Dutch tourist, with a passport that is still valid for at least 6 months upon arrival in Peru, you can stay in Peru for 90 days. This can even be extended to a maximum of 183 days. Please note that your passport contains at least one blank visa page for the customs stamp.
Upon arrival in Peru, you must be able to demonstrate that you will leave the country on time by means of a return or onward ticket. In addition, always ensure that you have (proof of) sufficient financial resources and a number of copies of your passport, so that you avoid unforeseen problems.
Is there a dress code in Peru?
The temperature during your tour can vary enormously given the many climate zones. Light, comfortable clothing that is easy to combine is therefore the most convenient to take with you. In the higher areas it can cool down considerably, so a (fleece) cardigan and/or warm sweater is not an unnecessary luxury. During the day, in the sun, you can wear a t-shirt (long and short sleeves) in most regions.
TIP: Scarves, hats, gloves and thick wool sweaters can be bought almost everywhere in Peru; a nice keepsake! I would therefore not recommend taking this with you.
Don't forget your hiking/mountain boots. In cities like Cusco the streets often consist of ''cobblestones'', here you don't like to walk in your slippers! Are you going in the "wet" season (December – April)? Think of a windproof jacket, raincoat and poncho.
Finally; Always wear appropriately covered clothing when visiting a church or other religious site.
Do you need a power plug in Peru?
Yes, if you go to Peru you need a world plug. In Peru the power plugs and sockets are of type A and C. The standard voltage is 220 V and the frequency is 60 Hz, compared to 50 Hz in the Netherlands. So be careful with your devices!
Can you drink tap water in Peru?
It is recommended not to drink the tap water in Peru, so buy bottled water. The alternative is to use water purifier and then boil the (tap) water for 5 minutes. Drink plenty of water, this helps the body adapt at high altitudes.
ice: Also for ice cubes it is not recommended to use them if they are made from tap water (or if you are not sure!). It is also better not to eat vegetables and/or fruit that have been washed in tap water and only drink soft drinks from bottles.
What is the currency of Peru?
The currency in Peru is the Peruvian Nuevo Sol (PEN). 1 euro corresponds to 4,35 sol (April 2021). Before you leave, check the current exchange rate on oanda.com.

It is also possible to pay with dollars or even euros (if undamaged).
Tip:: Do not exchange money on the street, unfortunately there are many counterfeit notes in circulation in Peru.
There are notes of 10,20,50,100 and 200 Sol. Coins are available from 5,10,20 & 50 centimos and 1,2 and 5 Sol.
Tip: Have enough coins in your pocket. It is often a problem to switch.
It is in any case recommended to have enough cash, below you can read why.
Are credit cards accepted in Peru?
In the big cities you can use your credit card (mainly Visa), but outside the tourist areas credit cards are often not accepted. You can also pay with your credit card in the more luxurious restaurants and hotels, but keep in mind that when paying with a credit card, a surcharge is often charged. My advice is to definitely bring a credit card (as a backup).
Can you withdraw money in Peru?
Yes, this is the best and fastest way to get money. There are plenty of options in Peru where you can withdraw money, including dollars, 24 hours a day (at a favorable exchange rate).
As stated before, it is advisable to always have cash with you,
this is because there are ATMs that do not accept all bank cards. Because there are also costs associated with debit cards, it is often wiser to debit a large amount, so you immediately have more cash in your pocket!
Reliable banks in Peru are Banco de Credito, Scotiabank, Interbank and BBVA Continental.
What public holidays are there in Peru?
Because Peru is a very Catholic country, with old traditions and cultures, the country has relatively many holidays (about 3000. Keep this in mind during your trip! It can be very worthwhile to attend a party/festival, but the banks , shops and government offices are usually closed on public holidays.
In addition, in the holy week before Easter, all Peruvians are free, which means that hotels and restaurants are often full. The list below is a summary of the most important (regular) holidays:
January 1, 2021 – New Year's Day
January 15-20, 2021 – Birthday of Lima
February 2, 2021 – Day of the Pisco Sour
February 24-27, 2021 – Carnival in Puno and Cajamara
The Week Before Easter – Semana Santa (Easter Week)
May 1, 2021 – Labor Day
June 24, 2021 – Inti Raymi (Cuzco), the solstice festival of the Incas (Tip:)
June 29, 2021 – Solemnity of Peter and Paul
July 28-29, 2021 – Independence Day
August 30, 2021 – Santa Rosa de Lima (only in Lima)
October 8, 2021 – The Battle of Angamos
November 1, 2021 – All Saints' Day
December 8, 2021 – Immaculate Conception
December 25, 2021 – Christmas
Is tipping common in Peru?
Yes, it is customary to tip in Peru. At restaurants it is customary to tip about 5 to 10% of the total bill. At the luxury hotels and restaurants, 10% gratuity is often already included. You can also give a small tip to guides of a group tour, a private guide usually gives you a little more (for example 2 to 5 euros). A token of appreciation for the service provided never hurts!
Do you have to negotiate prices in the Peru?
It is certainly common in Peru to ''haggle'' with your purchase (or taxi ride), unlike many other countries in South America! In the big cities tourists are sometimes asked higher prices, you can try to get a 20 to 30% discount on your souvenir, or on the market.
Plan your holiday to Peru here