Big bigger Biggest! Dubai in three words. Literally and figuratively. The largest skyscraper, the largest golf course, the largest fountain, the largest marina, the largest theme park, the largest ski hall (!), the largest shopping center with undoubtedly the largest Appie and of course the largest airport in the world. In height or in width, this city in the United Arab Emirates (UAE) has only one size. And one price, namely very expensive. Now I can imagine that you have this special place in the Middle East off your bucket list, even if you're not a millionaire. especially in the Dutch winter it's the perfect sun destination.
Fly for next to nothing
The cheap way already starts when you book your flight ticket. A simple search skyscanner will provide you with cheap airline tickets in no time. Return tickets of 250 euros are no exception. When you arrive at Dubai International Airport, you can immediately drop off your bags Al Sharqi, a great one budget hotel with rooms for only 35 euros per night! The hotel is located just outside the center of Dubai, including a shuttle service to the sun-drenched beaches.
Also read: Skyscanner | How to save (a lot of) money on flights
Free Things to Do in Dubai
Dubai Museum
To immediately get into the atmosphere of this ancient city, you can buy the imposing for two euros Dubai Museum visits. This museum, formerly Al Fahidi Fort, can be found in the middle of the old center of Dubai. Near the museum is the Iranian mosque, also a cheap (even for free) worth a visit.
Free sunbathing at Palace Beach
Many beaches are private or belong to a hotel. But not all. Do you want to sunbathe and don't feel like paying tens of dirhams for it? Then go to Palace Beach† Free entrance, located between the very expensive palaces of wealthy sheiks. Have you rented a car? No problem, at Palace Beach you can park free† You will find this photogenic beach with clear blue sea along the road from Madinat to Dubai Marina. Click here for location on Google Maps.
Also read: Must sees in Dubai | The most beautiful places + bucket list activities!
Burj Khalifa from a distance
Of course you can't go home without taking a picture of the tallest building in the world, the Burj Khalifa. Exactly 829,84 meters high. No, you don't necessarily have to go inside to admire the magnificence of the building. A visit to the observation deck can easily cost you more than 25 euros. If you have not reserved in advance, you will already lose 80 euros at the entrance. A lot of money for a panoramic shot.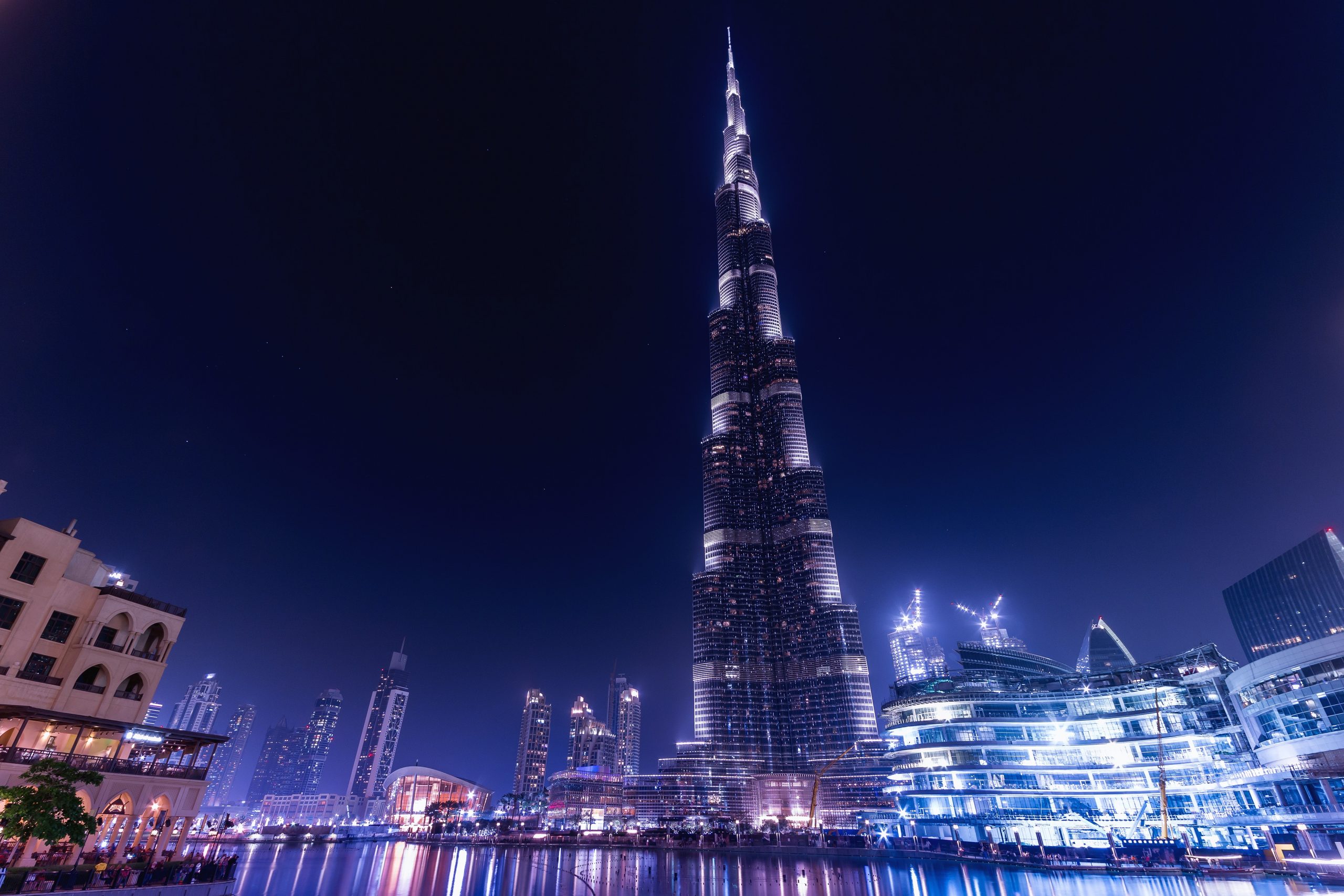 You can just stroll around and view and capture the tallest structure in the world from all angles for free. Et voilà, free the most beautiful memories of the city where everything is bigger than big.
Dubai Fountain
The Dubai Fountain is arguably the holy grail of the must-sees in Dubai. It is the largest and most expensive fountain show in the world that you can see every day. Every evening from 18.00 p.m. the show starts every 30 minutes. The fountain can spew up 83.000 liters of water simultaneously, reaching a height of 150 meters. The fountain has a length of 2 football fields together and has a total of about 150 million cost. BIZARD right? It is not for nothing that there are always a lot of tourists here to see this.
Cheap Dubai Attractions
Crossing at Dubai Creek
For less than a euro you can get on a traditional Arab boat for a crossing at Dubai Creek† On the deck you can relax in the old-fashioned Persian beanbags and enjoy the characteristic view of the port of Dubai with the glittering skyscrapers in the distance for over half an hour. Breathlessly watching Dubai's skyline from your lazy beanbag, nothing wrong with that!
Cheap shopping in Bur Dubai
Do you want to shop but don't feel like destroying your entire budget right away? Then browse the dusty markets in Bur Dubai, an ancient neighborhood in Dubai. No cars, but traditional shops and loud stalls where you can buy souvenirs and eat an affordable snack for a few dirhams (1 dirham is 20 cents). Try Bayt Al Wakeel, for example, a restaurant that hangs high over the water with its terrace. Forget the noodles and choose one of the authentic Arabic dishes such as the lamb or the creamy hummus. Now only a perfect sunset and dinner is complete. To get to Bur Dubai you have to make the crossing from Dubai Creek.
More Dubai tips?
When you are in Dubai you will be immersed in the wealth, Luxury en beautiful sights that the city has to offer. We can imagine that you get the most out of your world trip or want to go on holiday in Dubai. That is why we have of course also written a blog with all must sees en bucket list activities for Dubai for anyone who wants to spend a little more. For example, how about a Skydive above one of the palm islands? You can read all about it in the blog: Must sees in Dubai | The most beautiful places + bucket list activities!