Who dares to drive more than 3.000 kilometers on a scooter through East Africa? Visiting mountain gorillas? Scooter safaris (does this word exist?) in five National parks† To admire lions, buffaloes, hippos and elephants up close, among other things. My name is Eric and I like to travel around on a scooter. Read here part 4 of the unique report of an amazing scooter adventure Uganda, Rwanda en Kenya† In the fourth part of this trip I drive from Kabale to Ruhija and do a Gorilla trekking in Bwindi Inpenetrable National Park
Also read:
East Africa on a scooter | Part 1 | From Kampala to Kigali (180 km)
East Africa on a scooter | Part 2 | Bugala Island – Lake Mburo (170 km)
East Africa on a scooter | Part 3 | Lake Mburo National Park – Kabale (230 km)
East Africa on a scooter | Part 4 | Kabale – Ruhija – Gorilla trekking (50 km)
East Africa on a scooter | Part 5 | Bwindi – Kabale – Kigali (160 km)
East Africa on a scooter | Part 6 | Kigali Genocide Memorial – Kabale
East Africa on a scooter | Part 7 | Kabale – Queen Elizabeth National Park (175 km)
East Africa on a scooter | Part 8 | Queen Elizabeth NP – Fort Portal (120km)
East Africa on a scooter | Part 9 | Fort Portal – Muhorro (100 km)
A brief exploration of Kabale
The washerwoman of Kabale Backpackers has aimed my laundry at a bush around ten o'clock. The socks simply dry on the floor. The laundry doesn't dry any faster if I watch it.
Time to explore Kabale. There is not much to see in the city of 50.000 inhabitants. At the hotel Kigezi Gardens Inn I enjoy a delicious lunch with a view over Kabale. All in all, a peaceful preparation for this afternoon's journey.
On the way to Bwindi
In the guesthouse I get the last instructions. 'I have reserved an overnight stay at the Ruhija Gorilla Rest Camp. Make sure to report to Sara at eight tonight. She is in the office by the barrier when you enter Ruhija. Can't miss. Have fun gorilla!' Lian and little David wave me goodbye as I leave on my scooter for Bwindi Impenetrable Forest. Around five I arrive at the exit to Bwindi. Ruhija is still 26 kilometers from here on a partly paved road.
The road climbs slowly at first and then starts to get really steep. After 10 km my scooter gives up. A group of school children living on the mountain come to the rescue. With loud cheers they push me up the mountain. From here the road goes downhill towards the entrance of Bwindi.
By scooter and on foot in Bwindi
At the barrier in front of Bwindi's entrance, I am warmly welcomed by the guard. He asks who will pick up from Ruhija. 'No one. I'm going on the scooter,' I answer. 'You are kidding me. Didn't they tell you that there is a large herd of elephants in Bwindi. I saw them around here this morning.' "No, I don't know anything about it."
The guard smiles a little. He finds my scooter very funny and asks if he can ride it for a ride. He disappears from sight a moment later, honking his horn loudly. A few minutes later he rushes towards me and brakes just in time. "Have fun in Bwindi," he says next. 'I have another question. Is it a flat road to Ruhija?' 'Yes, fairly flat. There the road hates up and after that it is generally flat.
How many times have I cursed myself in the next three hours? I have to push the scooter for more than six kilometers, because the slope is too steep. It takes me over two hours to do this. It is now pitch dark and in the distance I hear the trumpeting of elephants. Normally I would be shocked, but I'm so broken that it doesn't affect me anymore.
Arrival at Ruhija Gorilla Rest Camp
And when I think there's no end coming, I find the road going down again. I can't drive fast in the dark and the fun is over after three kilometers. I have to get back to work. Just after nine o'clock I finally see light on the horizon. There is a light at the barrier of the exit of Bwindi. The guard has already gone home. A kilometer further on I see the sign 'Ruhija Gorilla Restcamp' on the left.
Sarah is there too. "The guard called me at XNUMX:XNUMX to say he let you in. Did the elephants bother you or did you take a nap along the way?' 'Sorry Sarah. My scooter has far too little power. I pushed the scooter for almost six kilometers. I'm exhausted.' 'If you had called, we would have picked you up. Take a shower and eat something. I'll come tomorrow morning at eight o'clock and then we'll arrange everything. Look forward to it, because you're going to see gorillas.'
Gorilla trekking preparations
It is eight o'clock in the morning and Sara reports to the restaurant. I fill out the paperwork and pay the $600 for the permit. "Eric, I've assigned you to the Bitukura group. That group of gorillas is close by. That is handy, because you are on the scooter and still have to go back to Kabale. The other three groups are at least two to three hours away. Make sure to be at the briefing by XNUMX:XNUMX. It's near the barrier.'
At nine o'clock I am introduced to the eight other members of my group. They have all flown in and only come to Uganda for this gorilla trekking. Two couples from Austria and one from Namibia and New Zealand. Tonight they will all fly elsewhere.
The group of eight plus the undersigned then listens carefully to the briefing. Keep seven meters away, do not bring any food and do not make any noise. That is its content in telegram style.
With the Bitukura Gorilla family
Then we get into a minibus and drive for about ten minutes. Everyone gets out and we basically leave everything behind except photo and camera equipment. Nothing else is allowed to go to the gorillas. Fifteen minutes later we are there. The gorillas are near. There will be a final briefing. The lenses are being sharpened in the meantime…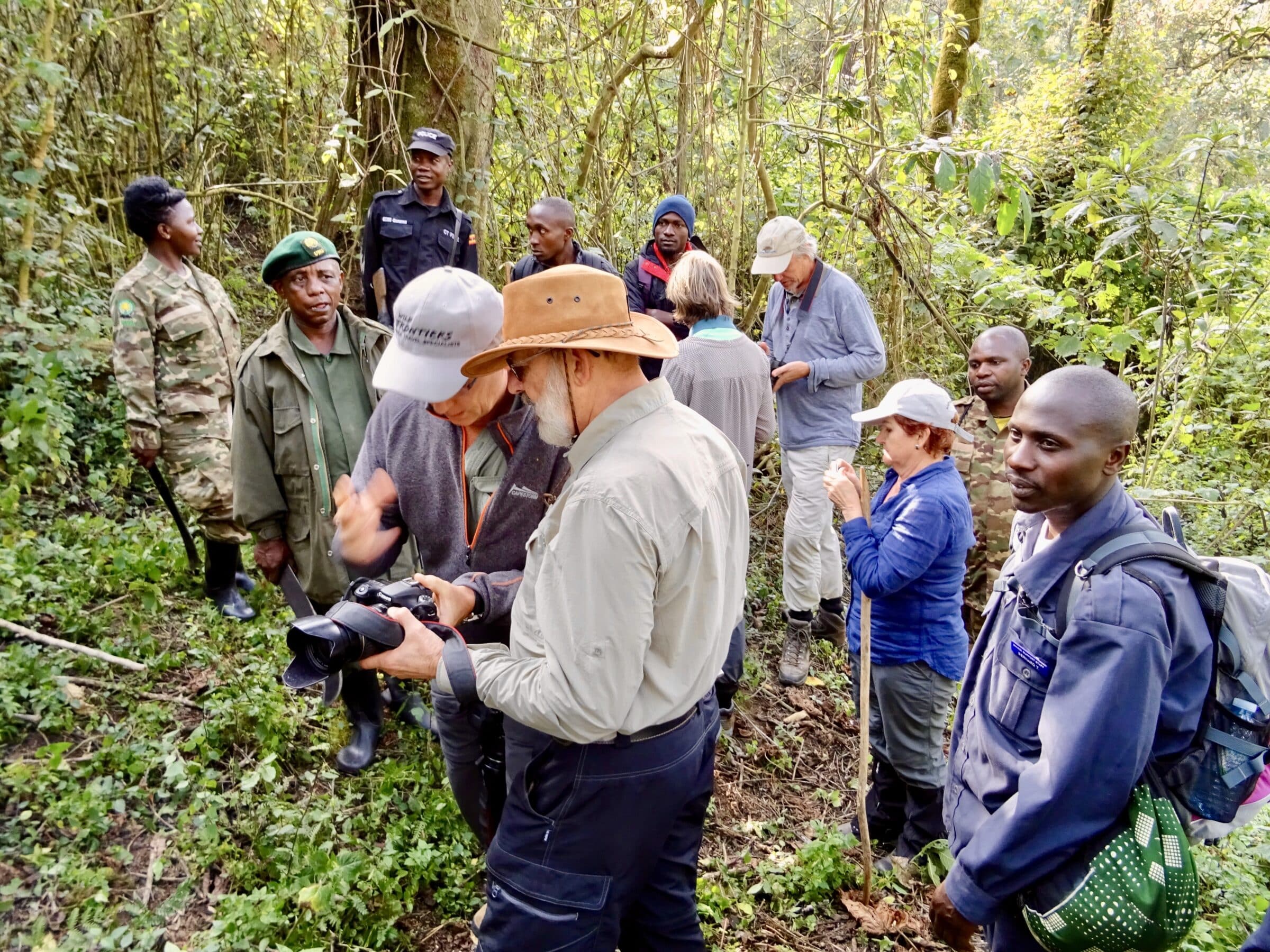 We are now 'unleashed' on the gorillas. There is no longer any distance. The supervisors say nothing. On the contrary, they even encourage it. By the way, the gorillas don't care at all about human company. Even the little ones completely ignore us.
I keep my distance and do not interfere. There is plenty of time to observe the gorillas in peace. And I can't imagine the others going to keep this up for an hour. After ten minutes peace is back and I have the gorillas almost to myself.
Oh and how cute are those gorillas. I find myself too busy with photos and videos. But why? There is more than enough material available on the internet. Just enjoy the unique moment and watch this lovely family go about their daily business.
After exactly one hour, the gorilla show ends. Everyone agrees that this was a unique experience. We all receive a certificate in the visitor center. It's one to list.
An extensive blog about gorilla trekking in general follows tzt
Also read:
East Africa on a scooter | Part 1 | From Kampala to Kigali (180 km)
East Africa on a scooter | Part 2 | Bugala Island – Lake Mburo (170 km)
East Africa on a scooter | Part 3 | Lake Mburo National Park – Kabale (230 km)
East Africa on a scooter | Part 4 | Kabale – Ruhija – Gorilla trekking (50 km)
East Africa on a scooter | Part 5 | Bwindi – Kabale – Kigali (160 km)
East Africa on a scooter | Part 6 | Kigali Genocide Memorial – Kabale
East Africa on a scooter | Part 7 | Kabale – Queen Elizabeth National Park (175 km)
East Africa on a scooter | Part 8 | Queen Elizabeth NP – Fort Portal (120km)
East Africa on a scooter | Part 9 | Fort Portal – Muhorro (100 km)