Let me start with the fact that Kuala Lumpur really stole my heart during my tour of Asia. During those 8 months I am Been to Kuala Lumpur 3 times, hence this Kuala Lumpur City Guide! Simply because I couldn't get enough of it. It was the only capital in Asia where I could even see myself living. What I love about Kuala Lumpur is that it's still a Asian city is with a lot of charm, but that you can also find the conveniences that you sometimes need as a Western tourist. There is a lot to see in the city and with it great metro system you can move around easily. Do I need to say more?! Discover this beautiful city with my Kuala Lumpur City Guide with 15 activities!
Plan your holiday to Asia here
Kuala Lumpur City Guide
Metro to Kuala Lumpur from the airport
From the moment you arrive at the airport in Kuala Lumpur you are eligible with the metro network of this metropolis. The airport is located at 55 kilometers away from the center which amounts to about 50 minutes to an hour travel time. You can of course also choose to take a taxi (more expensive option) or take a bus (cheaper option) to the city center.
The metro is a golden mean. It is a comfortable journey and takes between 30 and 40 minutes. At the airport it is very clearly indicated what the walking route is to the metro station where you can buy tickets. You can choose from the KLIA Transit Or the KLIA Express. The KLIA Transit stops at 3 intermediate stations (Salak Tinggi, Putrajaya/Cyberjaya and Bandar Tasik Selatan) and therefore takes about 10 minutes longer.
The KLIA Ekspres has as terminal station KL Sentral and costs 55 RM for a one-way trip. From this station you can walk to your accommodation or you can transfer to another metro if you still have a bit to go. Make sure you have the app Moovit on your phone so you can easily check which line to take to get as close as possible to your destination.
Transportation in Kuala Lumpur City Center
Once in the city it's easiest to keep moving through the metro network (and the cheapest). At every station there is a machine where you can buy super easy tickets for your final destination. The machine will change your money and give you a small ticket that will allow you to go through the gate. Keep this ticket safe, because you can sometimes be checked. When you get to your final destination, you can throw the ticket away and buy a new one next time. Another (cheap) mode of transportation in Kuala Lumpur is Grave† So make sure you also have this app on your phone! I myself have only used Grab when I wanted to go somewhere where there was no metro station nearby.
Kuala Lumpur SIM card
Of course you need internet for the above apps (Grab and Moovit) and that is why it is useful to purchase a SIM card at Kuala Lumpur airport. Maxis is known as the best provider in Malaysia and has a 6 GB data bundle for 35 MR† Almost all bundles are up to 30 days to use. All you have to do is look for a Maxis stall (trust me, they are not to be missed) and choose your package. The employee will then replace the SIM card and you can immediately test whether your internet works!
Day 1 in Kuala Lumpur
1. Batu Caves
Get up early to get to the Batu Caves and beat the hordes of tourists! Since 2019 you can not only admire the beautiful caves here, but this place has also become very attractive because of the huge staircase that leads into the Rainbow colours painted. Since I was there in 2018, unfortunately I don't have any pictures of this, but I'm sure you've seen them on Instagram. Oh yes: and watch out for the apes† Loves no plastic bottle but tuck it safely behind the zipper. This will prevent monkeys from jumping on you.
2. Petronas Towers
Stroll through the surroundings of the Petronas Towers and see them from all angles! You have the best view of the Petronas Towers from the KLCC park, where you can eat your take-away lunch. The buildings are 452 meters high so you can see that it is quite difficult to get a good picture of them. Are you up for the challenge?
3. Suria KLCC
After the Batu Caves and the Petronas Towers, it is wonderful to enter the shopping center to cool off in the air conditioning. Located just below the Petronas Towers, the Suria KLCC is one of the largest shopping centers from the city! Other nice, large shopping centers are Pavilion en KL Central† If you are looking for a shopping center where you will not encounter well-known brands, then Berjaya Times Square something for you. When I walked in here I thought I was literally and figuratively in an AliExpress.
4. Street art at Bukit Bintang
Bukit Bintang is my favorite neighborhood in Malaysia because I can really see my eyes out here. This is also the place to be in the evening. Here you will find a lot shopping malls, eateries, clubs, cafes and rooftop bars. What not many people know is that you can also find street art here if you walk through the smaller streets. Very nice to see if you are in the area!
5. Jalan Alor
This Kuala Lumpur City Guide wouldn't be complete without my favorite street in Kuala Lumpur! Jalan Alor is a food mecca and is literally and figuratively a very long street full of food stalls that sell all kinds of things! On the one hand you really have the street food stalls that are not there during the day and on the other hand you have the large restaurants that sell street food. You absolutely cannot miss this street when you are in Kuala Lumpur.
6. Heli Rooftop Bar
End your day at the Heli Rooftop Bar and have a perfect first day in Kuala Lumpur. During the day this rooftop is like helicopter platform and in the evening you can go here for a fancy drink with spectacular view.
Day 2 in Kuala Lumpur
7. Thean Hou Temple
Get up early and be on time at Thean Hou Temple. In the early morning you have this temple to yourself and that makes the visit so much more beautiful. The colors, ambiance. Then view† All in all, this temple will certainly appeal to everyone.
8. Wilayah Mosque
This mosque is located a bit outside the city center, but that doesn't make it any less interesting to visit. The mosque is really beautiful and a beautiful experience. When you arrive at this mosque you get clothes that you can borrow and you can use the free tour that they offer.
9.Eco Forest
A nice change in this Kuala Lumpur City Guide! In the Eco Forest of Kuala Lumpur, you don't feel like you are in a metropolis at all. It is the perfect place for a nice walk and enjoying nature around you.
10. Central market
Central Market is located near Chinatown and is a very nice market where you remembrances etc. can score! You can find literally everything here. You can also enjoy a snack and drink around Central Market. It gets busier here, especially in the evening.
11. Little India & Chinatown
Finish your day with a taste of the Indian & Chinese atmosphere in Little India and Chinatown. You can do it in both districts tastiest street food taste it (highly recommended!) for really next to nothing.
Day 3 in Kuala Lumpur
12. Sultan Abdul Samad & Merdeka Square
At Merdeka Square and at the river do you like the beautiful building Sultan Abdul Samad† Not only the building itself is nice to see, the area is also worth a walk. As far as I'm concerned, this is definitely a nice addition to this Kuala Lumpur City Guide!
13. KL Sentral
Maybe it's most famous shopping center from Kuala Lumpur. KL Sentral. You have probably changed trains here a number of times by metro. Time to take a look inside! You'll find everything you need and more here. Tip:: no street food for a while? Then make a stop at Nando's.
14.Perdana Botanical Garden
If you want to escape the crowds again, Perdana Botanical Garden is a great option. The access to the garden is free† However, if you want to visit the bird park or butterfly park, you have to pay for this.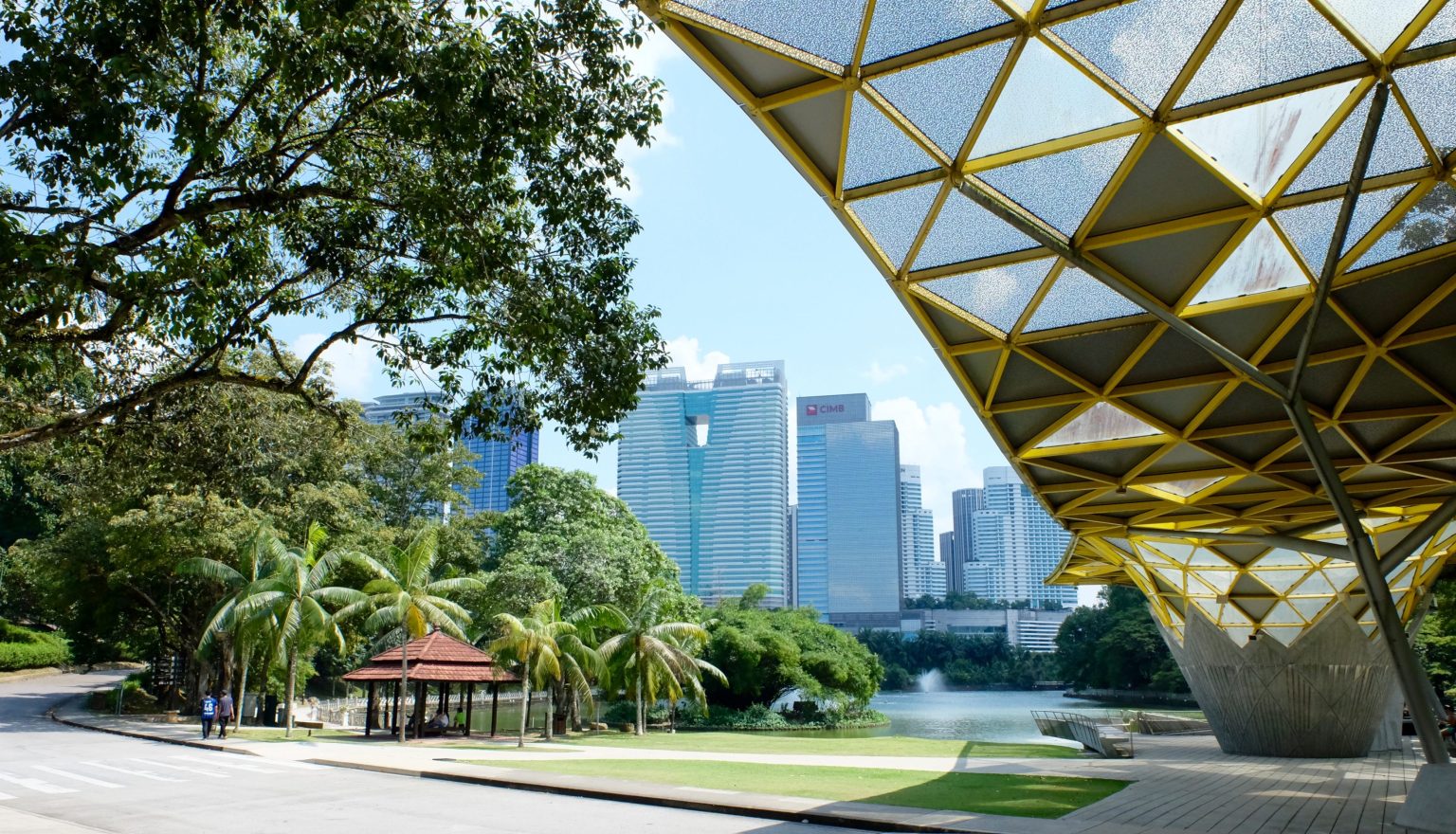 15. Infinity Pool
I close this Kuala Lumpur City Guide with one of the many Infinity pools that you can find in the city! There is nothing more relaxing than enjoying the view with a drink in a swimming pool. The best is of course at sunset. Tip:: I found a hostel incl. Infinity pool for only 9 euros pn, Read on quick.
Where to stay in Kuala Lumpur
When I first went to Kuala Lumpur, I was overwhelmed with choices in terms of accommodations. The choice is really huge and that's why I would like to let you know about our experiences. I have had 3 different accommodations in the city including Reggae Mansion Hostel† This hostel is known as a party hostel because there is a rooftop bar located on top of the building where you can get cocktails for only 3 euros. So are you looking for fun and a party? Then this is the place to be for you. If you're looking for a super quiet hostel I can help you Capsule Town Hotel recommend. It is right next to Chinatown and around the corner from Central Market. Sounds like a non-quiet location right? But thanks to the capsules you sleep in and the fact that they filter a lot of noise, you can really relax here. The disadvantage of this hostel is that (unlike Reggae Mansion) it is not very social because almost everyone is hidden in his/her capsule. A real recommendation is Sky Society where you sleep in a skyscraper on one of the top floors. The building is mega luxurious and on the roof you will find an infinity pool with a view of the Twin Towers. But how?! A hostel is located in the building, so you only pay 9 euros pppn to sleep there + use the Infinity pool. Nice for 1 night, because it is not really very central. Chris recommends the hostel Suzie's Guesthouse and Hostel so this one is definitely worth checking out too!
Best time to visit Kuala Lumpur
Kuala Lumpur you can actually do it whole year by visiting (YAY!) as it is about 25-35 degrees every month. You have the 'most' chance of rain in the months December to March† The photos I have used in my blog are from the months of June, July and August.
Where to go after Kuala Lumpur
Is Kuala Lumpur part of your itinerary by Malaysia or maybe several countries in Asia? Read more blogs on our Malaysia page.
Plan your holiday to Asia here