You can eat and drink very well on the Greek island of Kos! We know the Griekse cuisine of course of the gyros, moussaka, souvlaki and the Greek salad with feta, but there are so many other Greek dishes to try. Too many to mention. Below you will find inspiration and tips for delicious fish, good wines and the best ice cream you've ever had.
Also read: Itinerary Greece in 1, 2 or 3 weeks | island hopping
Tip 1: Patrick's
Highly recommended Patrick's in Kos Town. You could easily pass this typical restaurant in a side street if you weren't paying attention. It is very small scale and the service is great. The waiter makes everyone feel at home and recognizes you immediately if you come more often.
We ate the best moussaka ever here. Don't like moussaka? Then there is plenty of goodies, something for everyone.
And for the price you can't beat it! Per dish you pay about 6 to 9 euros, a liter of wine 8 euros, and the best thing: the dessert is on the house! You get a freshly made piece of cake or baklava with a scoop of ice cream to share.
If you want to eat in a nice, typical restaurant, with a good atmosphere and good food for a good price, then definitely go to Patrick's to eat!
Tip 2: The best gyros
The best gyros we have eaten at Tarzan, on the beach. A pita with gyros, a few fries, red onion and a delicious sauce for only 4 euros! Great for lunch or as a snack on the beach. When you pay here, you might even get a cocktail on the house!
Tip 3: Eating with a view
For a beautiful sunset you have to go to Zia† Zia is a mountain village half an hour's drive from Kos Town.
For the most perfect sunset, sit completely on the head of the terrace, at a two-person table, at the restaurant Alvi† For the Greek experience you of course take a Greek plate for 2 for 30 euros, with delicious Greek dishes.
Tip:: Looking for even more tips and inspiration? Then read the blog of Greece discoverer with 23 nice sights on Kos.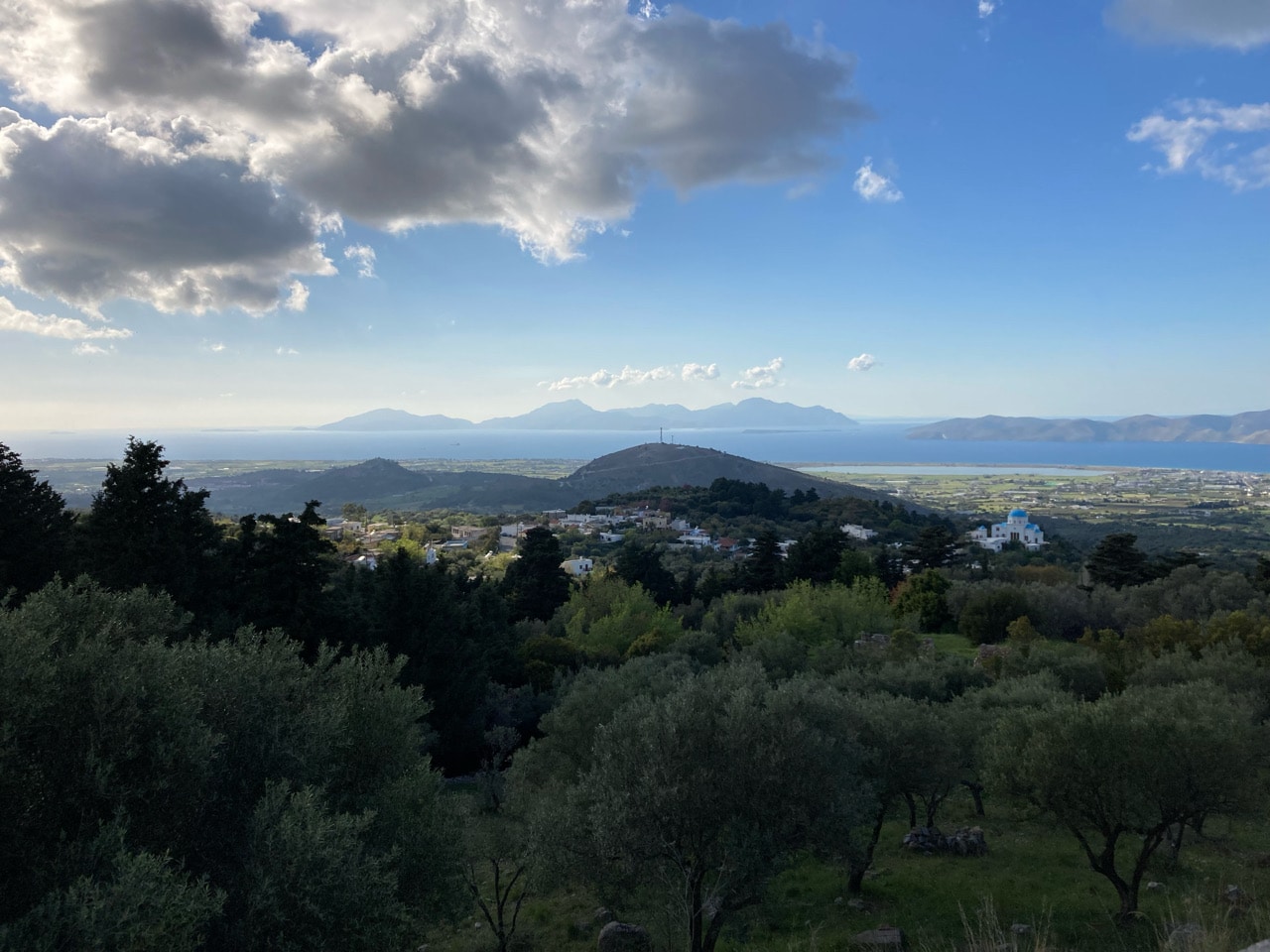 Tip 4: Ice cream!
We only found out about this on the penultimate day, but for ice cream you have to go to Special† So much choice and so incredibly tasty! Special is located in 5 places near Kos Town, so there is at least one in your area where you can get an ice cream. The flavors vary from Oreo to white chocolate and from limoncello to tiramisu. Name a flavor and they've got it.
Tip 5: Fish restaurants
To the george. averof there are a lot of seafood restaurants. This street closest to the sea is in Kos Town. You can enjoy lunch and dinner here, right on the beach or inside the restaurants.
You can eat delicious fried cod there Agkyra Fish Restaurant† This is really recommended! Of course all fish restaurants are on the Geor. Averof is worth a try and there is something for everyone!
Tip 6: Wine tasting
In our Ktima Akranic, that's the place to be for a wine tasting or lunch. The view from the terrace is great, the atmosphere is good and the wines are delicious.
We opted for a light lunch for 30 euros per person. We went there by bike, the last part was tough, but doable. After a large glass of cold water on the terrace, we were given a fifteen-minute tour of the winery. Back on the terrace we got to taste 4 wines, 1 white wine, 2 rosé and 1 red wine, of which we could choose 1 for our lunch.
The light lunch was surprising. A nice shelf with different cheeses and meats, nuts, fruit and a basket with sandwiches, cheese sticks and toast. We enjoyed this light lunch, the wine and the view.
Of course we brought a bottle of wine to take home!
Tip 7: Wine from the store
Of course you don't always feel the need to go out and have a drink on the terrace. We had a lovely balcony where the sun was shining all afternoon, so we could enjoy a drink.
There are many different wines in the supermarket, but 1 stands out, not only in terms of taste, but also the bottle! The Tsantali Caramelo Rose† This rosé is made on the mainland of Greece and is wonderfully fresh and fruity. Best of all; it costs less than 6 euros per bottle.
Trips on Kos
Do you want more tips about Kos and the nice trips you can make on Kos? Read my blog 'Cycling holiday on Kos' and get inspired!
Also read: The Greek island of Kos | Cycling and sights