Guatemala has always been in the top 10 cheapest countries in the world to travel in. Climbing an active volcano has been on our minds for some time bucketlist. and this was our chance to do that without costing us thousands of dollars. In Guatemala is a volcano to climb that you cannot skip. Around Antigua, where we stayed for a week, you have several volcanoes that you can brave. You have the volcanoes Agua (which you immediately see when you walk through Antigua), Pacaya, Acatenango and Fuego. Two of the three active volcanoes in Guatemala are within an hour's drive of Antigua: De Pacaya and Fuego.
Also read: Antigua Guatemala | The perfect base for activities
Climbing Acatenango Volcano from Antigua
You can therefore perfectly book a tour from Antigua base (offer here ), to climb a volcano. There are all different prices for these tours. We had paid about 1 dollars (55 Quetzales) for a 350-day tour Acatenango and Fuego and got a great lunch.
What you pay more for, however, is staying overnight on the volcano, especially the comfort during the night at the base camp and the equipment you get. Prices can range from $75 to $250.
⚠️ Important!: I would like to emphasize once again that the equipment is of great importance. In the week before we went up, two female backpackers in their twenties died overnight from hypothermia. The volcanoes are miles high and the weather conditions can change quickly. Rain, strong wind and freezing cold are the rule rather than the exception at this altitude. If you book a 2-day tour, make sure you have enough warm and windproof clothing.
Nice walk up
The Acatenango is the dormant volcano that you climb. But make no mistake, this stratovolcano is no less than 3976 meters high and many people suffer from altitude sickness while hiking.
So take it easy, take plenty of water with you and take plenty of breaks. Don't be tempted by any group you're with, do it at your own pace. If you get altitude sickness, it could just mean the end of your adventure.
Along the way you will pass through different types of forest. Due to the altitude, the landscape around you is constantly changing. You will also often have to deal with a thick layer of clouds that you have to pass through.
View of the active Fuego volcano
When you reach the base camp on Acatenango, you already have a good view of the Fuego and the eruptions. The 1-day tour also stops here. From here you watch the eruptions and at the end of the day you return down.
With the two-day tour you spend the night here. The next night you get up at 03:00 am to go to the top of the Acatenango, so that you can watch the Fuego erupt at sunrise. This is your best chance to see red lava!
Eruptions = violent natural disaster
In the photo below we are indeed extra happy in the photo, as it should be on Instagram these days, haha. But make no mistake, watching a volcano erupt is not without danger. We are now on the Acatenango Volcano, which is more or less connected to the Fuego.
Every 10 to 20 minutes, the ground beneath you begins to shake. Then you suddenly see stones rolling from the mountains and then a lot of smoke and dust comes out of the volcano next to you with great violence. Regularly lava also comes out, which is clearly visible.
At least, this is how the Fuego "normally" does it. The Fuego remains very unpredictable. It remains a very dangerous, active volcano.
11 tourists died on Acatenango
That it is not without danger, was shown again when we saw in the news three months after we were there that 11 tourists and 3 guides had died on the volcano. This was due to an unexpectedly strong explosion and eruption of the Fuego volcano. The tourists were just like us, watching the eruptions from the Acatenango when suddenly it went very fast. In exactly the same place.
160 dead and 265 missing
Rocks, lava and lava dust flew around. In total, this eruption killed 160 people and left another 265 missing, who have not been found to date. The lava dust cloud (the pyroclastic flow) who came thundering down the mountain buried the villages at the foot of the volcano. The people who were still there at the time didn't stand a chance.
The 265 people who were still missing are most likely swallowed in this dangerous cloud of dust, in which temperatures can reach as high as 1200 degrees.
On your bucket list, but not without danger
Climbing an active volcano is something we really wanted to do. Every day, even after this disaster, hundreds of people go up here every day to see the volcano erupt with their own eyes.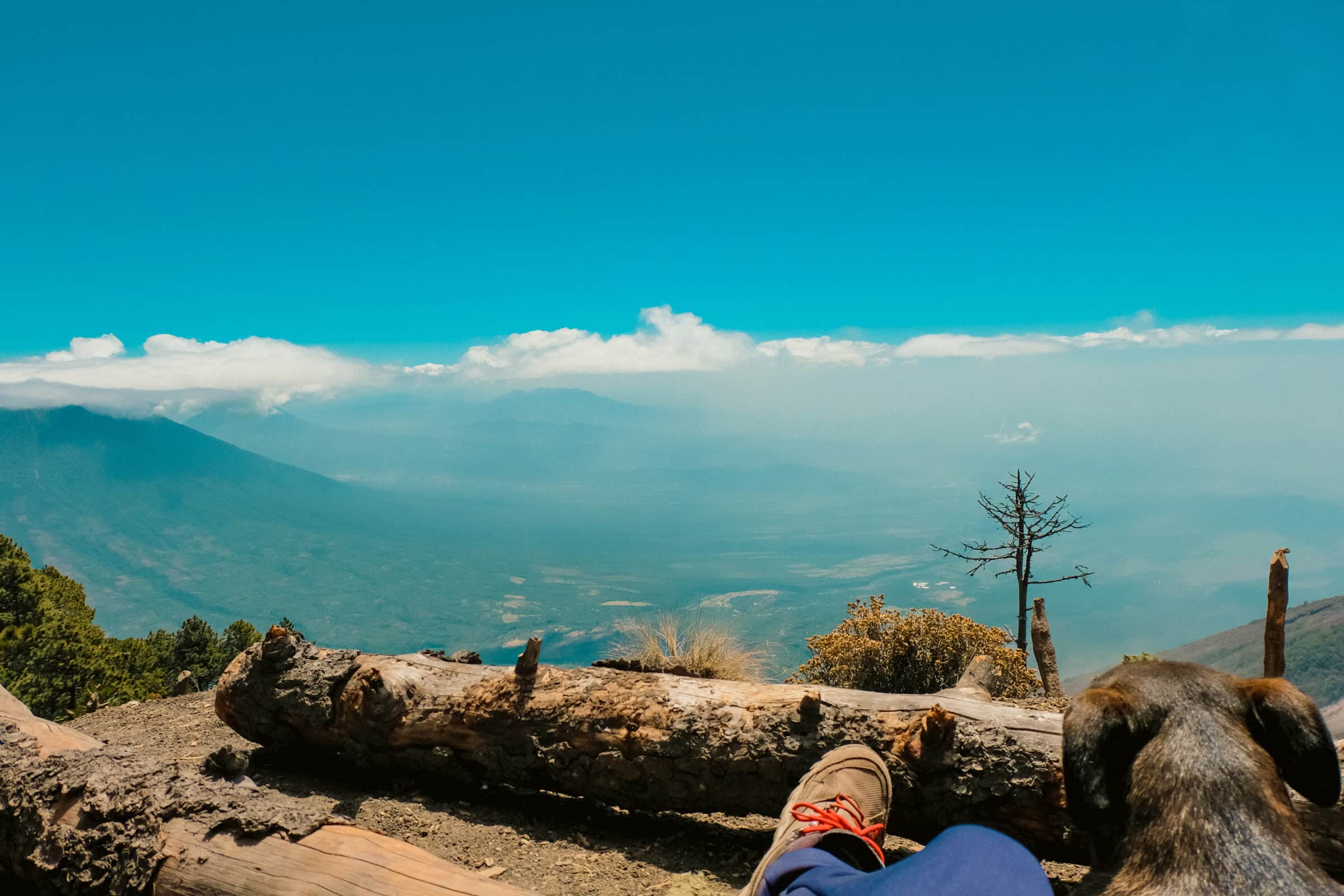 Usually this goes well for a long time, but realize that you are dealing with a natural phenomenon that you have no control over. When you stand on a volcano of almost 4 kilometers high, you really can't go anywhere if things go wrong.
Knowing that alone makes the experience very exciting. Braving an active volcano will therefore be a bucket list worthy experience that you will not forget for the rest of your life.
Also read: Must do: volcano boarding in Nicaragua