Omanis may be considered camping enthusiasts. Especially the young generation of the country has set a trend here. That is no surprise, because under the open sky, between rugged landscapes, nature and a beautiful starry sky can be enjoyed intensely as soon as the evening falls. But how does wild camping work in Oman? What should travelers keep in mind? And where are the nicest camping spots? We present a handy guide to wild camping in Oman with best places and tips for those looking for romance by the campfire.
Oman for outdoor enthusiasts
The sultanate of Oman is known for its hospitality, sunny weather and low population density. Add to that the fact that Oman is one of the safest countries in the world and this creates the right conditions for an adventurous camping holiday in the southeast of the Arabian Peninsula. Outdoor enthusiasts hardly have to worry about rain, cold or even dangerous animals in Oman. Instead, a fresh breeze dissipates the heat of the day, while varied landscapes show their best side in the evening light or at dawn.
Also read: 7x surprising facts about Oman
Free camping in Oman
Nature lovers can camp for free almost anywhere in the country at a spot of their choosing. Restrictions only apply to natural areas such as Ras al-Jinz, (Location here ) and the government Muscat (Location here ), where a camping permit has to be applied for since the end of last year (apply here for a camping permit).
In addition, a respectful distance must be maintained from villages and other inhabited areas. Furthermore, there are no restrictions for a camping adventure in Oman. From camping between fjord landscapes and lonely sand deserts to a rocky outcrop in the high mountains or between turquoise blue pools in a wadi. The fascinating Sultanate can be explored particularly well off road with a rented all-terrain vehicle with a roof tent or even in a motorhome. Below you will find a selection of the most beautiful camping spots
Camping along dream beaches
Those who like to spend the night directly on the beach will find wonderful accommodation options between the black rocks on the beach Ras Madrakah Beach (Location here ) Bee duqm. Lovers of sandy beaches camp to the west of Must in Musandam (Location here ) or Al Fazayah Beach (Location here ) South of Salalah in Dhofar. Located a short distance from the capital Al Sifah Beach (Location here ) with golden sand and a dune for shelter from the wind.
Wake up at a great height
On the plateau of Jabal Shams (Location here ), the highest mountain in Oman at 3.075 meters, travelers can spend the night on the edge of a canyon that is almost 1.000 meters deep. At the campsite Jabal Akhdar on the Saiq platter, located at an altitude of about 2.300 meters, travelers enjoy a 360 degree view. In the month of April even the rose blossom beckons here.
Those who prefer an off-the-beaten-path location can visit the traditional mountain village wakan (Location here ). Surrounded by terraced gardens and particularly popular with walkers. Please note that it can get very cold at night in the high mountains.
Also read: Top 10 most Instagrammable places in Oman
Sleeping in beautiful deserts
The sandy desert is about a three-hour drive from the capital Sharqiyah Sands (Location here ). Exceptional for camping here are the Sugar Dunes at Al Khaluf, where the desert merges directly into the sea. Rub al-Khali, with its up to 300 meters high dunes northwest of Salalah, promises campfire romance in a vast desert area.
More special camping spots
A walk through the salt pans near the island Masirah (Location here ) brings bird lovers to Barr al Hikman, where a lagoon surrounds the white sand beach. Here you can see flamingos, spoonbills and great egrets. On the island Masirah, wherever it can sometimes storm, endless beaches await camping enthusiasts. Thanks to the prevailing wind, this island is also one of the best kite spots in the country.
Since there are hardly any permanent campsites with showers and toilets or power stations in Oman, the motto is: wild camping. Many supermarkets are located in larger shopping centers, where clean toilets and sometimes even showers are available. These can then be used for hygiene during camping. In addition, it is also a good idea to stay in accommodation every now and then. Information about campsites, supermarkets, fresh water stations, gas stations, etc. is provided by various apps, such as iOverlander.
Car rental in Oman
A four-wheel drive vehicle is not a must, but it is recommended so that remote locations can also be reached. When renting a vehicle with a roof tent, a cool box, cooking equipment, solar shower, water tank, sleeping bags, table and chairs and many other amenities are usually included.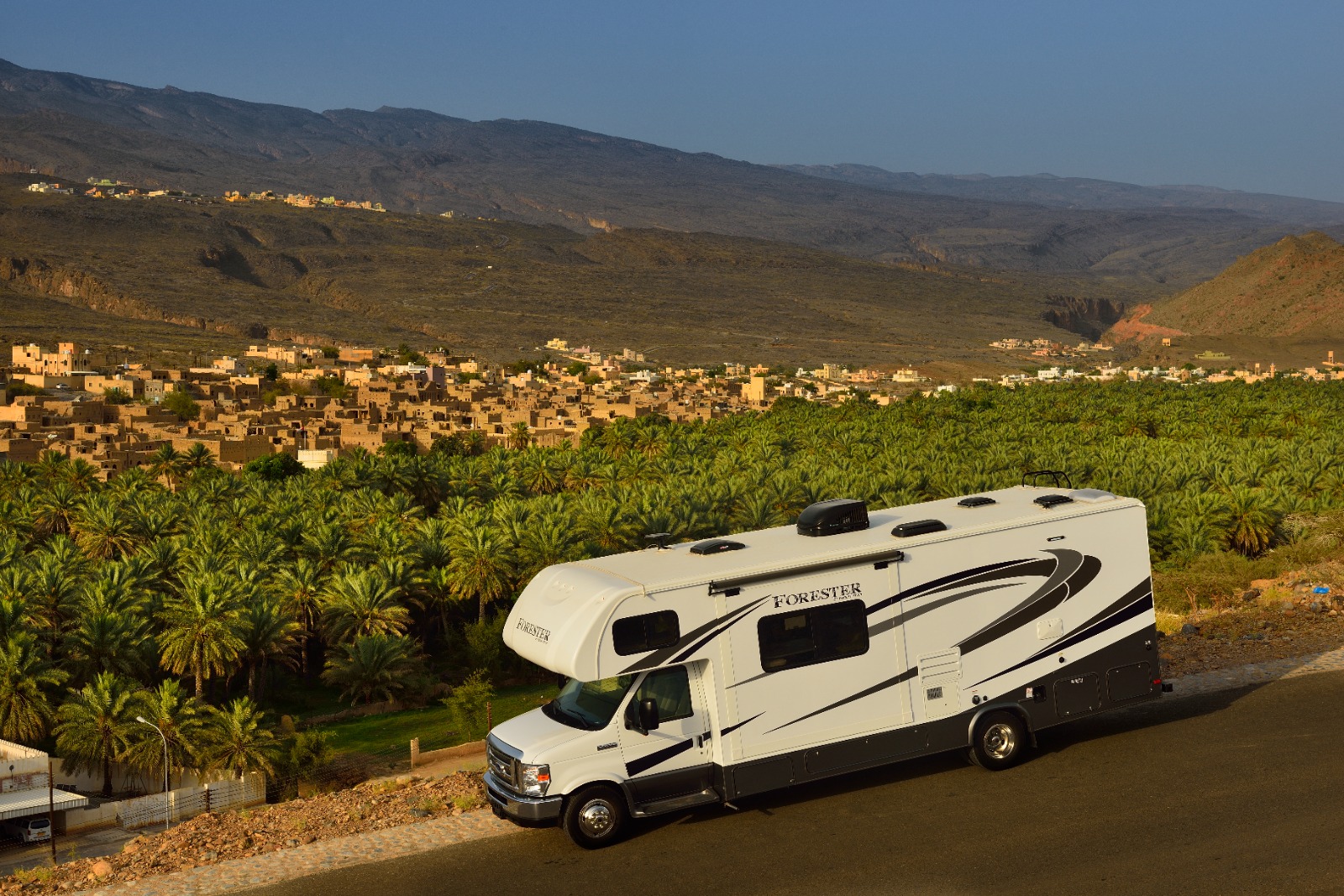 Interested parties can, for example, book such vehicles with the local provider Nomadic Tours for 55 OMR (about 134 EUR) per week. Those who prefer to travel with more comfort can, for example, contact the provider Oman Motor Homes rent a fully equipped motorhome including generators from 80 OMR (about 195 EUR) per day. Travelers who prefer to stay in accommodation, but still don't want to miss out on a tent experience, will find in Sharqiyah Sands various luxury tented camps suitable for a desert adventure.