Groningen won my heart. It's my home front and my weekends at home still feel like weekends away. And that in your own city! For anyone from other parts of the country I would have one city ​​trip Definitely recommend Groningen. The city is an amalgamation of a bustling shopping center, many restaurants and cafes, beautiful parks, beautiful canals, picturesque streets, historic buildings and, above all, there is a lot of life. Groningen continues to amaze me and that is why I like to write a blog about it! In this blog I take you into my love for vibrant Groningen.
Also read: City trip Netherlands – The nicest places in our own country
What to do in Groningen
1. The Fish Market
From the main station in Groningen you can walk through the shopping center within 10 minutes. Along it Groninger-Museum and across the canal you will come across the first shopping streets. You will undoubtedly see people enjoying themselves on the terrace of cute cafes and you will come across nice boutiques.
Continue to the fish market (Location here) for the more well-known stores such as Bershka, Nikkie and Xenos. You will also find the most beautiful Albert Heijn in the Netherlands here!
The fish market is not called the fish market for nothing. The gulls flying around already tell you that you can get a nice fish here. On Tuesdays, Fridays and Saturdays there is a market where you can also buy fruit and vegetables in addition to fish (get delicious strawberries for 1 euro!) and there is also a flower market on Friday and Saturday! Finally, the fries stall and stroopwafel stall cannot be missed. A word: ambiance!
Fish market tips:
You can see it in the photo above annual flower market in Groningen at the Vismarkt (every year on Good Friday). During the Flower Year Market, the city center of Groningen is transformed into a colorful sea of ​​flowers. There are stalls and stands along the streets and squares selling flowers, plants, seeds, bulbs and garden-related products. This annual event attracts both domestic and foreign tourists and is one of the busiest days of the year!
Plop down at cappuccino (Location here). Cappuvino is a charming cafe located in the heart of Groningen on the Vismarkt. It's definitely my favorite place for a coffee with a girlfriend! The roof terrace is open on sunny days, which is also a great seating area with a view of the market. Also inside you will not be disappointed by the beautiful appearance of this cafe.
2. The Grand Place
The neighbor of the Vismarkt is the big market (Location here). You walk around the corner and arrive at the Grote Markt. The living proof of vibrant Groningen! It will probably not be unknown to you that Groningen is full of students who want to experience an unforgettable time in this city. There are various activities and sights on the Grote Markt.
Market days: Just like the Vismarkt, the Grote Markt is also transformed into a lively market on Tuesdays, Fridays and Saturdays with stalls ranging from spring rolls to flowers or churros.
Terraces and cafes: Around the Grote Markt you will find plenty of cozy cafes, restaurants and terraces. The favorite place of many Groningen residents is (the large terrace of) the Drie Gezusters or café Willem Albert. Great for a drink and people watching! You can also dine here.
Events and festivals: The Grote Markt is the setting for various events and festivals throughout the year. From music performances and street theater to cultural festivals and Christmas markets, there is always something going on. Keep an eye on the local events calendar to see what special events are taking place during your visit to Groningen.
Historic architecture: The Grote Markt is surrounded by beautiful historic buildings, such as Groningen's town hall, the Martinitoren and the Provinciehuis. Take time to admire the architecture and learn about the rich history of these buildings. It is also possible to climb the Martinitoren for a panoramic view of the city.
3. Shopping streets
Groningen has many nice clothing stores on and around the Grote Markt and the Vismarkt! The city is the ideal base for a day of shopping. You will find shops such as Stradviarus, Costes, Zara, Monki and MyJewellery. In addition, there are many nice shops that you will not find everywhere. Think of Hold Grene, where all products are handmade. Or Yantra, where you can find Unique products in the field of spirituality.
In summary: something for everyone and you can really spend hours strolling through the shopping streets of Groningen. In addition, the city has real charm, and the shops are not only interesting. The streets too! There are still many beautiful old buildings in Groningen and you look up at the architecture in amazement.
4. The canals
The canals of Groningen are enchanting! As you wander through the city, you'll discover an extensive network of historic waterways that criss-cross the city, adding a unique charm to the surrounding area. The canals of Groningen offer a picturesque backdrop with beautiful old mansions, atmospheric bridges and green banks that invite you to relax.
Stroll along the waterfront or take to the water! Rent a canoe, rowing boat or even an electric dinghy and sail peacefully through the winding waterways. The canals of Groningen have certainly made me a bit more in love with the city and I take many walks here. Great to see how everyone is enjoying a drink at a nice cafe on the water. Trust me, there are plenty.
---
5. Nightlife
Every day is a party in Groningen. It is one of the most popular student cities in the world The Netherlands and you will undoubtedly notice this when you visit Groningen. At the slightest ray of sunshine, the terraces are packed with students who continue until the late (or early) hours.
Your evening can start on the Poelestraat (Location here) where you will find many nice pubs, cafes and restaurants. Almost every café has a terrace, where you can sit under the heater even when it gets colder. It is a square full of fun! Poeleplein is bordered by the 'stapstraat', with many clubs and bars where you can dance until 05:00! Below are some tips.
Cafes to have a drink:
Cozy pubs to go out:
Whether you like Dutch sing-alongs, R&B, House, Techno, Pop or Latina music, there really is a suitable club for everyone. In Groningen, all entrance is free and the walking streets are next to each other, so you don't have to find out in advance where you would like to go. Just go into town and let yourself be surprised! Most bars, cafes and clubs are open from Tuesday to Saturday.
6. The Noorderplantsoen
Welcome to the green heart of Groningen – the Noorderplantsoen (Location here)! My favorite place in Groningen to chill out, have a picnic and sit by the water. This beautiful city park is an oasis of nature, where you can escape the busy city life. The Noorderplantsoen is a popular place for Groningen residents and it exudes cosiness as soon as everyone comes together to enjoy the sun.
The Noorderplantsoen also offers various facilities and amenities for you to enjoy. There are playgrounds for children, sports fields where you can play football, volleyball or frisbee, and even a music dome that regularly hosts concerts and cultural events. In addition, there are also various food and beverage outlets in and around the park. From cozy cafes with terraces to trendy food trucks that serve delicious dishes, there is something for everyone.
Also read: Where can you find the most beautiful tulip fields in the Netherlands? † 6 locations
7.Restaurants
After living in Groningen for 1,5 years, I really haven't discovered all the restaurants yet. There are so many great restaurants and hip eateries, you never get bored here. The restaurants spread throughout Groningen and you continue to be amazed at the new discoveries you are still making.
Whether you are looking for a romantic dinner for two, a pleasant evening with friends or just want to enjoy a delicious meal, the restaurants in Groningen have something for everyone. Be surprised by the creative cuisine, warm hospitality and lively atmosphere of the city. Groningen is ready to spoil your taste buds and offer you an unforgettable culinary experience.
My favorite restaurants:
Restaurant Florence: An atmospheric restaurant with a unique look. Enjoy a delicious steak or a vegetarian dish. The friendliness of the staff combined with the pleasant atmosphere and delicious food ensure a successful dinner.
Four Roses: Welcome to Mexico! Enjoy authentic Mexican dishes and the American grill menu here. There is also a spacious bar where you can start the evening with a Margarita, among other things. The restaurant has an attractive decor and delicious tacos, burritos and quesadillas!
Moor: A delicious Spanish Mediterranean restaurant. The passion for life, the purity of the flavors and the beautiful scents and colors of the Mediterranean countries! Choose different tapas dishes here or be surprised by the surprise menu.
yammy: Here you can go for an Asian Lunch & Korean BBQ. A unique concept: You get a grill on your table on which you prepare the home-marinated meat yourself. A robot also drives around the restaurant that provides you with drinks and food.
Cafe William Albert: Here you can not only enjoy a drink on the terrace. Inside is a large restaurant with a luxurious look and delicious food. Culinary enjoyment in a historic location in the heart of the city.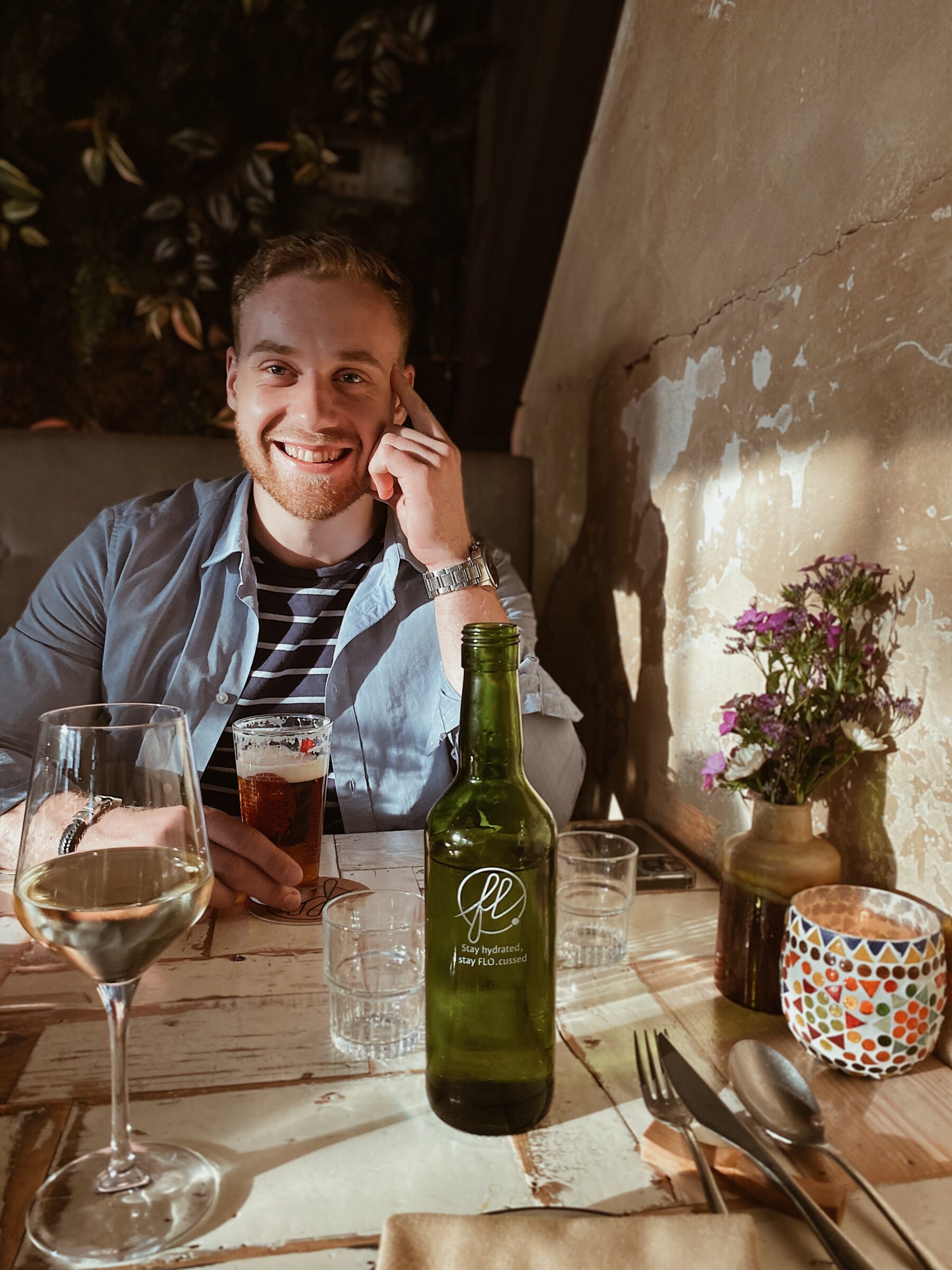 8. The Municipal Theatre
The vibrant cultural hotspot of Groningen – the Municipal Theatre! This iconic theater is not only an architectural masterpiece, but also the beating heart of art and entertainment in the city.
The Stadsschouwburg offers a varied program full of plays, dance performances, music performances and much more. Whether you are a fan of classical theatre, modern dance or musical spectacles, there is always something to excite and surprise you. The theater itself is a true experience with elegant halls and beautiful interiors. Look at here the program of theater and performances.
Conclusion
Groningen is known as a lively student city with a vibrant nightlife and a young and energetic atmosphere. It is a city bursting with charm, vibrancy and unique features that make it a fun place to visit or live. The historic charm makes you enjoy the architecture. The lively cafe and restaurant culture provide a pleasant culinary experience, and despite the bustling life, there is enough greenery to relax and enjoy nature. In Groningen you can spend hours strolling through the city and the many shops, and there is so much to experience and see! I would recommend everyone to go to Groningen for a weekend and play tourist in their own country.