Of course we post and write about all the great places we visit during our travels, but around that we also have to keep doing the normal things. We can't keep going out for dinner and book expensive accommodations like on a holiday, because then we will soon be home broke again.
With this blog we want to give you a glimpse into our life on the road. Eating, drinking, washing, working and poop are also part of our daily life here! This article is really a look behind the scenes, a look in a #vanlife practical experience. This is what it's like to live and work in a motorhome for 100 days or more!
---
This article is part of a large one-year tour the United States en Canada, with a Dutch 4×4 camper that we shipped ourselves… It is a bucket list worthy and an once in a lifetime experience that will never be forgotten.
We wrote almost 100 articles about this ultimate tour. Visit our North America page for more information.
---
1. Home is where we park it
We look for a place to stay almost daily or every few days. With the exception of New York, Annapolis, Washington DC (when we didn't have our camper yet), and when family visited us in Miami, we have always slept in our camper.
Sometimes it was on a campsite, but usually not. iOverlander is the app that helps us find a place. There are several apps for this, but iOverlander has the most information available in the USA† We have also been allowed to stand in the driveway of a house twice, because we were invited to people!
We try to use wild camping spots as much as possible. We have hot water and can shower in the camper, but this is of course quite limited because you have to be economical. After a few days we are often ready for a 'good shower' where you can really stand a little longer. That is why we look for a campsite with extra facilities about two nights a week.
wild camping
It is certainly not difficult to find a wild camping spot in the Eastern United States. BLM (Land Management Office) creates large areas of public land, where everyone is welcome. The rule is often that you may not stay there for more than fourteen consecutive days.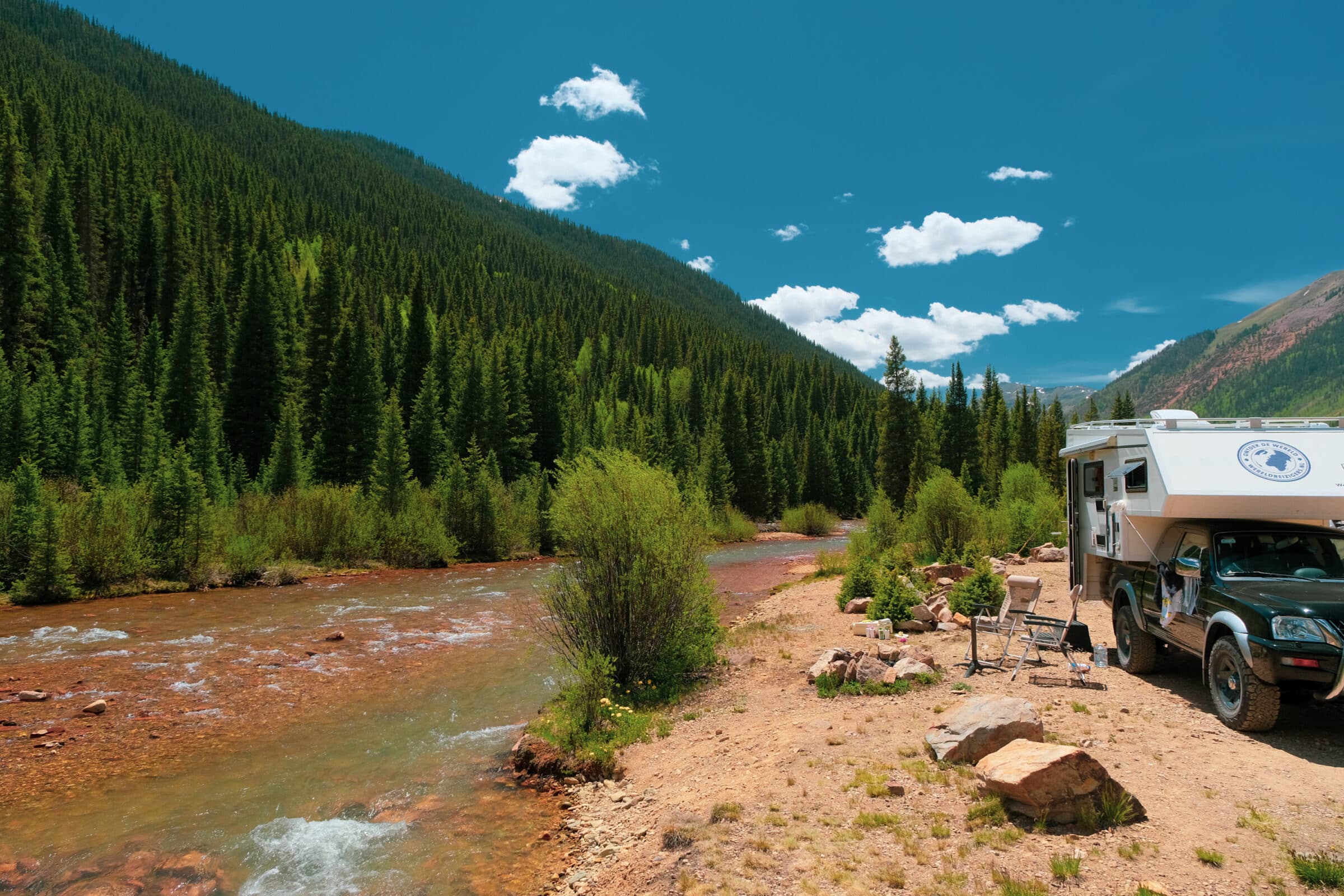 There are hardly any facilities there, but make no mistake, you will be in the most beautiful places! By a river, in the desert, at the foot of a mountain, in a forest or directly on the beach.
Campsites
There are also plenty of campsites. The privately offered campsites often have all amenities, but can also be very expensive. It is not uncommon for 50 to 70 euros per night to be charged. They also ask these prices if you do not use the so-called hook-ups (electricity, water and drainage), like we do.
Fortunately, there are also many campgrounds in State Parks, National Parks, and National Forests. The prices differ greatly from each other, but are often between 10 euros and 40 euros per night. If the price is low, there are often few amenities. At a State Forest, that's usually just a pit toilet. The website recreation.gov can help you with information about availability, reservations and facilities.
Book
In popular places you have a chance that all places are already reserved. This is often the case in the National parks, which are sometimes fully booked months in advance. We also experienced that near the National Parks, such as around Rocky Mountain National Park, all other campsites were already full.
Because we cannot estimate where we are in advance, it is difficult for us to book far in advance. When my parents come in October, we are more tied to dates and I have already reserved a campsite in Yosemite Park for this.
Hotels & Motels
Prior to our trip, I had expected that we would occasionally spend the night in a hotel, motel or Airbnb. However, the prices are above our budget. It's hard to find an overnight stay for less than 100 USD, even in less popular places. For 100 USD you have a tatty motel with bad reviews and it just isn't worth it. I keep scouring the booking sites for nice accommodations and keep hoping that one day we will find a good and affordable one…
Well we have in Miami together with our family enjoyed a beautiful Airbnb with pool (pictures above). We stayed there for two weeks and having a pool at your disposal every morning was very nice. It was a kind of vacation during our trip.
Energy
Another important aspect of camping for us is whether we can charge our solar panels. We once had to say goodbye to a nice campsite, because after a few days between the tall trees and cloudy weather we ran out of energy.
We have 300 watts on Victron solar panels, which protects our household batteries and our Ecoflow power station to upload. This is enough to power our laptops, phones, drone, room, Truma electric boiler and of course to provide all other household appliances with energy.
In good weather, the solar panels and batteries do enough to supply our devices with infinite energy. However, if the batteries are full and are not or hardly recharged, we can use this for about three days.
3-in-1 battery, inverter and charge controller
EcoFlow Delta MAX Power Station
The EcoFlow Delta MAX is a portable Lithium-ion power station with a capacity of no less than 2016wh. This device makes inverters and charge controllers for solar panels superfluous.
The capacity is expandable and with 4 x 2400W (4600W peak) AC outputs, numerous 12v and USB connections, it is suitable for many applications both indoors and outdoors.
Super fast charging via 230v. Combined charging via 230v, 12v or solar panels is possible. Very popular with motorhome and vanlife enthusiasts.
We have installed this device in our motorhome and it's really fantastic to have so much power at your disposal† We grill, cook, cool almost everything electrically now.
Pros:
Large capacity

Super fast charging

100w (!) USB-C connections

2400W with 4600W peak power

Charging via 230v, 12v or solar panels
Order Now
Want to support us? We earn a small commission if you make a purchase via our link(s), at no additional cost to you. Win win!
We do not have the possibility to plug our camper into a camping electricity supply, because 110 volts is the standard in America. We also consciously chose not to take an inverter with us, because in principle we also have enough!
In the event of an energy emergency, we can always start the car, because the batteries are directly connected to the engine's alternator. This way we can top up if necessary.
2. Clean living
Showering
We can shower in our camper. It's not an extensive shower, but very welcome after a long day. We can fill up to 80 liters of water in our motorhome and 14 liters in the boiler. With one or two 'reserve gallons' we have about 100 liters of water with us. This means that our shower consists of wetting yourself, turning off the shower, soaping and rinsing.
Chris can also wash his hair every time with this. However, that is not possible with my curly hair… I need a lot of water for that and the pipes will quickly become clogged. When it's time to wash the curls, I simply use the sink to dip them in.
Once or twice a week I can enjoy a shower at a campsite. You learn to really appreciate life, the things that used to be normal at home!
physical functions
Perhaps not a fresh topic, but an important one nonetheless. Fortunately, we have options that I will describe in detail.
It's simple at a campsite. You walk to the nearest toilet. On the more primitive campsites you will often find a pit toilet or Dixie. Neither ideal, but I prefer a Dixie, because those pit toilets can smell bad.
Along the way we find toilets at parks, gas stations or restaurants. In America you can always walk in for a visit to the toilet, even if you are not a customer. And, unlike in Europe, it is actually always free.
We can always go for a pee on our cassette toilet in the camper. I like to use that when it's dark outside and bears or other wildlife are around.
At wild camping sites, nature is your toilet. For me it took some getting used to, especially with a number two case, but now I prefer to do that than on a smelly pit toilet. The first time ? in nature, I saw as a kind of victory. This way you can still challenge yourself with daily activities… And don't forget, while you are looking at a door or wall at home, I occasionally poop with a beautiful view!
The laundry
We do our laundry at one of the many laundromats and about once every two weeks. There is one in every town or village. You pay between 3 and 5 USD for a wash and 25 cents for 10 minutes of drying. They are often nice places where you can wait for your laundry in the air conditioning and with WiFi.
3. Nutrition
Groceries
We do grocery shopping about twice a week. It's not our hobby, but we just can't store that much food and keep it cool. We have to make do with a 40 liter cool box and two small kitchen cupboards.
Groceries are unfortunately very expensive in America. We know that in the Netherlands the price of food products has risen, but here they are too and maybe even more. We pay between 60 and 90 USD for groceries at a time and then we don't buy much crazy in my opinion.
We often go to Walmart because we know where to find our way and products. Great Value, I think Walmart's house brand, allows us to save a little on groceries. Plus, you can find Walmart in all states of the US!
We always have (cheap and convenient) potatoes, rice and pasta in stock. In the cool box you will find milk, yogurt, cheese, cold meats, vegetables and cans of drinks. We also have bread and bagels on hand and chips and chocolate to snack on. Now that I write it down I think; nice Dutch.
Cooking
We have three ways to prepare our food. A small barbeque, a gas stove and electric grill. Campsites often also have a fire pit and grate available.
Although we have a three-burner gas stove in the motorhome, it is currently not connected to gas. We were not allowed to take the tanks for this during shipping our motorhome and the tanks they sell in the United States don't fit the socket.
At the beginning of our trip we made an effort to purchase an intermediate piece for this, until we realized that we prefer to cook outside. We bought a camping gas stove at the Walmart and it works great!
We can eat a varied diet and therefore always come up with new things that do not cost us too much effort. Below is a selection of photos of our camping meals.
Eating outside the (motorhome) door
We try not to eat out more than once (okay twice) a week. Eating out can easily cost you 50 USD for two people and I don't even mean a fancy restaurant, but a quick bite.
Where you can eat cheaply (it is even cheaper than if you cook yourself) is in fast food chains. Certainly the Burger King has deals that will get you ready for two people with 10 USD. It may be cheaper, but certainly not healthy.
Crazy, huh? That so many Americans are overweight?!
4. Work
Oh yeah! To work! We still do that sometimes. There is no strings attached to when and how much we do that?‍♂️.
First of all, there must be a stable internet connection. We have an AT&T WiFi box with 100GB per month. Our two phones and two laptops are connected to it. You can imagine that in remote areas the WiFi is not always optimal and working is therefore impossible…
Since we are traveling with the warm temperatures, it is sometimes simply too hot to sit in the camper and work. We do have a good roof fan (de MaxxFan Deluxe), but at temperatures above 30 degrees it does not get much cooler in the camper. We therefore regularly work outside, at our own table, a picnic table or under a pavilion, which you also encounter a lot here.
The most ideal time to work is therefore in the morning, before it gets very hot. Sitting down to work for a few hours with a cup of coffee and then getting ready for a nice walk or car ride. The best thing about working, you can do it ANYWHERE! ?
5. Social contacts
Interested Americans
You may have heard about it; Americans like to make small talk. This makes it easy for you to get in touch with others. We have a lot of demand because of our, for here unique, camper with Dutch registration. They often ask where we come from, where we are going and what Wereldreizigers.nl is. That's why we stuck a QR code on the camper and a English welcome page made for those interested. Here every now and then nice messages and even donations roll out.
Other world travelers
Along the way we meet many other travelers or campers, with whom we often talk about all kinds of beautiful destinations. A family from Denver, a solo traveler, a couple from Switzerland, a couple with dogs known from TikTok and so on!
Locals
So far we have also been invited twice to locals' homes. In Florida this was done by a Dutchman (Peter) who has been living there since the 90s. He saw our camper parked in a park where he takes his walk early in the morning and in the evening. He couldn't believe he saw a Dutch license plate. He spoke to us, in Dutch of course, and invited us for a drink at his house. We were also allowed to stay in his driveway for the night.
Story: Peter told us that the park where he takes a daily walk and where we camped was closed just before that. Body parts were found in the water. Peter was able to tell that a police officer knocked on the door of an addict and this man/woman immediately asked the officer: 'Are you here for the dead guy?' The officer was not there for that reason, but that is how they came up with a solution. track. The perpetrators had hoped that the alligators would get rid of the body parts. That was a miscalculation…
In the town of Durango, Colorado, we were at an auto parts store. A friendly man offered us that if we needed to fix something, we could do it in his airplane hangar. We didn't find the part we needed, but decided to drop by the hangar. Mike worked there on his cars and proudly displayed them; a Triumph, a Shelby and a VW T2 camper van.
Mike invited us to his home. We met his Czech wife Jana, had dinner with him, showered and Chris was also allowed to go for a ride in his Triumph. We were allowed to spend the night in his driveway. What a nice hospitality!
---
Plan your vacation to America here
---