Even if you've never slept in a hostel before, you probably know that hostels are a type of shared, budget-friendly accommodations. But what you may not know is that the uniquely social nature of hostels will change your journey. If you've never stayed in a hostel, let us debunk some crazy myths and answer any questions you might have about what a hostel is. Here's everything you need to know about hostels and life in a hostel. Fasten your seatbelt, because your journeys will never be the same!
Also read: Top 10 | What are the best backpacking destinations in Asia?
What is a hostel?
No two hostels are the same, but we can promise you one thing: it will never be boring. So what is a hostel? Watch the video below for an introduction:
In brief: a hostel is budget-friendly accommodation that focuses on a shared social experience. Sounds a bit vague, right? To give you a better idea of ​​what hostelling is all about, we asked our travel community to describe a hostel in a few words. Here are some of the best:
Embracing the unexpected
Literally grown up playgrounds
Social. friends.
Adventure. Anything can happen.
Various social exchanges
Design. creativity. Interaction.
Price. Place. Social.
Who stays in a hostel?
One of the best things about hostels is that you meet so many different types of people from all over the world. You never know who you'll meet while staying in a hostel, which adds an element of excitement that's hard to get when you're alone in a hotel room.
"You never know who you're going to share a beer with – I've met people who like Chile biked to Alaska, a guy who survived a crocodile attack, a professional itinerant clown, an 80-year-old reborn backpacker. I've hung out with metal bands, sports teams, politicians and ex-soap actors. Hostelling gives you the chance to meet people that you have never met in your daily life. It's what makes it unique, which is why it's always my first choice when I travel." † Backpacker Amy
So the short answer is that hostels are for everyone. There isn't one type of person who stays in a hostel during their trip, but the majority of hostel guests are budget-conscious solo travelers, backpackers, students, digital nomads and gap year travelers under the age of 35. The fact that many hostels are now as luxurious and stylish as boutique hotels means that more and more people are falling in love with social travel. The average age is therefore also slowly increasing. You therefore increasingly come across 40, 50 or even 60+ people who can appreciate the social aspect.
What facilities can you expect at a hostel?
If you haven't seen any pictures of hostels lately, prepare to be amazed. In terms of facilities, many hostels have everything you would expect from hotels and much more. You should always read each hostel's description carefully before booking, but here are some of the facilities you can expect to find in most hostels…
Private rooms, dorms and pod beds
Think private rooms, dorms with "pod beds" that offer privacy on a budget, and bunk beds with double mattresses. Just like in a hotel, you can expect nice sheets, pillows and a duvet – and no, you don't have to bring a sleeping bag. Unless that's your thing. Many hostels have charging stations or outlets for each bed, so you don't have to worry about your phone's battery running out.
What a private room in a hostel might look like? Lisbon Calling Hostel is all about shabby chic. Stylish beds and spacious private rooms await you in this stylish Portuguese residence.
Cube Hostel in Singapore takes a completely different approach and makes all your futuristic dreams come true. Equipped with LED lighting, storage space and charging stations, you are in fact in your own independent flat!
Common rooms
Almost all hostels have a common area where you can hang out with other travelers, read a book or watch TV. Some hostels also have game rooms where you can play a game of pool, Xbox or table football. These are great places to spend time if you are a solo traveler or just a real social type! In a sense you are never alone in a hostel, provided you are open to it of course.
King Kong Hostel in Rotterdam has a common room with its own Netflix cinema, comfortable armchairs and Ben and Jerry's ice fridge. Can we please live here?
If you're looking for a unique look, shine Grand Hostel Berlin Classic a chic retro atmosphere. With plush chairs and a huge bookcase, this is definitely a place you could stay for a while.
Roof terraces
Oh, hello beautiful sunsets and breathtaking views. There are some incredible rooftop terraces (and rooftop bars) to be found at hostels. Think lounge chairs that are perfect for those lazy days and panoramic views of some of the best skylines in the world. Add pizza and beer and the picture is complete.
Selina Cartagena's rooftop will fulfill your Insta dreams. Complete with pool, bar, plenty of lounge chairs, oh and room for daily yoga! Could this even be real?!
If you want to take it to the next luxury level, Rodamon Riad Marrakesh Hostel it sorted with an ultra chic rooftop bar and views for days.
Are rooftop beach views your thing? Then pack your bag and go to Mojo Hostel and Market in Cape Town, where it's all about beer and barbecues while watching the sun set.
Events and activities
Hostels are designed as social hubs where you can have fun with other travelers. One of the ways they do this is by hosting LOTS of fun events. These are usually free and can be anything from surf lessons to rooftop yoga sessions, picnics on the beach to an evening of making Russian dumplings.
We can't think of a better way to get over jet lag than with an old-fashioned pub crawl – watch out for boozy events on your hostel's bulletin board. Brix Hostel in Prague offers this backpackers favorite activity, which is a must in a party town like Prague!
Avenue Hostel in Budapest offers activities such as bus parties and nightly family dinners. While Onedez Hostel in Siem Reap organizes movie nights, sunset bike rides, pool parties and food tours for their guests.
When it comes to activities, most hostels have you covered.
Chic bathrooms
Hostels often have spacious shared bathrooms for many backpackers. If you don't feel like sharing with a lot of people, some hostels have private bathrooms for dorm rooms. Sometimes you can also upgrade to a private room with its own facilities.
Hostels on the luxury side often offer free gifts such as toiletries, hair dryers, hair straighteners and full-length mirrors that you can use during your stay. Did we mention that hostel bathrooms can be seriously stylish?
Hammocks
So. A lot. hammocks. These are pretty much mandatory in tropical locations and can range from regular chill-out hammocks to XXL swinging hammocks overlooking the Colombian jungle. If you don't feel like getting out of your hammock to go to the dorm, why not just sleep there? Bee Casa Loma Minca you can literally book a hammock for the fraction of the price of a bunk bed, with the bonus of falling asleep to jungle sounds! Years may pass before you are ready to leave…
Why not combine two of our favorite things? Hammocks and roofs of course. Bee All We Need Is Hostel in Bangkok the hammock is the roof! With a cocktail in hand, why would we ever get up?
Laundry facilities
Most hostels offer daily cleaning, laundry facilities and maybe even a few words of motivation. It might be boring, but you'll be thankful to have somewhere to wash your clothes and repack before heading on to the next leg of your adventure. The laundry facilities will likely charge you, so make sure you have some extra change with you.
Swimming pools
Many hostels have swimming pools that are the perfect place to relax and make friends. Some even host events like pool parties with mermaids. Yes, that's one thing! A great pool can turn a good trip into a great one…
Dreamer Palomino is where our dreams come true. Paradise. Gaze out over the curved pool from your lounger beneath the tropical straw huts. Just add a Pina Colada and you're done.
In our Funky Flash Packer Siem Reap is the pool where the party is. With plenty of bouncy castles on the beach, games, seating areas and a pool bar, you'll be a year older before you decide to leave.
Delicious food and drinks
The first thing to know about food and drink in hostels is that it's often completely FREE too! Most hostels offer free breakfast, from toast, fruit, and cereal to decadent fresh pancakes and waffles. Many also offer free or inexpensive weekly events, such as pasta night, homemade pastries, or cooking classes. You'll be amazed at how great the food and drink in hostels can be, from barista-made coffees to locally sourced vegan curries.
For a good free feed you can't go wrong with Hostel One Notting Hill in London (or any other Hostel One), where there are free family-style dinners every night for all guests.
You're in for a treat at Spin Designer Hostel in El Nido, where weekly barbecues and picnics on the beach await.
If you need the healthiest hostel meal, book a bed with it Giovanni's Home pronto† You will get a taste of delicious authentic Italian food made by the hostel's chef and owner Giovanni. Bellisimo!
Shared kitchens
This is one of the best places to make friends in a hostel. You will learn how to make inexpensive authentic meals from around the world. You can store your food in the communal fridge and cupboards and there are often free supplies such as pasta, olive oil, salt etc. that you can use yourself. Some hostels even have their own gardens where you can pick fresh herbs and vegetables!
You'll usually have room to store your food, but make sure you clear it up before you leave, or donate it to a hostel mate who's staying longer.
Free WIFI
If you stay in a hostel you usually get free wifi, and often there are computers in the common areas that you can use for free. If you have a major Netflix addiction, or if you have a Digital Nomad its a good idea to read the reviews on our site to find out how good the wifi is in more remote parts of the world.
hostel bars
Supplier of cheap drinks, new friends and fun times. Some of our best memories took place in a hostel bar. You won't find many hostel bars that don't have beer pong or nightly events. These are often hotspots for live music too!
Grandio Party Hostel in Budapest has a HUGE hostel bar with prices too cheap to pass up. Their large courtyard is the perfect place to socialize with like-minded people backpackers.
Hans Brinker Hostel Amsterdam has its own nightclub (fitted with a pole to swing into), so you don't even have to hit the streets for a wild night.
Free Tours
Free maps, walking tours and local tips from travelers and hostel staff. This will help you avoid the tourist traps and save money.
Don't be afraid to ask the hostel staff any questions you have, chances are you're not the first to ask.
Are there different types of hostels?
Yes, of course! If at this point you're thinking, "I'm an introverted person who hates partying. Hostels are my idea of ​​hell" - then we need to talk. Yes, hostels can be great for partying. But they can also be great for a more laid-back travel experience with people on your wavelength: think rooftop yoga, private beaches, hiking adventures, surf lessons, and vegan food.
Hostels come in all shapes and sizes, so it's just a matter of always reading the reviews of fellow travelers before booking to find one that suits your travel style. Many hostels offer the best of both worlds: a crazy wild bar and an indoor wigwam with Netflix on repeat. A huge cook in the communal kitchen and chill in the library.
Party Hostels
If you're a 'stay till morning' kind of person, we've got some good news for you. Welcome to party hostels – especially for the party animals who can't get enough of the rave and want to stay with other people who are wild at heart. Brace yourself for drinking games and challenges, pub crawls, beer pong, happy hour and non-stop dancing. Most party hostels have an on-site bar so you can actually drink and party whenever you want.
The famous Slumber Party Hostel in Phuket could cause a hangover of the month but it's all worth it for the memories. Here you can take part in one of their nighttime activities, such as cheap drinking nights and their famous pub crawl.
Loki DelMar in Mancora, Peru, will set you on fire with their nightly themed parties and happy hours. Plus, they even have their own signature cocktail, the Bloodbomb!
Solo Travelers Hostels
While there are no specific hostels for solo travelers, there are hostels that go the extra mile to socialize individual travelers and make lasting connections. These could be places that host cool social events, have a homey vibe, or just do a little soul-searching.
Adventure Q2 Hostel creates that home feeling for all its guests. It has heaps of fun activities, such as wine tastings, movie nights, pub crawls, rock climbing and bungee jumping.
Ecological Hostels
For those who want to make a difference in their travels, check out some eco-friendly and sustainable hostels around the world.
Bambu Gran Palas Cenote in Tulum is surrounded by jungle and beach sand. Built respectively around the natural environment and run by solar energy, you feel yourself at one with nature.
Boutique Hostels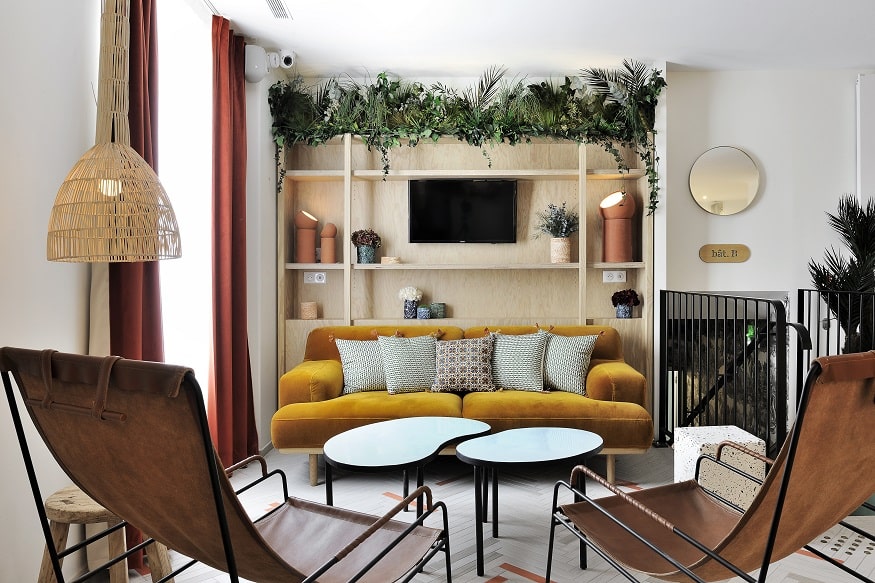 If you want to feel like a bit of a boogie-woogie for a while, but still have to stick to a backpacker's budget, boutique hostels are the way to go. We're talking luxury, stylish furniture and design that makes it feel like it's ten times more expensive. Boutique hostels also often have fewer rooms, for a more exclusive experience.
Caulaincourt Montmartre by Hiphophostels in Paris, is a stylish wonderland, with bright spaces, lots of plants and very chic furniture. When in Paris, live like a Parisian!
Adrenaline Hostels
Can't resist staying active during your world trip? Check into a hostel that offers that extra adrenaline rush.
Time to put on your skates! Sant Jordi Hostel Sagrada Familia in Barcelona has a real skate rink in the hostel where you can impress your new friends with your best tricks.
In our Gili Castle in Indonesia, you can swim a few lengths in the pool before jumping on the hostel climbing wall to really get the blood pumping.
Want to build those biceps? Lub D in Patong, Phuket has a high quality Muay Thai boxing ring and training area. If you've never tried it before, staying in hostels is all about the experience, so now's your time!
Yoga Hostels
Why not try out the bohemian life for a while? Discover your inner yogi in one of the many yoga hostels around the world. Here you can meditate on the beach, practice self-care and take time to relax from the stresses of life.
The Salty Pelican in Casais is the ultimate beachfront retreat. Not only can you do daily sunrise and sunset yoga classes, you can even surf.
Remote Hostels
Do you really just want to escape from everyone you know? Then why don't you stay where no one is bothering you? Book that flight to Latin America where you will find many hostels in the middle of the jungle.
For an authentic jungle adventure is greengos choice in Guatemala. Surrounded by forest are colorful cabins and a large pool, making for one of the coolest hostel environments around.
Surf Hostels
Surf's Up! Why not start a new hobby while exploring the world? Surf your way around the world in the many hostels that offer surf lessons, beach locations or free surf gear.
If you want to surf, you have to go to Hawaii, right? At Aloha Surf Hostel in Maui, you can catch a wave or two at their private beach location, right outside your door.
Impress a Dude or Sheila with your surfing skills wake up! Bondi Beach in Sydney† Grab one of the hostel's free surfboards and head to the famous Bondi Beach to blow them all away!
Outdoor Hostels
What could be better than getting in touch with nature? There are some really cool and quirky hostels where you'll find your wilder side.
Although Lucky Lake Hostel in Amsterdam is a hostel with caravans, it is definitely fun to try! This quirky and colorful dreamland is perfect for those who want to find their kitschy side.
Tarzan is waiting for you in Kadir's Tree House in Turkey, where you can stay hidden in the trees in a real tree house. Chill out by their campfire or dance the night away in the open air nightclub. Just forget about life for a while!
What is the difference between hostels and hotels?
There are two main differences between hostels and hotels: the price and the people.
Staying in a hostel can save you a huge amount of money, be it aworld trip or a six month backpacking trip through Southeast Asia with your friends, or a long weekend in Berlin with your bae. But the main reason people stay in hostels isn't the price, it's the people. The social atmosphere in hostels is completely unique, which is what makes hostelling so addictive. It can turn your trip from a sightseeing tour into a more meaningful experience. Meet new friends from all over the world. You cook together, drink together and go on adventures together. You'll get tips from the hostel staff, some of whom may have exclusive local knowledge, and others who are travelers like you.
In terms of facilities, location and security, hostels can easily match hotels. They have rooftop pools, king size beds, 24/7 security and en-suite bathrooms.
What types of rooms do hostels have?
Dorms
Most people know that hostels have dormitories, which are basically large rooms that can accommodate several people who don't normally travel together. By staying in a dorm, you pay a fraction of the price per night compared to other types of accommodation. In general, the more people you share your dorm with, the cheaper it will be.
Dorms come in a variety of shapes and sizes, from the simple and inexpensive to the more upscale with pod-style beds and twin mattresses. Regardless of the type of dorm you choose, almost all dorms come equipped with a reading light, a power outlet to charge your gadgets, and possibly a privacy curtain. Many even have their own bathroom. And ladies, if you don't feel like sharing your sleeping space with men, many hostels have female-only dorms. If the hostel offers this option, it should appear in the room type list when booking.
Private rooms
Many people don't realize that hostels have private rooms in addition to dorms. So you can have your own space, without sacrificing the fun that only a hostel can offer you. Private rooms in hostels are perfect for older travelers or couples who want a little more privacy. They are more expensive than dorms, but they are usually cheaper than other types of accommodation. In terms of facilities, private hostel rooms are comparable to hotels – plus you get the added bonus of great social spaces, free events and like-minded travelers. Sometimes a private bathroom is also included!
How much does it cost to stay in a hostel?
As a general rule of thumb, hostels cost much less than other types of accommodation because you share your space with other travelers. Even if you choose to stay in a private room, hostels can still save you money, both on the base price of the room and on all the extras like events, a communal kitchen, and free wifi.
The exact price of a hostel depends on where in the world you travel, how many people you share a room with and when you travel. In general, you can expect to pay between €6 and €30 per night to stay in a hostel in Europe† One way to keep costs down and make sure you don't miss out on a great hostel is to book in advance, especially during peak season when many hostels are fully booked.
Are Hostels Safe?
Hostels are just as safe, if not safer, than many other types of accommodation. The fact that you share a space with many other travelers means that there are always people around.
Most hostels have 24/7 reception, security personnel and card keys for the rooms to ensure that only guests can enter the hostel. Almost all hostels are equipped with lockers in the dorms so that you can store your valuables when you are away. Provided you take the same safety precautions as anywhere else, you don't have to worry about staying in a hostel.
Are you ready to dive into the sea of ​​hostels? Get ready for a great wanderlust - soon you'll have your dream vacation planned on a budget!