To begin with, we like living together in a camper. We don't have many square meters, certainly not if you compare it to the house we lived in before, which was 109 m². Yet we love living together in a small space!
Of course we don't just live indoors, most of the time we can be found outside. It's a bonus if you really like your partner, because irritations can of course arise a bit faster in a small space.
Below you can read how we deal with little space, living together in the camper and we give tips to keep it fun together!
11 tips for living together in a motorhome
1. Dealing with less space
The camper is spacious enough for us. We can sit comfortably, have a spacious bed and sufficient storage space.
The bed is fine, but after a few months we have to admit that a night in a 'regular' double bed also seems very nice to us. We have length beds in the camper, but we now sleep in the width of the bed. Because of the middle part of the bed that we extend and put a small mattress in there, the bed consists of three parts / mattresses. Because of this it sometimes happened that we woke up in a ledge (on wood), which is not so nice for your body. This is solved by sleeping in the width of the bed.
As indicated above, we have sufficient storage space. We even have room left in the cupboards. The storage room is well organized with storage boxes, which makes it easy for us to grab the right needed stuff. The organization saves us irritation (keeps living together in the camper cosy), because we always know which items are in what. If, of course, we store the things in the same place again.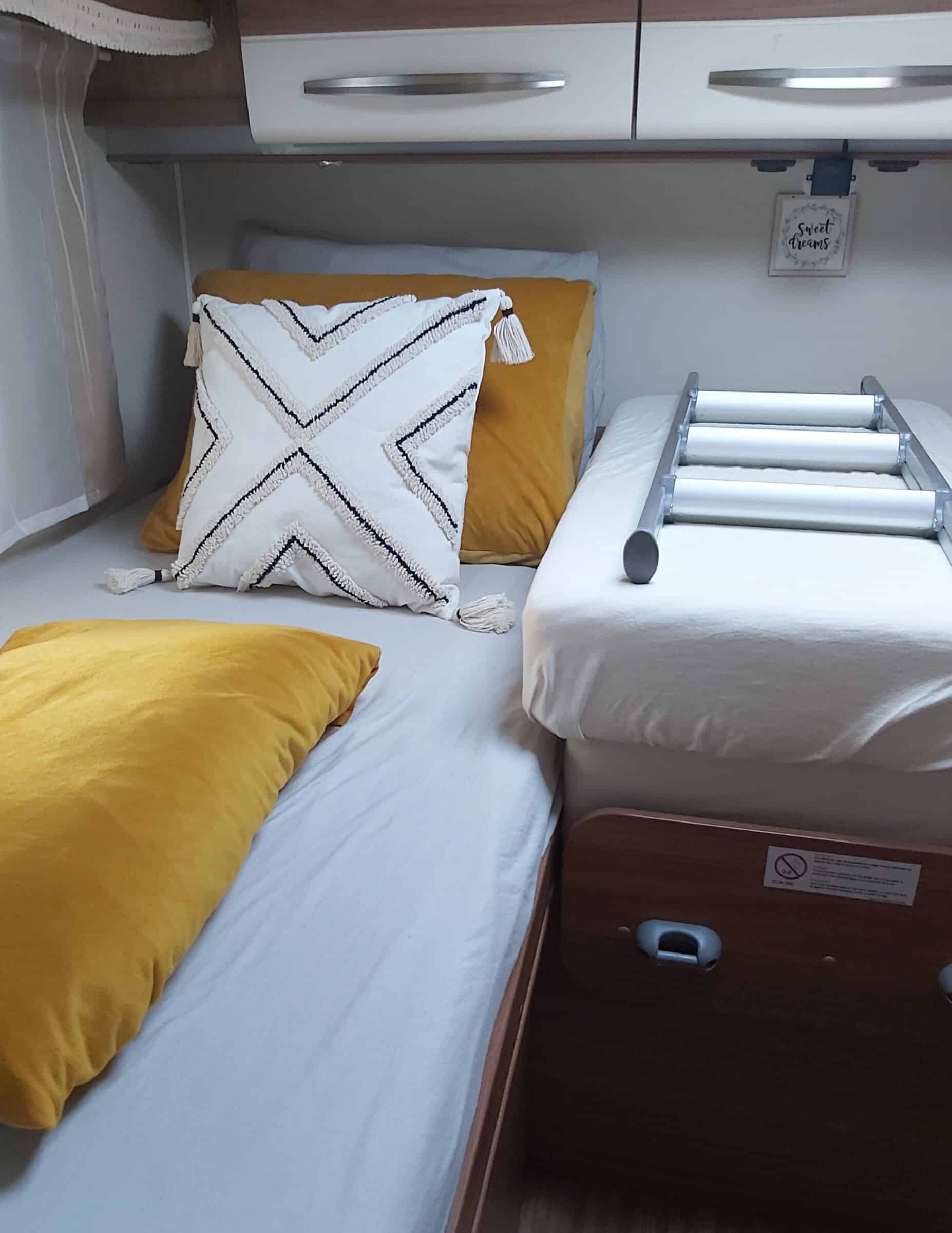 2. Communicatione
Oh so important to be able to live together in the camper! After all, we cannot smell what the other person thinks, feels or thinks. We regularly talk together. How do we feel, where do we want to go, what do we want to do, are we still satisfied?
We have also made a number of agreements regarding camping. If one of us doesn't feel comfortable or safe in a place, we move on. If we read reviews of a motorhome park that a break-in has taken place, we will not go there. Communication is really essential to be able to live together in a motorhome as far as we are concerned.
3. Do things together
We find it fun, cozy and important to do things together. This can simply be playing a game at the camper (preferably Rummikub), walking, visiting a city, exercising or any other activity.
We like to do a lot of the same things, which is of course super nice. But, we are not always on the same page. One time we do something that Stefan likes to do and the other time we choose my preference (Laura).
4. Time for yourself
Me-time, very nice and necessary in our opinion! As fun as it is with each other, it is also very nice to have some time for ourselves every now and then. Just doing what we like ourselves, all alone without having to take the other person into account.
Stefan likes to go fishing or watch a series. I'd rather go for a walk or read a book. By doing our own thing now and then, doing something alone, we also get back together nicely afterwards. And, also nice, we have new conversation material. Makes living together in the camper fun too!
5. Surprise the other person
If you live together in a camper on a few square meters, there are few or no surprises. It is difficult(er) to keep something hidden from the other person, but it is not impossible! So, be creative and try to surprise your partner.
I recently transformed our bed into a small cinema. I had poured a drink, added a snack, prepared a laptop, pillows, lit candles (be careful!), hung up lights and it was super cozy! So you don't even have to leave the camper to surprise the other.
Of course you can also take your partner to a planned activity, a sunset, a spontaneous dinner, meet up with friends (that you met along the way) etc.
6. Soal appointments
We have noticed along the way, especially as we have been on the road for more months, that we enjoy having a social appointment every now and then. So far we have had visitors from the Netherlands once and spent a few days together.
We have now also met several people along the way, they all travel with a camper themselves. We've seen each other a few times now. We really like it when we really click with someone, we can share travel experiences and tips with each other and have a good time!
Because of these encounters, being together with others, we also find it extra nice to continue our journey together!
7. Give each other space
Literally giving each other space while living together in the camper. It is quite narrow inside and for that reason we have made an appointment with each other. When one is standing by the bed to get dressed, the other waits a while and does not come there. Passing each other in the camper is possible, but handy (and pleasant!) Is different. Just being able to change without the other person wanting to take up space is so relaxed.
8. Sitting indoors in bad weather
We live outside a lot. Start the day with a breakfast outside in the morning sun, go on the road and end the day later with a game and candles at the outdoor table. Of course the weather is sometimes less good / bad. We have been very blessed with a lot of beautiful weather in recent months and so the bad days with (a lot of) rain can be counted on two hands.
We are not only inside when it rains, sometimes it is also nice to spend some time indoors. The nice thing about our camper is that the sitting area is separate from the sleeping area. If we want a little more space and some time for ourselves, even if we are both in the camper, that is possible. One of us will sit comfortably in the sitting area and the other can chill on the bed. There are only a few meters in between, yet that way we both have our own place. There is even a curtain rail by the bed where we could hang a curtain to separate the 'bedroom' from the rest of the room.
9. Cleaning up stuff
If there's one thing I can't stand, it's mess! On the one hand, we can't make a lot of mess in a camper, after all, we have less stuff and space. Even so, sometimes we can make enough mess that gives me the creeps! In principle, we clean up our belongings immediately after use. Everything has a permanent place in the camper, arranged in baskets and well, delicious! Recognizable or not at all?
10. Hand out tasks
We have divided the tasks a bit to ensure that living together in the camper runs smoothly. Not always, completely agreed upon immediately, it turned out that way and works very well for both of us.
A number of things that Stefan generally does are emptying the toilet, putting the chairs and table outside and extending (and securing) the awning. I almost always cook, arrange the laundry and clean the inside of the camper. We often do the dishes together (we don't actually miss the dishwasher) and I pick it up when Stefan is at work. When we start driving, we prepare the camper together to go. Stefan arranges everything outside, I inside. It works well for us this way, so great!
11. The toilet life
Yes, maybe not the nicest subject of living together in a camper, but certainly not unimportant (for us). Not every camper (bus) has or uses a toilet in the camper (bus). We do have and use a toilet in the camper and are happy that we have one, but of course it is not an ordinary toilet like in a home.
Not all vanlifers/campers use their toilet for a number two, we do. (Yup, we're just sharing this with you). I won't be too extensive, but you can imagine that sometimes something swims by in the toilet cassette if you did a number two…
Also read: VANLIFE | 100 days of living and working in a motorhome
Fortunately, your screen doesn't have a smell function, because smelling good is different. Tip from us: Ask your partner if he / she still wants to go to the toilet for a number one before you go for a number two yourself. And (!) open a window, using (fragrance) liquid and a toilet perfume is not an unnecessary luxury!
With this one: All points always go to Stefan who empties and cleans the cassette, hero!
Finally…
If you are thinking about traveling and living together in a camper for a longer period of time, we would say: do it! Look together at how you want to do it, see what suits you and of course: lots of fun and enjoy!